What are your beauty routines? Things that you try to do every day to keep your skin hydrated and healthy? Drinking a lot of water is one thing, and we all know it (though not all do it). I try to drink 2,5 l liquids every day, including at least 1,5 l water. I also drink tea and herb infusions and 3-4 espressos (which might not be the rescue for my skin, but are definitely a rescue for my brain). I never go to bed wearing make up and I try to put a hydrating mask on my face (and hands) at least once a week, after a gentle scrub. I am also using a sonic brush every second day (I found out that every day was a bit too much for my sensitive skin, while 3-4 times a week works just perfectly). I am always searching for new cosmetics, but I buy them quite seldom, as I am really picky. That's why I am curious of your tips and tricks, and nevertheless – your best beauty buys. Maybe you could share them? I will continue to share mine with you as well.
Have a BEAUTIFUL day!
Rytuały urodowe na każdy dzień – porady i wskazówki
Jakie są Wasze rytuały urodowe? Co staracie się robić każdego dnia w trosce o Waszą skórę? Picie dużej ilości wody to podstawa, wszystkie o tym wiemy (choć nie każda z nas się do tego stosuje). Ja staram się wypijać 2,5 litra płynów dziennie, z czego 1,5 litra stanowi woda. Oprócz niej piję herbatę, napary i 3-4 filiżanek espresso (co nie wpływa może zbawiennie na moją skórę, za to jest niezbędne dla mojego mózgu). Nigdy nie kładę się spać z makijażem i raz w tygodniu, po peelingu, staram się pamiętać o nawilżającej maseczce na twarz i dłonie. Od pewnego czasu co drugi dzień używam też szczoteczki sonicznej do twarzy (codzienne korzystanie z niej okazało się za częste dla mojej wrażliwej skóry, a 3-4 razy w tygodniu okazuje się idealne). Nieustająco szukam nowinek kosmetycznych, ale rzadko cokolwiek kupuję – z wiekiem stałam się bardzo wymagająca. Ciekawa jednak jestem Waszych trików i kosmetyków, które polecacie. Sama też będę się z Wami dzielić moimi odkryciami.
PIĘKNEGO dnia Wam życzę!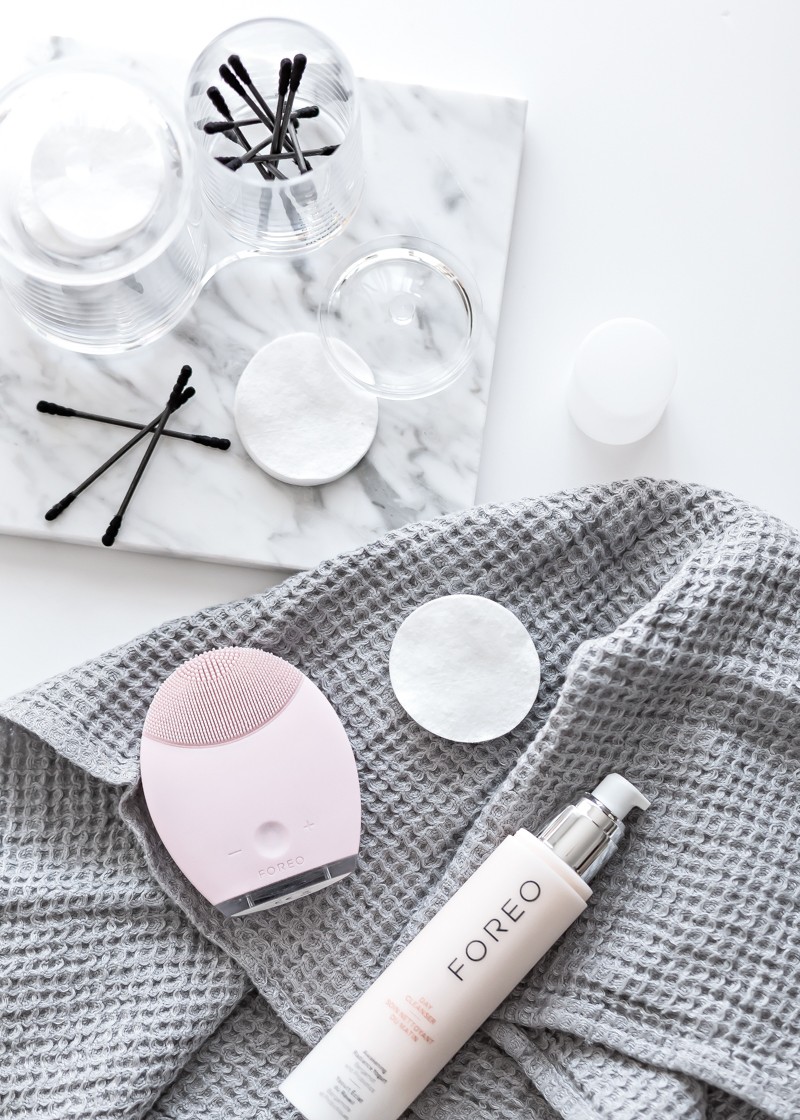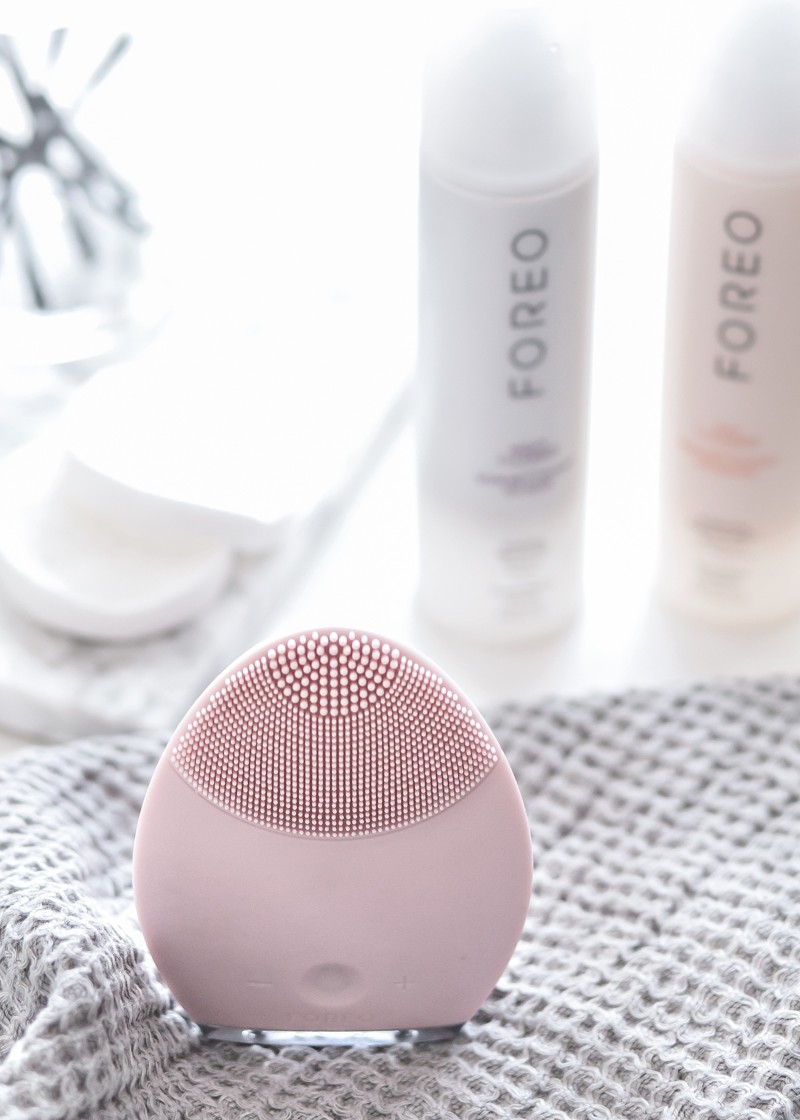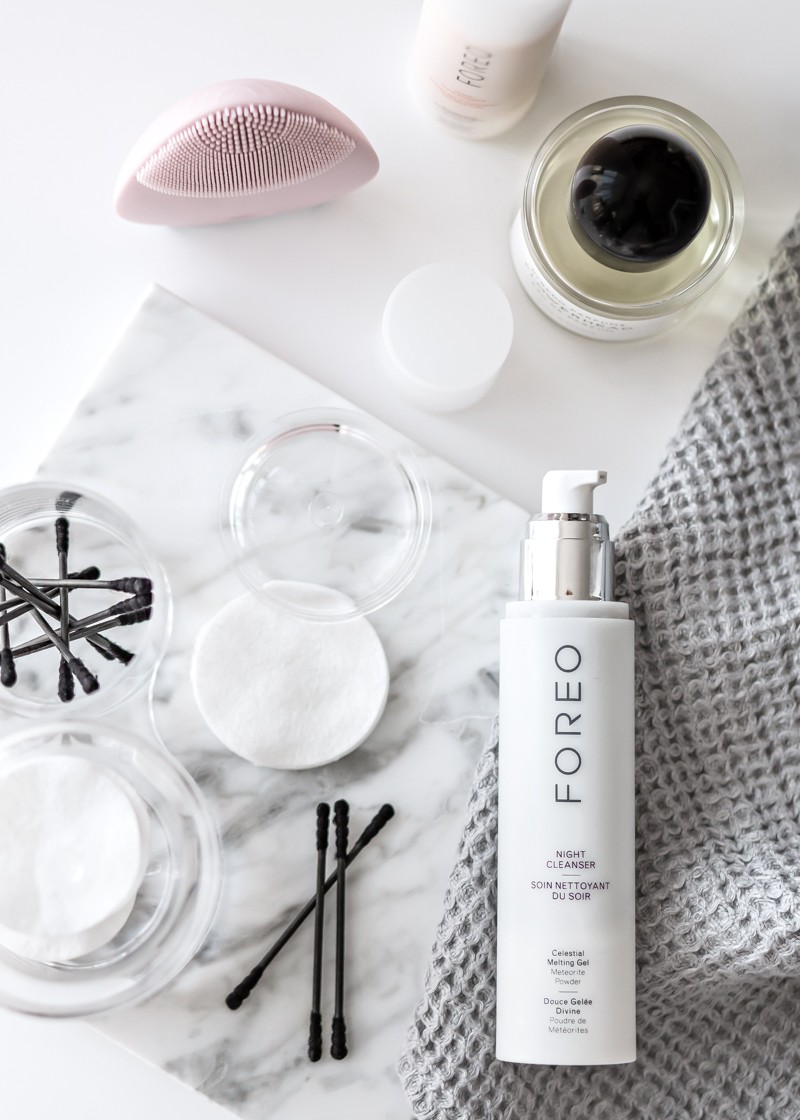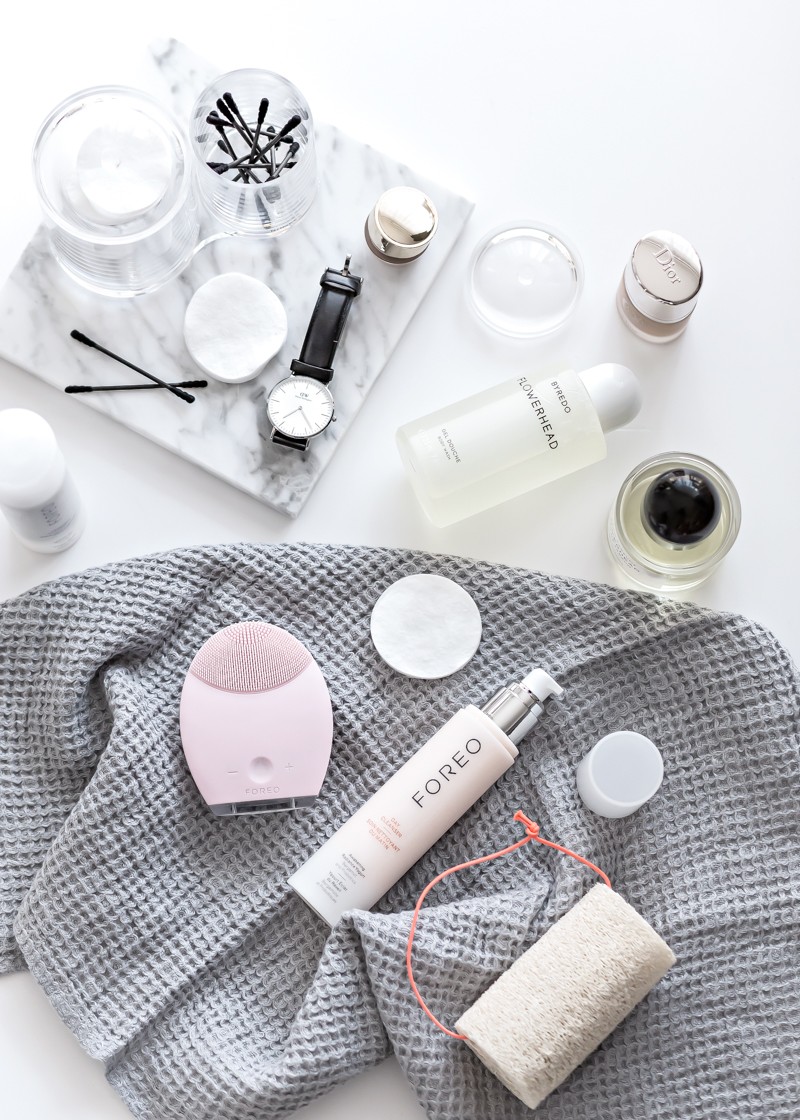 ? Kasia Rutkowiak / My Full House
face brush and cleaners / szczoteczka i preparaty do oczyszczania skóry twarzy – Foreo, towel / ręcznik – Linen Tales, marble coaster / marmurowa deska – Serax