I woke up this morning and once again couldn't help but being grateful for my life – my love, my children, my work. Non of these is flawless but life has taught me that we cannot control everything and that we shouldn't even try. Realising that helped me so many times in all kinds of situations. What we can influence is our choices. We make countless choices every single day. From choosing what to wear, what to have for breakfast, which way to drive to work, if we should have that extra dessert, go to see the movie rather than clean the apartment, choices choices choices. Sometimes we make them using our brains, sometimes our hearts. None of these two is better than the other, as long as the choice is our own.
I know all about choices and maybe even more than I would wish for. They brought me to the point where I am now, both emotionally and professionally (and – geographically!). There are days when it's hard for me to believe all the distance, the struggle, the fight. I know that there are many more important choices ahead of me and in a way I am looking forward to them, as I love challenge. However, for now, I choose 3 scoops of ice-cream and espresso for breakfast. Wishing you a great Thursday!
Wybory
Obudziłam się dziś rano pełna wdzięczności za to co dzieje się w moim życiu. Za miłość, za dzieci, za pracę. I mimo, że wszystko miewa swoje wady, życie nauczyło mnie, że nie można wszystkiego kontrolować, a życie składa się z wyborów. Przyjęcie tego do wiadomości pomogło mi przetrwać wiele życiowych zawirowań. Codziennie dokonujemy niezliczonych wyborów, od tego co ubrać, co zjeść na śniadanie, którą drogą pojechać do pracy, czy sięgnąć po dodatkowy deser, iść do kina zamiast sprzątnąć mieszkanie (zgadnijcie co bym wybrała), na każdym kroku wybory. Czasem dokonujemy ich używając rozumu, innym razem serca, żaden z tych sposobów nie jest lepszy od drugiego, tak długo jak wybór jest nasz.
O wyborach wiem bardzo dużo, nawet więcej niż bym chciała. To one przywiodły mnie do miejsca, w którym jestem teraz, tak emocjonalnie jak i zawodowo (czy geograficznie!). Czasem nawet mnie samej trudno jest uwierzyć w dystans jaki przeszłam, w trud, w walkę. Z drugiej strony wiem, że przede mną kolejne ważne decyzje, i szczerze się na nie cieszę, bo pod wieloma względami uwielbiam wyzwania. Teraz jednak wybieram 3 gałki lodów i espresso na śniadanie. Miłego dnia, Kochani!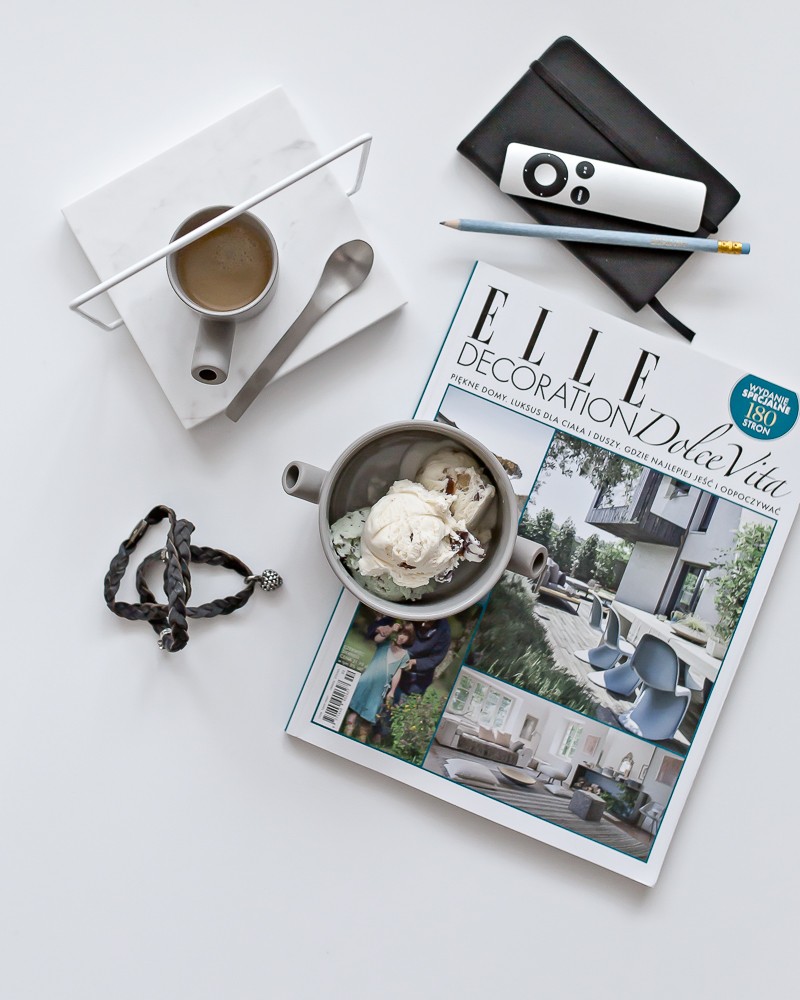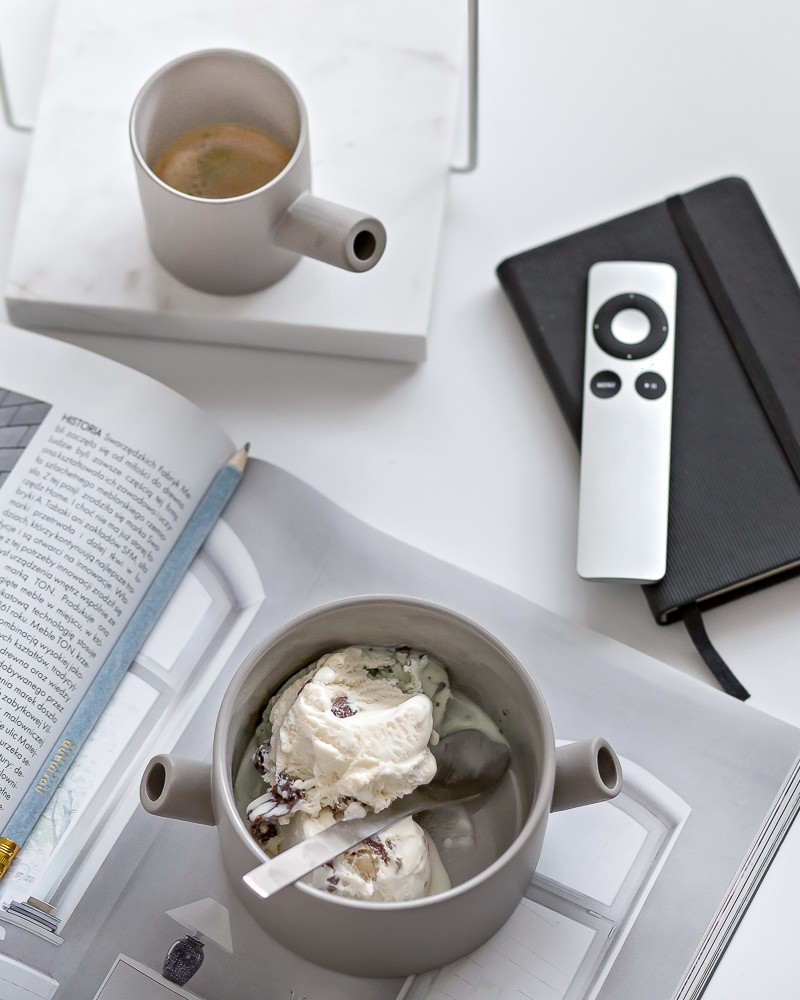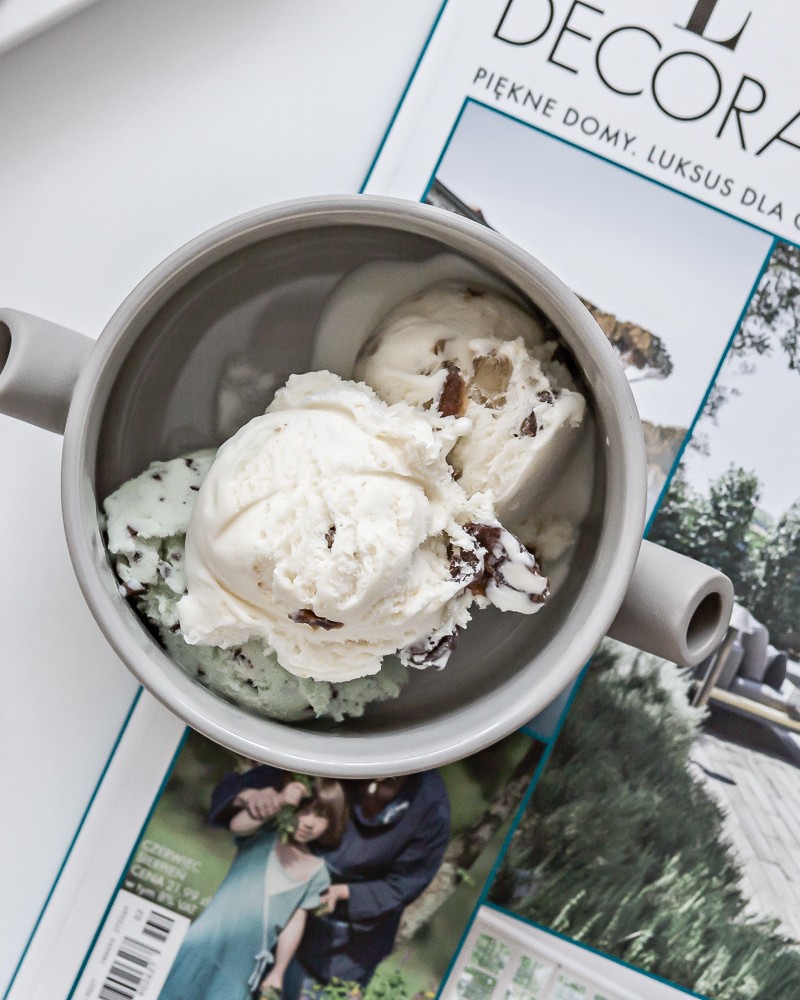 © Kasia Rutkowiak / My Full House
porcelain and marble tray with handle / porcelain i marmurowa podstawka z rączką – Serax