I know I have been quite for the past days, both on the blog and on the Instagram. It's because the summer holidays and having a literally FULL HOUSE all the time, doesn't make it easy to focus on work. Above it all, there also is a secret, urgent project that I am working on at the moment, so please forgive me the absence.
Because of the lack of time, I am not even cooking too much these days, and literally eat whatever (or rather whatever the kids ask for, which is not always the most nutritious choice but hey – it's summer holidays and you only live once). What I do need to have the time though, is making popsicles. That's why I ordered some extra moulds (we use the moulds from the Danish Nicolas Vahe) and try to make new popsicles as often as possible.
These popsicles are the easiest popsicles ever, and making them takes literally NO TIME. Of course, there's at least 4 hours waiting time (overnight is best) but else, these are the easiest and fastest yet wonderful tasting cold treats for the entire family.
najłatwiejsze na świecie lody na patyku
Wiem, że ostatnio nie rozpieszczam Was częstym pisaniem czy obecnością na Instagramie, jednak wakacje i nasza dosłownie pełna chata, nie sprzyjają pracy w warunkach domowych. W dodatku doszedł mi jeden nagły projekt, nad którym staram się chwilowo skupić, stąd czasu na "zwykłą pracę" naprawdę jest niewiele. Nawet nie mam głowy do gotowania i jemy dosłownie cokolwiek (to jest cokolwiek dzieci wymyślą, a to zwykle nie są pożywne i szczególnie wyszukane dania, ale od czego są wakacje?). Jedną z niewielu rzeczy na jakie "muszę" znajdować czas to wypróbowywanie coraz to nowszych przepisów na lody na patyku. Dlatego zamówiłam jeszcze parę dodatkowych foremek (używamy tych foremek Nicolasa Vahe) i w każdej wolnej chwili zastanawiam się jakie lody zrobimy tym razem.
Ten przepis jest zdecydowanie najłatwiejszym przepisem pod słońcem i lody "robią się same", wystarczy jedynie poczekać (minimum 4 godziny, a najlepiej całą noc).
Ingredients for 6 popsicles / składniki na ok 6 szt:
300-400 ml coconut water / wody kokosowej*
berries of your choice / ulubione owoce
* woda kokosową jest do nabycia w większości supermarketów.
Fill the popsicle moulds with berries and water. Place in the wooden sticks as recommended by the moulds instructions and freeze the popsicles for at least 4 hours or overnight. Enjoy.
Foremki wypełnić wodą kokosową i owocami, włożyć patyczki zgodnie z instrukcją, wstawić do zamrażarki na co najmniej 4 godziny (a najlepiej na całą noc). Smacznego.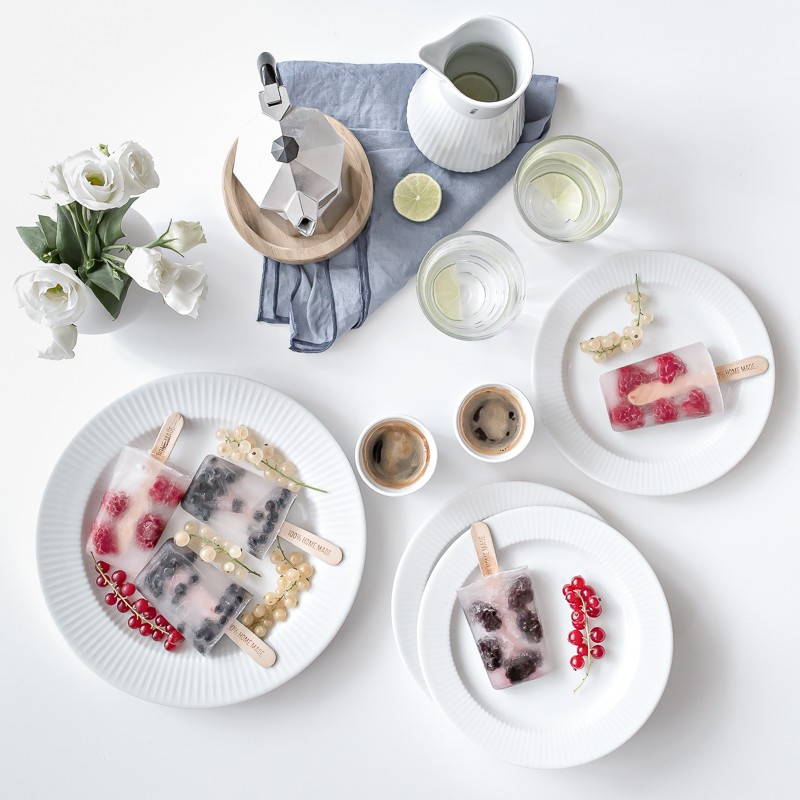 © Kasia Rutkowiak/ My Full House
Porcelain / porcelana – Eva Solo