Wow, it really is chilly outside! I can't believe the sudden change in weather and how fast the summer left us. The air is different, I moved my knitwear a bit down in my closet and I am starting to buy more tea.
Our living room changed as well, although I wouldn't exactly call it fall changes. It's all because a new painting by a talented young Danish painter – Laura, who agreed to paint something especially for us. When I saw her works I thought she would surely understand what I was looking for – a painting that was light, timeless, delicate yet interesting. She called this one "Cloud Formations" and I think that it fits it perfectly, as the clouds were my first thought when I first saw it, before even knowing it's name. Its mostly the grey shades with some white, black, a touch of delicate pink and some silver staining. It looks perfect over our couch!
galleri laura – obraz w salonie
Ale się ochłodziło! Kiedy sobie przypomnę upał sprzed tygodnia, aż trudno uwierzyć, że lato w przeciągu jednej chwili ustąpiło jesieni. Powietrze już inne, swetry przełożyłam na niższą półkę i zaczynam gromadzić zapasy herbaty. W salonie też zmiany, choć nie nazwałabym ich jesiennymi. Wszystko za sprawą Laury, młodej duńskiej malarki, która zgodziła się namalować obraz do naszego domu.
Już od dawna chciałam zamienić plakaty na coś bardziej osobistego i kiedy zobaczyłam prace Laury, od razu pomyślałam, że ona zrozumie czego potrzebujemy. Chciałam, aby było lekko, ponadczasowo, delikatnie ale też interesująco. Laura namalowała dla nas obraz, który zatytułowała "Cloud Formations" i myślę, że to trafny tytuł, zważywszy na fakt, że chmury były moim pierwszym skojarzeniem, zanim jeszcze poznałam tytuł. Obraz jest w tonacji biało-szaro-czarnej, z dodatkiem delikatnego różu i plamami srebra i wygląda idealnie nad naszą kanapą.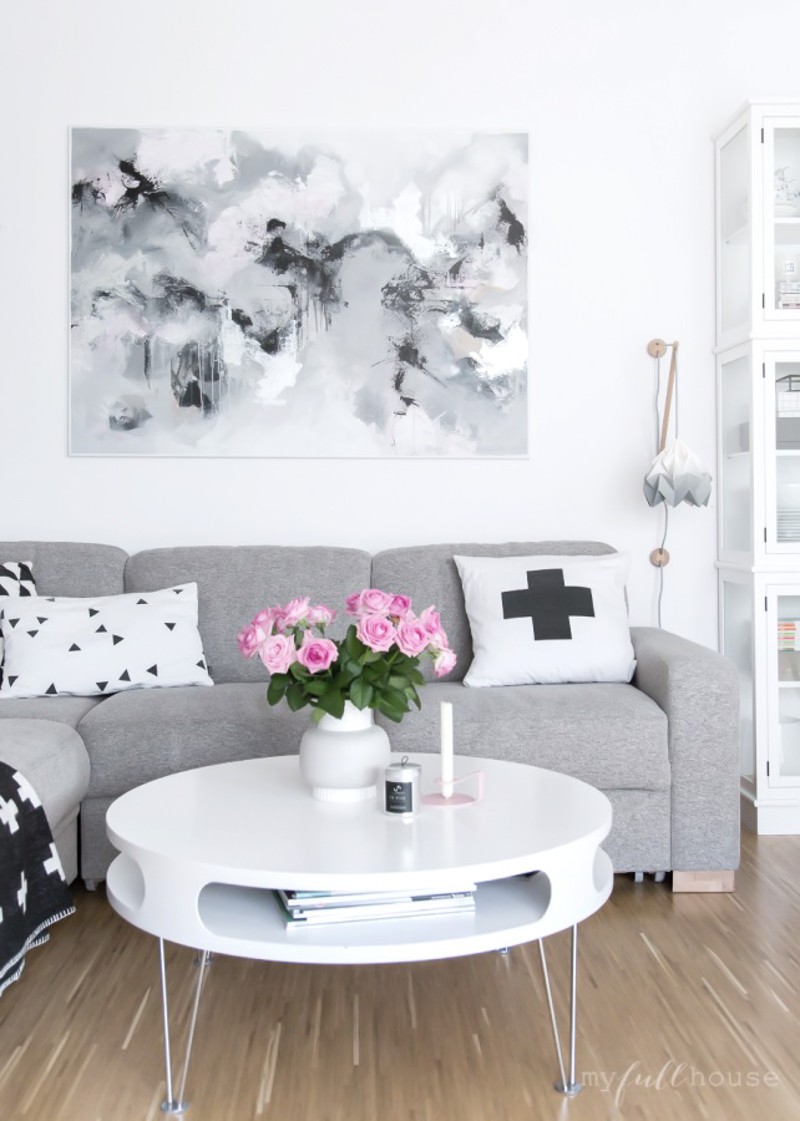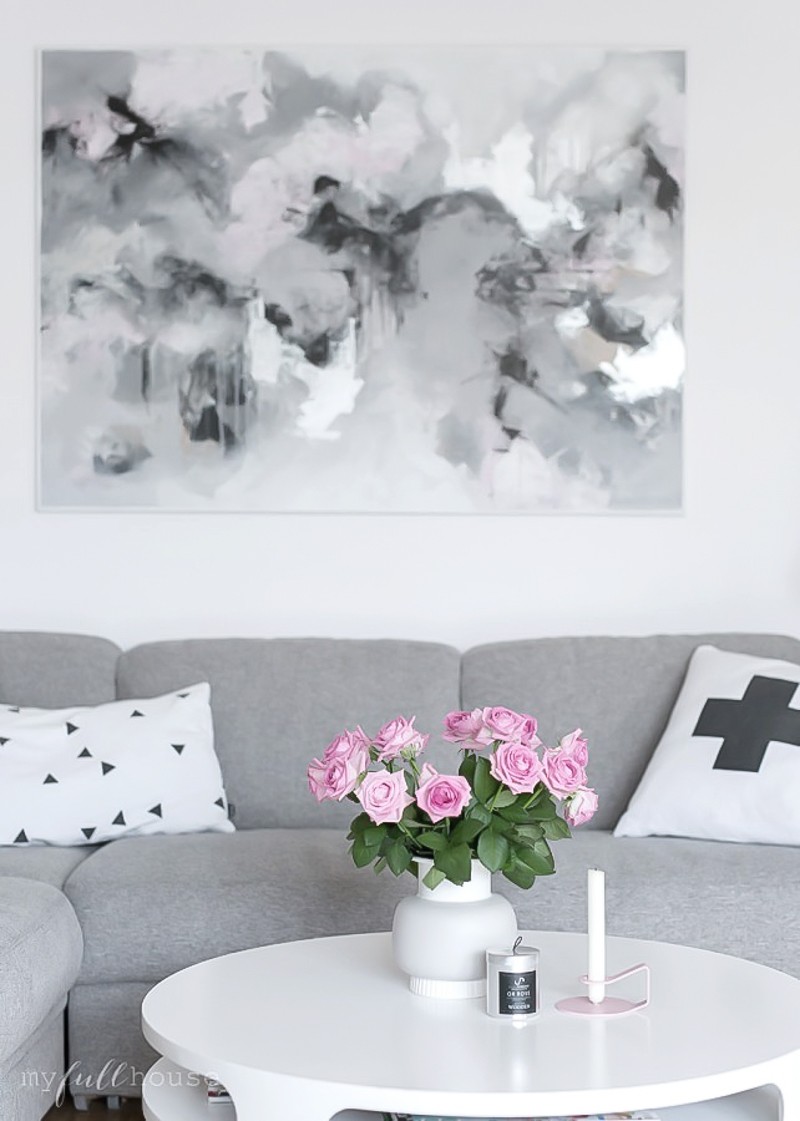 © Kasia Rutkowiak / My Full House
obraz / painting – gallerilaura.dk , lampa / lamp – Studio Snowpuppe, poduszki / pillows – Ferm Living, koc / cross blanket – Pia Wallen, wazon i świecznik / vase and candleholder – Normann Copenhagen
I am curious of your opinion as it's a huge change from the posters and the entire room looks a lot different now.
Ciekawa jestem Waszego zdania, bo wiem, że to duża zmiana po poprzednich plakatach i salon nabrał trochę innego charakteru.