I love oats. I eat them happily in many ways – for breakfasts (hot or cold), desserts, in crumbles, cookies, you name it. One of the fastest, yet most creamy breakfast oats are overnight ones and preparing them takes only a couple of minutes of your evening. When you combine oats with liquid (milk – of any kind, juice or even water), the oats will soak it in and become a soft, delicious morning treat on the go. I use mason jars, which I close tight and put in the fridge. The next morning the delicious breakfast is ready. The only thing you have to do is to add some fruit/nuts or seeds of your choice just before serving. Some people add seeds to the oats in the evenings, but I like some crunchy factor in my breakfast. If you lack sweetness you can add some honey, maple or agave syrup. You can also leave it out (and assume that the fructose is enough).
nocna owsianka – idealne śniadanie w pośpiechu
Uwielbiam płatki owsiane i jadam je chętnie na wiele sposobów – na śniadanie (ciepłe lub zimne), w deserach, kruszonkach, ciasteczkach, i wszystkim co mi przyjdzie na myśl. Jednym z najszybszych i najbardziej kremowych śniadań z użyciem płatków jest nocna owsianka. Wystarczy połączyć płatki z płynem (dowolnym mlekiem, sokiem, lub nawet wodą), a płatki przez noc nasiąkną cały płyn i  idealnie zmiękną. Rano wystarczy dodać dowolne, ulubione owoce, nasiona lub orzechy (niektórzy dodają nasiona i orzechy już wieczorem, ja jednak lubię połączenie kremowej bazy z chrupiącymi dodatkami). Jeśli śniadanie nie jest dość dłodkie można je z powodzeniem dosłodzić miodem, syropem klonowym lub syropem z agawy. Można też założyć, że fruktoza z owoców wystarczy).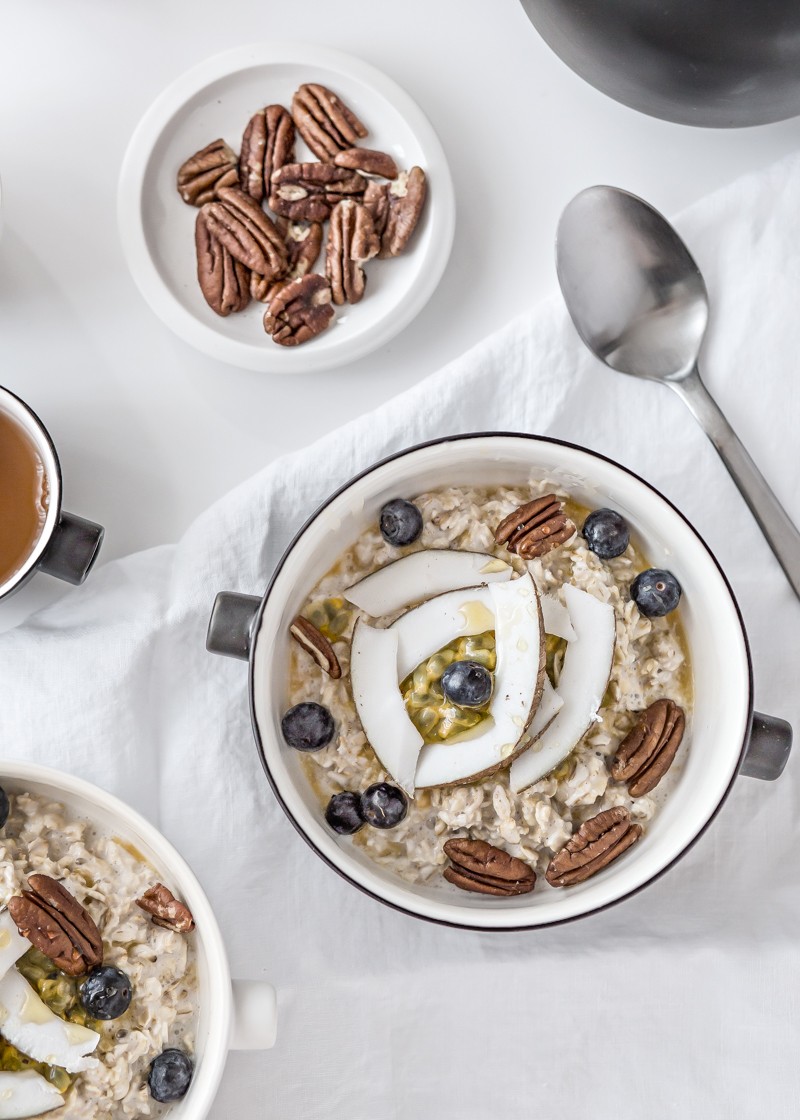 This version is made with rolled oats and coconut milk with a dash of honey. In the morning I added passion fruit to contrast the sweetness of coconut, blueberries (because I love them), pecans, some extra fresh coconut and… voila! The creamy, coconut oats with a zesty twist and a nice crunch ready within seconds.
To śniadanie powstało na bazie płatków, mleka kokosowego i odrobiny miodu. Rano dodałam marakuję dla przełamania słodyczy, jagody (które uwielbiam), orzechy pekan oraz świeży miąższ kokosa. Tadam! Pyszne kremowe śniadanko z odrobiną kwaskowatej świeżości gotowe w przeciągu chwili.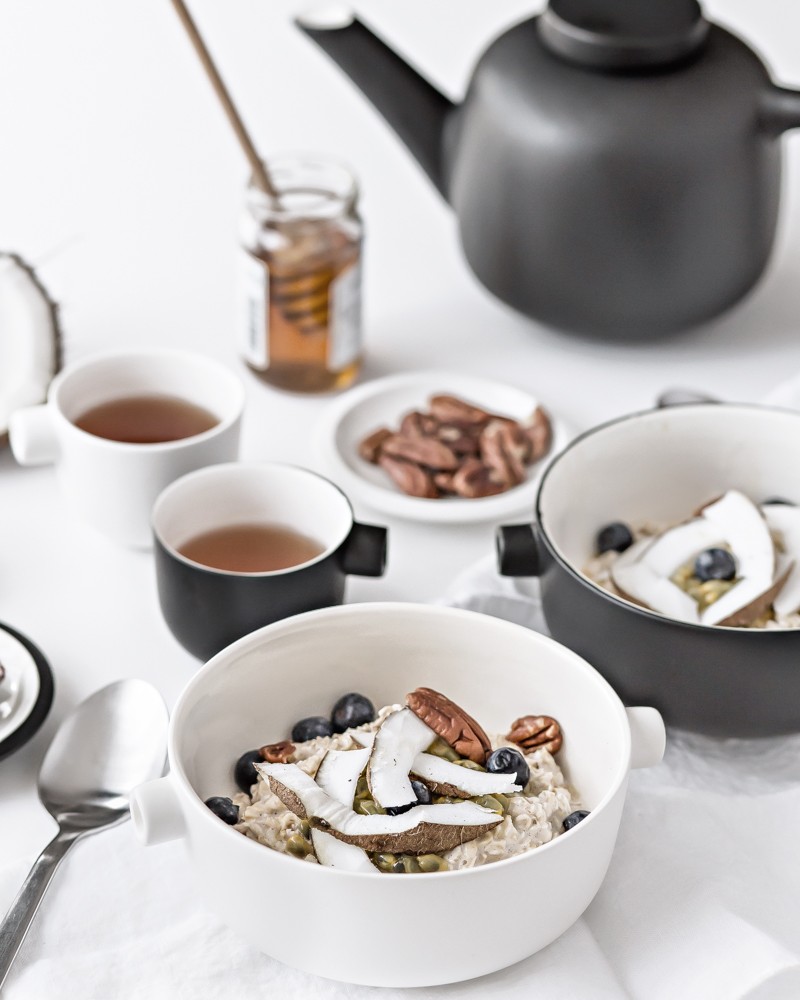 General recipe for ca 1 portion / ogólny przepis na ok. 1 porcję:
0,5 cup rolled oats / 0,5 szklanki płatków górskich
0,75 cup liquid (I recommend milk for more creaminess) / 0,75 szkl. płynu (polecam dowolne mleko)
honey (sirup) to taste / miód (syrop) do smaku
optionally 2 tbsp plain yoghurt / ewentualnie 2 łyżki naturalnego jogurtu
fruit, nuts and seeds of your choice / owoce, orzechy i nasiona wedle upodobania
Method / sposób przygotowania:
In the evening combine the oats, liquid and honey in a jar, mix well, close tight and put into the fridge for the night. In the morning remove from the fridge (preferably 15 min befor serving), add fruit, seeds and nuts of your choice an enjoy. You can also take the jar with you to work, for a quick brunch on the go.
Wieczorem połączyć płatki, płyn i miód w słoiku, dokładnie wymieszać, zakręcić i wstawić na noc do lodówki. Rano, najlepiej na kwadrans przed podaniem, wyjąć płatki z lodówki, dodać owoce, orzechy i nasiona i delektować się pyszną owsianką. Słoiczek można też z powodzeniem zabrać ze soba do pracy, na pożywne sniadanie "w biegu".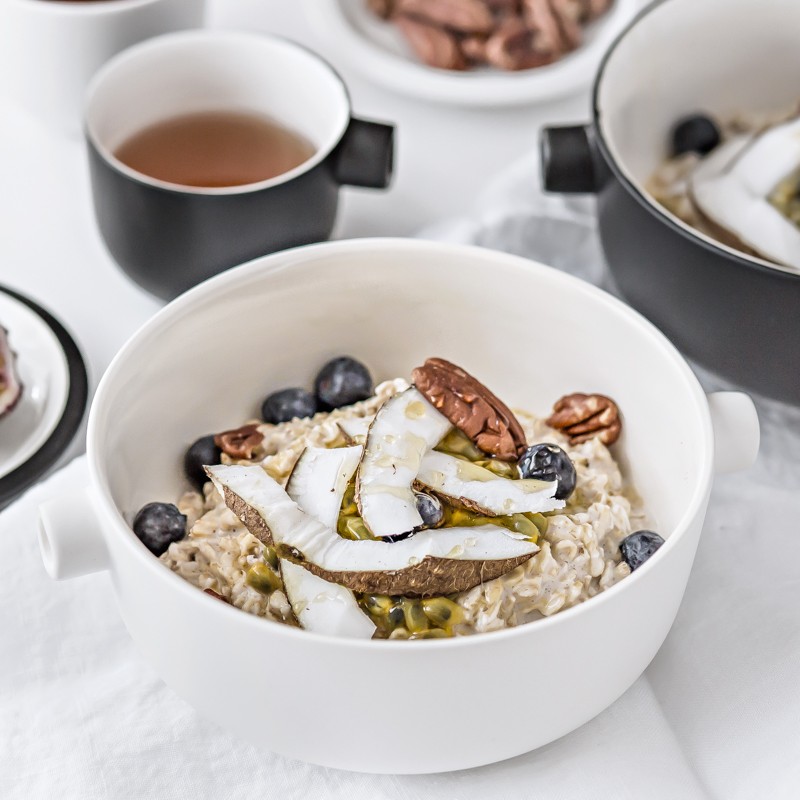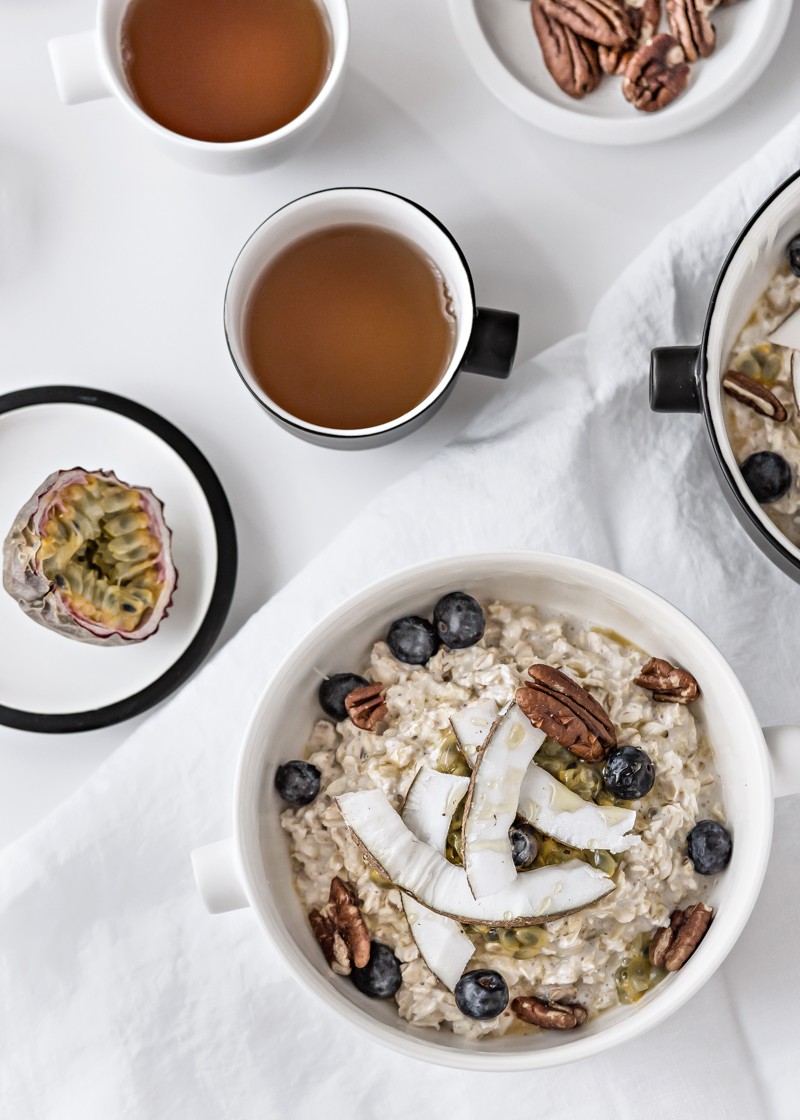 Copyright Kasia Rutkowiak / My Full House
porcelain / porcelana – Serax