Unfortunately I didn't make it on time, and wasn't able to publish the recipe on Sunday, but here I am, a day "late", with my latest hit for the entire family. Rocky Road can be made with so many different ingredients, mine was inspired by a blogpost made by Maria Vestergaard, although I made a few small changes, due to the ingredients I had (or didn't have) at hand. You can easily swap nuts with almonds, snickers with mars, or add your favourite soft or crispy ingredient, as cookies, dough pieces or even cereals. My next rocky road will be made with white chocolate, I guess, but until then, here is the dark chocolate recipe for all the chocolate lovers out there.
rocky road – smakołyki dla dużych i małych
Nie zdążyłam opublikować przepisu w niedzielę, ale liczę na to, że mi wybaczycie, bo przybywam z naszym ostatnim hitem, na smakołyk dla całej rodziny. Rocky Road można robić na wiele sposobów, używając różnych składników, ja zainspirowałam się przepisem z bloga Marii Vestergaard, który lekko zmodyfikowałam pod kątem tego co miałam pod ręką. Wszystkie składniki można sobie dowolnie wymieniać (orzechy zastępować migdałami, snickersy – marsami, albo dodawać jeszcze inne, swoje ulubione składniki jak herbatniki, kawałki ciasta, albo nawet płatki śniadaniowe). Następne Rocky Road zrobimy z białą czekoladą, a teraz czas na przepis.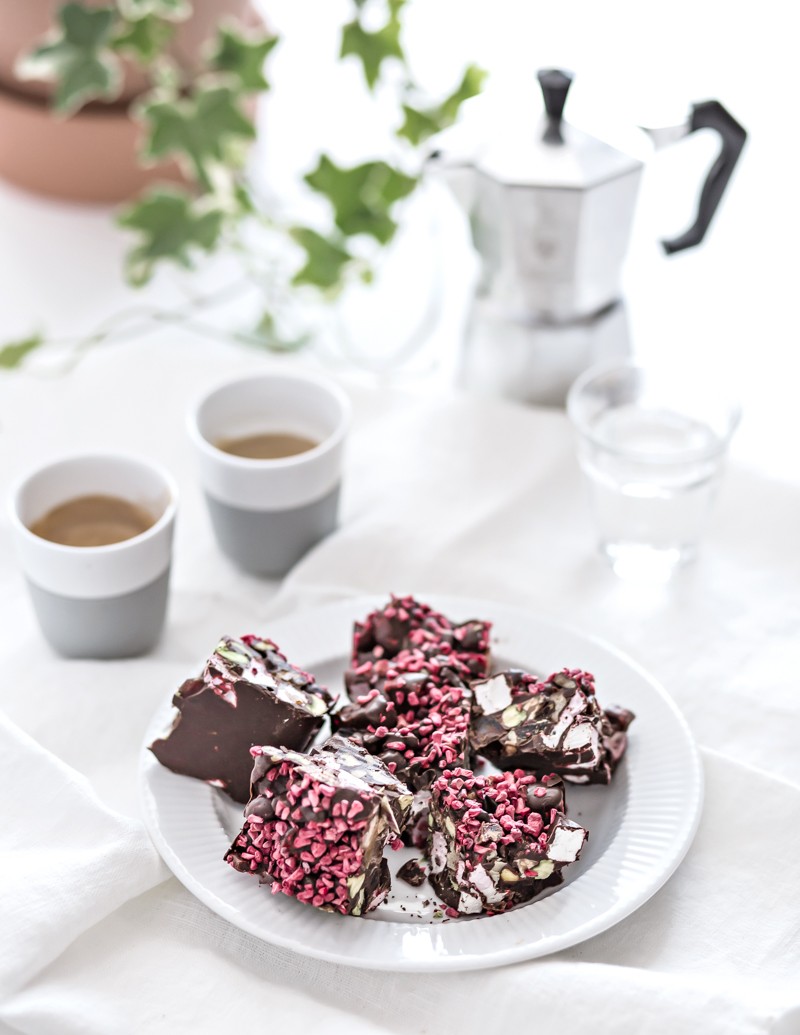 Ingredients / składniki:
100g marshmallows / pianek
100 g pistachio nuts / pistacji
50 g walnuts / orzechów włoskich
50 g hazelnuts / orzechow laskowych
1 snickers bar / baton snickers
75 g dates / daktyli
200 g semi sweet chocolate, 70% cacao / gorzkiej czekolady
1-2 tbsp coconut oil / 1-2 łyżki oleju kokosowego*
dried raspberries / suszone maliny**
* can be substituted with butter / można zastąpić masłem
** can be omitted if you don't have any, although they are quite an important ingredient, adding wonderful, zesty freshness to this else very sweet treat / jeśłi in dostaniecie suszonych malin, możecie je ominąć, jednak warto poszukać w dobrze zaopatrzonych sklepach, bo to składnik, który dodaje bardzo fajnej kwaskowatej świeżości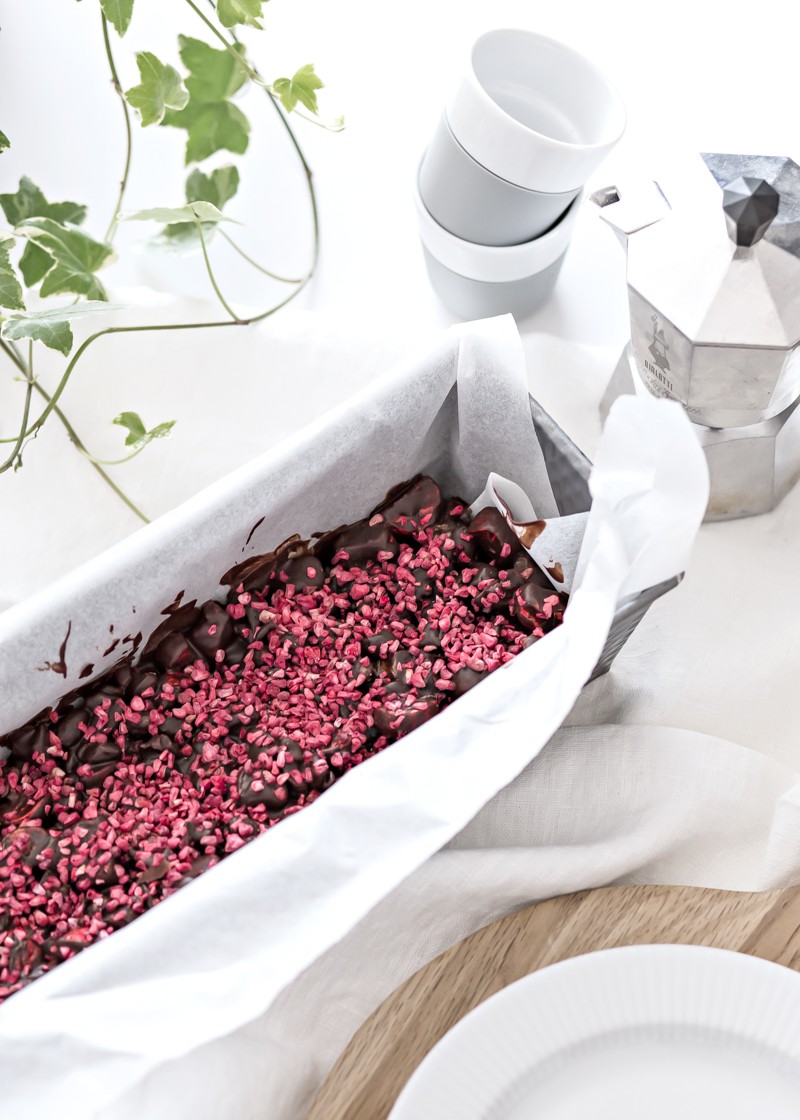 Method:
Cut the marshmallows into smaller pieces, coarsely chop the dates. Dissolve the chocolate in a bowl placed over a pot with boiling water, add coconut oil, mix. In a medium bowl combine all the ingredients witch chocolate mixture, until mixed well. Move into a medium bread form lined with parchment paper, sprinkle with dried raspberries and chill in the refrigerator until set (min 2 hrs). Take out of the fridge 10 min prior serving and cut into smaller pieces.
Wykonanie:
Pianki pokroić na mniejsze kawałki, daktyle grubo posiekać. Czekoladę roztopić w kąpieli wodnej, dodając olej kokosowy, wymieszać. W średniej misce połączyć wszystkie suche składniki z płynną czekoladą, dobrze wymieszać, przełożyć do keksówki wyłożonej papierem do pieczenia, wyrównać i schłodzić w lodówce przez co najmniej 2 godziny. Ok. 10 min przed podaniem wyjąć z lodówki i podzielić na kawałki.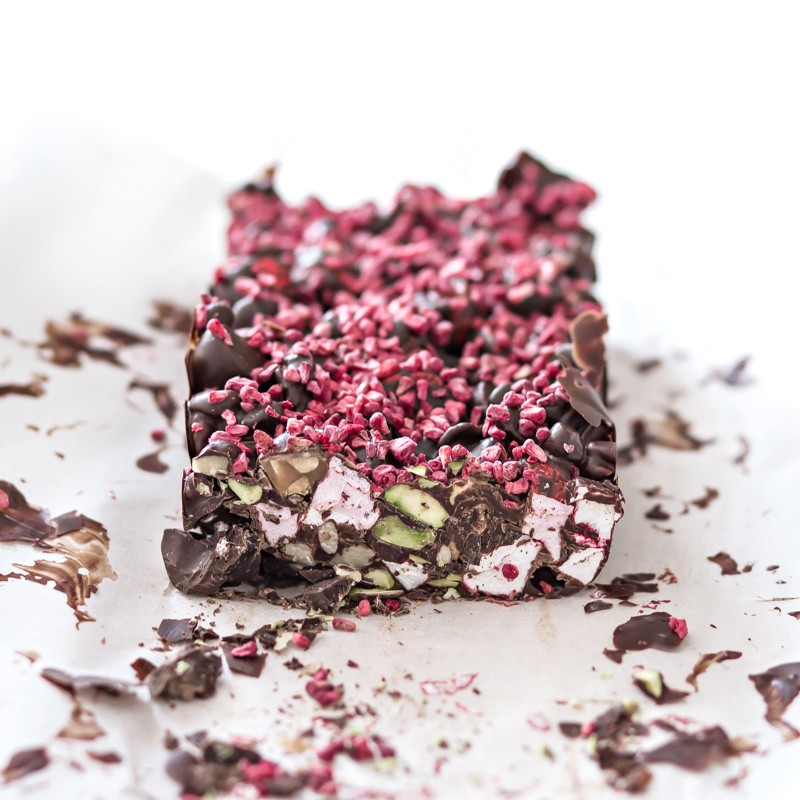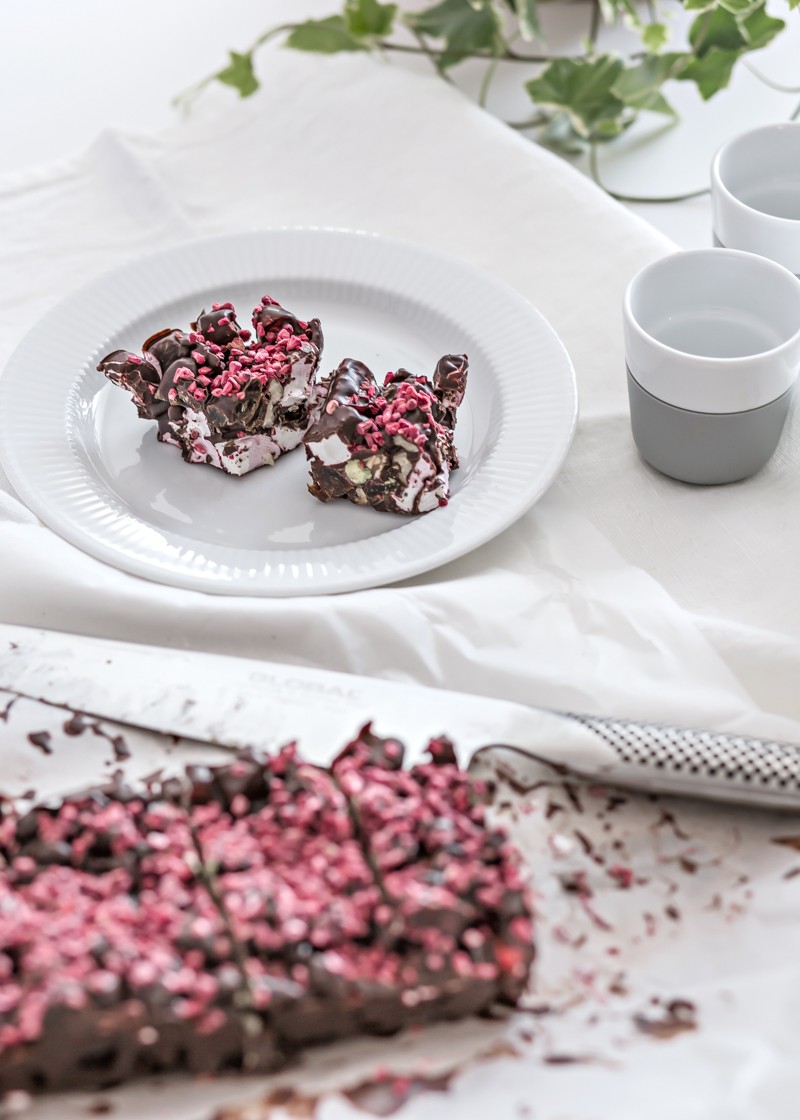 © Kasia Rutkowiak / My Full House
plate and cups / talerzyk i kubeczki – Eva Solo
Bon appetit!