(from a Scandinavian interior blogger's perspective)
Scandinavian interiors – my favourite topic for the past two years. Being a scandinavian blogger living outside Scandinavia, I am very often confronted with different statements regarding Scandinavian interiors, in general. The popularity of the style in my country and many other countries around the world, causes many contradictory meanings. How is it, really, with Scandinavian homes? Are they truly so non practical? So common? So difficult to keep clean? Let's see… These are the 7 most popular statements which I hear from other people.
7 powodów dla których skandynawskie wnętrza nie są fajne
(z perspektywy skandynawskiego blogera wnętrzarskiego)
Skandynawskie wnętrza to mój ulubiony temat ostatnich paru lat. Jako skandynawska blogerka mieszkająca poza Skandynawią, cały czas spotykam się z opiniami ludzi z Polski i ogólnie spoza Skandynawii, mających o tym stylu swoje, nie do końca właściwe wyobrażenie. Jak to naprawdę jest ze skandynawskimi wnętrzami? Czy rzeczywiście są niepraktyczne? Powszechne? Trudne w utrzymaniu czystości? To siedem najczęstrzych zarzutów jakie słyszę od innych.
1. Scandinavian interiors are cold. They look more like hospitals than homes
Well, the absolute most of Scandinavian, or let's say New Nordic interiors are rather monochrome, with plenty of white, some black (or grey) and final touches of natural (and neutral) materials as wood, linen, leather or natural skin. There is no way around it really, so if you are a "colourful person", it will be difficult to switch over to the monochrome lover, no matter what.
To me, and to Scandinavians (I do consider myself one of them, actually), the whiteness means space. Light. Both in terms of actual light and the airy feeling. It is elegant but not snobbish. Most universal in terms of changing it with just a few accessories. It is timeless.
1. Skandynawskie wnętrza są zimne i bardziej przypominają szpitale niż domy
No dobrze. Większość skandynawskich wnętrz (i mówię tu o współczesnych wnętrzach urządzonych w stylu New Nordic) są zazwyczaj monochromatyczne. Panuje w nich biel z dodatkiem czerni, szarości i neutralnych (oraz naturalnych) dodatków, takich jak drewno, len, czy skóry. Nie da się tego obejść. Osobom potrzebującym codziennej dawki koloru raczej ciężko jest się w nich odnaleźć.
Dla mnie i dla Skandynawów (pod wieloma względami czuję się jedną z nich), biel oznacza przestrzeń. To światło i świetlista lekkość. Elegancja pozbawiona snobizmu. Uniwersalność i ponadczasowość.

credit: Alvhem
2.  Scandinavian interiors are not for children
Scandinavians do have children and believe me, there are happy kids even in monochrome homes. Other nations find it hard to believe that you can actually raise a happy child without pink and glitter, but you can. Of course – when you have small people around, you usually don't invest in a white sofa, but everything else – including white floor and monochrome basis is absolutely ok, for any child, even in a nursery. After all, when all the toys are in use, there is no such thing as a monochrome kid's room, is there?
2. Skandynawskie wnętrza nie są dla dzieci
Skandynawowie też mają dzieci i możecie mi wierzyć – w monochromatycznych wnętrzach też mieszkają szczęśliwe maluchy. Obywatelom innych krajów często trudno uwierzyć w to, że radosne dziecko można wychować bez cekinów i różu, to jednak prawda. I choć rzeczywiście jest tak, że kiedy w domu są małe dzieci, raczej nie inwestuje się w białą kanapę, całą reszta – łącznie z białą podłogą i monochromatyczną bazą jest jak najbardziej ok. Poza tym, kiedy zabawki idą w ruch, już nic nie jest czarno-białe, prawda?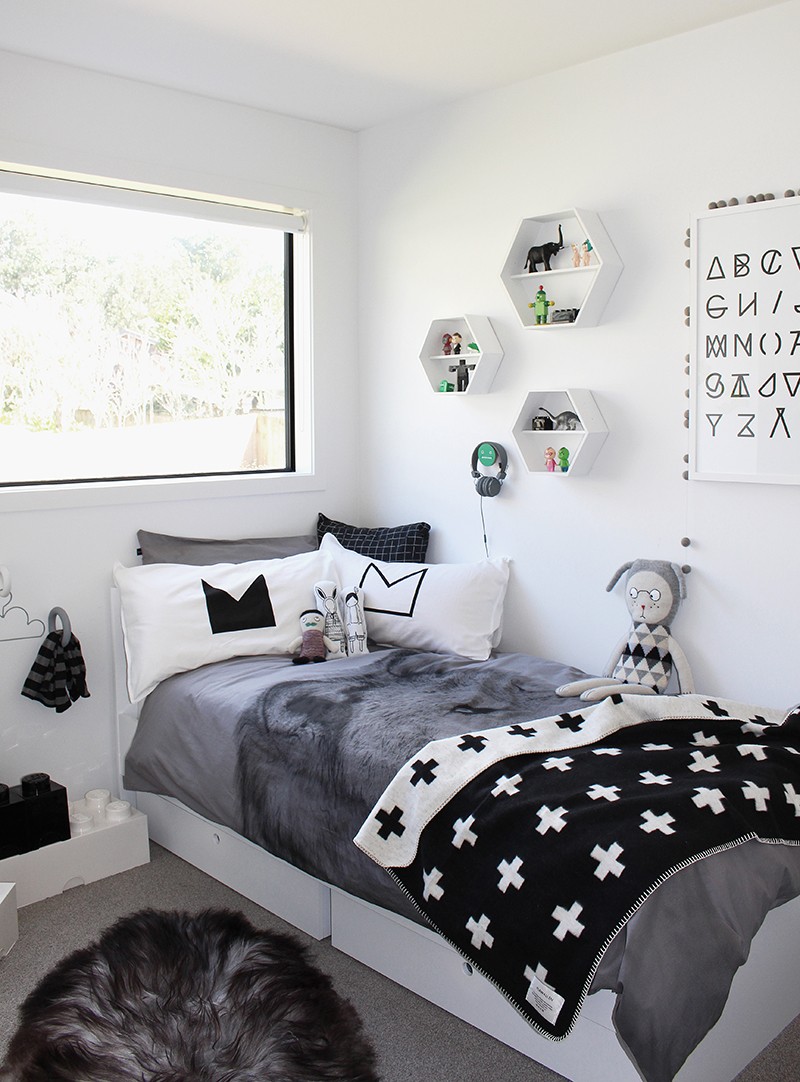 credit: The Design Chaser
3.  Scandinavian design is too expensive
I totally agree with the statement that Scandinavian "design icons" cost a lot of money. They surely do and there is a good reason for it. Try to get a cheap bag from Prada, or Manolo's shoes for the price of your last bought sneakers. The thing is, that good quality, design, brand, knowledge and craft has always cost a lot of money, And I say it again – a lot of money, in stead of expensive, because I believe that these are two different things.
Personally, I have different things on my "wish list", as chairs, lamps, vases, that cost much more than "normal" furniture or accessories. I am aware of the fact that I might never be able to get all of them, and it's ok. However I will keep on searching for second hand offers (please see this fabulous post by Nina from Stylizimo on her personal preowned gems). Try to shop on sales, or wish for gifts. I will keep on investing in beautiful, hand painted porcelain and eventually I will have my series 7 wheel armchair for my home office, all because I value the design enough to focus on buying the things that last. For me, many of these items that tell a story. They will be used by my children, and maybe even their children. What is the price tag on tradition?
3. Skandynawski design jest za drogi
Całkowicie zgadzam się ze stwierdzeniem, że skandynawskie ikony designu kosztują dużo pieniędzy. To prawda i dzieje się tak nie bez powodu. Próbowaliście kupić tanią torbę od Prady, albo szpilki Manolo Blahnika w cenie ostatnio zakupionych trampek? Prawda jest taka, że wysoka jakość, najlepszy design, marka, wiedza i rzemiosło najwyższej próby zawsze było w cenie. W tym wypadku "drogie" i "kosztuje dużo pieniędzy" to jak dla mnie dwie różne rzeczy.
Sama mam swoją listę marzeń, na której są krzesła, lampy, wazony i innych rzeczy, które kosztują dużo więcej niż "normalne" meble i dodatki. Jestem też świadoma tego, że pewnie nie wszystkie marzenia uda mi się urzeczywistnić. Nie zmienia to faktu, że wciąż poszukuję okazji z drugiej ręki (tu polecam post Niny ze Stylizimo dotyczący Jej osobistych, kupionych okazyjnie wnętrzarskich klejnotów). Szukam też ofert w sklepach, albo robię listę życzeń przy okazji urodzin. Dalej będę inwestowała w piękną, ręcznie malowaną porcelanę i mam nadzieję, że w końcu doczekam się mojego wymarzonego fotela biurowego na kółkach serii 7 Arne Jacobsena. Wszystko dlatego, że bardzo cenię sobie design, który sprawiać mi będzie radość przez wiele lat, a potem cieszyć moje dzieci, a może nawet i wnuki. Jak wycenić tradycję?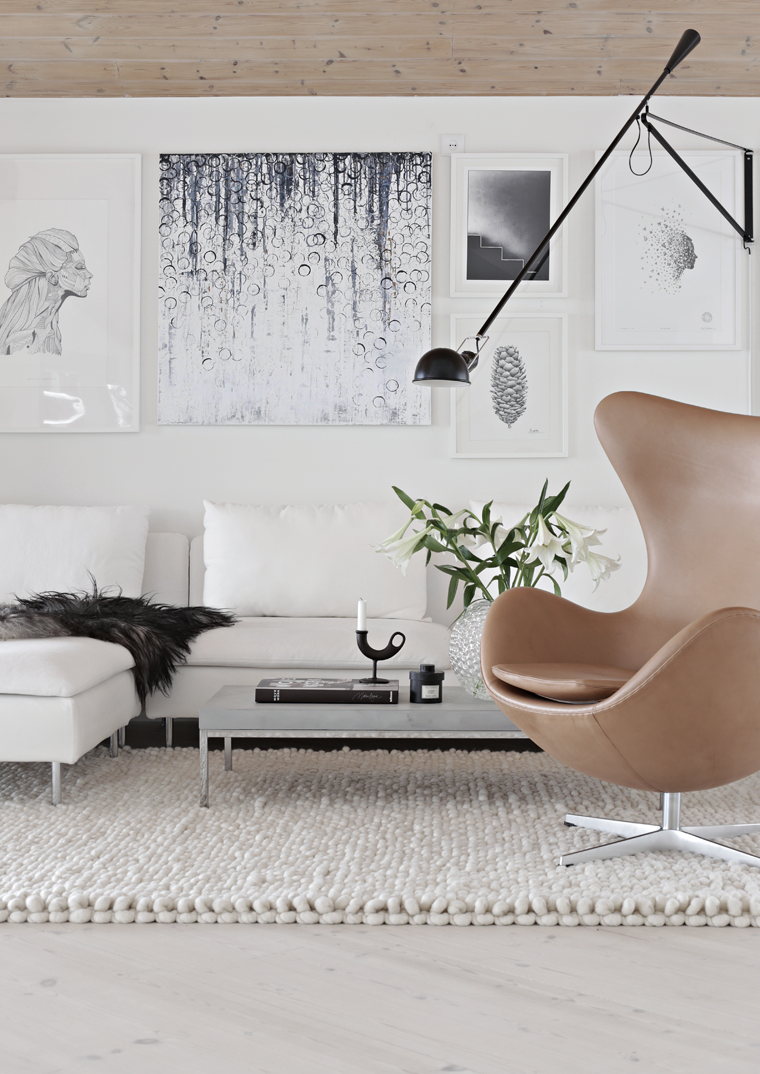 credit: Nina Holst / Stylizimo
4. Scandinavian interiors get boring fast
My way to the interior style consciousness was long. Very long actually. I went through many styles, ideas and solutions, to finally find what suits me best. Having my "colorfull" experience, I totally disagree with the above. When I want a pop of colour, I get pink flowers, when I seek calmness, I go for eucalyptus and scented candle. I can go to almost any interior shop and pick the latest collection of throws, beddings, pillows and accessories and most of them will blend in – or stand out – beautifully. Besides, why would you get tired of timeless or have enough of universal?
4. Skandynawskie wnętrza szybko się nudzą
Moja droga do miejsca w którym się teraz znajduję w kwestii stylu i upodobań, była długa i bardzo kręta. Przeszłam przez wiele faz i spróbowałam wielu rozwiązań, aż wreszcie odnalazłam to, w czym czuję się najlepiej. Moje "kolorowe doświadczenia" pozwalają mi całkowicie nie zgodzić się z powyższym stwierdzeniem. Kiedy chcę wprowadzić do wnętrza kolorowy akcent – kupuję bukiet kwiatów, kiedy szukam wyciszenia wystarczy matowy eukaliptus i zapachowa świeca. Mogę udać się do prawie każdego sklepu z dodatkami dla domu i mieć pewność, że większość aktualnej kolekcji poduszek, pledów czy pościeli pasować będzie do naszych wnętrz, albo delikatnie się wtapiając, albo na zasadzie kontrastu. Jak można znudzić się tym co ponadczasowe, albo mieć dość tego co uniwersalne?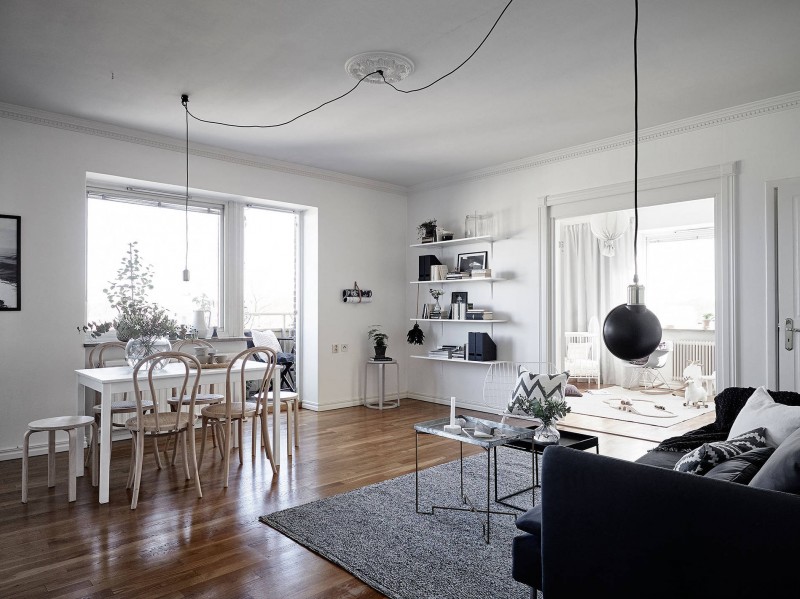 credit: Stadshem
5. Scandinavian interiors require constant cleaning
What about other interiors, seriously?! This statement doesn't hold for a second. As far as I know, white surfaces are a lot better in terms of dust, which can much easier be noticed on dark furniture. Minimalistic interiors, with little to moderate number of furniture and accessories are actually much easier to keep tidy and in place, as there is not much that can be moved around. The only thing that does require more attention, is white floor. And again – this is solely from my own experience. We made a decision of painting our floor white in my Danish house. It needed quite some more attention, compared to previous wooden surface, but I never regretted the decision about painting. The amount of light that it bounced back was absolutely worth it.
5. Skandynawskie wnętrza wymagają ciągłego sprzątania
A inne? W innych się nie sprząta? Ten argument jest słaby. Po pierwsze na białych meblach zdecydowanie mniej widać kurz niż na powierzchniach "wenge". Po drugie – w minimalistycznie urządzonych wnętrzach pilnowanie porządku ułatwia właśnie wspomniany minimalizm. Jedyną kwestią wymagającą poświęcenia więcej pracy i uwagi jest ewentualnie biała podłoga. Tutaj również piszę z doświadczenia, gdyż swego czasu pokusiliśmy się o przemalowanie parkietu na biało, co spowodowało, że częściej trzeba było wyjmować odkurzacz lub sięgać po wilgotną szmatkę, ale ilość światła, która odbita od podłogi wypełniała cały dom sprawiła, ze ani przez moment nie żałowaliśmy tej rewolucji.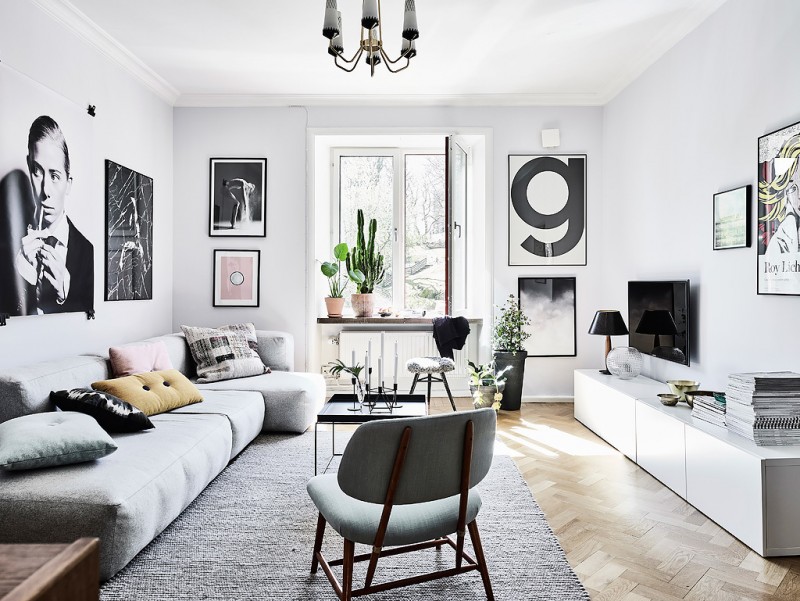 credit: Entrancemakleri
6. Scandinavian interiors minimalism leads to lack of storage space
I do agree with it to some extend. When you want a minimalistic interior, you do have to be very picky regarding all the accessories and very smart finding the possibilities of hidden storage. Do you remember a wonderful light apartment of Sara Medina Lind? It is a perfect example of a very cosy, pure and minimalistic apartment where everything seems to be in the perfect spot.
It is much easier when you have a house with the attic, basement or a garage. And once again we are getting back to the issue of timeless classics. Having a few pieces of great furniture can be much more worth than a huge house filled with random finds. And I am not speaking in terms of money.
6. W skandynawskich wnętrzach brakuje możliwości przechowywania rzeczy
Do pewnego stopnia zgadzam się z tym stwierdzeniem, szczególnie w przypadku mieszkań. Nieco inaczej jest w domach, które posiadają strych, piwnicę lub choćby mały garaż. Posiadając minimalistycznie urządzone mieszkanie trzeba być bardzo krytycznym przy wyborze dodatków. Pamiętacie piękne mieszkanko Sary Mediny Lind? To idealny przykład na niewielką przestrzeń, gdzie wszystko ma swoje nieprzypadkowe miejsce. I znów wracamy do ponadczasowych, klasycznych rozwiązań. Posiadanie kilku "konkretnych", starannie dobranych mebli, może być warte znacznie więcej, niż cały dom wypełniony przypadkowymi znaleziskami. I nie chodzi mi o wartość sklepową.

credit: Sara Medina Lind
7. Scandinavian interiors are too popular
At last! You would be surprised with how many times I hear "Scandinavian homes are ok, but I find them far too popular now. It seems as if everyone wants (or has) a scandi interior".
Firstly – I don't think that the original Scandinavian style is so common. Even amongst the people who see and describe their homes as "Scandinavian", it is usually only "Scandinavian elements" in contemporary, modern, sometimes even eclectic environment.
Secondly – what is wrong with popular? For me, the popular means for example that many people choose this style because it works best for their needs. I consider it rather the advantage, not the opposite.
I think that you should judge it for yourselves.
7. Skadynawskie wnętrza są zbyt popularne
Zdziwilibyście się słysząc jak często spotykam się ze stwierdzeniem, że "skandynawskie wnętrza są ok, jednak stały się za bardzo popularne. Każdy ma albo chce wnętrze w stylu skandi".
Po pierwsze, mimo rosnącej popularności tego stylu na świecie, wcale nie uważam, że styl ten jest w tej chwili bardzo popularny. Nawet wśród ludzi określających swoje wnetrza jako "skandynawskie", są to najczęściej wnętrza współczesne, nowoczesne lub eklektyczne, z elementami stylu skandynawskiego. Podobnie z resztą jest w przypadku bardzo rozpowszechnionych obecnie "sklepów skandynawskich", ale to temat na inny post ;)
Po drugie – czy popularność jest argumentem przemawiającym przeciw konkretnym rozwiązaniom, czy za nimi? Skoro wiele ludzi uznało styl za spełniający ich wymagania, uniwersalny i wart powielania, czy to jest wada, czy może zaleta?
Oceńcie sami.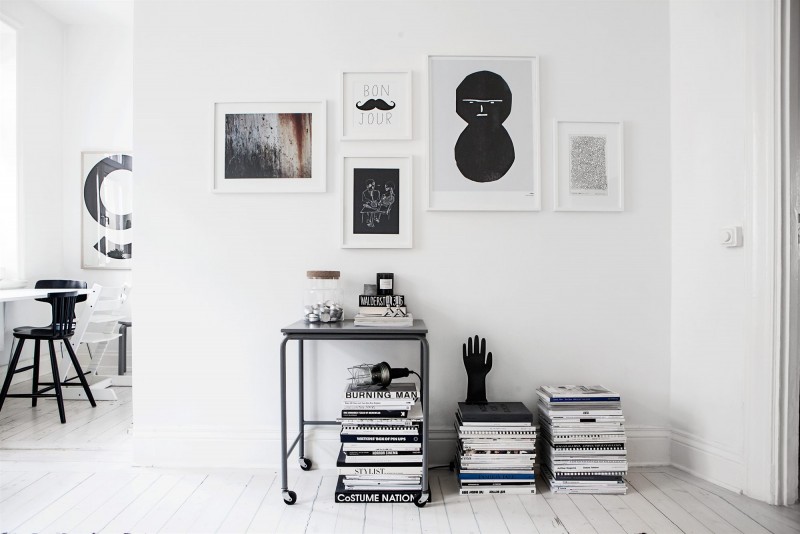 credit: Fantastic Frank