Here it is – long time awaited post about the table :)
During my summer visit in Cracow, I fell in love with tables made by the local shop Nordic Decoration. After some sleepless nights I decided that I have to follow my heart and a few weeks later we received this custom made table with solid wood top resting on a white metal frame.
I loved it from the beginning! Especially the wood structure looks great and I think that the table matches our living/dining and work room very well :)
skandynawski stół – nasza jadalnia
Wiem, że wiele z Was czeka na ten post, co najmniej tak jak ja czekałam na ten stół :)
Wszystko zaczęło się od letniej wycieczki do Krakowa, podczas której miałam oddać się słodkiemu nic-nie-robieniu, ale oczywiście nie byłabym sobą, gdybym nie miała ochoty
zahaczyć o kilka sklepów. Jednym z nich był sklep Nordic Decoration, który – jak sama nazwa wskazuje, w swojej ofercie ma skandynawskie dodatki dekoracyjne.
Mimo, że sklep jest niewielki przepadłam tam na dłuższą chwilę, dlatego iż od samego wejścia zauroczył mnie stojący tam stół i jego piękny, szczotkowany blat. Mimo, że prezentowany w sklepie mebel nie nadawał się do naszego domu, gdyż jego podstawa nie pozwalała na dosunięcie Tripp Trapp'a do krótkiego boku, a takie rozwiązanie jest u nas konieczne, szybko dowiedziałam się, że w zakładzie stolarskim właściciela sklepu mogę zamówić taki blat i taką podstawę jaka tylko mi się zamarzy (no, prawie! :)).
Po wizycie w Nordic Decoration nie mogłam spać :) Poważnie! Myśl o stole nie opuszczała mnie przez kolejne dni, aż pomyślałam – czas na zmianę!
Kiedy powtórnie skontaktowałam się ze sklepem, tym razem już na odległość, byłam zdecydowana na białą ramę stołu INDUSTRIAL GEO oraz drewniany, posiadający piękną strukturę sosnowy blat rozbielony olejem. Ponieważ taki skandynawski stół nie posiada możliwości rozkładania, zdecydowaliśmy, że powinien mieć wielkość 100×150 cm – tym sposobem, w razie konieczności uda się przy nim posadzić 8 osób (już sprawdzaliśmy :)). Bardzo się cieszymy z tej zmiany, stół jest świetny, bardzo ładnie wykończony i idealnie pasuje do salonu, który mieści przecież nie tylko jadalnię, ale też kącik wypoczynkowy i moje domowe biuro.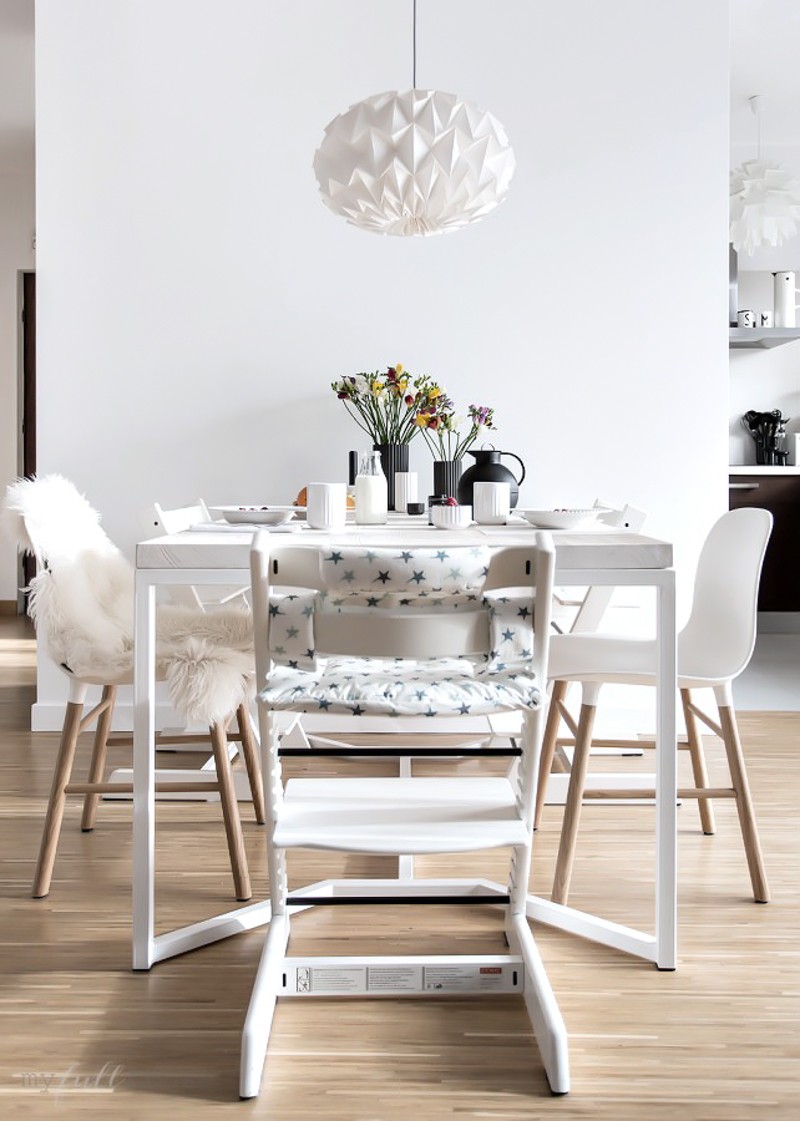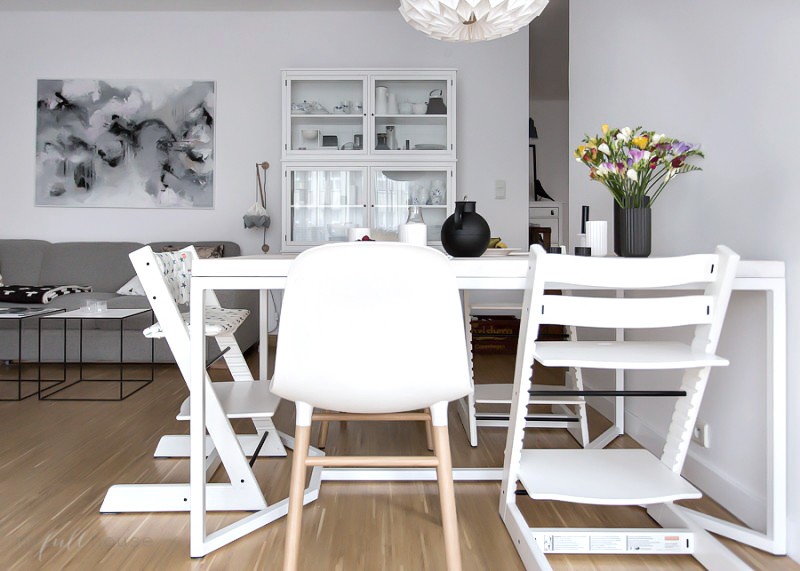 © Kasia Rutkowiak / My Full House
stół /table – Nordic Decoration, porcelana i wazony / porcelain and vases – Lyngby, termos / vacuum jug – Alfi, lampy / lamps – Studio Snowpuppe, krzesełka Tripp Trapp / high chairs – Stokke, krzesła Form / Form chairs – Normann Copenhagen, witryna / glass cabinet – Oliver Furniture
I would love to hear what you think about it! Have a nice day!
Bardzo ciekawa jestem Waszych spostrzeżeń. Miłego dnia!