Hands up those of you who like ironing! Well, I bet not many hands would get up (if any). Although I do know a couple of people who claim to love ironing, they do not have a full house like mine so I don't really take them seriously. I don't like to iron and try to avoid it, if possible, however it's not always that simple.
Some time ago I heard about steam ironing and how it was easier and much more effortless than doing it "the old way". I knew about the power of steam. I often use it when I travel and need to freshen up my clothing. If a dress or a shirt gets creased in a suitcase, I often place the clothes on a hanger in the bathroom and run hot water in order to create steam. After a while the creases disappear (and I can enjoy a hot bath). That's why, I decided to give it a try with an appliance designed to steam the clothing to perfection – a SteaMaster Vertical Steamer.
Wyzwanie SteaMaster – wygoda prasowania parą
Ręka do góry, kto lubi prasować! Założę się, że tych rąk byłoby niewiele. W prawdzie znam dwie osoby, które zarzekają się, że uwielbiają prasować, ale nie mają dużych rodzin, więc ich deklaracje traktuję z przymrużeniem oka. Sama za prasowaniem nie przeapadam i staram się go unikać, ale nie zawsze się da.
Jakiś czas temu usłyszałam o prasowaczach parowych SteaMaster i o tym, że o wiele łatwiej i lżej wyprasować nimi garderobę w porównaniu do użycia zwykłego żelazka. O mocy pary nie trzeba mnie przekonywać, korzystam z niej często podczas podróży. Jeśli wyjęta z walizki w hotelu bluzka czy sukienka jest za bardzo wygnieciona – wieszam ją na wieszaku w łazience i puszczam gorącą wodę, aby zaparować pomieszczenie. Po chwili zagniecenia znikają (a ja mogę skorzystać z gorącej kąpieli). Postanowiłam więc nie zwlekać dłużej i sprawdzić profesjonalne urządzenie przeznaczone do prasowania parą. W końcu – mamy co prasować ;)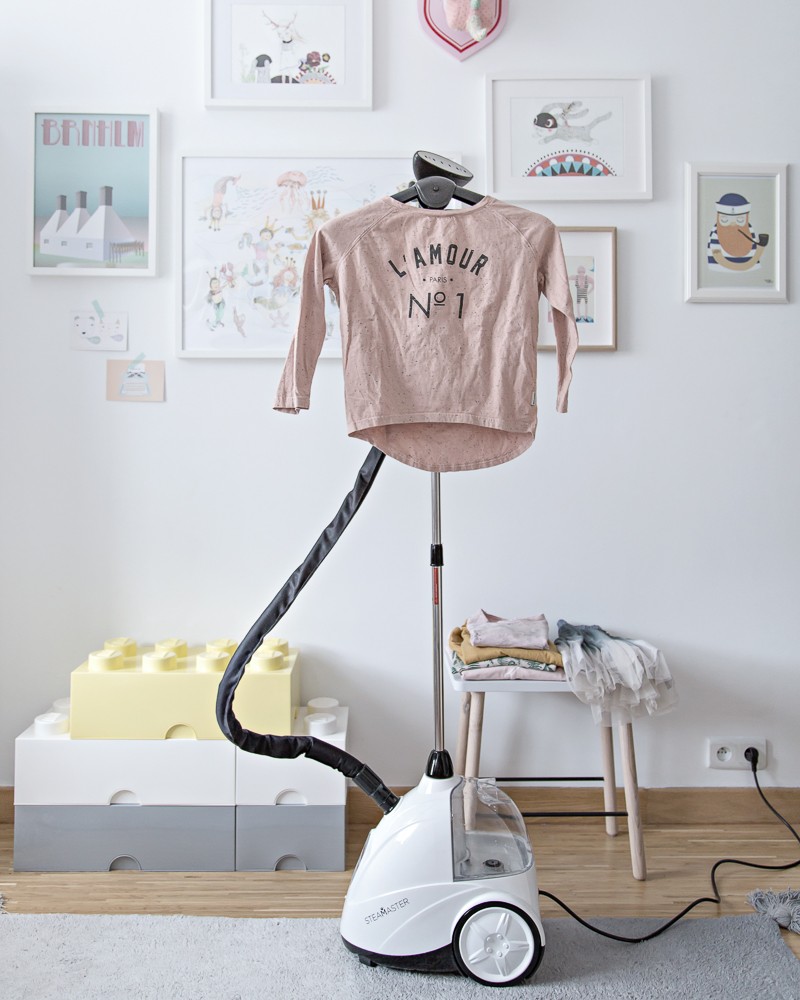 It's looks a bit like a little vacuum cleaner and it's very easy to assemble. After pouring in water and turning on the switch, it's ready to work in under a minute and boy – it does wonders! What I always hated was ironing girls' "fine" dresses with all the gentle detailing, but with the steamer I can just relax. Hot steam removes the creases and all the nice details remain safe. It also works great for freshening up the winter/summer clothes after a season change.
Prasowacz wyglądem przypomina niewielki odkurzacz, a jego złożenie jest bardzo proste. Po nalaniu wody i włączeniu do kontaktu, jest gotowy do pracy w 45 sekund. Osobiście najmniej lubię prasować sukienki dziewczynek, ze względu na wiele delikatnych detali, na które zawsze trzeba bardzo uważać i które nie tylko utrudniają, ale i spowalniają zadanie. Z prasowaczem SteaMaster nie ma tego problemu. Pod wpływem pary zagniecenia znikają, a aplikacje, cekiny i inne "ozdóbki" pozostają nienaruszone. Para bardzo dobrze nadaje się też do odświeżania zimowych lub letnich ubrań przy okazji zmiany sezonu.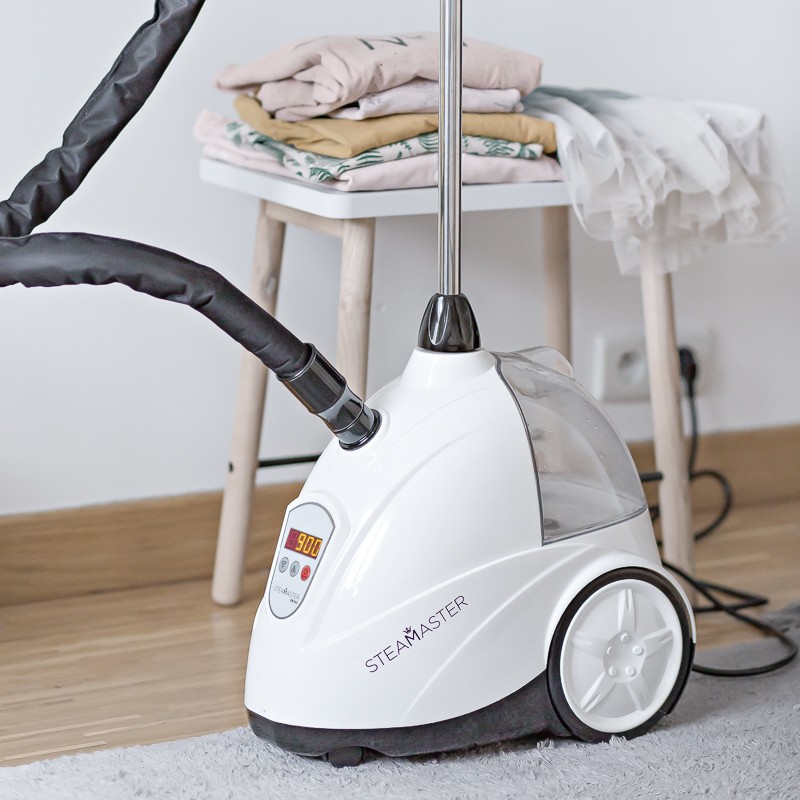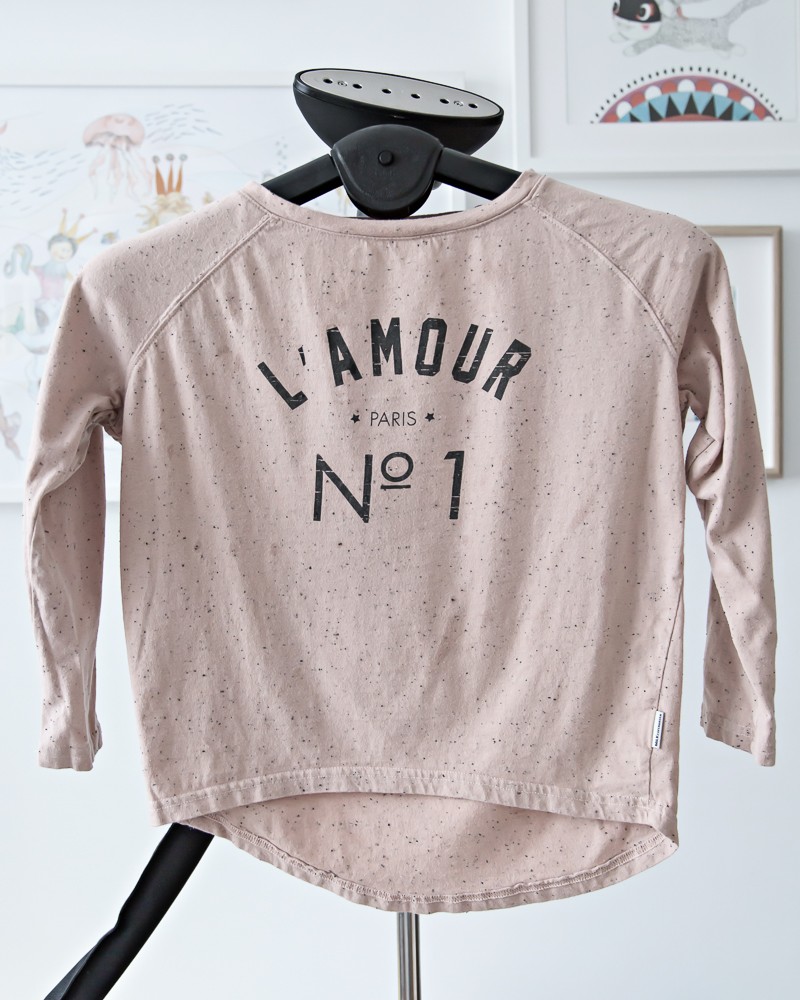 The chosen model (EM-303) has an electronic steam power regulator (900-2000 Wat) and can be used with any fabric. Easy assembly and dis-assembly will make it much easier to use and store it in our apartment. I wish I had it when the kids were born!
Wybrany przeze mnie model EM-303 ma pięciostopniową regulację pary i nadaje się do każdego rodzaju materiału. Proste składanie i rozkładanie ułatwi używanie i przechowywanie. Szkoda, że nie miałam takiego urządzenia, kiedy dzieci się rodziły!
© Kasia Rutkowiak / My Full House
Uwaga! Mam dla Was kod rabatowy upoważniający do 15% rabatu na 

model EM-303

. Wystarczy, że dokonując zakupu wpiszecie hasło "myfullhouse". Hasło będzie aktywne do 10. listopada.