I have been a little quiet for the past days due to some days off work and "serious family time". We are enjoying the nice weather and each other's company. The house is filled with laughter and smell of flowers which reminds me of my recent birthday and Mother's Day (MD in Poland is always on the 26th of May, just a day before my birthday). I am overwhelmed with all the spring and early summer fruit and veggies that can be found on the nearby market, we experiment with new recipes and each day brings new flavours.
Yesterday I made this super tasty, light and fresh strawberry and orange salad. I know that oranges are not considered summer fruit in Europe, but I thought their slightly sour taste would be a great addition to sweet strawberries and salty feta cheese. I decided to use bloody oranges but any oranges will do. It is a great addition to all kinds of roasted meat, especially barbecue or – as is – a healthy and tasty lunch on a warmer day.
Letnia sałatka truskawkowo – pomarańczowa z mięta i fetą
Ostatnie dni postanwiłam poświęcić na odpoczynek i czas z rodziną – stąd cisza na blogu. Rozkoszujemy się piękna pogodą i cieszymy wzajemnym towarzystwem, jest wesoło i gwarno i w całym mieszkaniu pachną kwiaty, które przypominają mi o Dniu Matki i moich urodzinach. W jeszcze lepszy (jeśli to możliwe) nastrój wprawiają mnie wiosenne i wczesnoletnie owoce i warzywa z targu, codziennie eksperymentujemy z nowymi smakami i jest pięknie.
Wczoraj zrobiłam lekką sałatkę, która idealnie nadaje się jako dodatek do pieczonego mięsa, szczególnie tego z grilla. Do jej przygotowania użyłam pomarańczy, które może nie są uważane za letnie owoce, ale doskonale przełamują słodycz truskawek. Ja kupiłam czerwone pomarańcze, ale każde inne doskonale się nadadzą.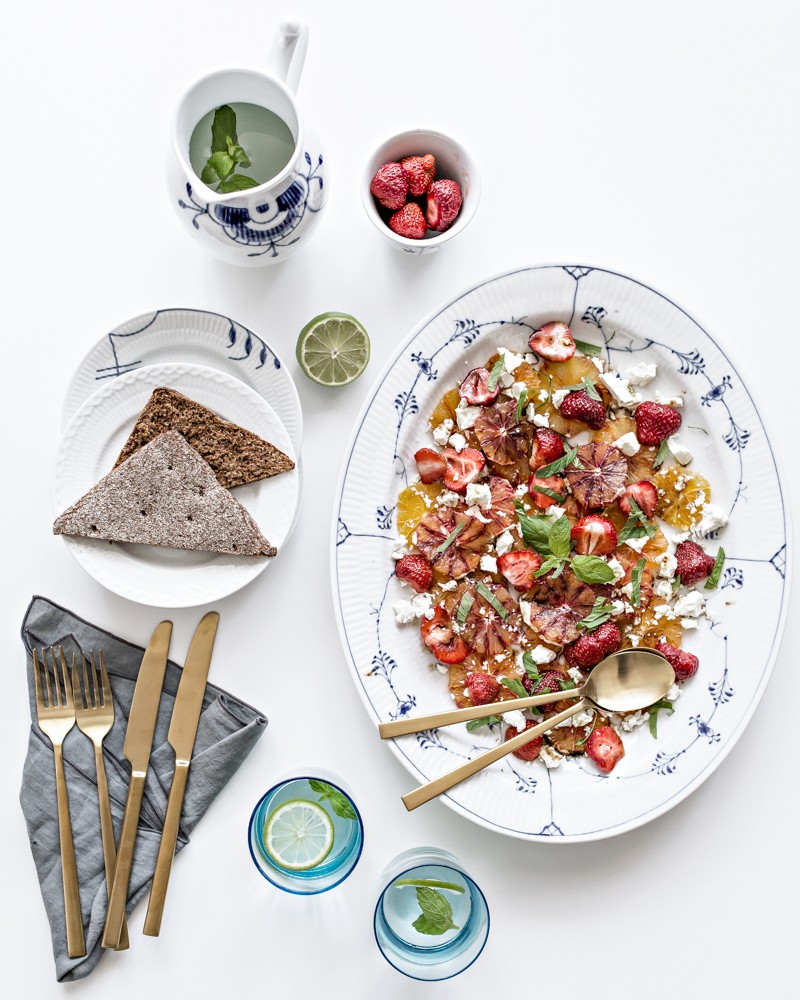 Ingredients (4 servings as side dish or 2 servings as light lunch) / składniki (dla 4 osób jako dodatek lub dla 2 osób jako lekki lunch)
3 oranges, peeled and thinly sliced / 3 pomarańcze, obrane i pokrojone w cienkie plasterki
5-10 strawberries, halved / 5-10 truskawek, przepołowionych
50 g feta cheese, crumbled / 50 g sera feta, pokruszonego
fresh mint leaves / świeża mięta
4 tbsp olive oil / 4 łyżki oliwy z oliwek
1 tbsp balsamico vinegar / 1 łyżka octu balsamicznego
1 tbsp liquid honey / 1 łyżka płynnego miodu
salt and pepper to taste / sól i pieprz do smaku
Method:
Arrange fruit on a plate / serving dish. Sprinkle with feta and mint leaves. In a cup mix oil, vinegar and honey, season to taste. Drizzle the dressing over salad. Allow the tastes to combine for at least 15 minutes. Enjoy!
Sposób przygotowania:
Ułożyć owoce na półmisku. Posypać feta i miętą. W kubku wymieszać oliwę, ocet i miód, doprawić solą i pieprzem. Polać sałatkę dresingiem i odczekać przynajmniej kwadrans, aż smaki się przegryzą. Smacznego i udanej nedzieli!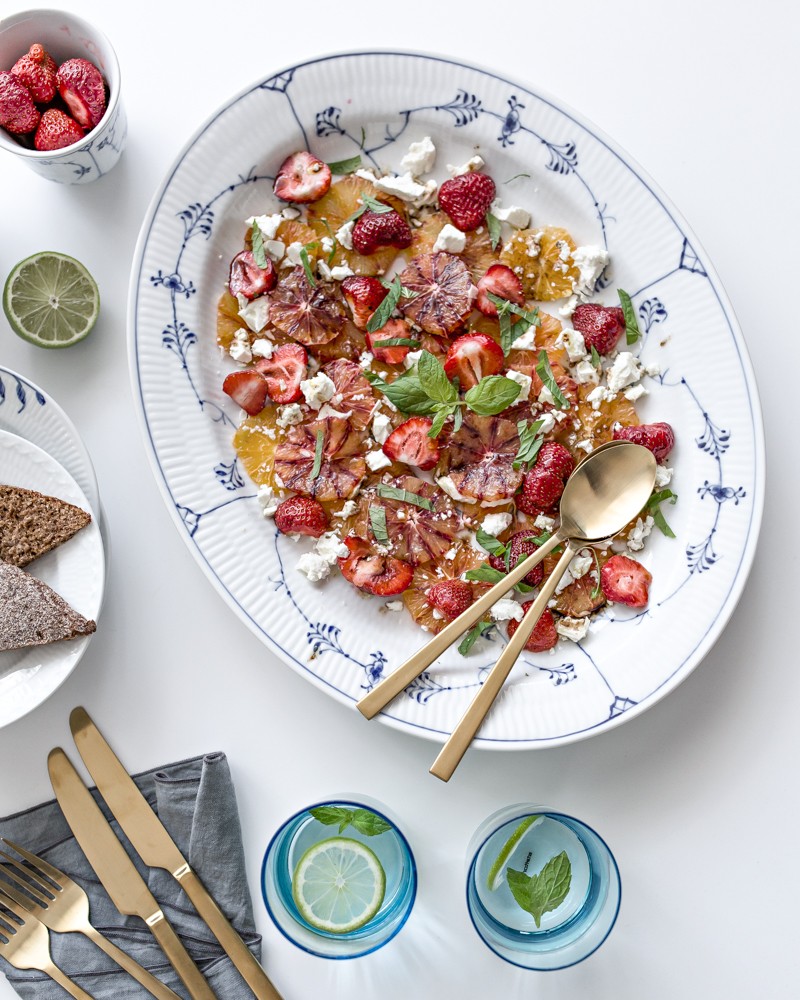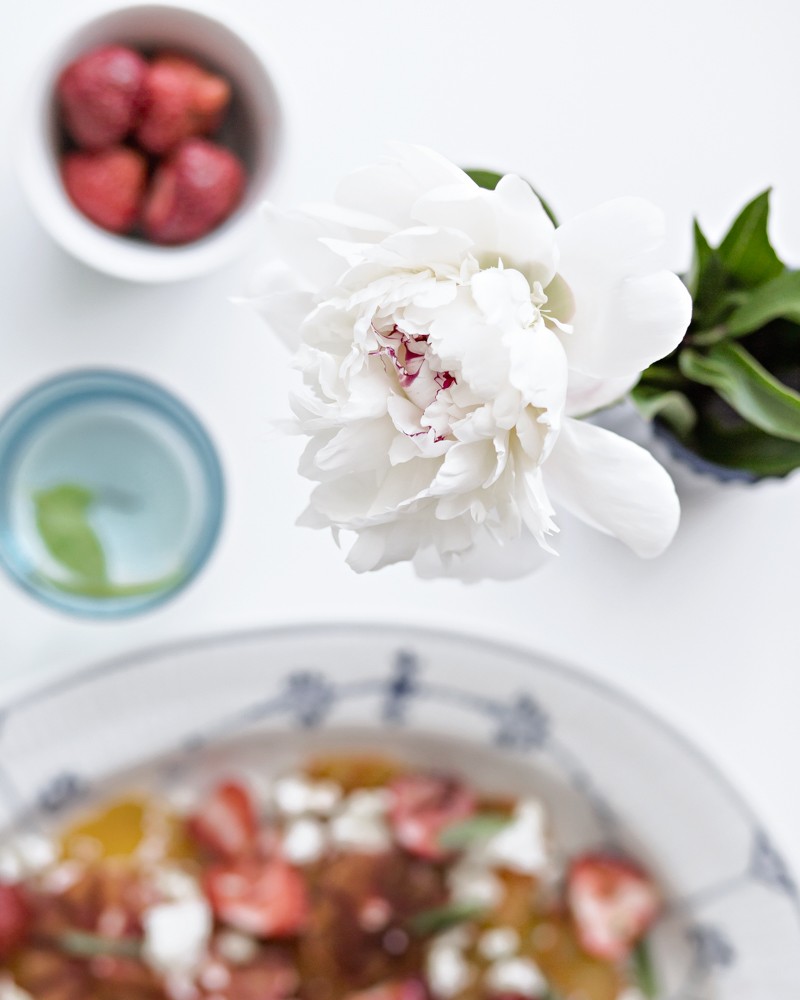 © Kasia Rutkowiak / My Full House
Porcelain / porcelana – Royal Copenhagen, cutlery / sztućce – Bitz