Remaining in the yellow mood from the last post, I would like to show you some news in the girl's room.
Kids grow fast and they also tend to compete a lot. If you combine it with the fact of having a shared room, it can give problems. This is what happened with my girls. They do love each other a lot, Klara copies Helena all the time, while Helena is taking a great care of her little sister (that is if they are not fighting, of course), but having to share a desk and a chair slowly became a big issue for these two. Firstly – it's impossible to adjust the chair in a way so it fits perfect two kids of different hight. Consequently – only one child can have the right position while seated and that's not enough if you ask me. Secondly – even if it was possible to have an universal adjustment – it is still one chair for two kids – you see what I mean? So, when you combine all the above with the fact that STOKKE has just launched new colours for the Tripp Trapp® chair – oh yes – you guessed right.
Pozostając w temacie żółtego koloru z poprzedniego posta, chciałam Wam nieśmiało pokazać pewną nowość w pokoju moich dziewczynek.
Z dziećmi tak już jest, że nie tylko szybko rosną, ale i rywalizują ze sobą. Jeśli dodamy do tego jeszcze fakt posiadania wspólnego pokoju, pojawiają się pewne problemy. Nie inaczej jest w przypadku naszych dziewczynek. Helenka i Klara bardzo się kochają, powtarzają po sobie wiele zachowań – Klara bardzo wzoruje się na starszej siostrze, a Helena – kiedy się z Klarą nie kłóci – bardzo fajnie się zajmuje siostrą, ale od jakiegoś czasu posiadanie biurka z jednym krzesłem stało się dużym kłopotem. Po pierwsze – różnica wzrostu pomiędzy dziewczynkami powoduje, że nie można go "uniwersalnie wyregulować", a to powoduje nieprawidłową postawę siedzącego dziecka. Po drugie – jedno krzesło – nawet "uniwersalne" i tak nie rozwiąże kłopotu, bo dziewczynki przecież są dwie. Jeśli te wszystkie fakty połączymy z informacją, że marka STOKKE wypuściła właśnie nowe kolory krzeseł Tripp Trapp® – sami możecie się domyślić do czego zmierzam :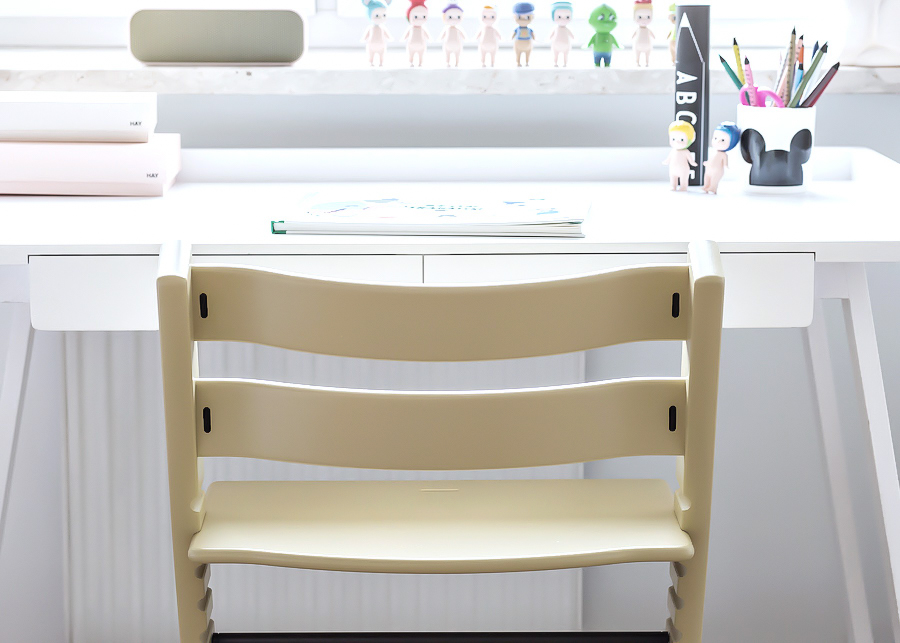 For the past few days we are happy owners of a Tripp Trapp in the brand new color Wheat Yellow. It's a nice, soft yellow, great for a boy or a girl. Light and happy but not "loud", it can be perfect not only for kids rooms but also for kitchens or dining rooms. I matched it with a new cushion Grey Star
Od kilku dni jesteśmy w posiadaniu krzesełka w kolorze Wheat Yellow.
To bardzo fajny, stonowany żółty kolor, który sprawdzi się zarówno w przypadku posiadania chłopca jak i dziewczynki. Lekki, radosny, ale nie krzykliwy, może bardzo fajnie wyglądać nie tylko w pokojach dziecięcych, ale i kuchni czy jadalni. Do żółtego krzesełka wybrałam dla Klary szarą poduszkę w białe gwiazdki – Grey Star.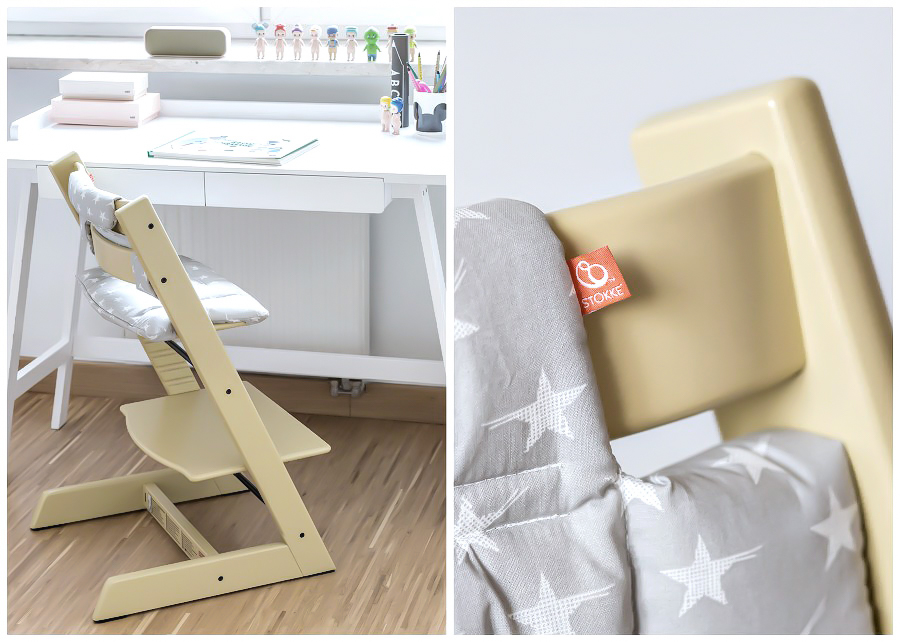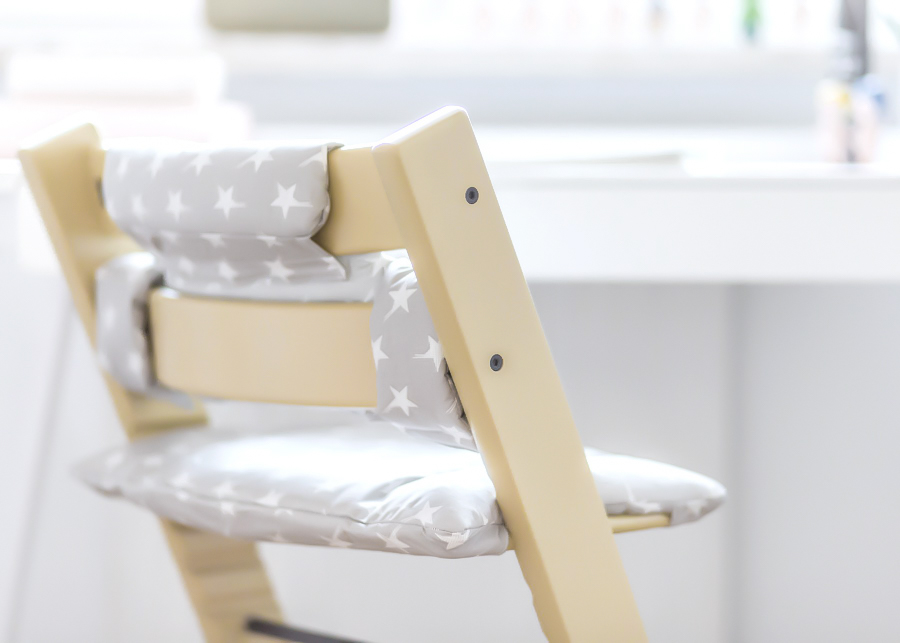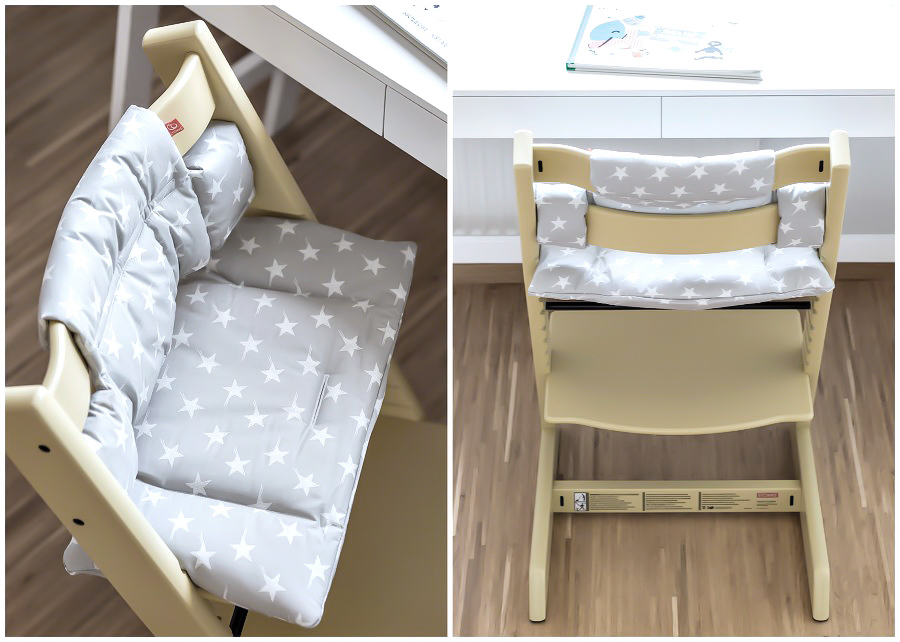 Here you can find a really long post about Tripp Trapp and Stokke Steps chairs, while here you will find a big post about girls' room as it was a year ago. Soon I will reveal some more (huge!) changes in the girl's room – those who follow me on the Instagram already know a bit. I will also have another nice surprise so stay tuned!
O zaletach krzesełka Tripp Trapp a także o różnicach między Tripp Trapp a Stokke Steps pisałam w tym bardzo dłuuuuugim poście, za to dotychczasowy pokój dziewczynek możecie zobaczyć tutaj.
Już niedługo pokażę Wam więcej nowości z pokoju dziewczynek i bardzo wiele zmian – oj dzieje się – kto jest na Instagramie ten wie ;) Będę tez dla Was miała kolejną niespodziankę, więc bądźcie w pogotowiu.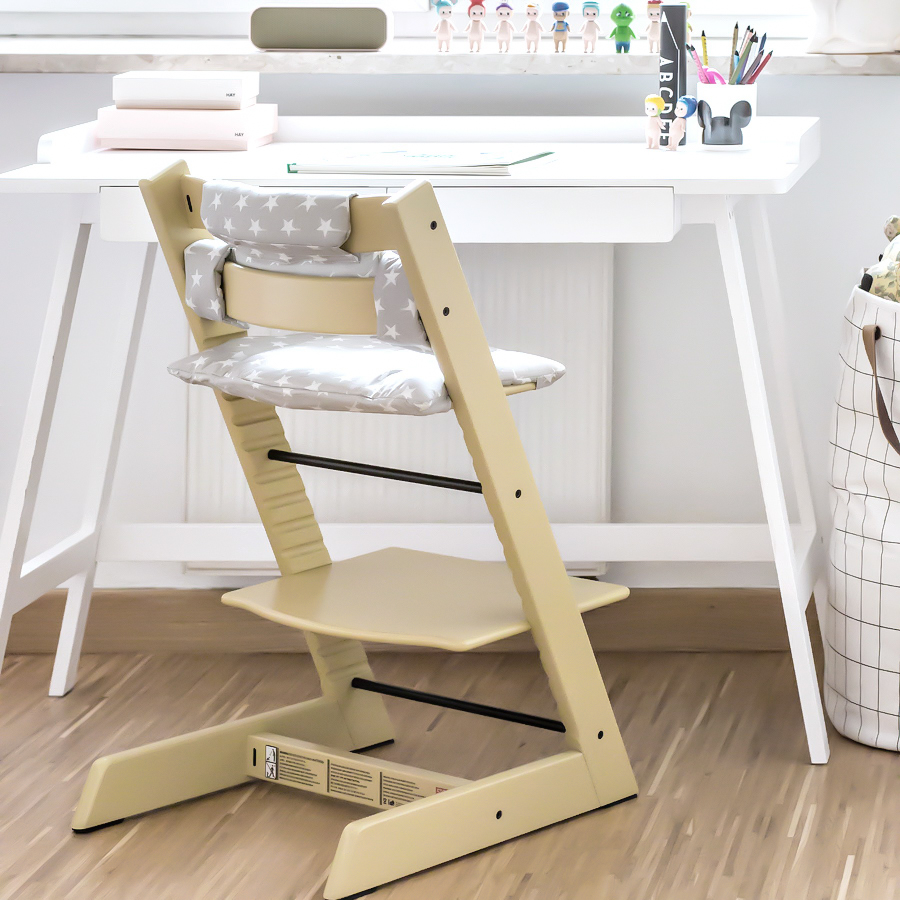 © Kasia Rutkowiak  / My Full House
Miłego dnia!
Have a nice day!