I know, I know, most of you are used to recipes being posted on Sundays (if posted), but guess what! I thought that if I post this one today, you will have this great dish ready for tomorrow's breakfast – how clever was that? Brilliant actually ;) And I have to make a confession – it is my first attempt to make a Dutch Baby and I cannot understand how on Earth, I haven't tried it before?! It tastes so so soon good!
What is a Dutch Baby? Well, it is something in between a pancake and an omelette, but baked in oven, and despite it's name it actually comes from the U.S., not Holland.
I loved the simplicity of the recipe and how it only requires a couple of minutes of work. Having 3 – 4 (or up to 6!) children for weekend breakfast sounds like a pancake disaster pursuit. I'd have to get up at 5 to have the pancakes ready for 9. With this recipe, it's only important to have the eggs and milk at room temperature but that is easy to achieve even if you forget to take them out of the fridge before going to bed. Milk can easily be warmed up in a caserolle, and you need to place the eggs in a bowl with warm tap water. After 5 min they are good to go!
czekoladowe dutch baby – idealne  śniadanie na weekend
Wiem, że wielu z Was przyzwyczaiło się do tego, że przepisy (jeśli się pojawiają) publikowane są w niedziele, ale pomyślałam, że jeśli pokażę Wam ten przepis dzień wcześniej, w niedzielę będziecie się już delektować idealnym śniadaniem. Cwane, wiem :) Od razu muszę się przyznać, że to moje pierwsze Dutch Baby w życiu i nie mogę zrozumieć jak to się stało, że jeszcze nigdy wcześniej nie robiłam tego przepysznego ni to omletu, ni to naleśnika prosto z pieca. Mimo, ze nazwa sugeruje holenderski rodowód, danie to wywodzi się ze Stanów. Jego gigantyczną przewagą nad naleśnikami jest bardzo krótkie i w zasadzie nie wymagające pracy przygotowanie. Mając w weekend na śniadaniu 3-4 (aż do 6!) dzieci, naleśniki to istne samobójstwo. Musiałabym wstać o 5, aby na 9 wszystko było gotowe. W przypadku tego przepisu najważniejsze jest zby pamiętać o tym, że jajka i mleko maja być w temperaturze pokojowej – to wszystko. Jeśli więc zapomnicie je wyjąć z lodówki idąc dzień wcześniej spać, mleko zawsze można delikatnie podgrzać w rondelku a jajka włożyć na parę minut do miseczki z ciepłą wodą. Gotowi?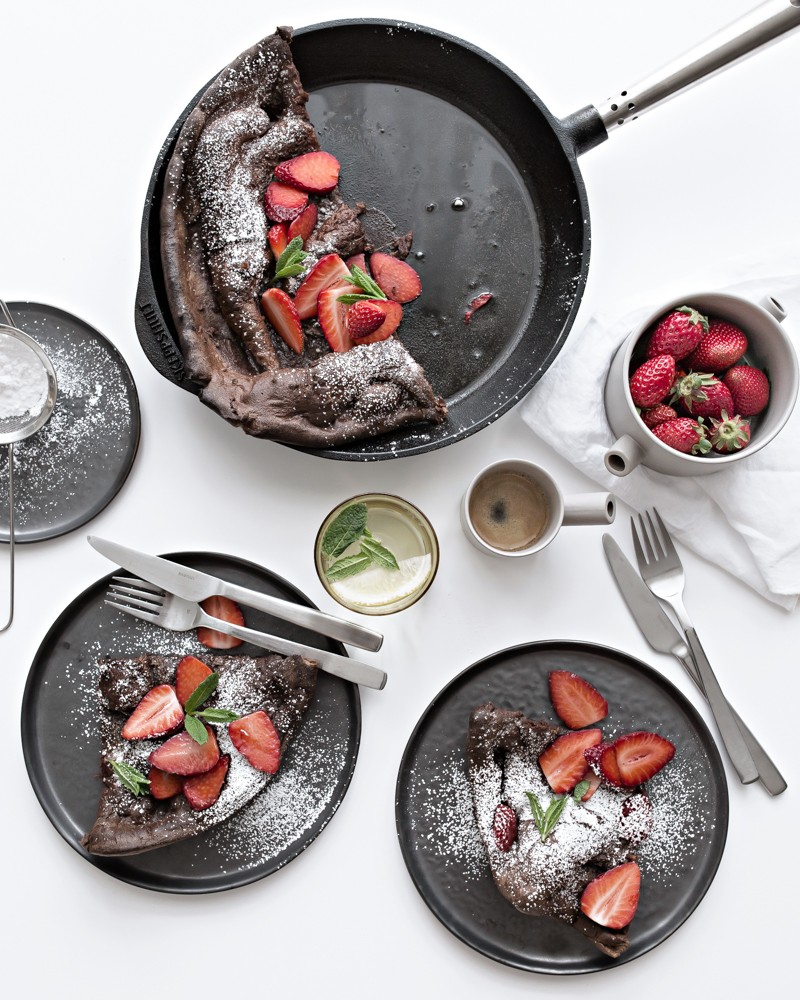 Ingredients / składniki:
0,5 cup all purpose flour / 0,5 szklanki mąki pszennej
2 tbsp cacao pulver / 2 łyżki kakao w proszku
1 tbsp sugar / 1 łyżka cukru
0,5 tsp salt / 0,5 łyżeczki soli
3 eggs, room temperature / 3 jaja w temperature pokojowej
0,5 cup milk, room temperature / 0,5 szklanki mleka w temperature pokojowej
3 tbsp butter / 3 łyżki masła
dusting sugar and fruit / cukier puder i owoce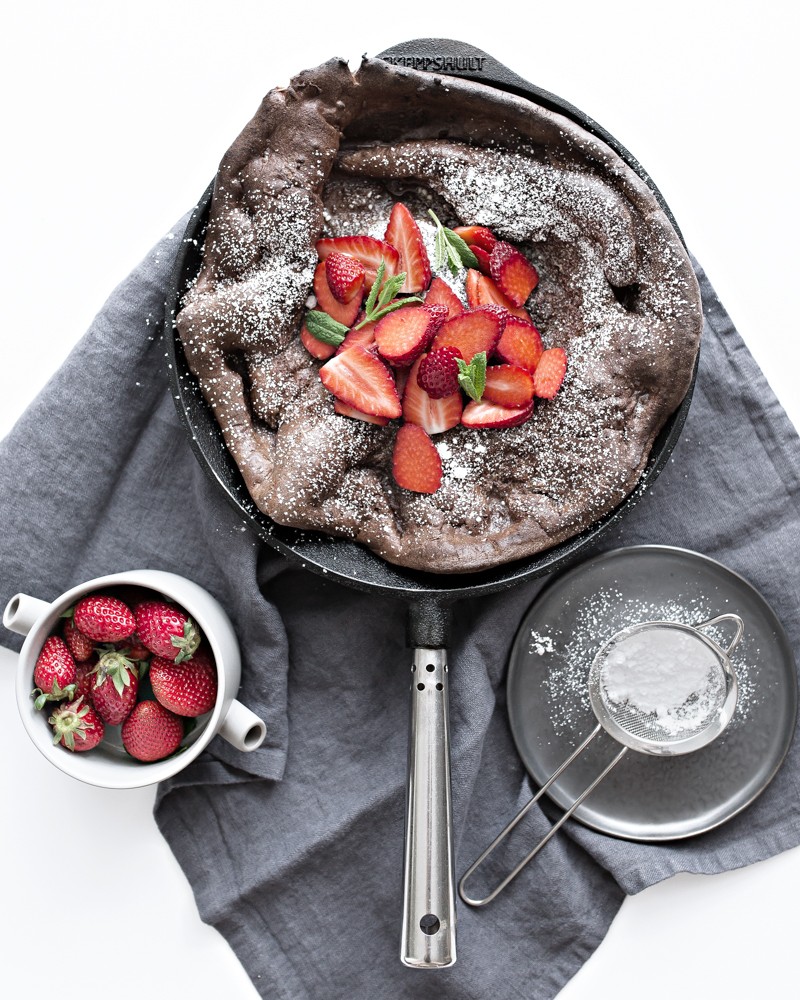 Method:
1. Preheat oven to 2o0C, fan assisted. Put in a 24-26cm cast iron pan (or an ovenproof dish) with butter in it. I used my brand new Skeppshult pan and it's perfect!
2. Combine the dry ingredients, add milk and eggs, whisk until frothy (by hand or with an electric/stand mixer)
3. Remove the pan from the oven (it's HOT!), quickly pour the batter on it and put back for 15-18 minutes of baking, until the Baby has raised and the edges look crispy and done.
4. Wait a couple of minutes till it stops sizzling (it will also deflate a bit). Dust with sugar, add some fruit and enjoy.
Sposób przyrządzenia:
1. Piec rozgrzać do temp. 200C z termoobiegiem. Wstawić do niego żeliwną patelnię (lub żaroodporne naczynie) z masłem. Ja użyłam naszej nowej żeliwnej patelni Skeppshult – jest idealna!
2. Połączyć suche składniki, dodać do nich mleko i rozkłócone jajka. Ubic ręcznie lub z pomocą miksera na jednolitą masę (będzie rzadka).
3. Wyjąć patelnię z pieca (uwaga, gorąca!), szybko wlać masę i wstawić z powrotem na 15-18 minut, aż Baby wyrośnie, a brzegi będą wypieczone.
4. Odczekać parę minut, posypać cukrem pudrem i owocami i gotowe!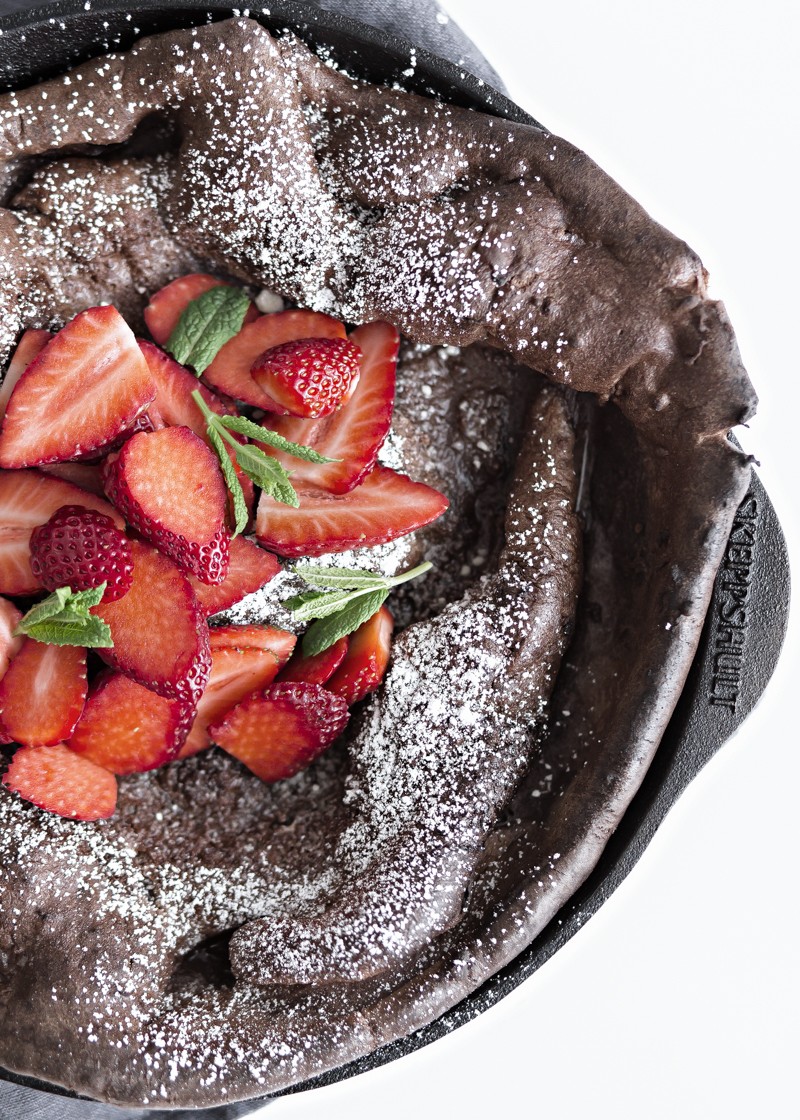 © Kasia Rutkowiak / My Full House
cast iron frying pan / żeliwna patelnia – Skeppshult (Professional Line), plates / talerze – Serax Pure by Pascale Naessens
Bon Appetit!