While there is a tremendous interest in the new girls' room, I wanted to mention news and changes in the boys' room as well. I wouldn't call it a makeover, as the changes are few but the result is significant. The previous look of the room can be seen in this post. The main change is the bed. Previously, boys had a mid high FLEXA bed with a second mattress on the floor. This solution was good, mostly because of the small size of the room and not so big size of the bed, still making it possible to sleep for both children. But as we know, kids tend to grow, and some grow faster that other ;) That is why we decided to change the mid high single bed into a full size bunkbed. Choosing a smart solution from the beginning, we were able do do it with a minimum effort. FLEXA makes it possible to change the look of it's many beds as the family's needs change. This is what we love with most of Scandinavian brands – the high quality and versatility. It is another proof that it is smart to invest in good solutions from the beginning.
As the bed got higher, we changed the lamp (it is now a thin, round ceiling lamp with a black rim and it actually doesn't show on the pictures below). Boys kept the shelves (brought from Denmark), the desk (also from FLEXA), the black Tripp Trapp chair (Stokke), the DIY blackboard and some pictures – including the drawing that my Dad made for Olaf. There is also a Bornholm poster in this room, just black and white. I wrote about it right here.
So here it is, our boys' room, Anno Domini 2016.
Monochromatyczny pokój dla chłopców w stylu skandynawskim – nowy look
Podczas gdy popularność posta pokazującego przemianę pokoju dziewczynek bije rekordy, ja chciałam Wam pokazać zmiany w pokoju chłopców. Nie nazwałabym ich całkowitą przemianą, gdyż są stosunkowo niewielkie, jednak dość ważne. Poprzedni wygląd pokoju możecie zobaczyć w tym poście. Główną zmianą jest łóżko. Poprzednio stało tu półwysokie łóżko FLEXA, pod którym położyliśmy dodatkowy materac. Takie rozwiązanie w niewielkim pokoju miało wyraźny plus – łóżko nie zajmowało tyle miejsca, a wciąż była możliwość wygodnego spania dla dwójki dzieci. Dzieci mają jednak to do siebie, że szybko rosną (jedne szybciej niż inne), więc niedawno postanowiliśmy przerobić półwysokie łóżko na pełnowymiarowe łóżko piętrowe. Jako, że łóżka FLEXA można w dużym zakresie zmieniać, wraz ze zmianą potrzeb dziecka, lub na przykład wraz z powiększaniem się rodziny, przemiana ta okazała się niezmiernie łatwa. To właśnie uwielbiamy u wielu Skandynawskich marek – jakość, funkcjonalność i możliwość adaptacji. Raz jeszcze mieliśmy też dowód na to, że warto zainwestować w dobrą markę i solidny produkt od samego początku.
Po zmianie łóżka musieliśmy zmienić lampę (teraz jest płaska lampa sufitowa w kształcie koła, której jednak nie widać na zdjęciu). Zachowalismy półki przywiezione z Danii, biurko (FLEXA), czarne krzesło Tripp Trapp (Stokke), a także domowej roboty tablicę do pisania kredą, obrazki i plakaty. Jest tu i rysunek zrobiony dla Olafa przez Dziadka, i czarno biały plakat z mapą Bornholmu.
Oto pokój chłopców A.D. 2016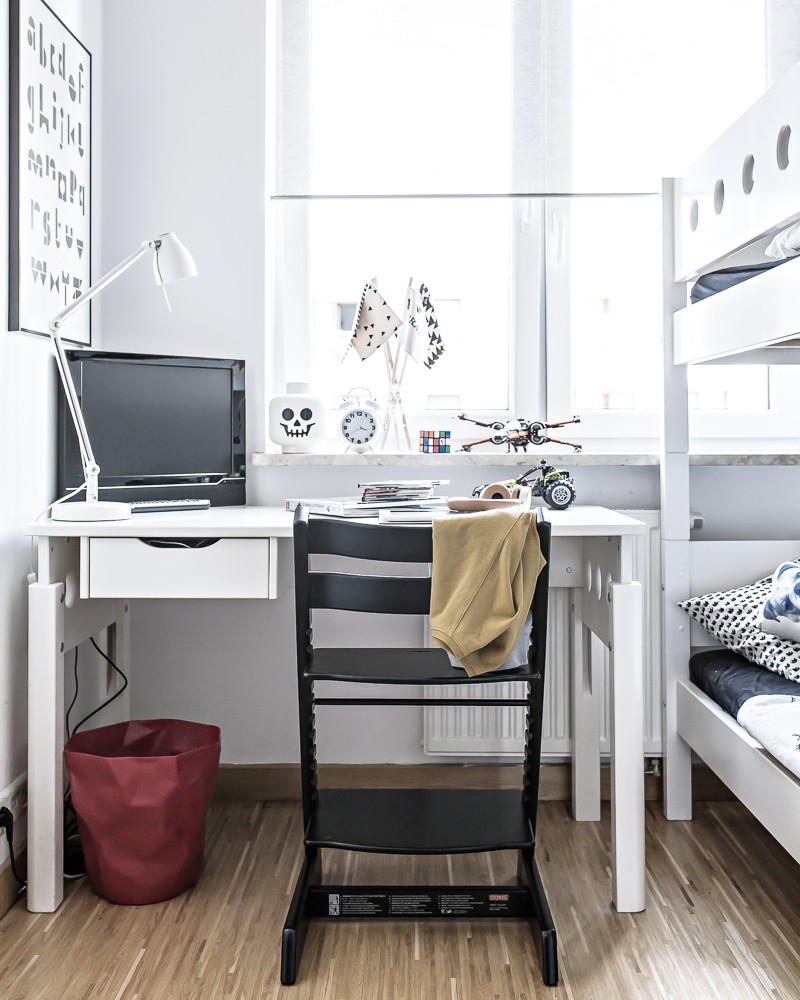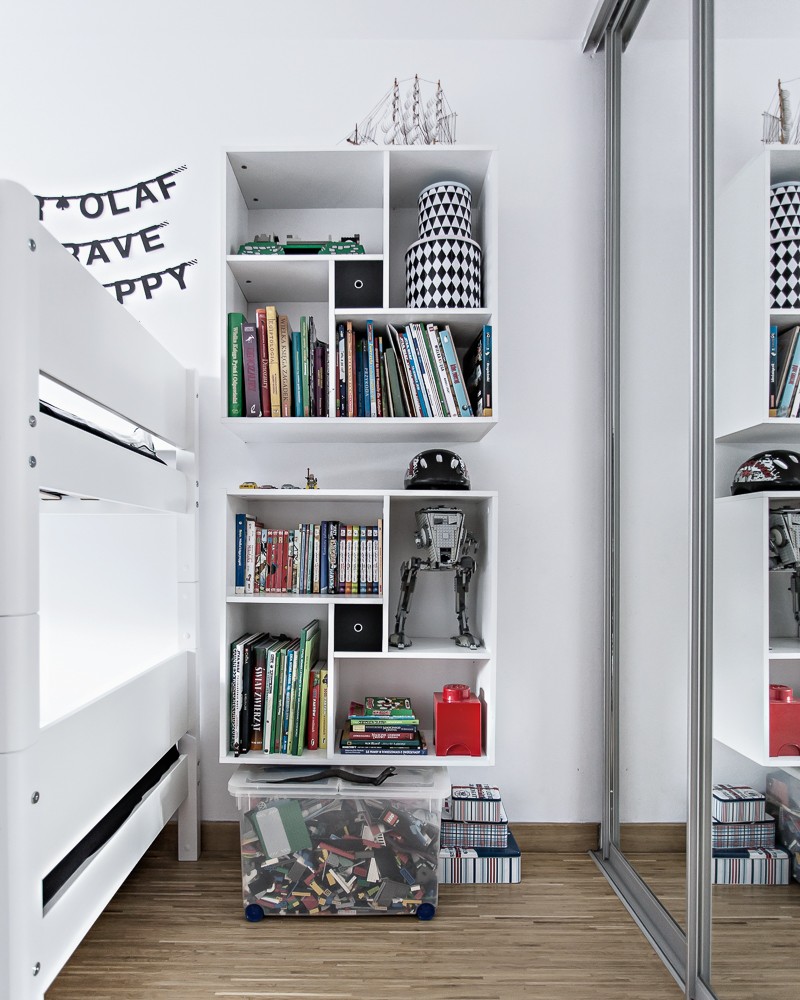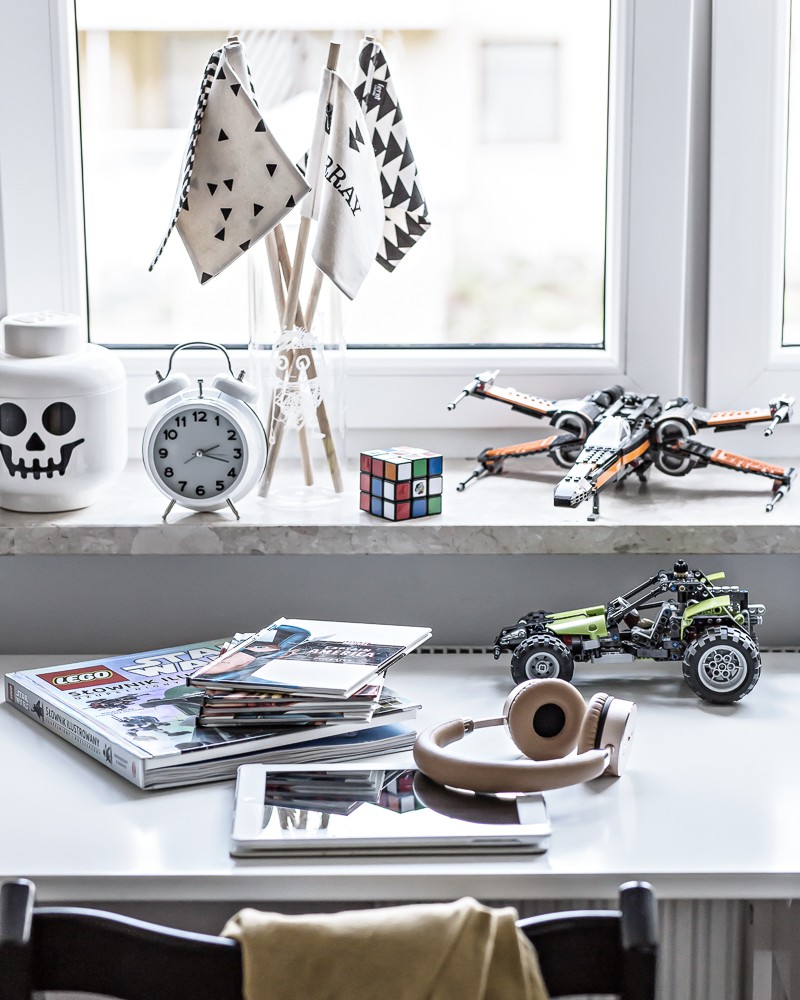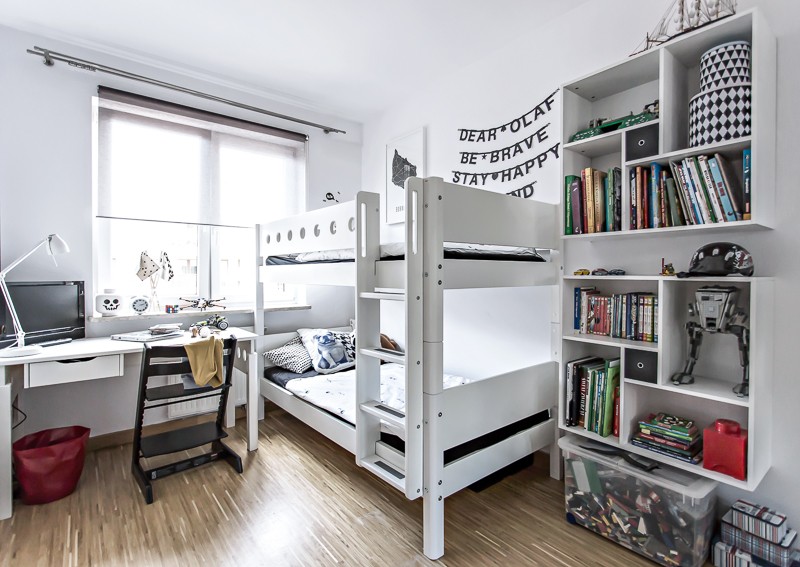 ? Kasia Rutkowiak / My Full House
Chair / krzesło – Tripp Trapp, stokke.com, bed and desk/ łóżko i biurko – FLEXA, bedding / pościel – mumla.pl
W Polsce meble FLEXA są do kupienia w Warszawie – w salonie firmowym w Domotece, w salonie w Toruniu, lub na tej stronie.
Do końca wakacji jest też 20% rabat na cały asortyment – polecam serdecznie!