As promised yesterday, I am coming with a super easy recipe for fantastic summer treat. We all love ice pops, but homemade ones are double good as I know exactly what we're eating.
These beautiful white and red pops are full of the good stuff – yoghurt, honey and cherries, which are previously shimmered with a bit of  sugar for extra tenderness. You can omit sugar if your cherries are very sweet, the choice is all yours. You can also make these with other fruit, the possibilities are many and I can assure you that your kids are going to love them! They are even going to love you double as much if you let them eat two… After all, why shouldn't you?
Zdrowe lody jogurtowe z czterech składników
Tak jak Wam wczoraj obiecałam, przybywam z przepisem na fantastyczny letni przysmak. Wszyscy kochamy lody na patyku, ale te robione w domu mają tę przewagę, że dokładnie wiemy co jemy. Jogurtowo-czereśniowe, biało-czerwone lody są pełne tego co najlepsze – jogurtu, miodu i czereśni, które są wcześniej delikatnie podduszone z cukrem. Cukier oczywiśce można pominąć, szczególnie jeśli czereśnie są bardzo słodkie – decyzja należy do Was. Lody te można też z powodzeniem robić z innymi owocami, możliwości jest cała masa.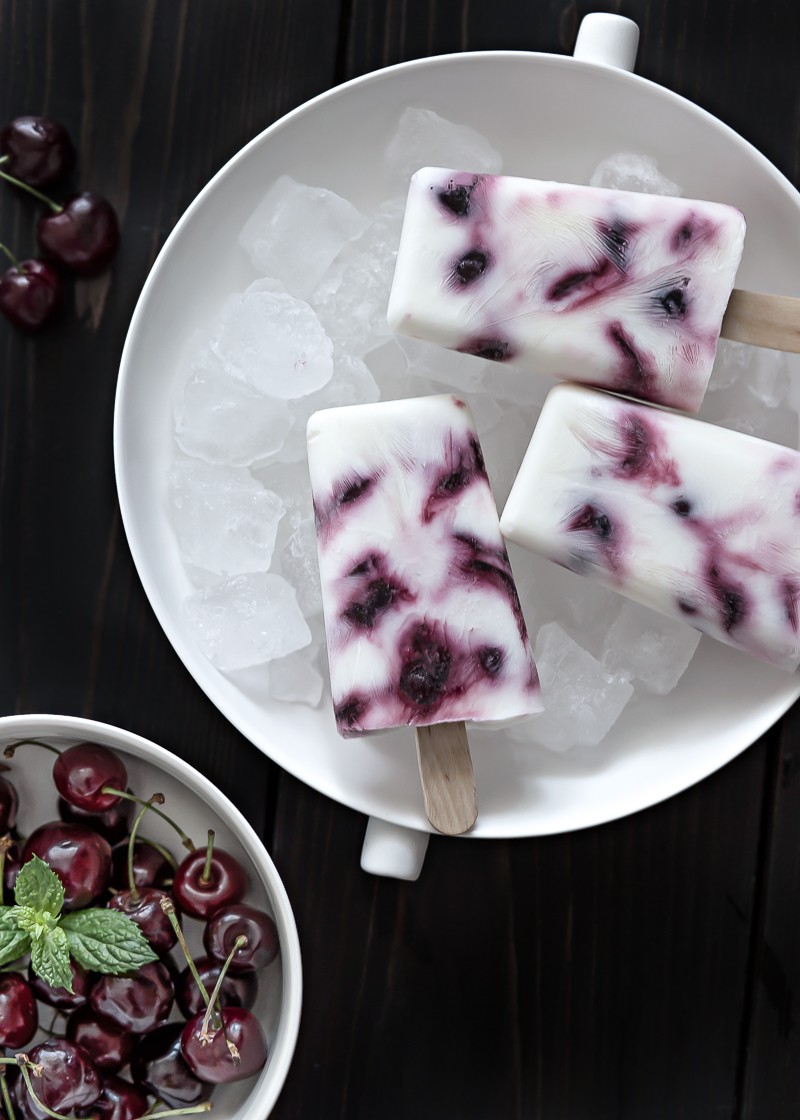 Ingredients for 6 popsicles / składniki na 6 sztuk
750 ml plain, full fat or greek yoghurt / 750 pełnotłustego naturalnego lub greckiego jogurtu
2-4 tbsp honey or agave sirup / 2-4 łyżki miodu lub syropu z agawy
3-4 handful cherries, halved, stone removed / 3-4 garści wydrylowanych, przepołowionych czereśni
3-6 tbsp sugar / 3-6 łyżek cukru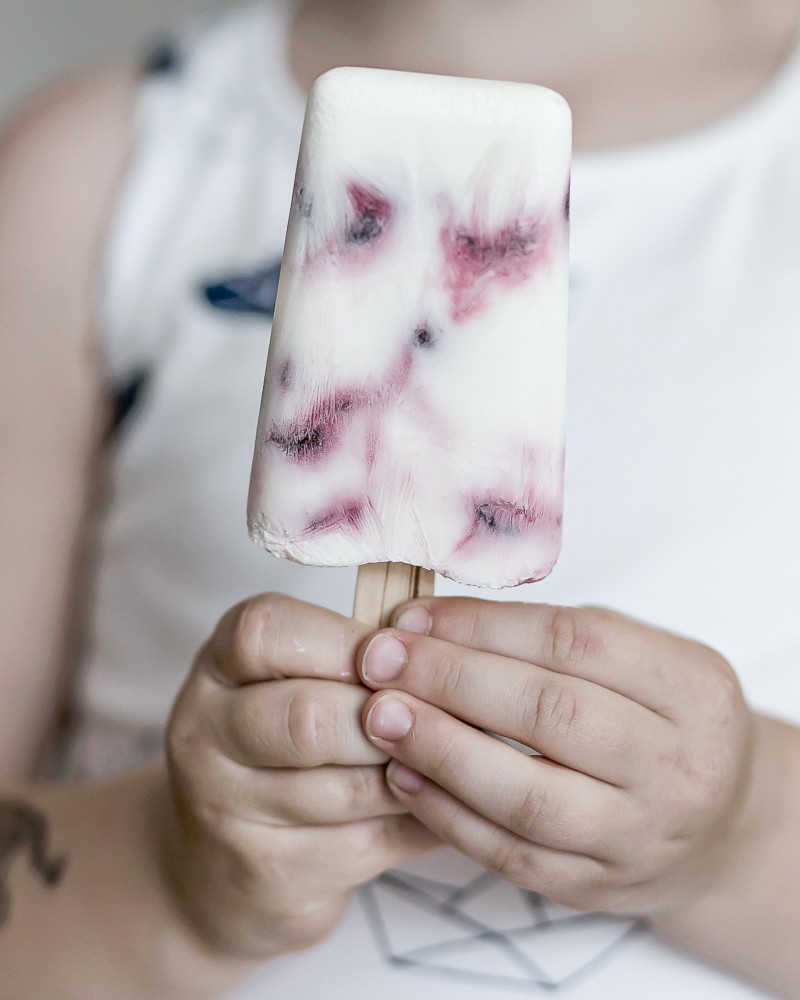 Method:
In a little saucepan heat the cherries with 2-3 tbsp sugar and 1/2 cup water. Mix with a wooden spoon till all sugar dissolves and taste (you can add more sugar if needed). Simmer over medium heat until the cherries become soft and the liquid evaporates. Cool down.
Place yoghurt in a bowl, add honey/agave sirup to taste (the amount depends on your own preferences and the mildness of joghurt).
Pour a bit of yogurt into popsicle moulds, followed by 3-4 cherry halves, repeat until the moods are almost full, finishing with jogurt. Put in the freezer. After approximately 2 hours add the popsicle sticks and freeze for at least 4 hours.
Enjoy without feeling guilty.
Sposób przygotowania:
W niewielkim rondelku podgrzać czereśnie z 2-3 łyżkami cukru i połową szklanki wody. Wymieszać do rozpuszczenia cukru i spróbować, czy owoce są dość słodkie, ewentualnie dosłodzić. Poddusić na średnim ogniu aż czereśnie zmiękną, a płyn wyparuje. Odstawić do wystygnięcia.
W misce wymieszać jogurt z miodem (syropem z agawy), do smaku. Ilość miodu zależy od kwaskowatości jogurtu i Waszych osobistych preferencji.
Do foremek na lody nałożyć odrobinę jogurtu, następnie 3-4 połówki czereśni i powtarzać, aż będą prawie pełne, kończąc na jogurcie. Wstawić na 2 godziny do zamrażarki, po tym czasie włożyc patyczki i zamrażać jeszcze przez co najmniej 4 godziny.
Po tym czasie możecie delektować się domowymi lodami, bez jakichkolwiek wyrzutów sumienia.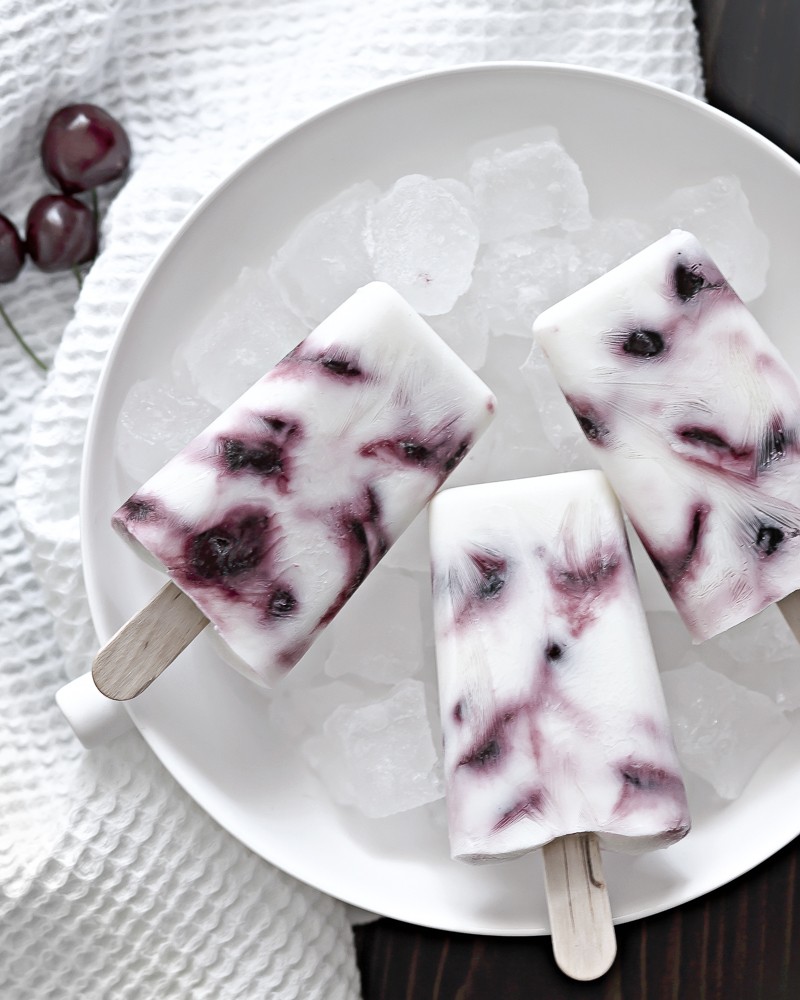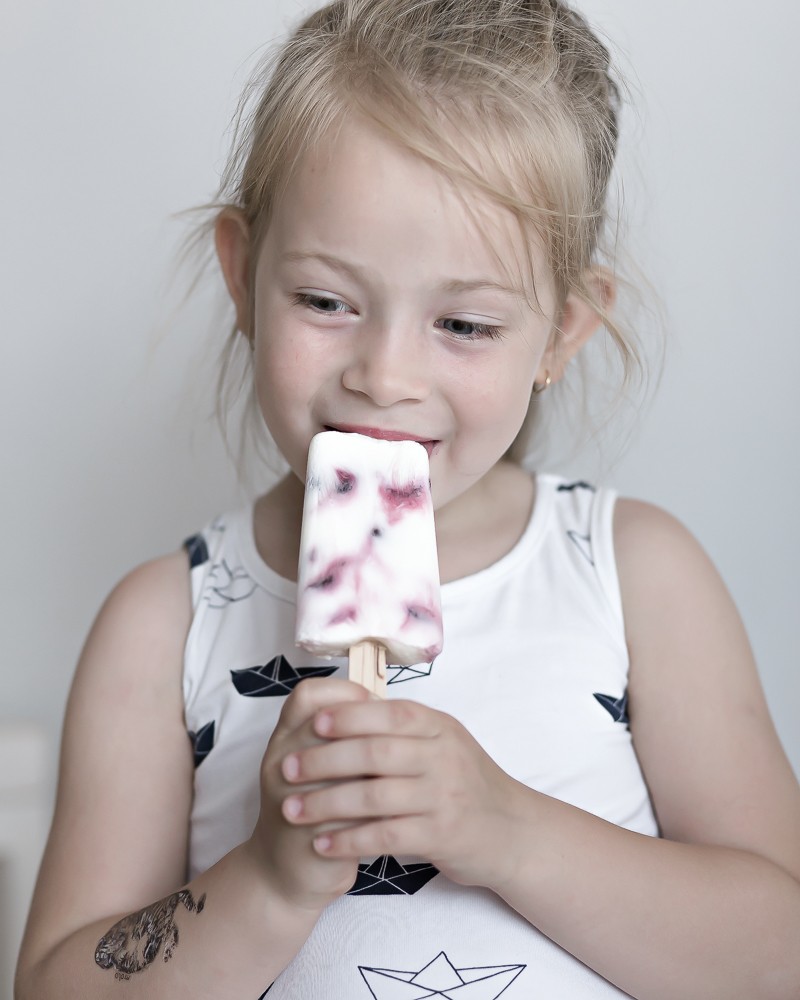 Copyright Kasia Rutkowiak / My Full House
Porcelain / porcelana – Serax Belgium
We use popsicle moulds from Nicholas Vahe / nasza foremka do lodów pochodzi ze sklepu House Shop
Another easy popsicle recipe is HERE / inny przepis na lody na patty znajdziecie TUTAJ