What flowers do you have at home right now? Any particular kind or colour? I am entering a tulip season. For me tulips mean winter – it's a very popular flower in Scandinavia during the cold months. I love white tulips (surprise surprise!) but while I was flower shopping last weeks, I got enchanted by delicate pinkish buds. It is always exciting to see the colours revealed when the buds open, especially if they open in layers and you don't really know what's waiting inside. Now these tulips really made me swoon! They opened to multilayer pink madness and I swear to you – I can look at them for hours. These tulips are a truly beautiful start of a tulip season here at home, aren't they?
Kwiatowe szaleństwo – tulipany (i tulipanowe rady)
Jakie kwiaty stoją teraz w Waszych domach? My wkraczamy w sezon tulipanowy. Dla mnie tulipany to zdecydowanie zima – w Skandynawii są to bardzo popularne (bo szklarniowe) kwiaty przez całą zimę. Uwielbiam szczególnie te białe (niespodzianka, prawda?), jednak podczas ostatnich kwiatowych zakupów, urzekły mnie bladoróżowe pączki. Zawsze z wielką ciekawością czekam na otwarcie się kwiatowych pąków, szczególnie jeśli nie do końca wiem, co czeka mnie w środku. Te tulipany sprawiły, że trzeciego dnia prawie usiadłam z wrażenia. Otworzyły się ukazując kwiatowe szaleństwo i mogę na nie patrzeć całymi godzinami. Piękny start tulipanowego sezonu, nieprawdaż?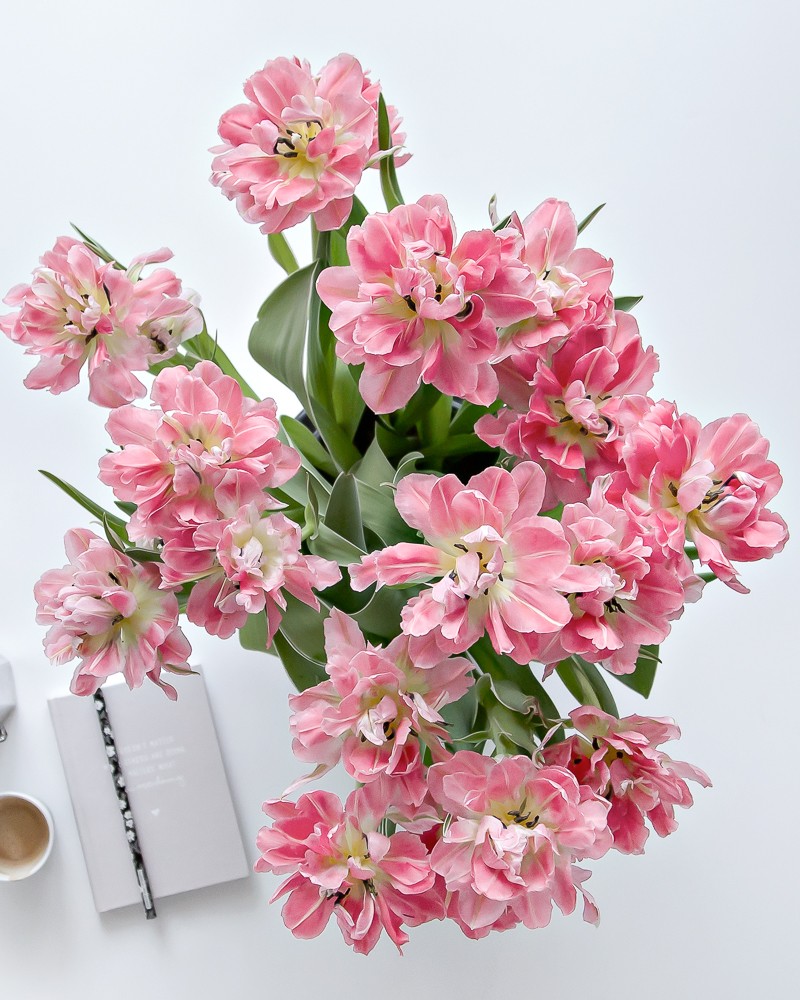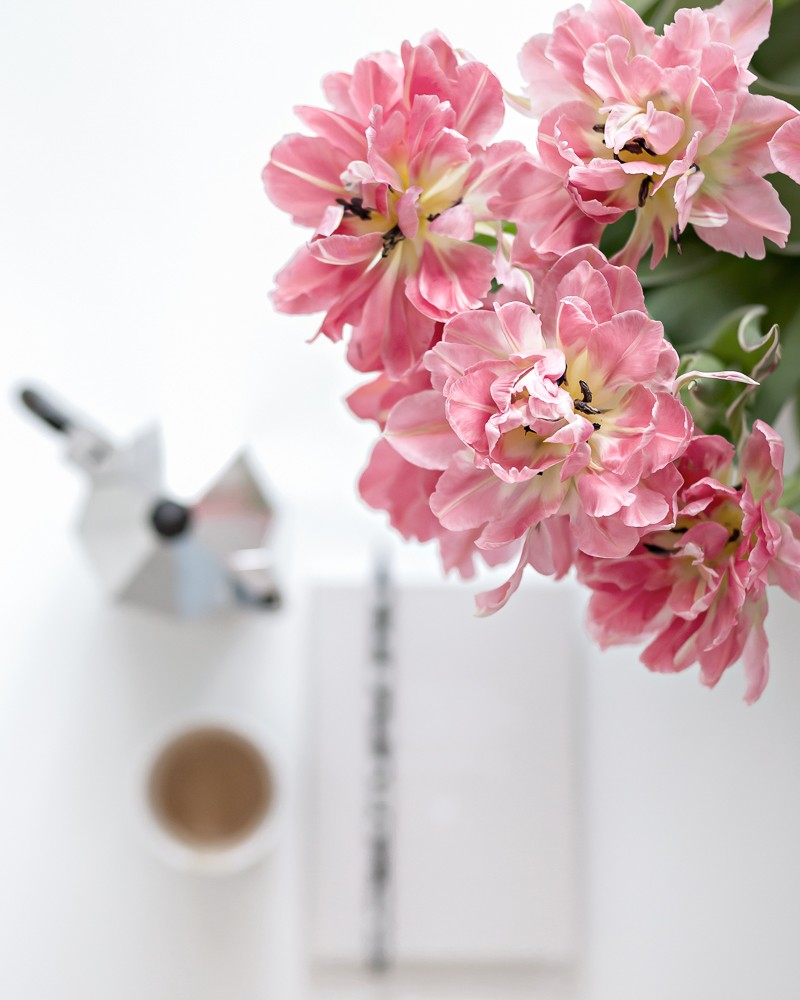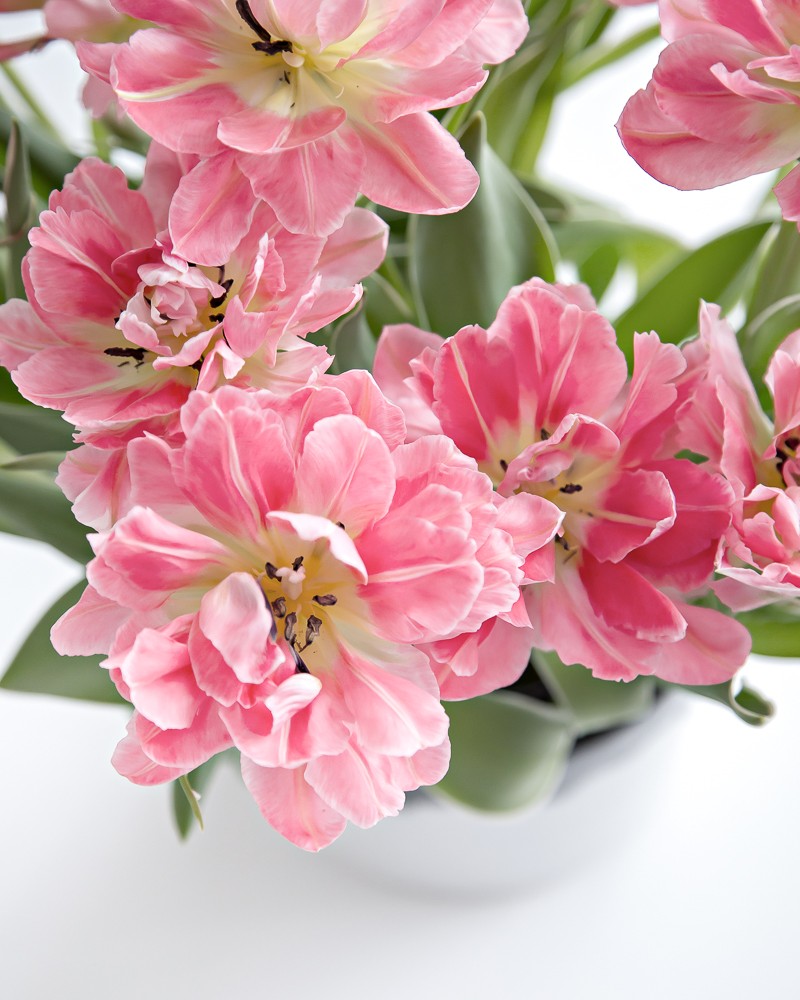 ? Kasia Rutkowiak / My Full House
Remember that in order to enjoy tulips for a longer period, especially in the winter time, you need to slowly introduce them to warmer temperature. So it would be ideal to let them temper in the garage/hall, before you take them inside a warm house or apartment. They only need some water in the bottom of the vase, but remember to pour in some fresh water every day (or even twice a day, if they are many). The water should be cold. Do not replace the water completly, just add in some fresh water. Also, if you can put them out in a bit colder place for the night, it would give you a couple more days to enjoy them.
Pamiętajcie, że aby móc się tulipanami cieszyć przez dłuższy czas, dobrze je powoli wprowadzać do ciepłych wnętrz (szczególnie zimą). Tulipany nie lubią wahań temperatury więc podczas chłodów warto je temperować – na przykład postawić na godzinę w garażu zanim wniesiemy do ciepłego mieszkania. Wystarczy im zaledwie kilka centymetrów wody, na dnie wazonu, ale trzeba jej dolewać raz, a nawet dwa razy dziennie (jeśli kwiatów jest dużo). Woda powinna być chłodna. Dodatkowo, warto je delikatnie schładzać przez noc – to zapewni nam nawet parę dni więcej radości z ich widoku.