I am happy to enter March with a blogpost regarding our last stay in Berlin. I have already mentioned our Valentine's Day morning and did promise you a bit more information and some more pictures from our hotel, andel's by Vienna House Berlin.
First of all, we chose one of Vienna House hotels because of our great experience with their hotel in Łódź. So when I found out that there also is an andel's hotel in Berlin, I instantly thought we'd like it. And I was right.
Nasz pobyt w hotelu andel's by Vienna House Berlin
Z radością rozpoczynam marzec od relacji z naszego pobytu w Berlinie, a dokładniej – z naszego hotelu. Pisząc o naszym walentynkowym śniadaniu, obiecałam Wam nieco więcej informacji i zdjęć z  miejsca, w którym się zatrzymaliśmy – hotelu andel's by Vienna House Berlin.
Zacząć powinnam chyba od tego, iż nasz wybór podyktowany był świetnymi doświadczeniami z hotelem sieci Vienna House w Łodzi. Tak bardzo lubię łódzki hotel andel's, że postanowiłam go polecić w moim subiektywnym przewodniku Urban Guide (zapraszam do lektury na stronie Label Magazine :)) Tak więc gdy zorientowałam się, że Berlin także ma swój hotel tej sieci, z miejsca pomyślałam, że nam się tam spodoba. Miałam rację!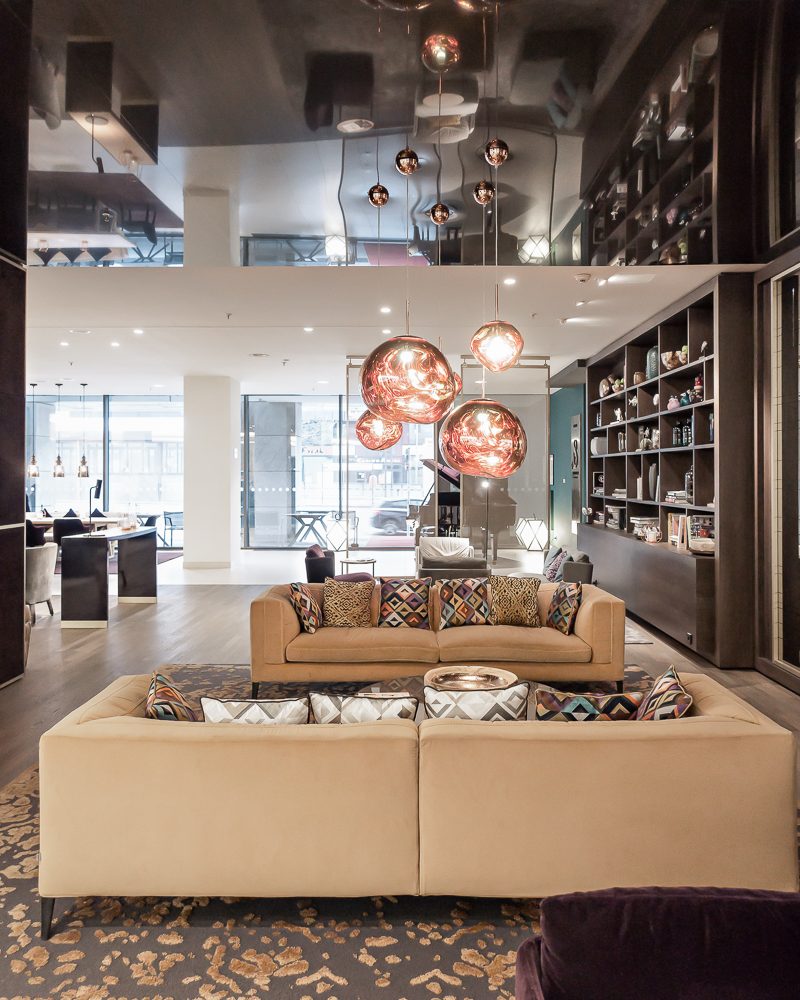 Hotel andel's by Vienna House Berlin is a great choice for anyone who likes contemporary interior design, roomy spaces and good cuisine. It's spacious, modern but cosy interiors make guests feel good and relaxed. The staff is friendly, helpful, always smiling and… numerous, which means that you rarely have to wait for the assistance for more than just a short while.
Hotel andel's by Vienna House Berlin spodoba się wszystkim miłośnikom współczesnego designu, przestronnych wnętrz i dobrej kuchni. Urządzony w ciekawy, nowoczesny, lecz przytulny sposób sprawia, że goście czują się w nim dobrze i swobodnie. Obsługa jest miła, pomocna, zawsze uśmiechnięta i…liczna, co sprawia, że prawie nigdy nie trzeba czekać na pomoc dłużej niż chwilę.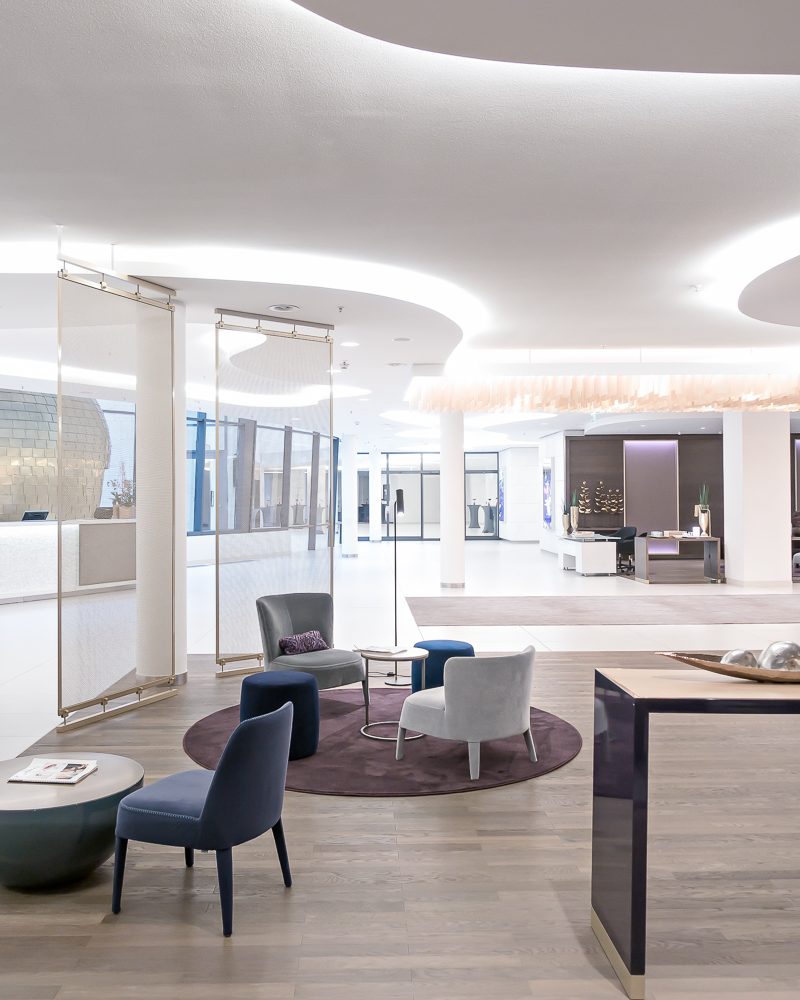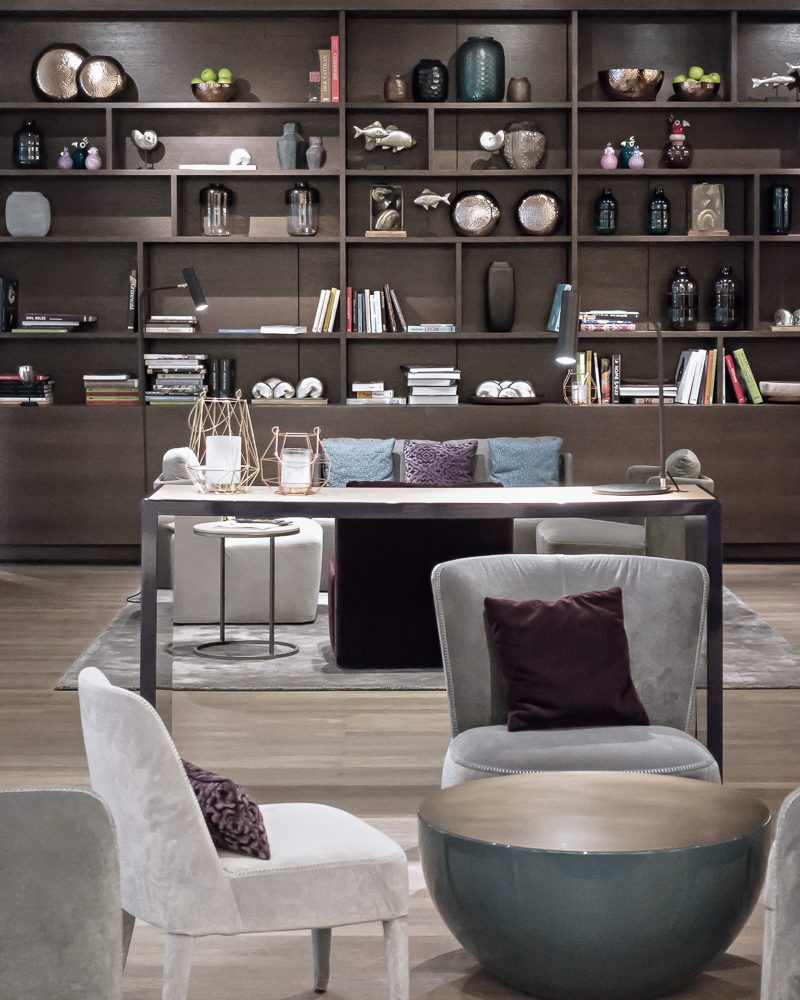 The hotel is very proud of it's Michelin star SKYKITCHEN restaurant. Unfortunately it was impossible for us to try it's super famous Sunday brunch (for which you need to book up to 3 months in advance!) but we hope to try it next time :). Sunday events are very special, also because they are prepared by Edeltraud – mother of restaurant's award-winning chef – Alexander Koppe. This absolutely lovely lady (whom I got a chance to meet in person) "cooks up and dishes out good honest Berlin-style home cooking garnished with real-life experience".
Hotel jest niezmiernie dumny ze swojej restauracji SKYKITCHEN, nagrodzonej gwiazdką Michelin. Niestety, ze względu na brak miejsc nie udało nam się spróbować bardzo znanego już w całym mieście niedzielnego lunchu (na który stolik należy rezerwować nawet z 3-miesięcznym wyprzedzeniem!). Przygotowuje go pani Edeltraud – mama głównego, najmłodszego szefa nagrodzonego gwiazdką Michelin w Berlinie, Alexandra Koppe. Przemiła starsza Pani, którą miałam przyjemność poznać osobiście, samodzielnie przygotowuje i serwuje gościom swoje dania, przyrządzone z pasją i okraszone życiowym doświadczeniem.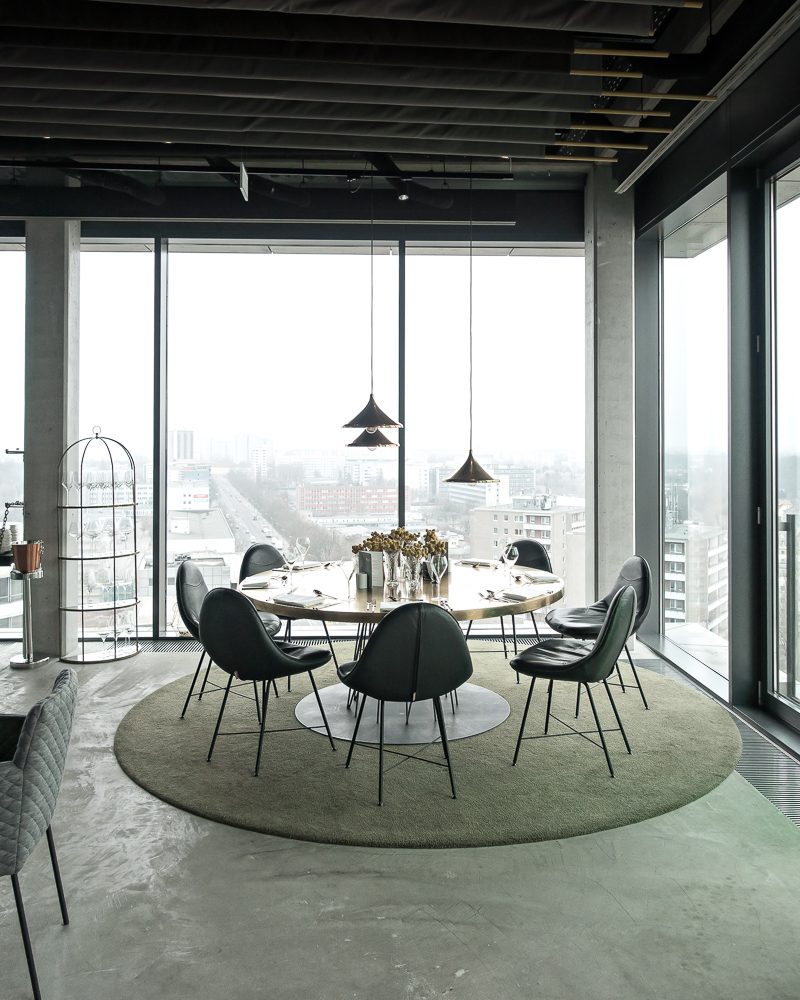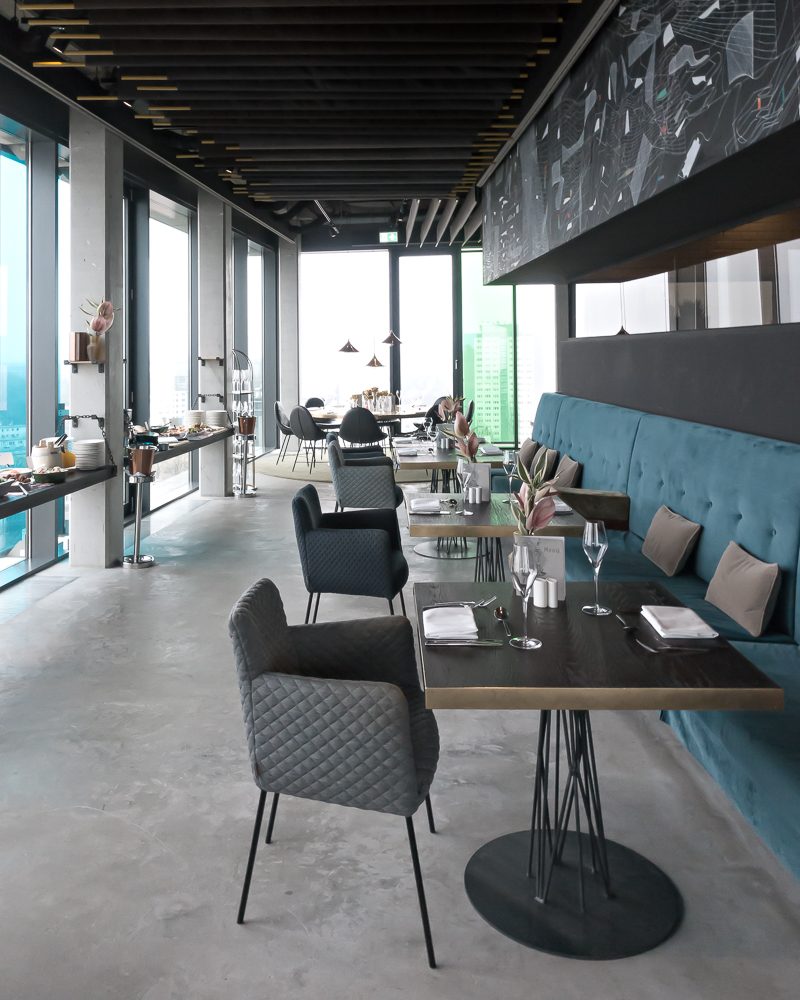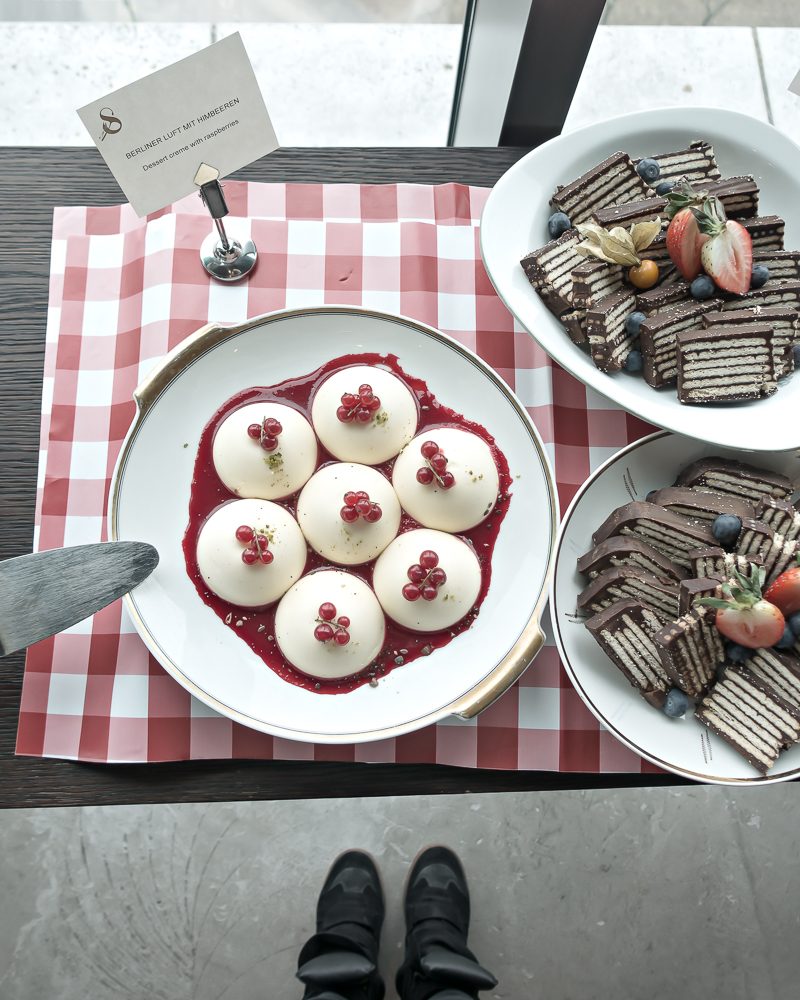 And when you had enough of food, sightseeing, walking or shopping, it's a great idea to visit hotel's SKYBAR with great drinks, comfortable sofas and chairs and a wonderful sight over Berlin. Those of you who follow me on Instagram had a chance to see some great night captures on my Insta Stories showing the place (and it's drinks!) by night.
A kiedy ma się już dosyć jedzenia, zwiedzania, spacerowania czy zakupów, warto udać się na ostatnie piętro hotelu do SKYBAR, serwującego trunki w wygodnych fotelach, z pięknym widokiem na Berlin. Ci z Was, którzy śledzą mnie na Instagramie mogli zobaczyć kręcone tu nocą Insta Stories z widokiem miasta po zmroku i drinkami podawanymi w bardzo niekonwencjonalny sposób :)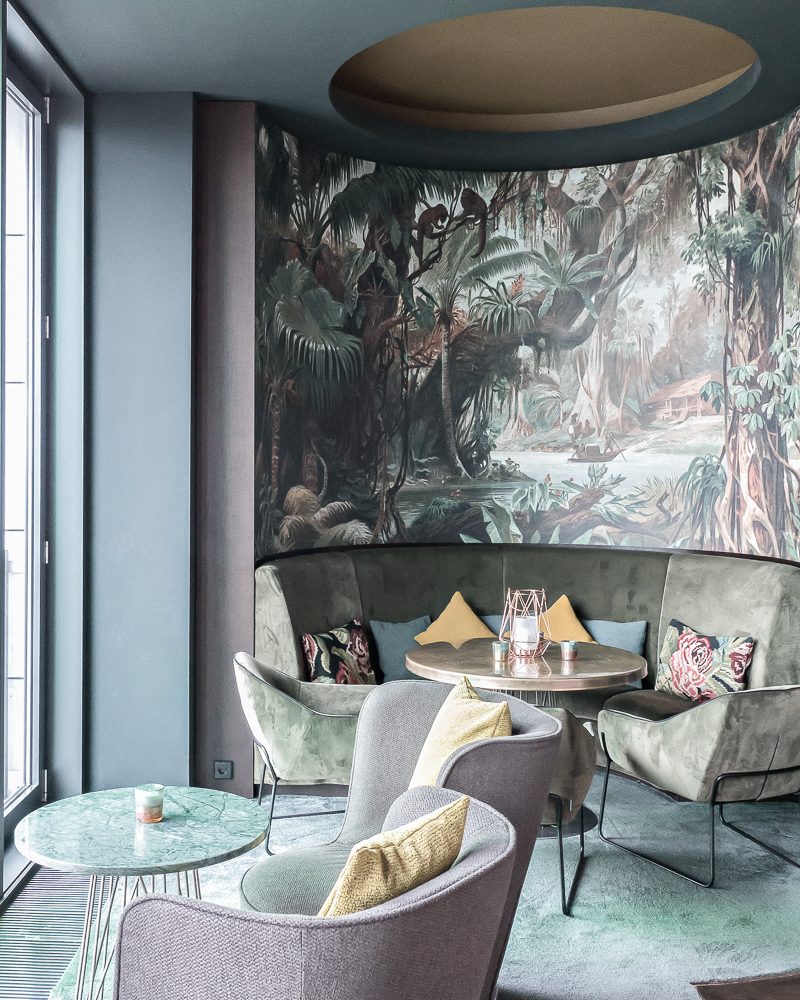 After visiting the bar, it's usually time to rest. We stayed in a spacious room at the Executive floor with a.lounge – 24/7 lounge serving meals and drinks as well as breakfasts in the morning. It was a truly exclusive experience to enjoy the morning meals in a relaxing atmosphere, as well as a glass (or two) of prosecco as often as needed :) And if you happen to be a fan of french toasts (just like me), you simply have to try the ones served for breakfast (prepared ? la minute). They are really worth compromising any diet.
Po odwiedzinach w barze czas na odpoczynek. Zatrzymaliśmy się w obszernym pokoju na piętrze Executive, z dostępem do czynngo całą dobę salonu a.lounge. Salon ten oferuje dostępny przez całą dobę wybór przekąsek i napojów, jak i śniadania w bardzo miłej i prywatnej atmosferze. Jeśli lubicie francuskie tosty (przygotowywane na zamówienie) – spróbujcie koniecznie! Są grzechu warte!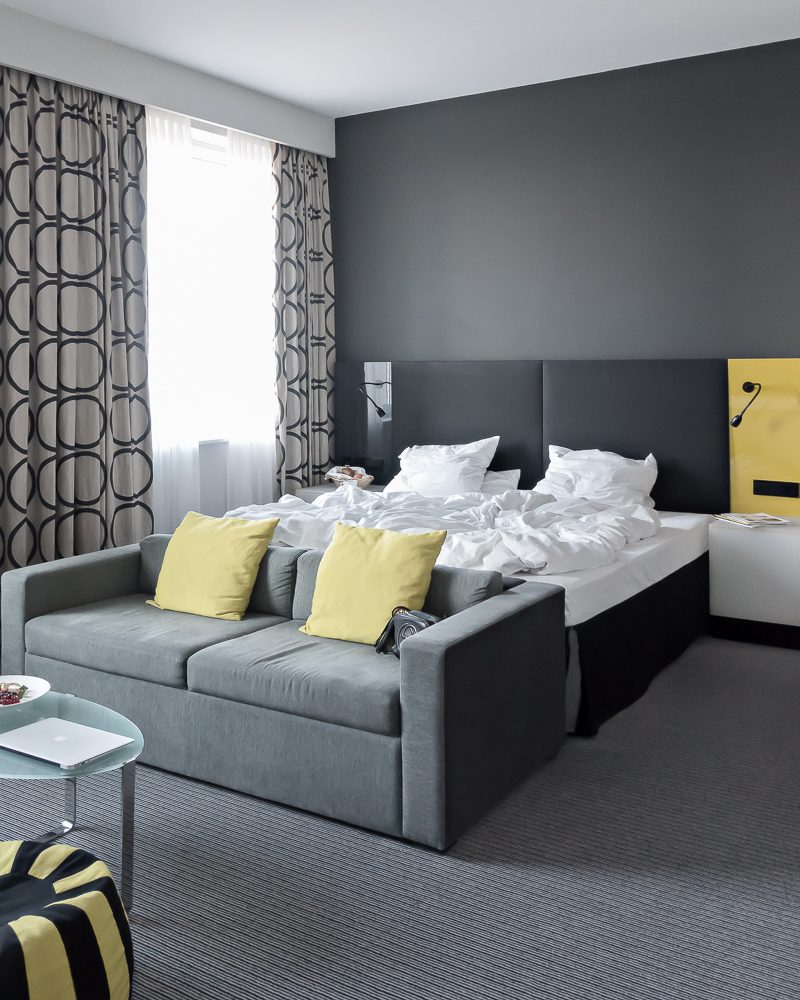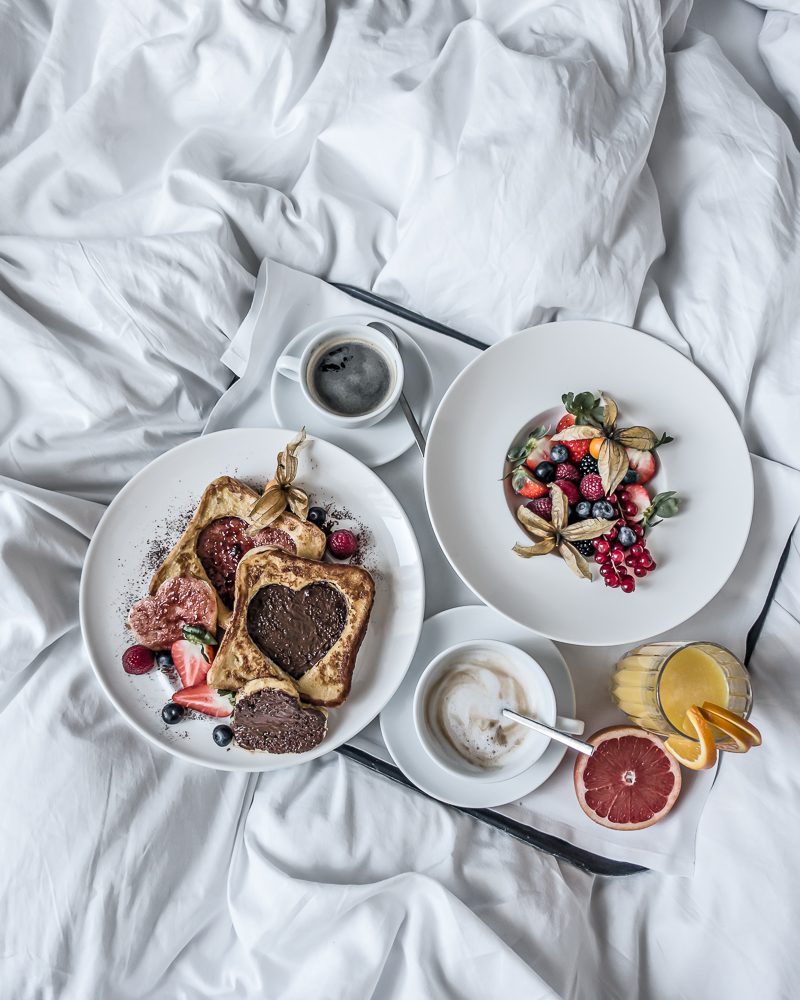 Copyright Kasia Rutkowiak / My Full House
So far, we have never stayed in the Eastern part of the city, thinking that it was too far away from the things we wanted to see. It turned out that our worries were totally invalid. With the tram just outside the door as well as a great train/metro system, we were able to reach all our "must see places" fast and comfortable. That's one more reason to recommend this hotel if you are looking for a nice stay in Berlin!
Do tej pory nigdy nie zatrzymywaliśmy się we wschodniej części miasta, bojąc się, że będziemy mieli zbyt daleko do miejsc, które chcemy odwiedzić. Nasze obawy okazały się jednak nieuzasadnione. Obecność przystanku tramwajowego tuż przed hotelem jak i sieć metra, pozwoliły nam dotrzeć gdziekolwiek chcieliśmy, szybko i wygodnie. Jeśli więc zastanawiacie się nad tym gdzie dobrze jest się zatrzymać w stolicy Niemiec – szczerze polecam to miejsce!
andel's by Vienna House Berlin
Landsberger Allee 106, 10369 Berlin, Germany +49 30 453 053 0