Designed in 1955 by Arne Jacobsen and produced to this day by Republic of Fritz Hansen, series 7 chair has been my dream for over a decade. I know that a decade ain't much, when you take into the consideration the six decades of it's existence, but it's one third of my life…. well… almost. I am sure that any interior design lover understands me without words, and for those of you who might not be that familiar with it, I have 7 reasons why you've got to love the Arne Jacobsen's series 7 chair.
7 powodów dla których uwielbiamy krzesła serii 7 Arne Jacobsena
Zaprojektowane w 1955 roku przez Arne Jacobsena i produkowane do dziś przez markę Republic of Fritz Hansen krzesło serii 7 jest na szczycie listy moich wnętrzarskich marzeń od ponad dziesięciu lat. I choć dekada to niewiele w odniesieniu do ponad 60 lat jego istnienia, to jedna trzecia mojego życia (no, prawie). Jestem pewna, że każdy miłośnik designu rozumie mnie bez słów, jednak dla tych z Was, którzy nie znają tak dobrze tego krzesła, mam 7 powodów dla których nie można go nie kochać.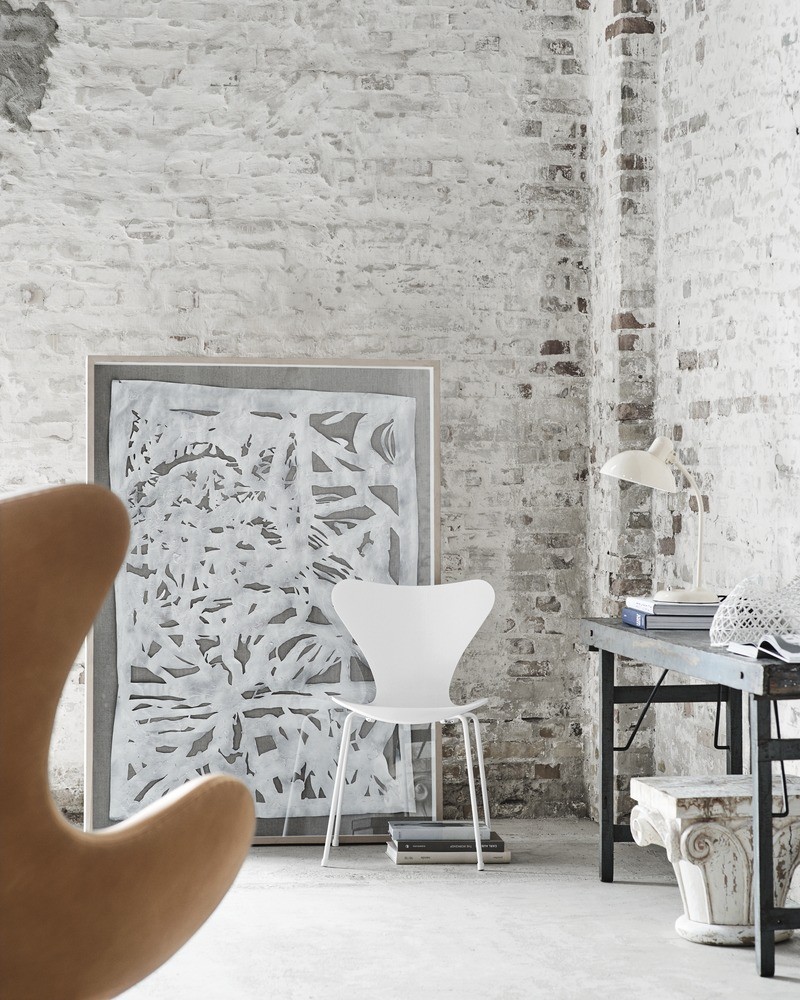 1. It is THE Arne Jacobsen. See… This one goes without saying! Arne was a real genius, the man behind so many iconic designs that all designers can only bow. And they do. The Ant, the Egg and the Swan, the AJ Lamp (yes!), beautiful cutlery sold by Georg Jensen, tableware produced till this day by Stelton, Arne's alphabet used as branding by the popular Design Letters is far from all of his brilliant ideas sold every day all around the globe.
1. To sam Arne Jacobsen! Arne był prawdziwym geniuszem, który powołał do życia wiele absolutnych ikon współczesnego designu i przed którym chylą czoła wszyscy projektanci. Jego projekty takie jak krzesło Ant (mrówka), fotele Egg (jajo) i Swan (łabędź), piękne sztućce w ofercie marki Georg Jensen, AJ lamp od Louisa Poulsena, naczynia marki Stelton czy alfabet, na bazie którego oparła swój pomysł popularna od kilku lat marka Design Letters, to jedynie przykłady jego geniuszu, a produkty zaprojektowane przez Arne Jacobsena sprzedawane są codziennie miłośnikom klasycznego designu na całym świecie.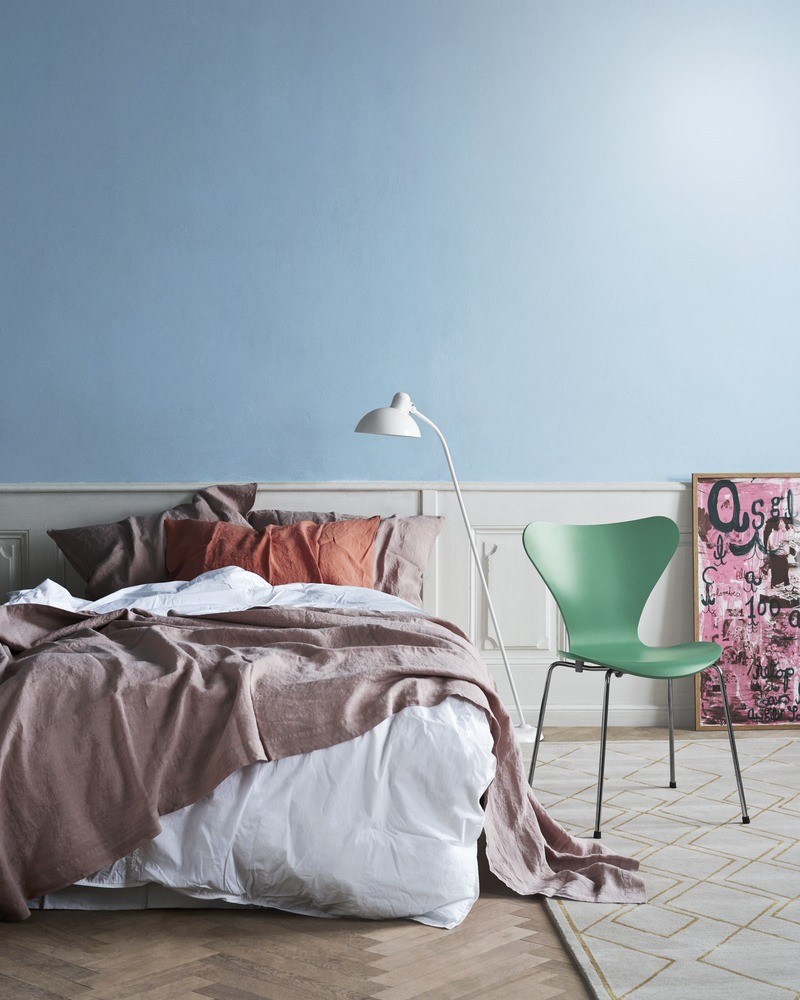 2. It's probably the most sold chair in the history of design. And the most recognisable. A piece of interior design art that you can sit on every single day.
2. To prawdopodobnie najczęściej sprzedawane krzesło w historii designu. I najbardziej rozpoznawalne. Kawałek sztuki wnętrzarskiej, na której można codziennie usiąść.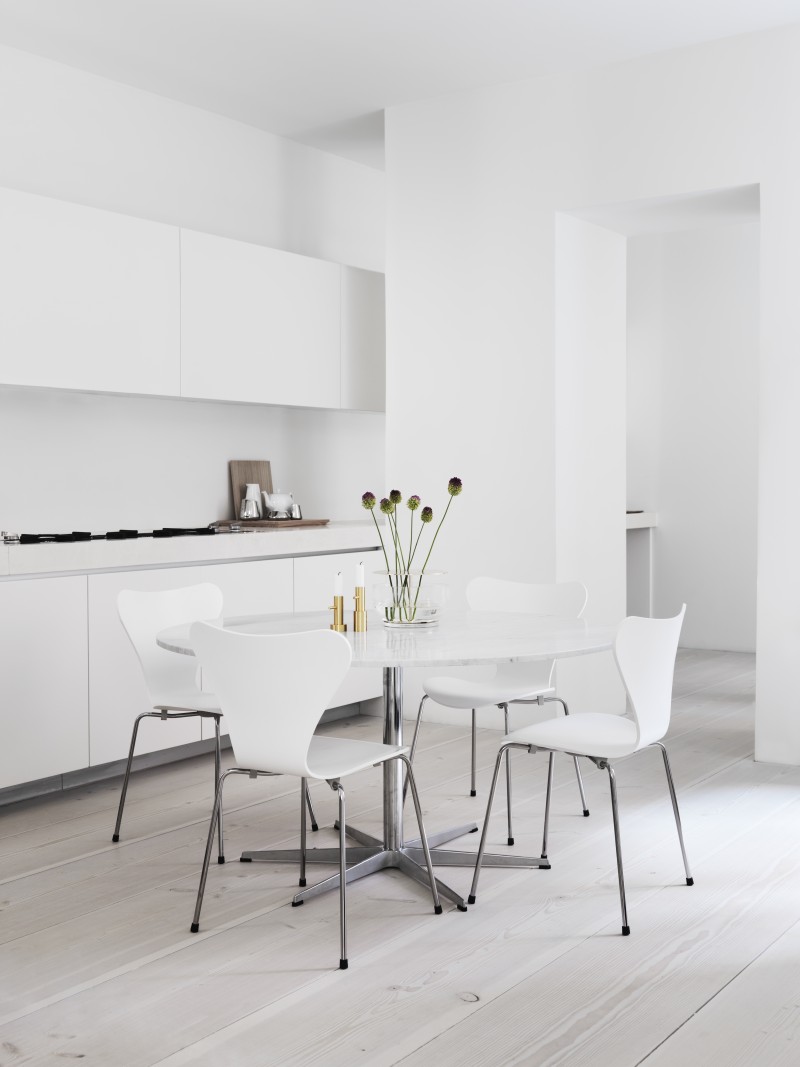 3. It comes in many colors. You know me – I am a white person when it comes to these things, but if you are a colourful bird, there is no reason why you shouldn't just give it all and have one of each, or at least a set of 2… 4… 6… different colors. Make it 7 ;)
3. Występuje w wielu kolorach. Znacie mnie dobrze i wiecie, że sama zawsze wybiorę biel, ale miłośnicy koloru z powodzeniem mogą poszaleć i wybrać po jednym z każdego koloru, albo choć zestaw 2, 4 lub 6 różnych kolorów. No dobrze, 7 ;)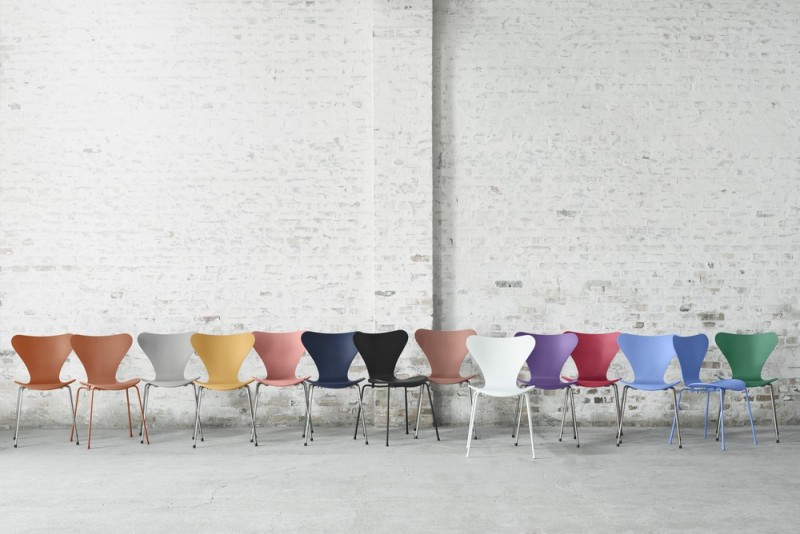 4. If you would rather sit soft – it comes in upholstered versions – wether it's premium blends or best leather. No need to compromise.
4. Jeśli wolicie miękkie krzesła – nie ma sprawy. Krzesła serii 7 występują w wielu wersjach tapicerowanych, najlepszej jakości tkaninami lub skórą. Nie trzeba iść na żaden kompromis.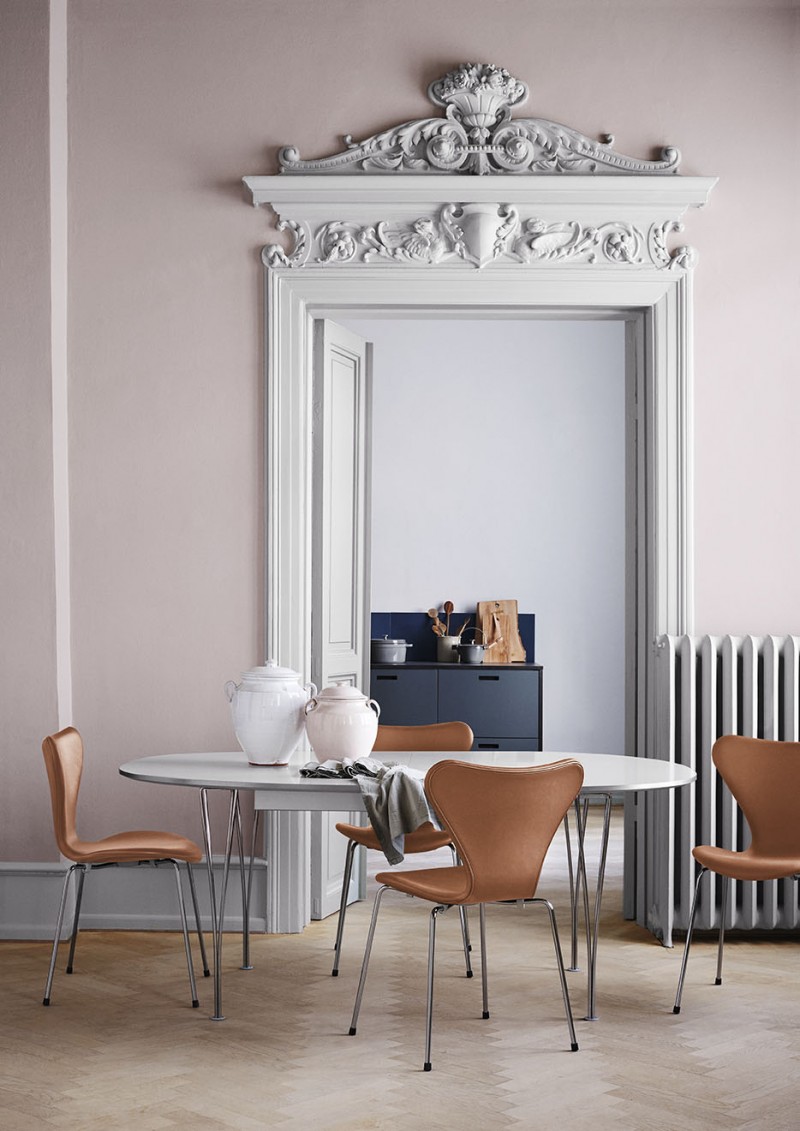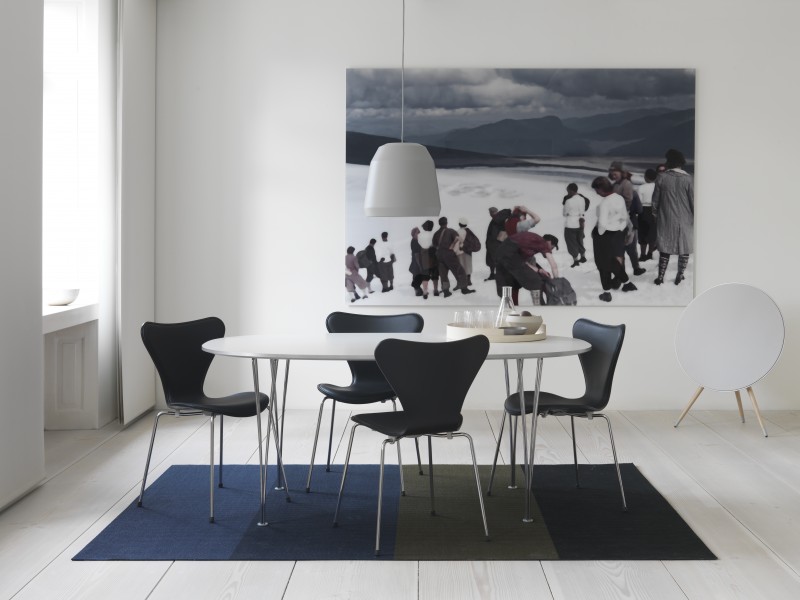 5. It is stackable, making it possible to stack multiple chairs on each other to save space and make your life easier. I have learned to love this option with the Tolix chairs and seriously miss it now, so I know what I am talking about.
5. Krzesła te można nakładać jedno na drugie, co znacznie ułatwia przechowywanie i codzienne życie. Polubiłam tę opcję bardzo, kiedy używaliśmy krzeseł Tolix i muszę przyznać, że teraz mi jej brakuje.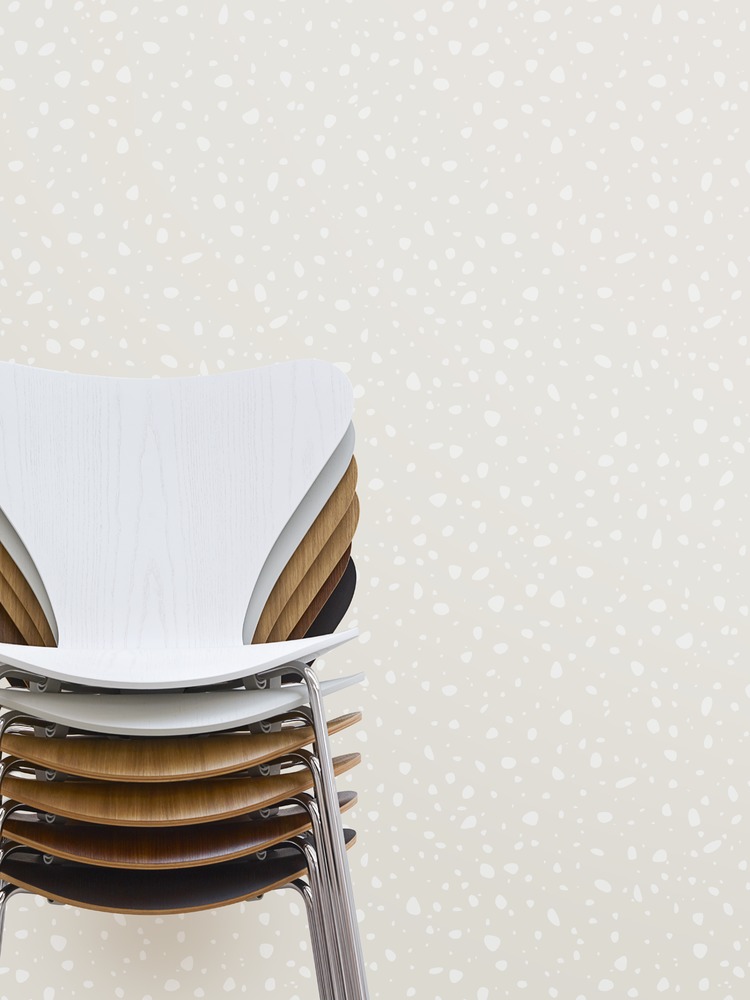 6. You don't need it for a dining table? No worries! Apart from a classic chair (or armchair), it also comes in 2 barstool hights, in mini version for your children and last but not least – in the fabulous height-adjustable swivel version for the premium look (feel and comfort) of your office space.
6. Chcielibyscie je postawić, ale nie koniecznie w jadalni? Oprócz klasycznego krzesła (i fotela), siódemki występują też w wersji barowej (średniej i wysokiej), w wersji mini dla dzieci i w przepięknej wersji na kółkach, która doda uroku, szyku i wygody każdej przestrzeni biurowej.
7. You will never get tired of it. The patina and all the memories it will hold, will add to it's value and the love for it's absolutely timeless design will pass on your children. Because Series 7 chair is not just any chair, it is the dream chair. Also myy dream for the past decade.
7. Te krzesła nigdy się Wam nie znudzą. Co więcej – powstała z czasem patyna i związane z krzesłami wspomnienia sprawią, że ich wartość jedynie wzrośnie, a miłość do ich ponadczasowego designu przejdzie na kolejne pokolenie. Dlatego, że krzesła serii 7 to nie byle jakie krzesła, ale krzesła marzenie. Moje marzenie od ponad dekady.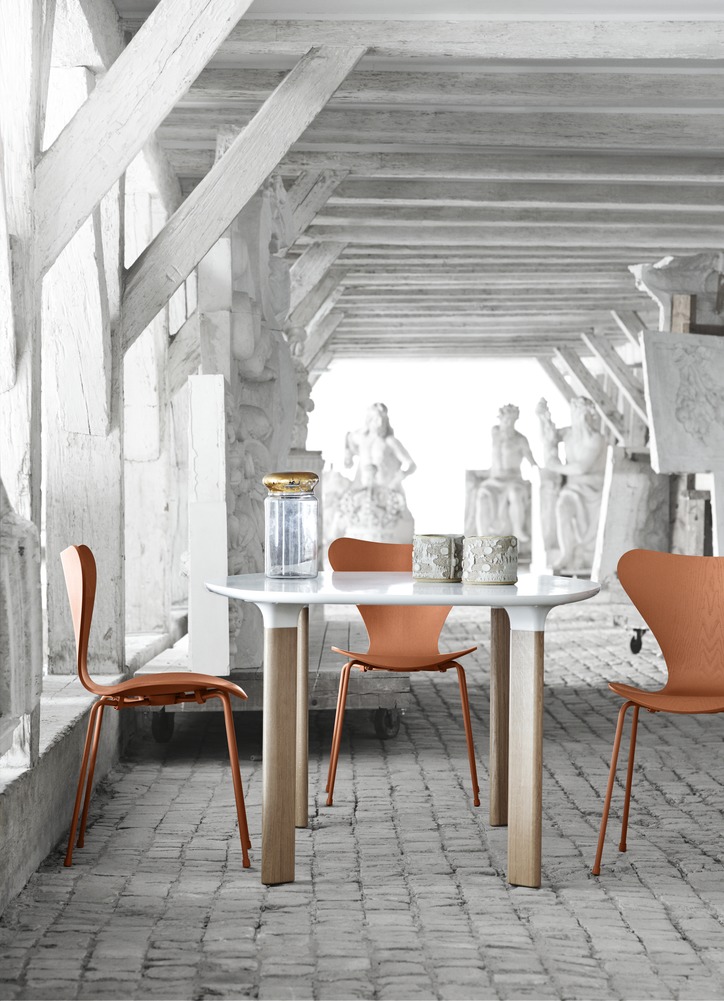 all images Fritz Hansen
Krzesła serii 7 można w Polsce kupić między innymi w sklepie Scandinavian Living.