Poor Klara. She recently came home from her judo training with an injured finger. She is a very tough little lady, but THIS must have hurt. I did put a bandage with some medicine underneath on her hand and kept her at home. And whenever sick or injured children are at home, somehow, they always seek parents' bed. Does it sound familiar?
Pościelowe historie z Klarą
Biedna Klara. Z ostatniego treningu judo wróciła z kontuzją palca. Twarda sztuka, specjalnie nie panikowała, ale wierzcie mi, to musiało boleć. Założyłam jej opatrunek i zatrzymałam w domu. A kiedy tylko chore lub kontuzjowane dziecko jest w domu, jakimś dziwnym trafem zawsze drepcze do sypialni rodziców. Znacie to?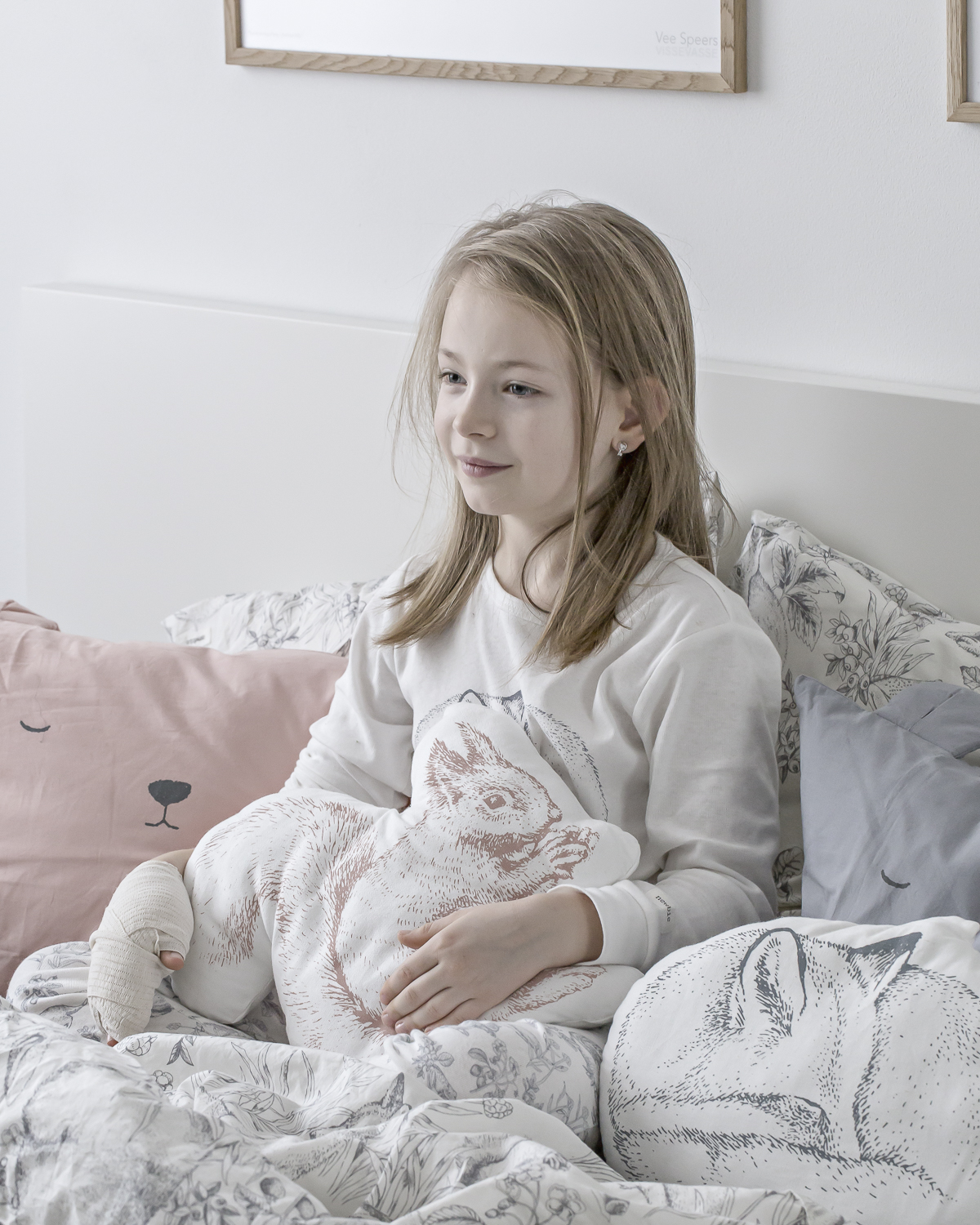 This time, Klara decided not only to come to our bed, but also bring all of her things with her. She took her bedding, pillows, cushions and all the "necessary" things. Her recent favorite bedding is the newest collection "Bedtime Stories" from Newbie. Made of 100% organic cotton and with her favorite animals printed all over, just like on her Pj's, is her personal winter hit. She even told me that having her "favorite bed" in our bed was worth injurying the finger. Kids!
Tym razem Klara postanowiła nie tylko przenieść się do nas, ale też zabrać ze soba swoje rzeczy. Przyciągnęła (jedną ręką) kołdrę, przyniosła poduszki wszelakiej maści i inne przytulaśne dodatki. Uwielbia najnowszą pościel z limitowanej kolekcji "Bedtime Stories" od Newbie. Pościel, podobnie jak piżamka, ma nadrukowane jej ulubione leśne zwierzęta i jest wykonana organicznej bawełny. Klara powiedziała mi też (w sekrecie), że "warto było uszkodzić palec, żeby przenieść się i swoje ulubione łóżko do naszego". Spryciula!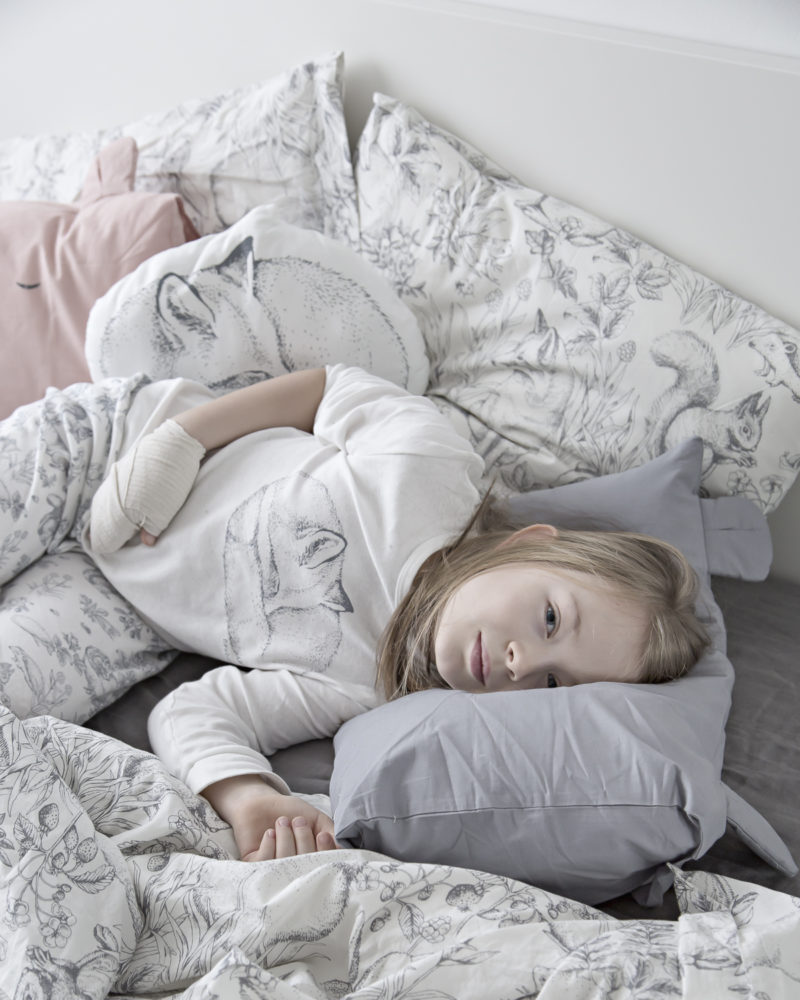 I don't really blame her. I would love to spend a day (or five) in a big bed, with my favorite bedding. Anytime!
If you like this pattern, make sure to check Newbie's new limited collection of bedding and… wallpaper! Made in cooperation with a great Swedish brand Boras Tapeter, they are truly pretty. You can choose between "Forrest Friends" in white or blue. And if you are more into flowers – go for "Rose Garden"! The wallpaper quality is great and I hear that it is also a very easy one to put up. The results are amazing!
Nie dziwię jej się. Nie miała bym nic przeciw temu, aby spędzić dzień (lub pięć) w dużym łóżku z ulubioną pościelą.
Jeśli podoba Wam się ten wzór, sprawdźcie koniecznie najnowszą, limitowaną kolekcję pościeli i… tapet Newbie! Te ostatnie powstały we współpracy ze znakomitą szwedzką marką Boras Tapeter, która na tapetach zna się jak mało kto. Jeżeli podobnie jak Klara, jesteście fanami zwierząt, spodoba Wam się wzór "Forest Friends" w kolorze białym lub niebieskim. A jeśli wolicie motywy kwiatowe, koniecznie sprawdźcie wzór "Rose Garden". Widziałam już kilka pokoi wytapetowanych przy pomocy tych wzorów i powiem Wam, że efekt jest niesamowity! Do tego słyszałam, że praca z tymi tapetami to prawdziwa przyjemność.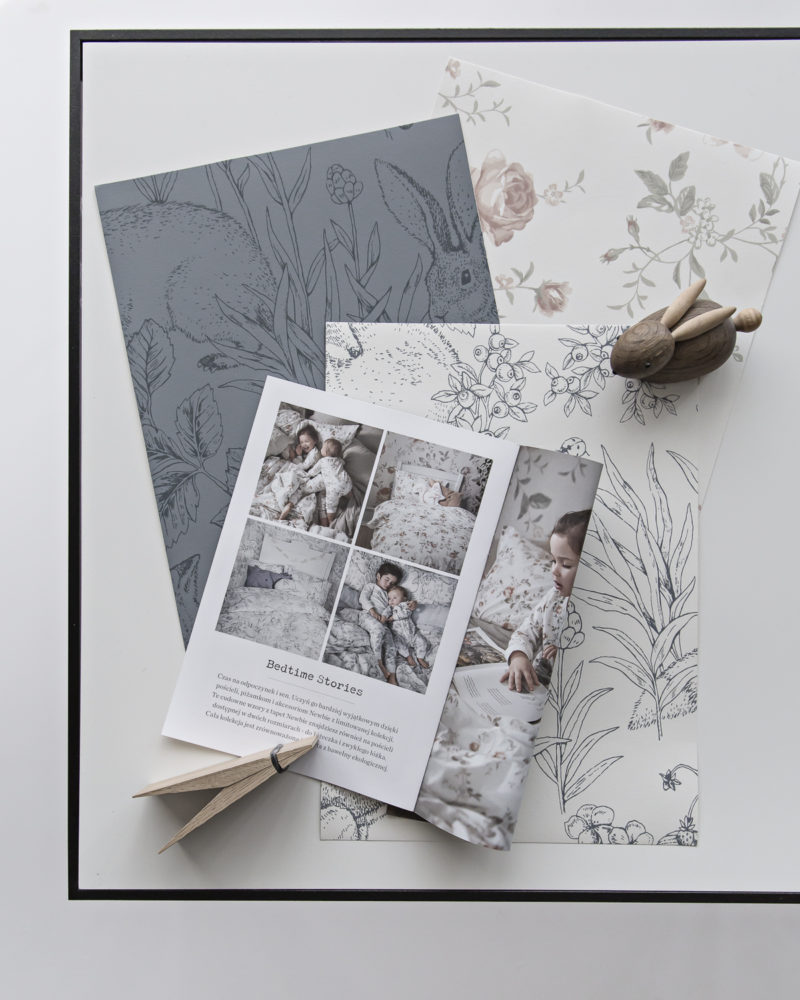 I really hope that Klara's little finger will heal soon. I have plans of sending her to school tomorrow. But for today she can stay in our bed. Or rather – they can stay.  The sight of children and dogs always makes me smile with my heart.
Mam nadzieję, że palec Klary szybko się zagoi. Jutro chciałabym ją posłać do szkoły. Póki co, niech spędzi jeszcze trochę czasu w "naszym-swoim łóżku". Albo raczej – niech spędzą. Widok dzieci i psów razem zawsze mnie rozczula.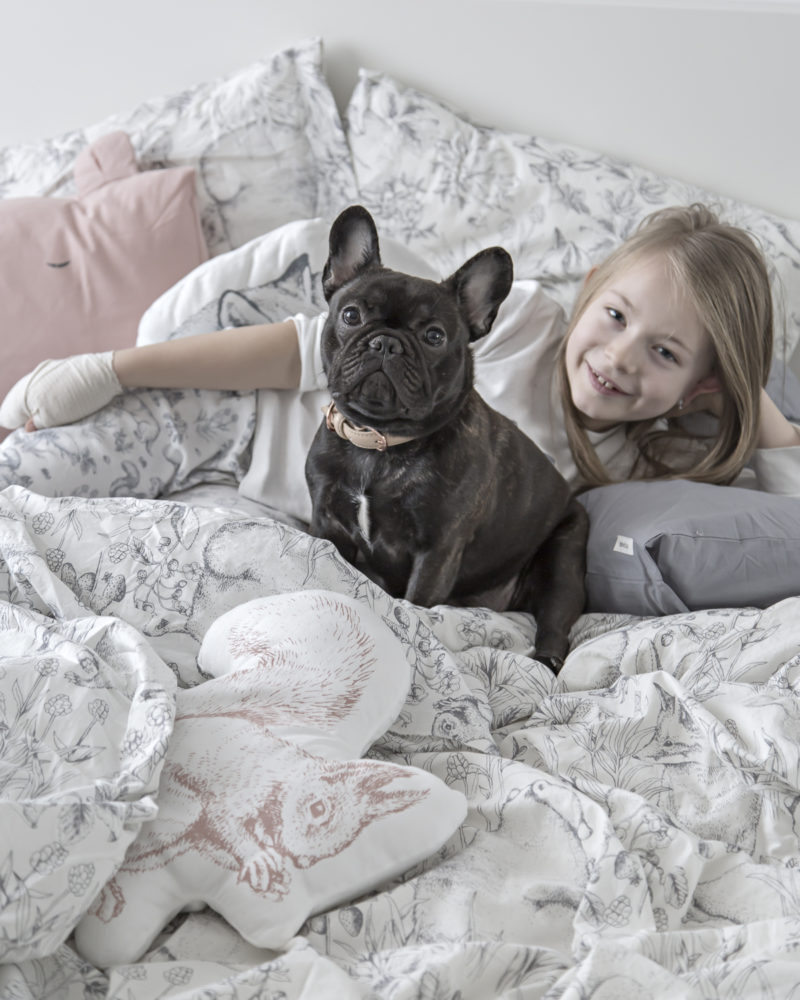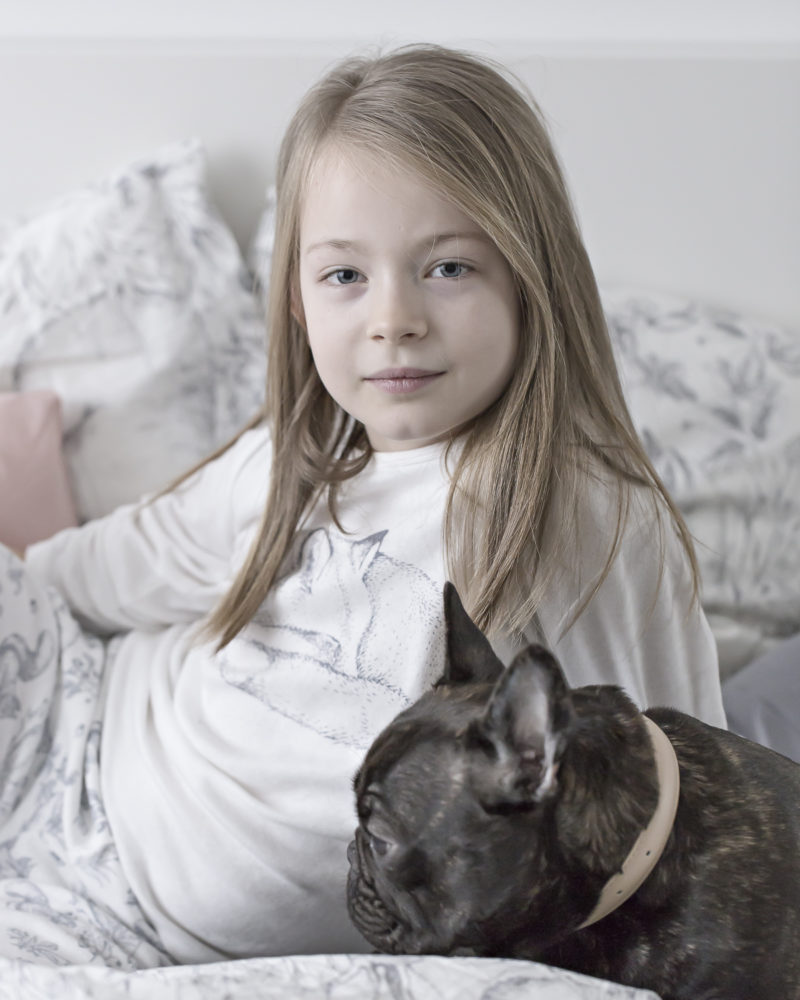 From tomorrow, Klara's time off is over!
Have a good week everyone :)
Od jutra koniec laby!
Dobrego tygodnia dla Was :)
copyright Kasia Rutkowiak | My Full House | any unauthorised use prohibited
Post powstał przy współpracy z marką Newbie. Przedstawia moje osobiste opinie.