A little while ago, attended an event dedicated to limited collection of coffees – Nespresso Coffee Houses. I did try both Venezia and Istanbul variations, while coffee ambasador of my favourite coffee brand told us a very interesting story of how coffee came to Europe many years ago.
Anna Oleksak talked about how people discovered properties of coffee. They instantly found out, that it awakens our brains, makes us talk, think, discuss and interact. We heard about first cafés and that during the Ottoman times, a wife had a right to file for divorce, if husband did not provide her with enough coffee. It only proves the importance and value of what now is so popular – the real coffee.
Wspomnienia przywołane przez Nespresso Coffee Houses
Niedawno, przy okazji pojawienia się nowej edycji kaw limitowanych Nespresso Coffee Houses, miałam przyjemność wziąć udział w wyjątkowym spotkaniu. Podczas próbowania kaw Venezia i Istanbul, Coffee Ambassador mojej ulubionej kawowej marki, Anna Oleksak, w niezwykły sposób opowiadała historię pierwszych kawiarni i tego, jak kawa z Etiopii dotarła do Turcji, a później do Włoch. 
Ania pięknie mówiła o tym, jak ludzie odkryli właściwości kawy, która pobudza do myślenia, rozwiązuje języki i działa jak swoisty katalizator wszelakich dyskusji. Będąc towarem luksusowym, zarezerwowana kiedyś jedynie dla ludzi bogatych, stanowiła o ich statusie społecznym. Jedną z ciekawostek, która zapadła mi w pamięć, była informacja, że przed ślubem bogaci Turcy Osmańscy zobowiązywali się zapewnić swoim żonom kawę, w przeciwnym razie, miały one prawo domagać się rozwodu. Wynika z tego jasno, że kawa była niezwykle ważnym towarem, traktowanym ze szczególną uwagą.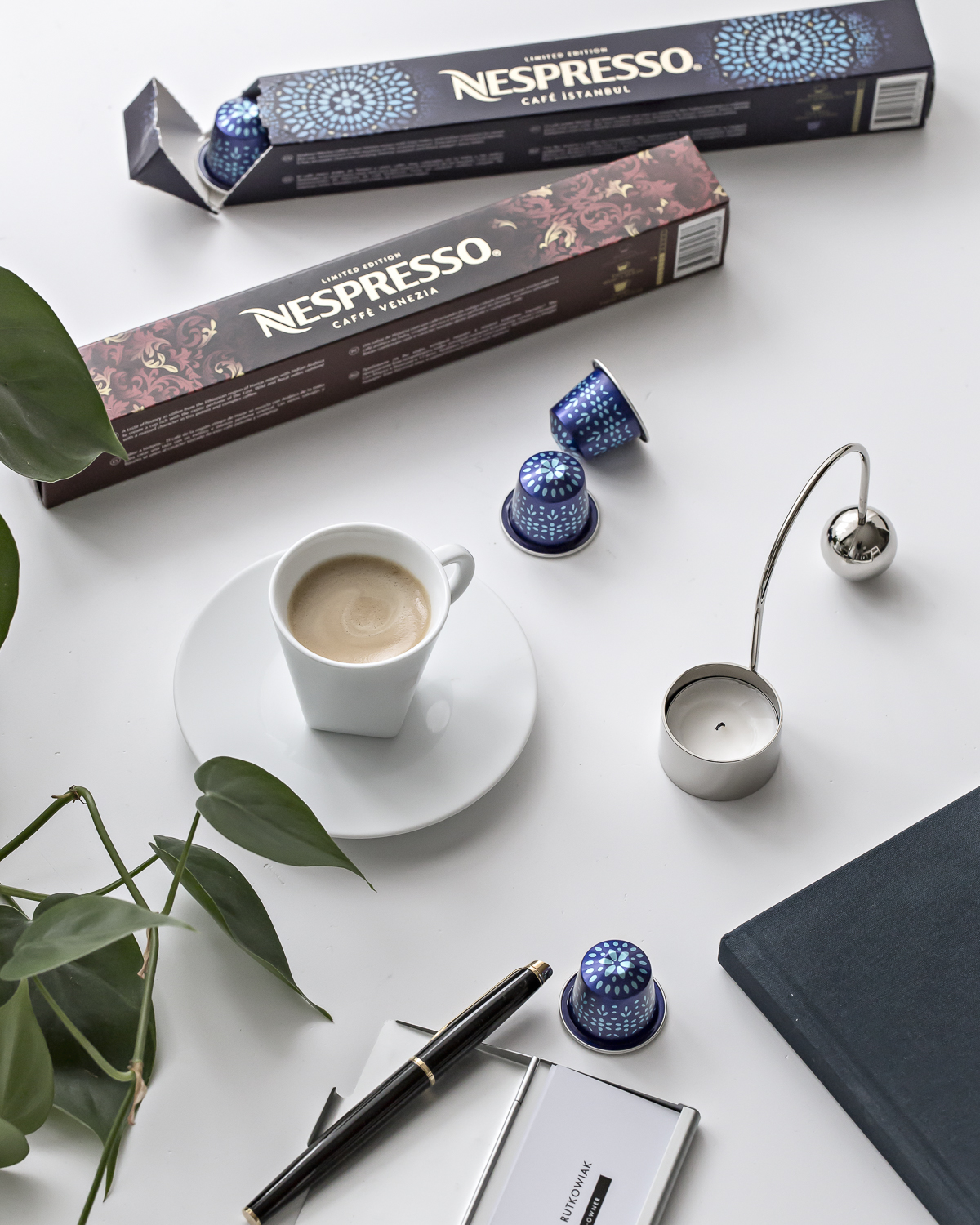 And while I listened about the first public places serving coffee to rich people (mostly men), often brewed together with spices, I couldn't help thinking about my own coffee journey. How my attitude and relationship to coffee evaluated during the past 2 decades.
I discovered coffee quite late, during my studies at the university. Before that, we never really clicked. My parents used to infuse grounded coffee with boiling water and it wasn't really what I found attractive.
During my student times I usually had my coffee as "cappuccino" – a store bought, ready to use powder. Not much of a real coffee, I know. But by the end of my education, I started spending time in cafés and found the real thing. Only then, I always ordered coffee with milk. Warm milky foam with a the taste of coffee, a cake and friends – the perfect way to relax and enjoy life.
I kiedy tak słuchałam o pierwszych lokalach serwujących kawę parzoną na różne sposoby, nierzadko z dodatkiem przypraw, o tym jak przemierzała granice kolejnych państw, a nawet narażała się na klątwę samego papieża, uzmysłowiłam sobie, że i w moim życiu kawa znaczy bardzo wiele. I że owo znaczenie kawy dla mnie na przestrzeni ostatnich dwóch dekad, uległo ogromnej ewolucji.
Pisałam już o tym, że kawę odkryłam późno, pod koniec studiów. Wcześniej się nie polubiłyśmy. W moim domu rodzinnym piło się najczęściej "kawę po turecku", co zupełnie mi nie odpowiadało. Gdy studiowałam, większość znajomych pijało kawę rozpuszczalną lub typu "cappuccino" – czyli proszek z torebki do zalania wrzątkiem. Takie napoje miały mało wspólnego z kawą, pachniały wszystkim co tylko możliwe (z wyjątkiem kawy) i smakowały tak samo "ciekawie". Jednak pod koniec studiów zaczęłam trafiać do różnych kawiarni, gdzie serwowano całkiem dobrą kawę. I zaczęłam swoją przygodę z kawami mlecznymi. W tamtych czasach picie kawy nie było dla mnie przyjemnością samą w sobie, ale częścią miłych spotkań w gronie innych ludzi. Ciepła, mleczna pianka, delikatny smak kawy, do tego zawsze jakieś ciastko i rozmowa – to był przepis na miłe spędzanie czasu.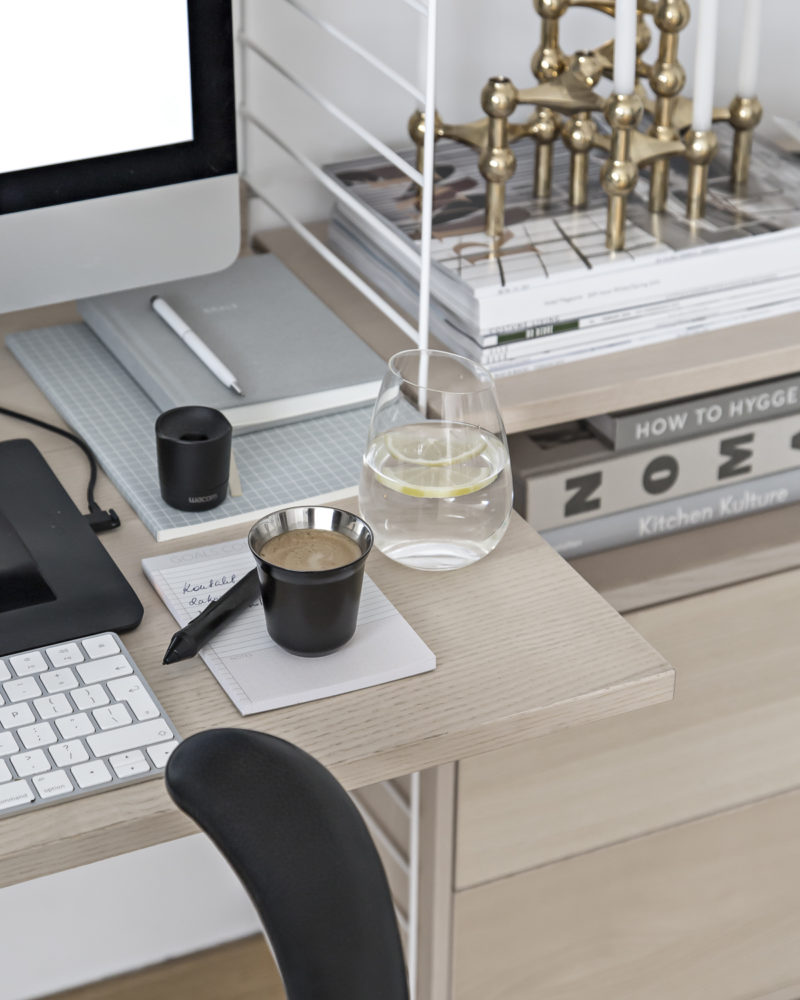 After I finished my studies and moved to Denmark, I discovered that Danes used to drink coffee from drip machines. A cup of coffee was an inseparable part of all mornings and breaks. I did learn to drink it as my colleagues – black, with a bit of sugar. And in the weekends we would go out to a cafe, and enjoy a cappuccino or cafe latte, usually with some sweet syrup. It's been a long time since I had a sweet coffee like that.
It was Nespresso that taught me the real coffee. Ever since we got our Nespresso machine, I started reading and learning about coffee, trying different blends and went from always white to all black. I started to enjoy several cups of espresso a day and to appreciate every sip.
Last summer, when we received the Barista milk frother, I started experimenting with milk coffees again. Now, I have one flat white or latte art a day, preferably in the afternoon. And due to a long break, I have to use lactose free milk. After that milky experience, I still enjoy one evening espresso. And no, I do not have difficulties falling asleep.
Po studiach, gdy wyjechałam do Danii, odkryłam, że we wszystkich miejscach pracy, pija się ogromne ilości kawy z ekspresów przelewowych. Znów, było to raczej częścią rytuału porannych spotkań i późniejszych przerw w pracy wśród kolegów i koleżanek. Kawa zawsze była ich częścią, a ja nauczyłam się ją popijać tak jak inni, czarną z odrobiną cukru. Za to w weekendy chodziliśmy do kawiarni, gdzie popijałam kawę w postaci cappuccino lub cafe latte, często z dodatkiem jakiegoś smakowego syropu. Teraz uśmiecham się na to wspomnienie, bo takiej kawy "na słodko" nie piłam od bardzo dawna. 
I nie skłamię pisząc, że to Nespresso "nauczyło mnie kawy". Odkąd w domu pojawił się nasz ekspres, a ja zaczęłam słuchać i czytać o kawie, próbować różnych odmian i mieszanek, w zasadzie całkowicie odeszłam od picia kaw mlecznych. Stałam się wyznawczynią małej czarnej. Zawsze gorzkiej, często w postaci podwójnego espresso. Taką kawę zamawiam też prawie zawsze gdy jestem poza domem. I uwielbiam. 
Dopiero zeszłego lata, przy okazji pojawiania się w naszej kuchni urządzenia Nespresso Barista, po bardzo długiej przerwie, zaczęłam pić jedną kawę mleczną dziennie. Jako, że przez lata kawy z mlekiem nie było w moim menu, musiałam przestawić się na mleko bez laktozy. I tak popijam sobie latte lub flat white, koło trzeciej po południu, aby parę godzin później popełnić jeszcze jedno espresso. I nie, nie mam kłopotów z zaśnięciem.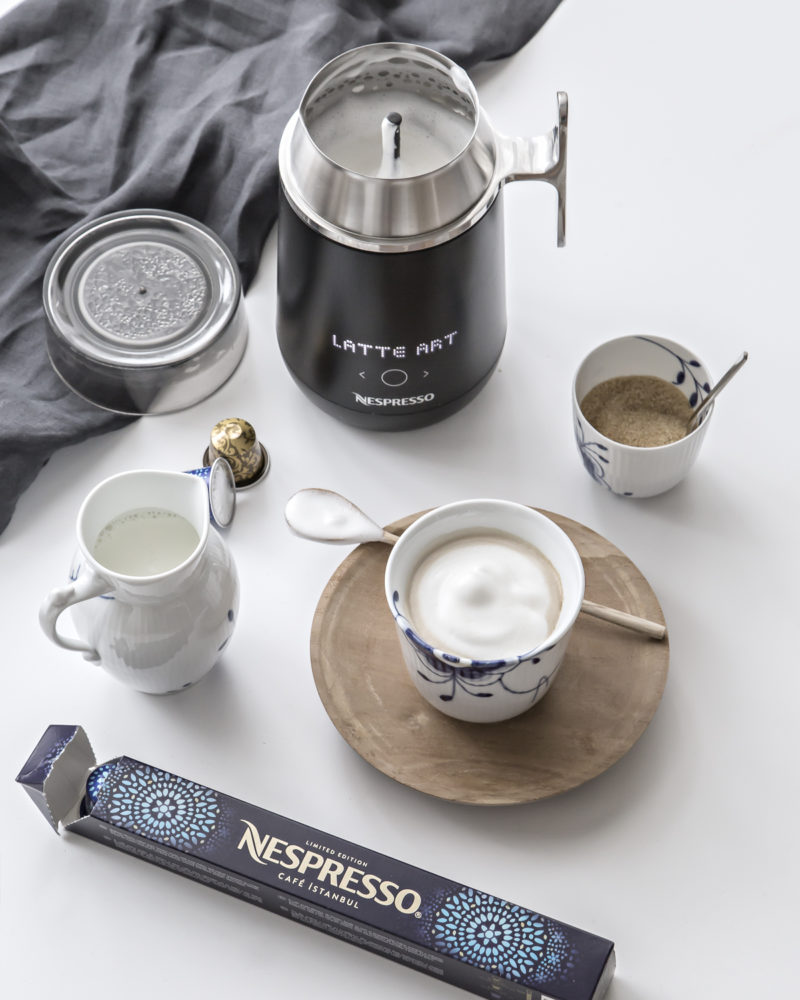 Now, for all coffee enthusiast, a few words about Coffee Houses edition. It consists of 2 coffees – Istanbul and Venezia. The Istanbul makes an intense and spicy cup of coffee. It is thick and ideal in the morning. If I decide to have it in the afternoon, I often pair it with a bite of bitter chocolate. Caffé Venezia comes from Ethiopian region of Harrar. Spiced with a little bit of Indian Arabica it makes a cup filled with eastern aromas. During the Nespresso event, I did try it with a pinch of cardamom and some lemon zest. Now, whenever I feel like having something special, I use the same combination. I don't use any sugar, but if you like sweet coffees, try this one with a few drops of honey. So good!
Na koniec kilka słów na temat nowych kaw Coffee Houses. Istanbul to intensywna mieszanka kaw z Jemenu, Indii i Indonezji, o delikatnych aromatach palenia, które są podkreślone nutami ostrego czarnego pieprzu. Jest bardzo wyrazista w smaku, korzenna (tak jak lubię), dość gęsta i idealna o poranku. Kiedy piję ją po południu, często towarzyszy jej kostka gorzkiej czekolady albo małe ciasteczko. Caffé Venezia pochodzi ze starożytnego etiopskiego regionu Harrar. Doprawiona indyjską Arabiką tworzy filiżankę bogatą w egzotyczne aromaty Wschodu. Podczas spotkania Nespresso miałam okazję spróbować tej kawy ze szczyptą kardamonu i odrobiną skórki otartej z cytryny. Teraz, kiedy mam ochotę na kawę z orientalnym twistem, przyrządzam sobie taką w domu. Osobiście niczym jej nie słodzę, ale wypróbowałam już na rodzinie i znajomych dodatek paru kropli miodu lub syropu z trzciny cukrowej. Polecam Wam serdecznie!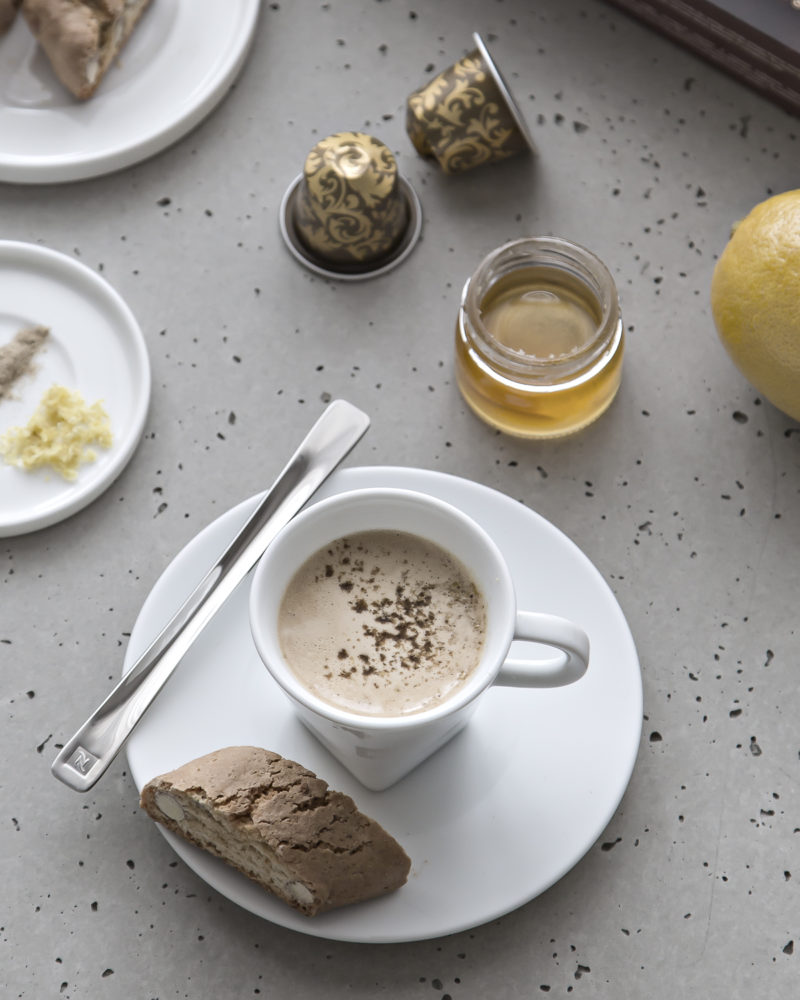 copyright Kasia Rutkowiak | My Full House | any unauthorised use prohibited
Post powstał we współpracy z marką Nespresso.