Each fall I get a cooking urge. During hot summer days I can eat ice cream 5 times a day, with some sushi in between, but then… It all changes during fall. My cooking urge does not mean fancy food made for hours. No time for that! I choose easy meals, one pot – if possible – and easy to reheat the next day. I try to incorporate healthy stuff into each meal and during fall it is super easy. Kids eat almost all vegetables, meat, poultry and fish so cooking here is not too demanding.
I love the kind of meals that get done by themselves. If it's not in a pot, then a deep oven dish will do just as good. Just like this chicken. Fresh, soft, falling apart chicken meat on a bed of potatoes and other root vegetables. With plenty of garlic and soft cherry tomatoes on the top. So good!
Łatwy obiad w skandynawskim stylu
Każdej jesieni dopada mnie chęć gotowania. Latem mogę żyć jedząc jedynie lody, no, może czasem jeszcze sushi. Za to jesienią wszystko się zmienia i zaczynam z radością krzątać się po kuchni. Moja radość z gotowania nie ma nic wspólnego z wymyślnymi daniami. Na to nie mam niestety czasu. Najczęściej powstają proste i pożywne dania jednogarnkowe. Staram się dorzucać do nich jak najwięcej zdrowych składników, a że dzieci mam raczej niewybredne, gotowanie u nas to prosta sprawa.
Najlepsze są dania, które robią się same. Jeśli nie w garnku, to w brytfannie w piekarniku. Zupełnie tak jak ten kurczak. Miękkie rozpadające się mięso ułożone na pieczonych ziemniakach i warzywach korzeniowych, z dużą ilością czosnku i pomidorami. Pycha!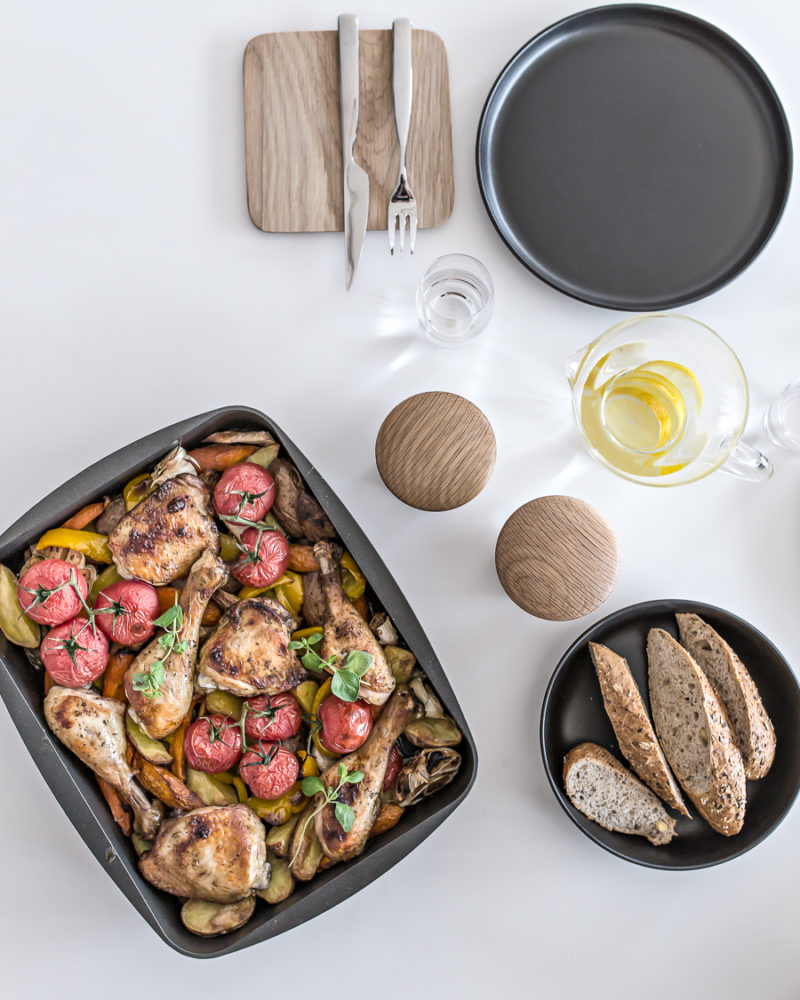 All you need for this savory dish is some chicken (drumsticks or thighs willl be perfect for it), potatoes and other root veggies of your choice. I usually make it with carrots, parsnip and celery. I add 1/2 of the garlic head per person (yes!) and some cherry tomatoes (but only for the last 20 min of baking). For this dish I also used some yellow bell peppers.
It is worth to marinate the chicken parts overnight before roasting. For the marinade I use oil base with some vinegar, soya sauce, honey, mustard and herbs. I add it all to a plastic bag with a zipper and mix well. After adding the meat, I zip it up, rub the chicken throughly and let it marinate in the fridge till the next day.
The following day, I cut the vegetables in pieces, season them with salt and pepper and drizzle some oil on top. I place the chicken parts in the same pan, on top of vegetables, and bake for 45-60 min in 180C fan assisted oven, turning the meat and stirring the vegetables 2-3 times. I add tomatoes approx. 20 minutes before the dish is done.
Wszystko czego potrzebujecie do tego dania to kurczak (udka lub pałki są idealne), ziemniaki i warzywa korzeniowe takie jak marchew, pasternak i seler. Dodaję pół główki czosnku na osobę (!) i nieco pomidorów koktajlowych (te ostatnie pod koniec pieczenia). Tym razem dodałam też żółtą paprykę w kawałkach.
Warto zamarynować kurczaka przed pieczeniem. Do worka z zamkiem dodaję bazę (oliwę lub olej), trochę octu, sos sojowy, miód, musztardę i zioła. Mieszam, dodaję kurczaka, zamykam i dokładnie powlekam części kurczaka marynatą. Wkładam na noc do lodówki.
Następnego dnia tnę warzywa na mniejsze, w miarę równe części, umieszczam w naczyniu żaroodpornym, polewam oliwą, doprawiam solą i pieprzem, a następnie na wierzchu układam kawałki mięsa. Piekę w 180 stopniach przez około godzinę, mieszając warzywa i przekładając kurczaka 2-3 razy w trakcie pieczenia. Pod koniec dodaję pomidory.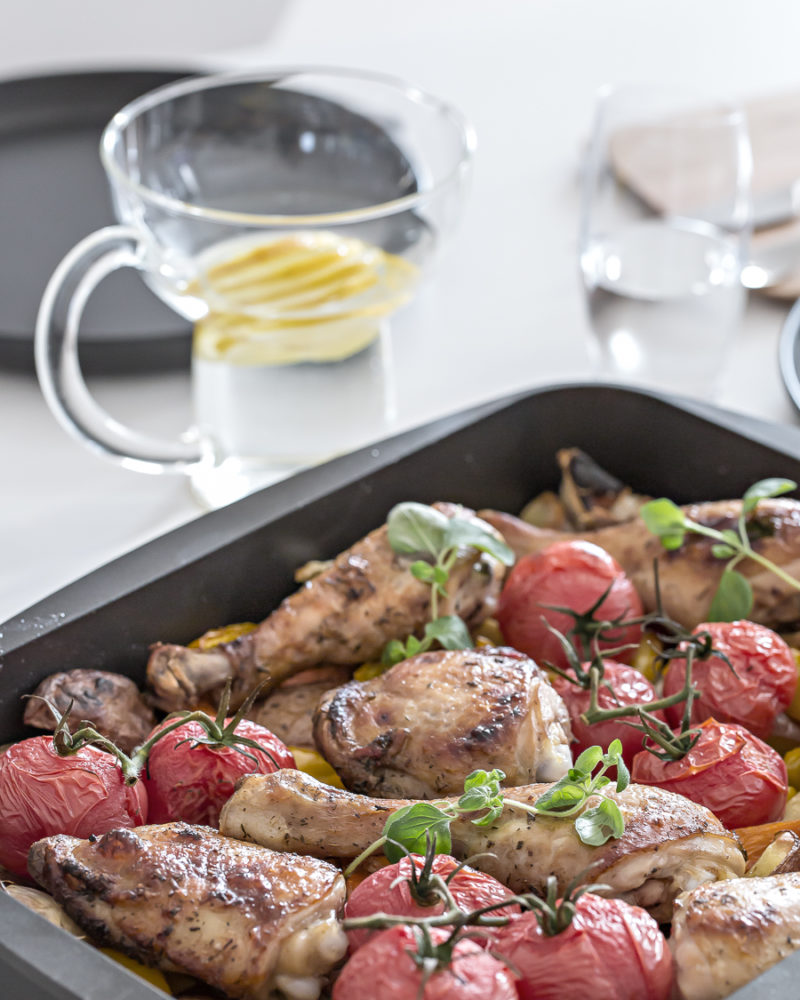 This dish makes a lovely lunch or dinner. In the evening remember to enjoy it with a glass of chilled white wine. And for this very meal, we used the latest Nordic Kitchen tableware from Eva Solo.
I love the simple black stoneware plates and all the new additions to the Nordic Kitchen collection.
To danie idealnie nadaje się na lunch i kolację, wieczorem obowiązkowo z kieliszkiem białego wina. Tym razem po raz pierwszy serwowałam obiad na najnowszych talerzach serii Nordic Kitchen marki Eva Solo. Nowa seria naczyń i garnków jest świetna.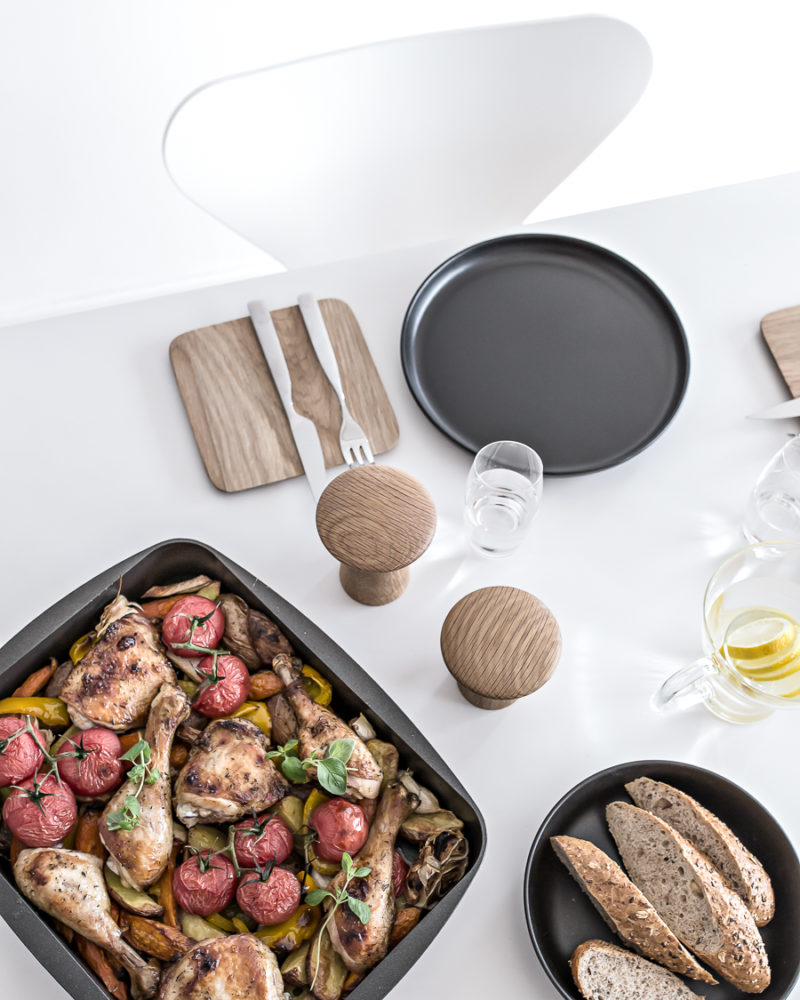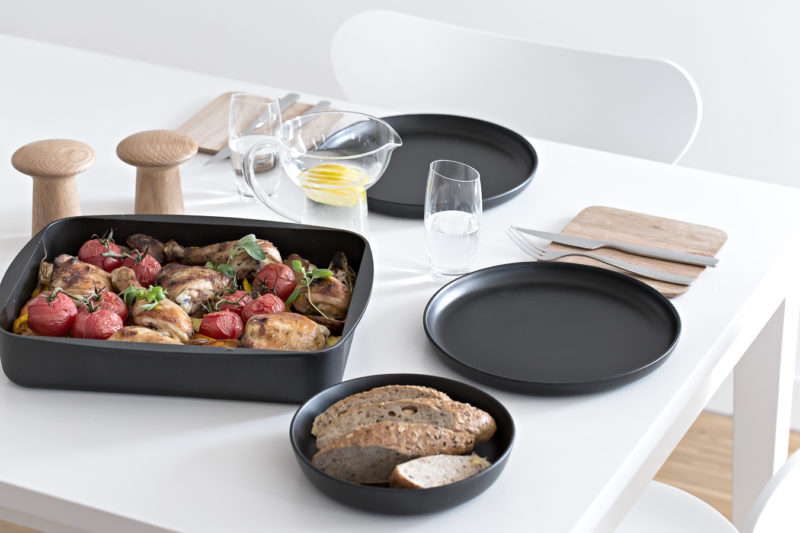 copyright Kasia Rutkowiak | My Full House