When chilly days arrive, one of the best ways to keep warm (and positive) is to make some hot, comfort food. This rule works for many and surely does work for me. I am lucky to live close to a wonderful grocery market, which is a true heaven this time of the year. All kinds of groceries, fruit, veggies, mushrooms, nuts, flowers – you name it. Being a busy, working 10-12 hours a day mom of 3, I often choose easy solutions. A  nutritious stew or ratatouille is something we can eat for a couple of days after reheating. I try to make cooking as enjoyable as possible and love all the "kitchen news". Remember my blogpost about the new line of Eva Solo's pots and pans? The Nordic Kitchen series became my instant dream from the first time I saw it and oh – I love it! I am used to cooking with cast iron pots so these robust looking but very light pots are a true pleasure to handle. And I adore the wooden detailing, making it so nice to work with! It's funny how happy one can become because of some pots, isn't it? Here at home, we both cook and my husband is just as big fan of the good pots as I am. That kinda makes it easier to convince him that we DO need news all the time, doesn't it?
Would you want to join us for dinner?
Skandynawskie gotowanie na poprawę nastroju
Gdy nadchodzą jesienne dni, jednym z fajniejszych sposobów na rozgrzanie się (i poprawę nastroju) jest ciepły posiłek. Uwielbiam "pocieszać" się jedzeniem, choć i samo gotowanie może być przyjemne! Mam szczęście mieszkać niedaleko targu, który o tej porze roku jest prawdziwym rajem. Warzywa, owoce, grzyby, orzechy i masa kwiatów – do wyboru, do koloru! Jako, że oprócz bycia mamą trójki dzieci, pracuję 10-12 godzin dziennie, staram się wybierać łatwe rozwiązania. Pożywny gulasz czy ratatouille to coś co z powodzeniem można jeść przez kilka dni, wystarczy jedynie podgrzać. Pamiętacie mój post o nowej serii garnków Eva Solo? Od momentu, kiedy zobaczyłam produkty z linii Nordic Kitchen, wiedziałam, że są stworzone dla nas! Do tej pory używaliśmy żeliwnych garnków i patelni, więc gotowanie w tych solidnie wyglądających, ale bardzo lekkich garnkach jest prawdziwą przyjemnością. Do tego te drewniane rączki! Śmieszne ile radości może przynieść zestaw garnków. Jako, że oboje chętnie gotujemy, mój mąż też gustuje w dobrych garnkach i patelniach. Tym łatwiej jest mi go przekonać, że naprawdę ciągle potrzebujemy czegoś nowego :).
Wpadniecie na obiad?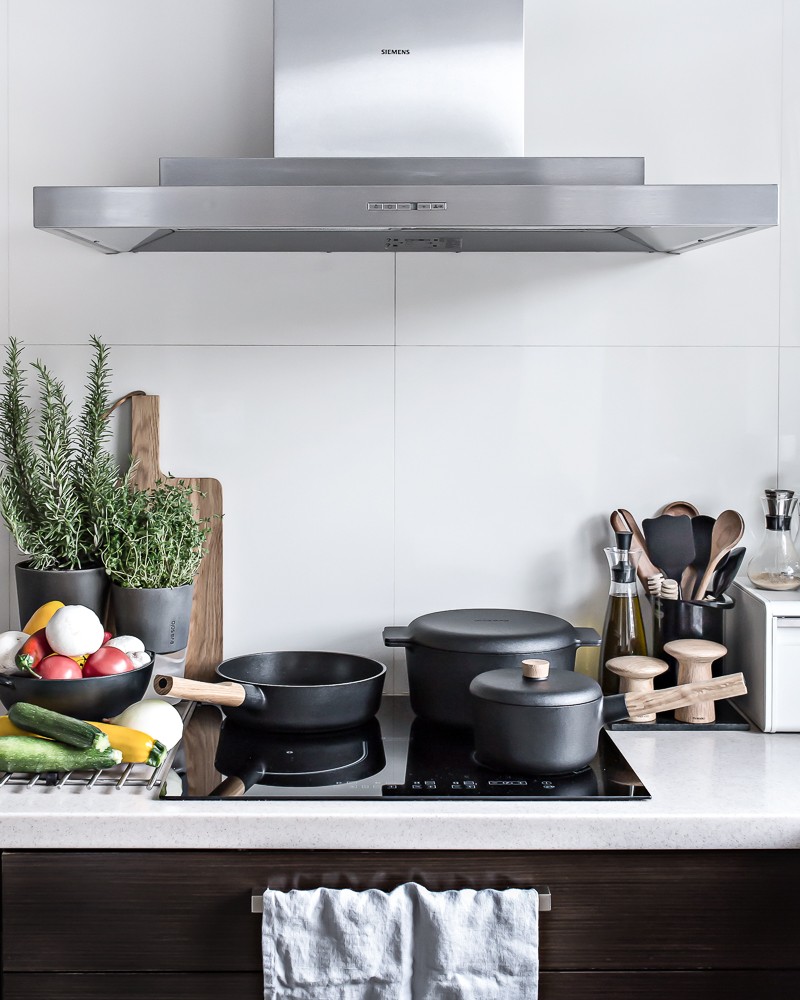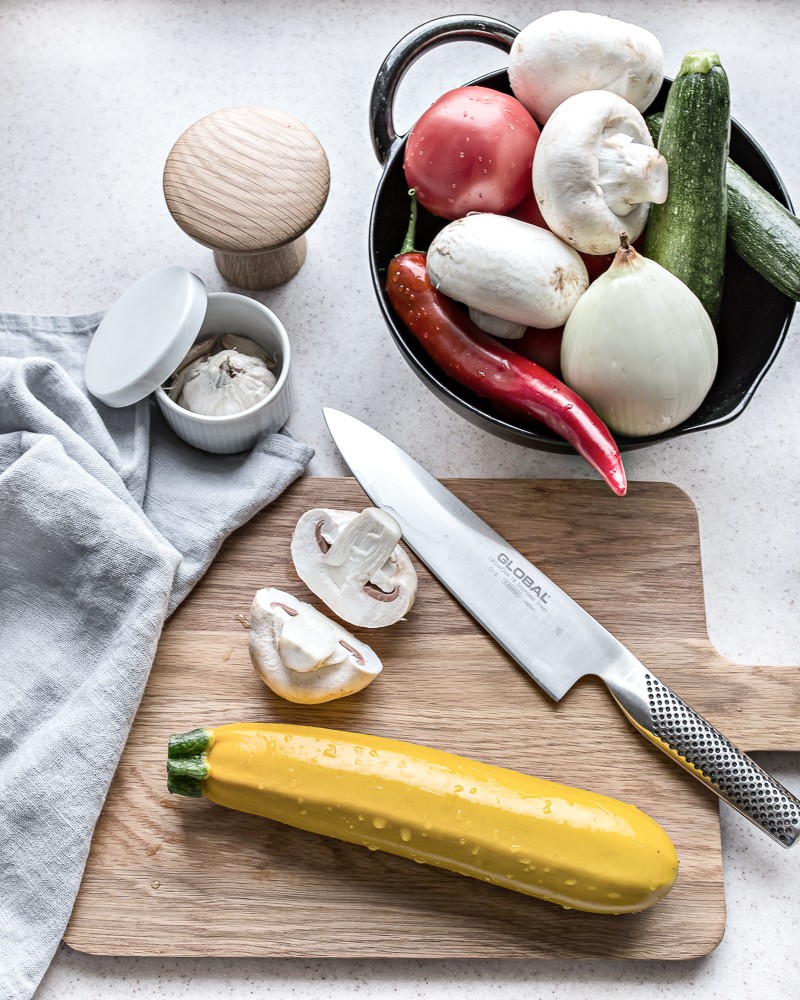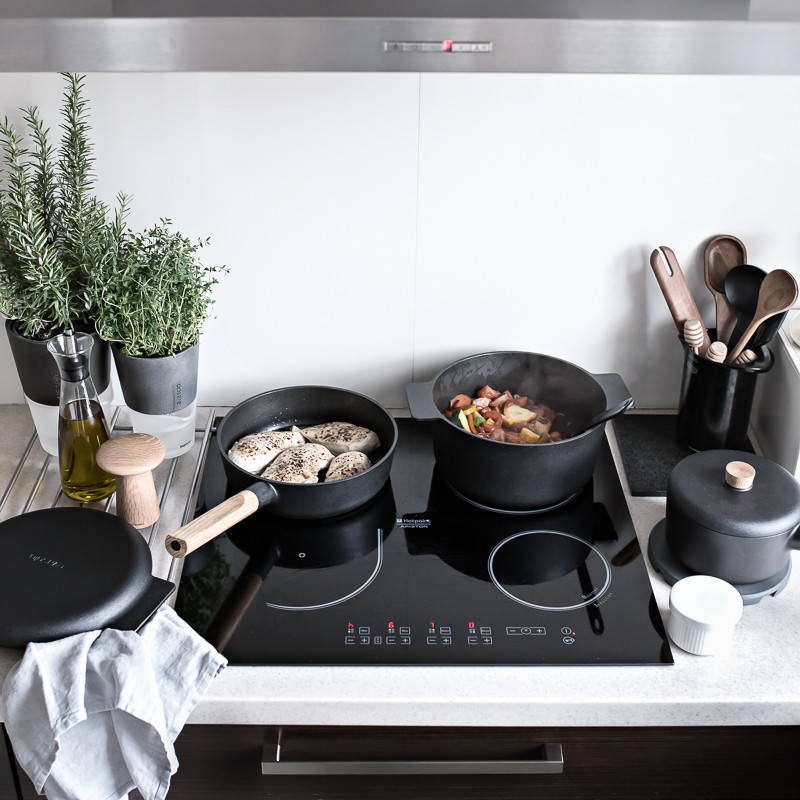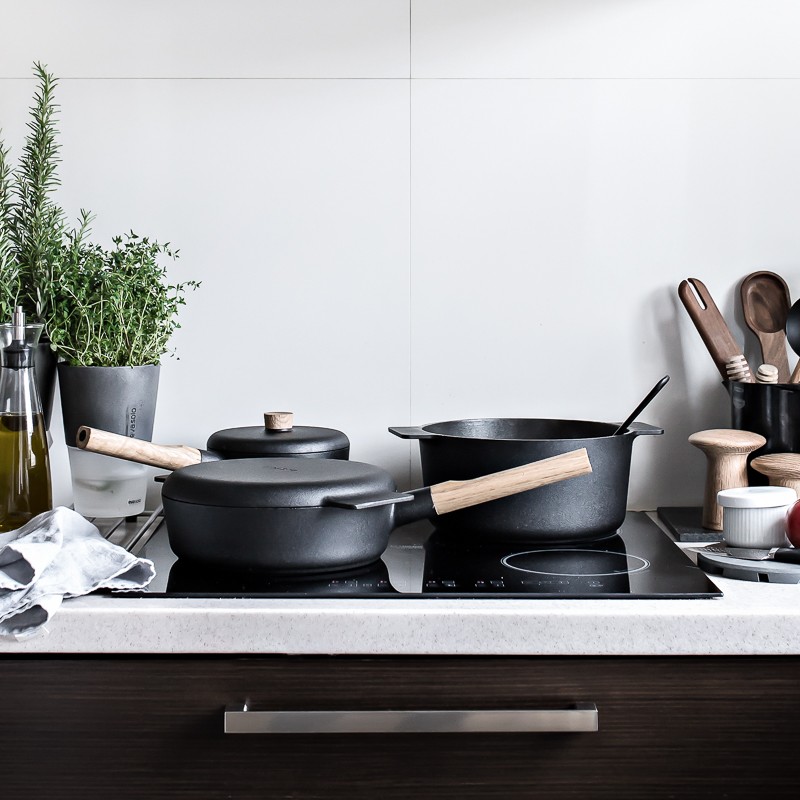 copyright Kasia Rutkowiak | My Full House | any unauthorised use prohibited
Pots and other kitchenware/ garnki i dodatki – Eva Solo.