My weakness for nice interiors goes far beyond private homes. I feel strongly drawn to all pretty spaces. Often, it is "the looks" that make me notice new places like restaurants, bars, spas or boutiques. And once I get in, I happily try what's in store. Almost always. It was a bit different with this place – a beautiful hairdresser's salon in the middle of Warsaw city centre. As it has taken me a couple of years to transition from dark brown to cool blond, I am very particular with what I need from my hair stylist and wasn't keen on changing my trusted one. This is why, when my good friend told me about Fryzierzy 1909 and that I need to see and try this place out, I was very sceptical. After all, when it comes to my hair, it is not the look of the salon that matters the most. And so, some months passed, before I finally decided to trust my friend, and give it a try. I am glad that I did.
Sprawdzone adresy w Warszawie – Fryzjerzy 1909
Moja słabość do ładnych wnętrz nie ogranicza się jak wiecie do przestrzeni mieszkalnych. Przyciągają mnie wszystkie ciekawie zaprojektowane miejsca. Często to właśnie wizualna strona wielu restauracji, kawiarni czy sklepów, sprawia, że mam ochotę wejść i skorzystać z ich usług. Prawie zawsze. Z tym miejscem – salonem fryzjerskim Fryzjerzy 1909 było trochę inaczej. Opowiedziała mi o nim koleżanka, która znając mnie stwierdziła, że muszę je wypróbować. Od razu przyznam, że nie byłam specjalnie skłonna tego zrobić. Dwa lata zabrało mi przejście z głebokiego brązu do popielatego blondu i nie chciałam zmieniać sprawdzonego już miejsca, którego stylistom całkowicie ufałam. Mimo to, moja koleżanka się nie poddawała. Po kilku miesiącach, udało jej się mnie namówić. I bardzo się z tego cieszę.
Located in a beautiful, fully restaurated tenement from 1893, Fryzjerzy 1909 is proud to continue a great tradition of one of the most famous, Polish born, hairdressers from the beginning of XIX century – Antoni "Antoine" Cierplikowski. It was Antoni, who invented a tomboy haircut in 1909, so popular from the classic "Chanel look" after the WWI.
As for salon's interior, it was designed by interior architect (and former chef of stylists in Elle Decoration Polska), Kinga Mostowik. Kept in blue tones, with eyecatching details (these airmchairs are amazing!) this 2 level salon really is a pleasure to visit. But the most important thing is, that it's owners – Kasia Poniatowska Miłek and Darek Miłek who have many years of experience, really know their job, and so do all 1909's stylists. After 3 visits (2 color treatments and one regeneration ritual), I can honestly recommend this place if you are in town and need a good hairdresser.
Salon mieści się w pięknie odrestaurowanej kamienicy z 1893 roku. Wnętrze zaprojektowała Kinga Mostowik, absolwentka Architektury Wnętrz ASP w Warszawie, a w latach 1998 – 2008 szefowa stylistów Elle Decoration Polska. Kinga jest także wykładowcą ASP w Łodzi i School of Form w Poznaniu. Dwa poziomy lokalu, utrzymane w granacie, w połączeniu z bardzo ciekawymi dodatkami (te fotele!), robią niezwykle ciekawe wrażenie.
Fryzjerzy 1909 z dumą nawiązują do najlepszych tradycji fryzjerstwa początku XIX w. Właśnie wtedy, w 1909 roku, Antoni "Antoine" Cierplikowski, wypromował w Paryżu fryzurę "na chłopczycę", która stała się modnym elementem wizerunku nowoczesnych kobiet po I Wojnie Światowej. Ten pochodzący z Polski, zwany "królem fryzjerów i fryzjerem królów" stylista, był inspiracją dla założycieli salonu – Kasi Poniatowskiej-Miłek i Darka Miłka, którzy podobnie jak Antoine, są mistrzami w swoim zawodzie. W swoim salonie skupili grupę świetnych młodych fryzjerów i stylistów, których już parokrotnie miałam okazję widzieć w akcji. Po trzech wizytach (dwóch koloryzacjach i zabiegu regeneracyjnym), mogę Wam z pełną odpowiedzialnością polecić to miejsce.
Na koniec – bardzo dziękuję Asi za to, że naciskała na to, abym dała się namówić na wizytę.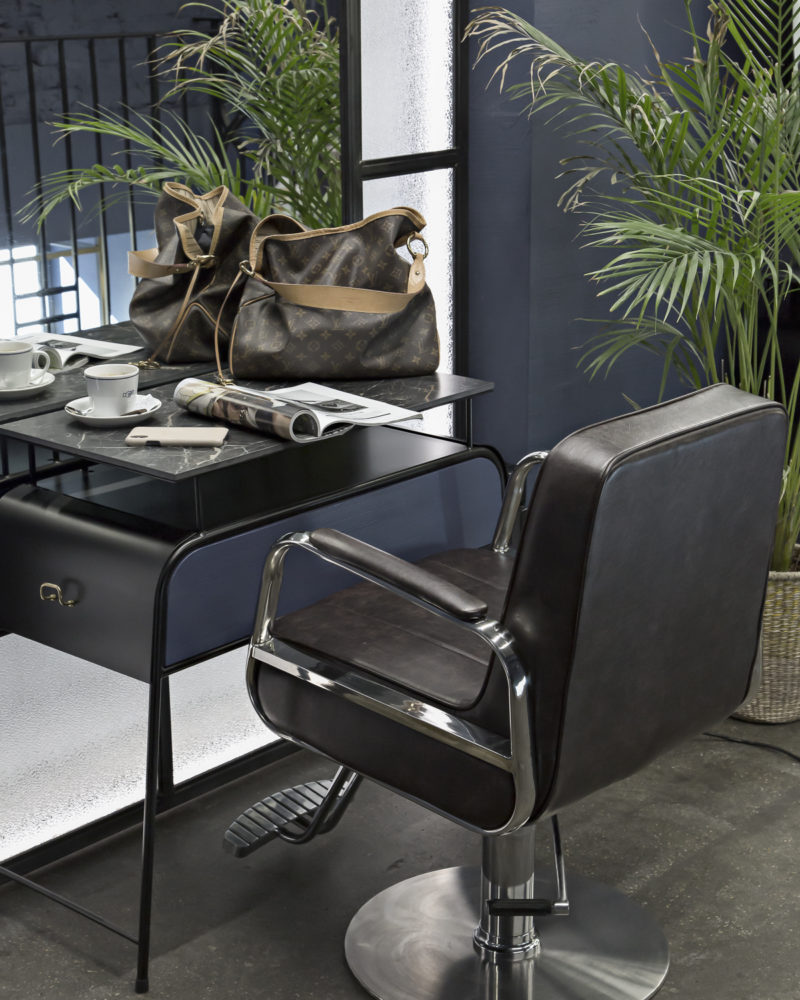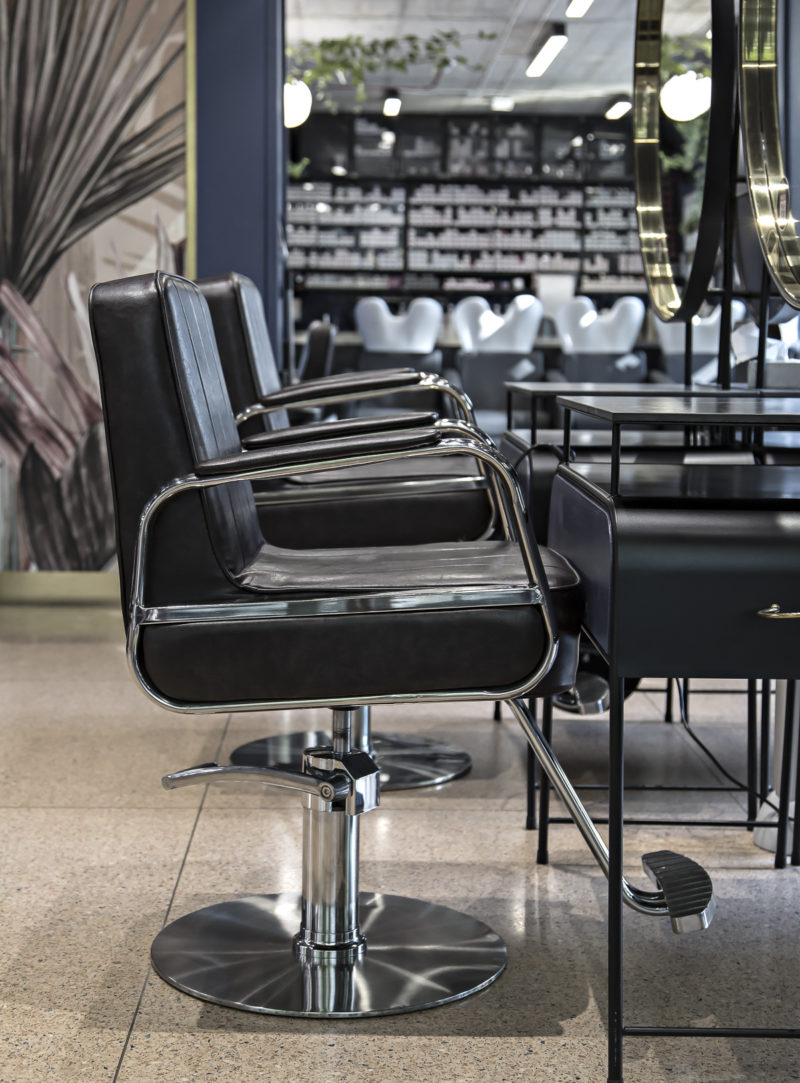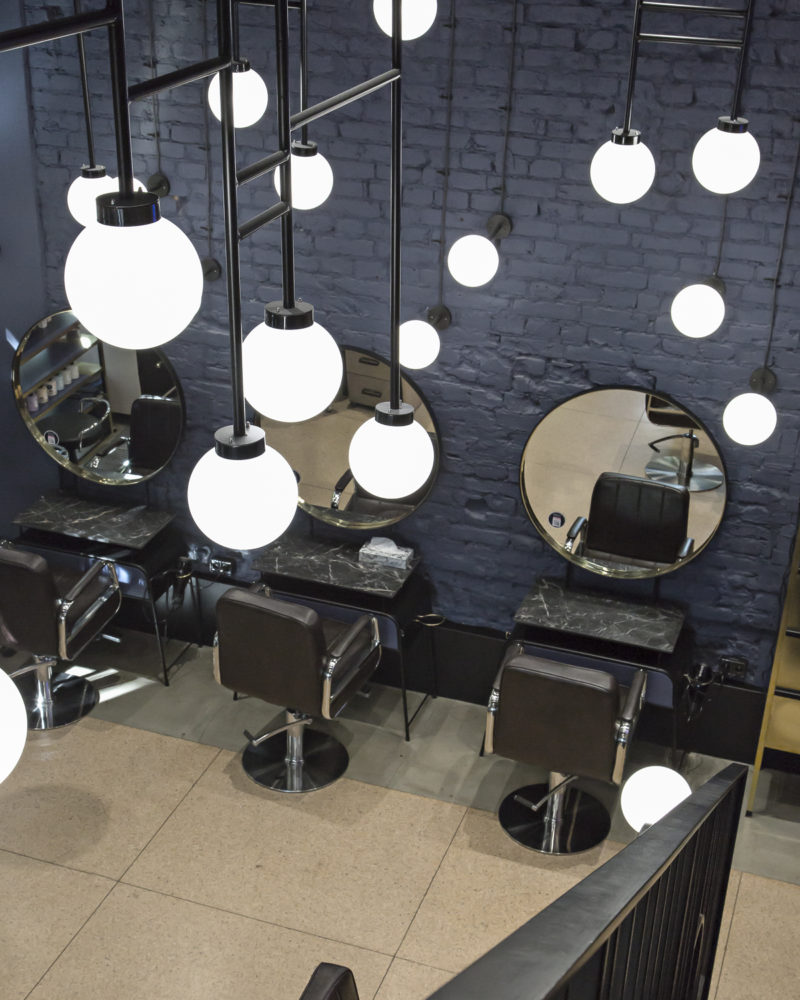 copyright Kasia Rutkowiak | My Full House | any unauthorised use prohibited
Fryzjerzy 1909
ul. Hoża 42
00-516 Warszawa