It is HOT here! I just saw a temperature map of Europe and we are in the centre of very hot air masses. These days it might be a good idea to go to Greece to cool down. People are complaining, tv and radio says to stay indoors and schools have shortened all classes from 45 to 30 min. Heh. I am writing it while sitting in air-conditioned cafe, sipping on my iced flat white so I am good. But soon it will be time to walk home. It's been a long time since I've seen so many nearly naked people on the streets. And while most of people are wearing flip flops, sandals and pool slippers (!), I am rocking my new brogues. Yes!
Upał, pościel i buty (moje najlepsze zakupy)
Ale upał, co! Właśnie widziałam mapę Europy, jesteśmy w oku jakiegoś upalnego szaleństwa. Można jechać do Grecji się schłodzić. Ludzie narzekają (za bardzo, jak na mój gust), w mediach radzą nie wychodzić z domów, a dzieci mają skrócone lekcje (u nas po 30 min). Chwilowo siedzę w klimatyzowanej kawiarni i popijam flat white na lodzie, więc jest super, ale… Trzeba jeszcze będzie wrócić do domu :) Na ulicach tłumy skąpo odzianych ludzi. Dawno nie widziałam takiego festiwalu mody plażowej, klapek i japonek w centrum miasta. I pewnie też byłabym w grupie "bosostopych", gdyby nie moje ostatnie odkrycie.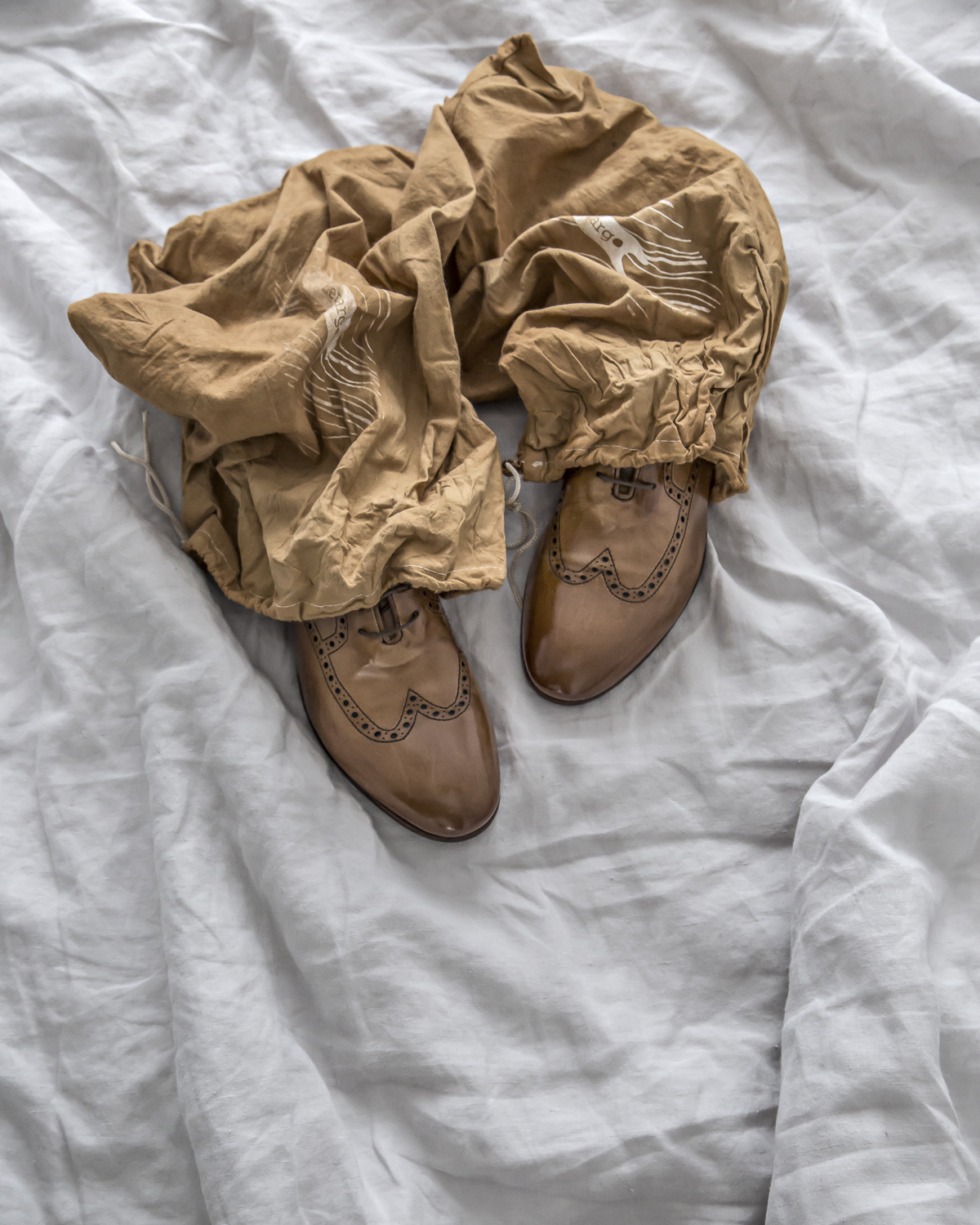 Recently I found an amazing little boutique with carefully picked artisan shoes from Italy. I love nice shoes, I believe people should not save money on a good pair of footwear, but we also have many feet to put shoes on in this family. After a couple of weeks of contemplating "an unplanned" purchase, I finally did make a decision to get these brown beauties and I can't take them off!
When I brought them home and took out of their box, I got reminded of my childhood, when I would take my new shoes to bed to sleep with them. I know, most of girls love teddy bears, but I always thought that shoes smelled better. That's why I did snap a couple of pics of these summer babies, in bedding, to send them to my mom, with a big smiley. She got it immediately!
Nie pamiętam, kiedy ostatnio zakup butów sprawił mi tyle radości. Wszystko przez odkryty niedawno sklep na Mysiej 3. Weszłam do butiku Birbante Rocca i przepadłam! Lubię buty, uważam, że nie powinno się oszczędzać na dobrym obuwiu, choć z drugiej strony, w naszej rodzinie jest wiele "stóp do obucia" i nie wszystkie obuwnicze marzenia udaje mi się urzeczywistnić. W tych półbutach zakochałam się od pierwszego wejrzenia, ale najpierw przez 2 tygodnie "walczyłam ze sobą". Bez sensu ;)
Kiedy w końcu przyniosłam je do domu i wyjęłam z pudełka, ożyły wspomnienia z lat '80-tych. Kto pamięta puste półki, ten wie. Moim rodzicom zdarzało się służbowo jeździć do Czechosłowacji lub na Węgry, a wtedy zabierali patyczki :) Buty kupowane "na patyczek", musiały pasować. Albo te, albo żadne. Zawsze były skórzane i pachniały niebiańsko. Zanim zaczynałam w nich chodzić, prosiłam Mamę, aby pozwoliła mi z nimi spać. Żadna przytulanka nie mogła się równać parze pachnących skórą butów. Dlatego właśnie, nie myśląc długo, zrobiłam tym ślicznotkom parę zdjęć "w pościeli" i wysłałam mojej Mamie. Z miejsca załapała o co mi chodzi.
I have some designer shoes on my wishlist to be honest, always saving for a pair, so when an unplanned purchase occasion happened, I hesitated. But let me tell you, the artisan shoes, they are oh so worth every penny. When I first put these on, I knew we would love each other. Right after getting them, I packed them for Copenhagen and walked in them for a couple of days. No rubbing, no breaking in, pure joy. And now, I can wear them bare-footed, with a big smile, despite 35 C in the shadow. I also believe that as they are artisan, hand made shoes, they will age beautifully and stay with me for many seasons.
I thought that they were a great purchase to start "my best purchases" series with. It will include all kinds of items that were great investments.
What was your last good shoe purchase?
Od dłuższego czasu wymieniam garderobę i mam listę rzeczy "do kupienia", której staram się trzymać. Jest na niej kilka konkretnych par butów, ciągle na jakieś zbieram. Dlatego, kiedy stanęłam przed decyzją o nieplanowanym zakupie, zastanawiałam się wyjątkowo długo. Nawet parę razy chodziłam do sklepu, "tylko zmierzyć". Za każdym razem coraz bardziej czułam, że się polubimy. Potem z miejsca zabrałam je do Kopenhagi, gdzie chodziłam w nich bite dwa dni. Od razu leżały jak ulał i ani przez moment mnie nie obtarły. Zapomniałam już co to są buty rzemieślnicze. Teraz cieszę się, że "zboczyłam z listy", bo żadne buty, od dawna tak bardzo mnie nie cieszyły.
Dlatego właśnie od tych wyjątkowych butów zaczynam comiesięczny cykl "najlepszych zakupów", w którym będę się z Wami dzieliła moimi najbardziej trafionymi zakupami, w różnych kategoriach.
A jaki był Wasz ostatni udany zakup jeśli chodzi o buty?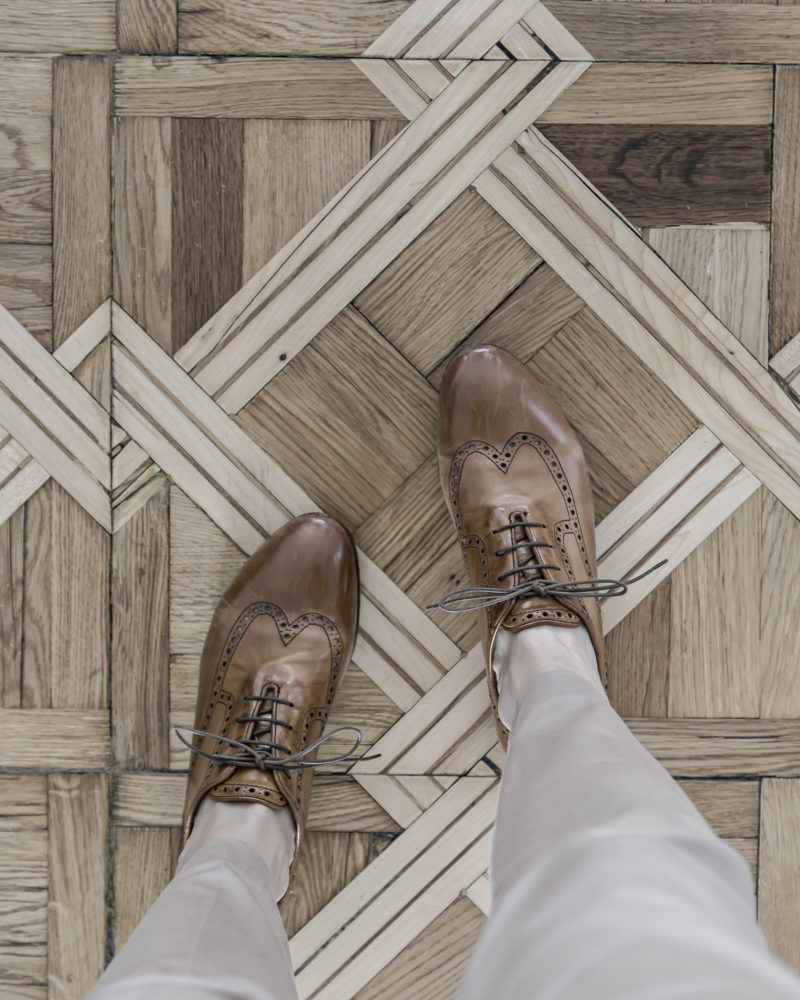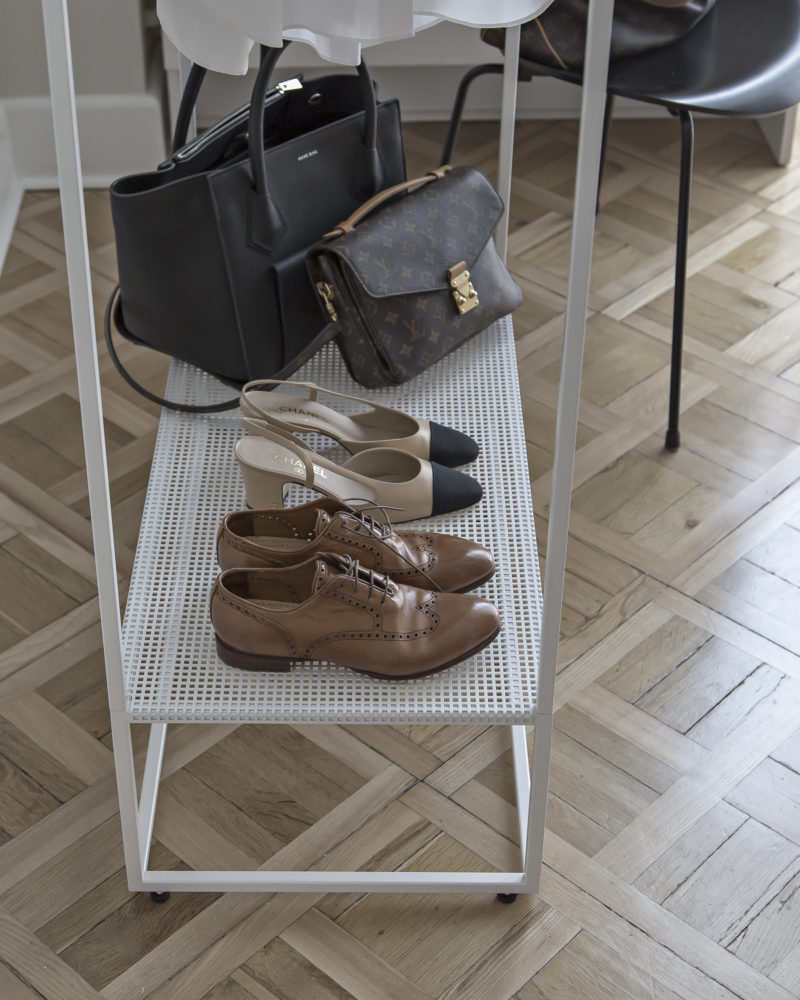 copyright Kasia Rutkowiak | My Full House | any unauthorised use prohibited