Crumble is one of these desserts which I can eat anytime, however it tastes best during the colder months. Delicate, sweet fruit, crunchy crumble and creamy vanilla ice cream makes it a real crowd pleaser. I used to make it with apples or peaches as I love them most. My husband loves plums, while I could easily live without them. So in order to make me fall in love with plums as well, he made this fabulous autumnal dessert for us the other day. I could not help but share it with you. I must admit that served this way, plums taste heavenly.
The difference between this and regular crumble recipes the absence of flour. The crumble is made with oat bran, butter and tiny bit of brown sugar. The plums smell of cardamom, cinnamon and cloves – sensational!
Najlepsze Śliwkowe Crumble (bezglutenowe)
Uwielbiam crumble, który mogę jeść o każdej porze roku, choć przyznaję, że ten deser smakuje najlepiej w jesienno-zimowe miesiące. Delikatne, słodkie owoce i chrupiąca kruszonka w połączeniu z aksamitnymi lodami waniliowymi to murowany hit. Zazwyczaj robiłam crumble z jabłkami albo brzoskwiniami, które uwielbiam. Mój mąż, w odróżnieniu ode mnie, kocha śliwki (bez których śmiało mogę żyć) i postanowił sprawić, że i ja zacznę za nimi przepadać. Kilka dni temu zrobił więc dla nas takie crumble i… przepadłam!
Różnica między tym, a klasycznym crumble tkwi w kruszonce, do przygotowania której użyte zostały otręby owsiane (zamiast mąki). Śliwki pachną bajecznie cynamonem, kardamonem i goździkami.
Ingredients (ca 20×30 cm ovenproof dish) / Składniki (żaroodporne naczynie 20x30cm):
The fruit / owoce:
700 g stone free purple (common) plums, halved / 700 g śliwek węgierek, przepołowionych, pozbawionych pestek
1 tbsp cinnamon / łyżka stołowa cynamonu
1 tsp cardamom / łyżeczka kardamonu w proszku
1 tsp ginger powder / łyżeczka imbiru w proszku
8-10 cloves / 8-10 goździków
2-4 tbsp cane sugar / 2-4 łyżki cukru trzcinowego*
additionally / dodatkowo:
2 tbsp butter for the form / 2 łyżki zminego masła do wysmarowania naczynia
The crumble / kruszonka:
100 g butter (cold) / 100 g zimnego masła
200 g GF oat bran / 200 g otrębów owsianych, bezglutenowych
50 g brown sugar / 50 g brązowego cukru**
For serving / do podania
500 ml good vanilla ice cream / 500 ml lodów waniliowych
*) you can easily omit sugar in plums (we do) / owoce można śmiało przygotować bez cukru (my go pomijamy)
**) you can use regular or cane sugar in stead / można użyć cukru białego lub trzcinowego
The method / Sposób przygotowania:
Put plums into a medium pot and add a bit of water (100 ml should be enough), warm on medium heat, remembering to stir frequently. When plums soften a bit and start bobbling, add all the spices, stir well and let simmer on low heat, stirring occasionally, until most of the liquid evaporates.
Turn on the oven, fan assisted, 180 C
Put all the crumble ingredients into a medium bowl and work it with your fingers, until it resembles crumbles.
Grease the form with butter and put in the plums. Sprinkle evenly with crumble and cover with aluminium foil. Put in the oven. After 30 min remove aluminium and bake for another 5-8 min till the crumble becomes nice and golden. Remove from oven and let rest for 10-20 min. Serve with a scoop of vanilla ice cream and good tea (or coffee).
Owoce umieścić w średnim garnku, dodać odrobinę wody (100 ml) i podgrzać na średnim ogniu, często mieszając. Kiedy śliwki zmiękną i puszczą sok, dodać przyprawy, wymieszać i podgrzewać bez przykrycia do zredukowania większości soku, regularnie mieszając.
Piec nagrzać do temperatury 180 stopni, z termoobiegiem.
Składniki kruszonki rozrobic palcami w miseczce, aż powstaną grudki.
Naczynie nasmarować masłem, włożyć owoce, równomiernie posypać kruszonką, przykryć folią aluminiową i piec przez pół godziny. Po tym czasie usunąć folię i piec kolejne 5-8 min aż kruszonka nabierze złocistego koloru. Wyjąć z pieca i odstawić na 10-20 min. POdawać z gałką lodów waniliowych i dobrą herbatą (lub kawą).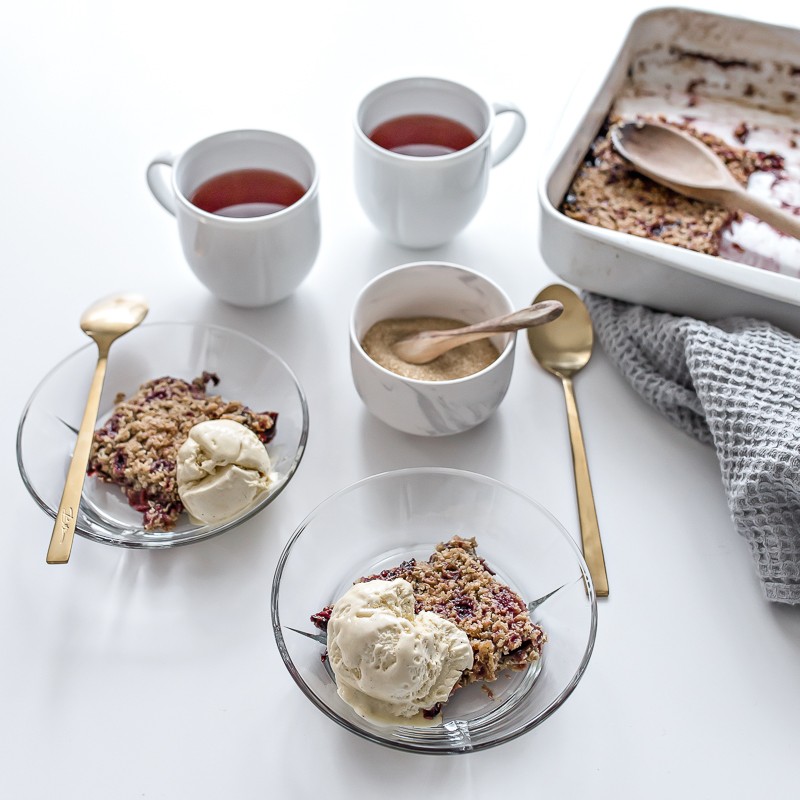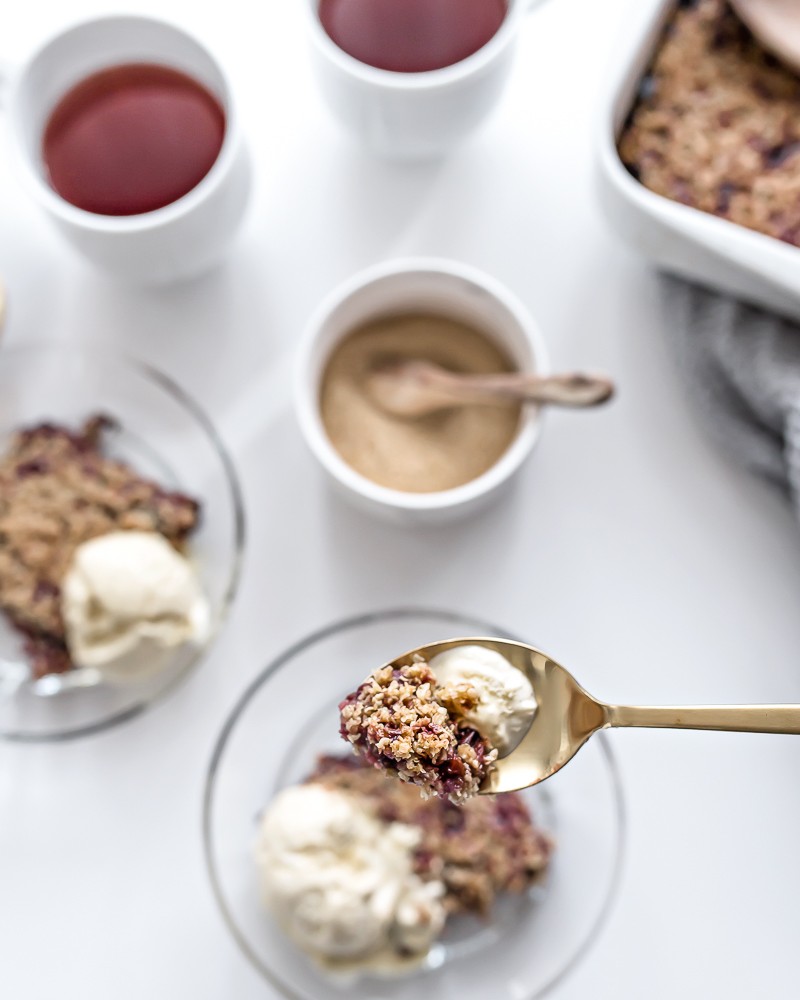 ? Kasia Rutkowiak / My Full House