I guess I can say, that I am addicted to pretty books. Books showing design, fashion, places, people and food. I love to read about other people's ideas and their achievements, and soak in the inspiration from beautiful pictures. I adore well published cook books, with pictures for every recipe as well as design stories, whether it's fashion, furniture or other. I just love pretty books!
This weekend I got lucky, getting 4 new, amazing pieces for my collection. I spent most of my Sunday browsing through all four of them, not sure which one to start with.
Piękne książki – moje ostatnie książkowe hity
Od pewnego czasu jestem uzależniona od pięknych książek. Książek o designie, modzie, miejscach, ludziach i jedzeniu. Uwielbiam czytać o pomysłach innych, o osiągnięciach ludzi z pasją. Lubię chłonąć inspiracje z pięknych zdjęć. Uwielbiam też dobrze wydane książki kucharskie ze zdjęciami każdej potrawy i wszystkie historie designu, czy to tego modowego czy wnętrzarskiego. Po prostu kocham piękne książki!
W weekend miałam szczęście rozszerzyć moją kolekcję o cztery kolejne pozycje. Większość niedzieli spędziłam na wertowaniu i oglądaniu wszystkich czterech, nie bardzo wiedząc od której zacząć.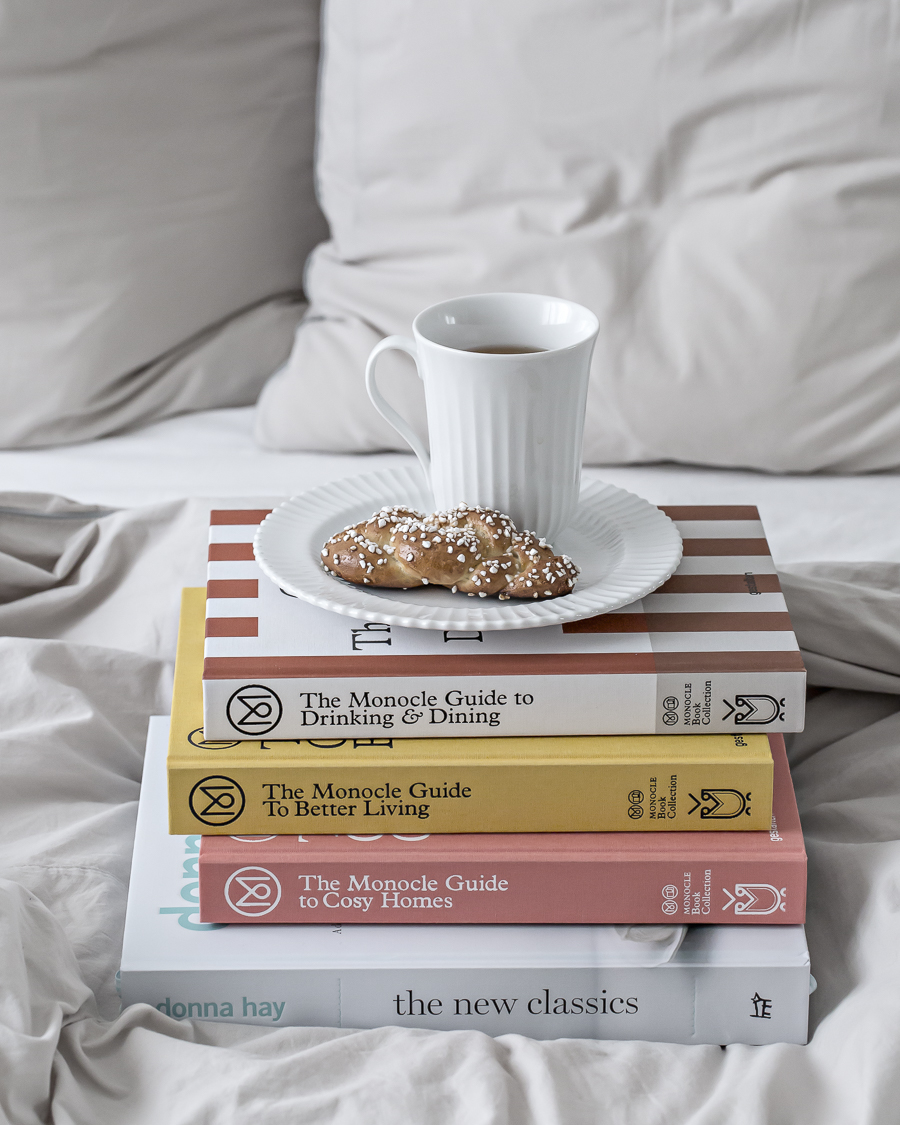 First of all – the Monocle Guides. I already had one of them ("The Monocle Guide to Good Business") whih I love and I've been wanting to expand my collection. Last Saturday, as great possibility occured, I got another 3 parts of the series – guides to: Cosy Homes, Drinking and Dining and Better Living. Printed by german Gestalten, covered in beautiful hard linen covers, these books consist of pure inspiration for every day.
"The Monocle Guide to Cosy Homes" is a 400 pages survey of everything you need to build the residence you want. From architects to furniture-makers, from design-store owners to gardeners, this book introduces you to interesting people with ideas that are built to last. It's both an inspirational and practical guide that makes you reach for it time after time. A book you want to get back to.
"The Monocle Guide to Eating and Dining" as all about food, places to eat and people making food with passion. It consists of 10 fascinating chapters that are packed with inspirational content. The authors travelled the world to find the most incredible restaurants and write the stories of food that makes our life happier. I cannot wait to dig in this book a bit more!
"The Monocle Guide to Better Living" is just what it says. I must say that from my short weekend browse, I am going to love this book for years. Not only the high quality mat paper and amazing pictures (like in every Monocle guide) but the "good life" attitude that shines through every page and chapter. This guide was Monocle's first book, which started the entire collection. It touches many different aspects of life that all have one thing in common – life's quality and joy that comes with it.
Na początek – przewodniki Monocle. Miałam już jeden z nich – "The Monocle Guide to Good Business", a ponieważ jest świetny, chciałam poszerzyć kolekcję. Jako, że w sobotę pojawiła się niecodzienna okazja, bez wahania dodałam trzy kolejne tytuły tej serii – "The Monocle Guide to Cosy Homes", "The Monocle Guide to Drinking and Dining" oraz "The Monocle Guide to Better Living". Wydane nakładem niemieckiego wydawnictwa Gestalten, oprawione w twarde okładki powleczone lnem, wszystkie przewodniki są skarbnicą codziennej inspiracji do tego jak wieść ciekawsze, pełniejsze życie.
"The Monocle Guide to Cosy Homes" to 400-stronicowy przegląd wszystkiego czego potrzebujesz, aby stworzyć idealne mieszkanie lub dom. Od architektów do producentów mebli, od właścicieli designerskich sklepów do ogrodników, książka ta pokazuje interesujących ludzi i ich pomysły na tworzenie rzeczy i miejsc, które przetrwają próbę czasu. To praktyczny, inspirujący przewodnik, po który chce się sięgać wielokrotnie i wracać do niego w miarę potrzeby.
"The Monocle Guide to Eating and Dining" jest w całości poświęcony tematyce jedzenia, restauracji i ludzi gotujących z pasją. Zawiera 10 ciekawie skonstruowanych rozdziałów pełnych (nie tylko kulinarnych) inspiracji. Autorzy książki przemierzyli świat w poszukiwaniu najlepszych restauracji i stworzyli pozycję pełną historii toczących się wokół jedzenia, które czyni nasze życie szczęśliwszym. Nie mogę się doczekać, aż wczytam się w nią nieco głębiej.
Na koniec "The Monocle Guide to Better Living" – dokładnie tak jak mówi tytuł – przewodnik po lepszym życiu. To od tej pozycji zaczęła się cala seria przewodników Monocle. Po pobieżnym przejrzeniu jej wiem, że to będzie książka, którą uwielbiać będę przez lata. Nie tylko ze względu na piękny matowy papier i fantastyczne zdjęcia (łączące wszystkie pozycje serii), ale na emanującą z każdego rozdziału i każdej strony filozofię dobrego, szczęśliwego życia. Tematyka dotyka wielu aspektów codzienności, a wszystkie je łączy dążenie do uczynienia jej lepszej i pełniejszej.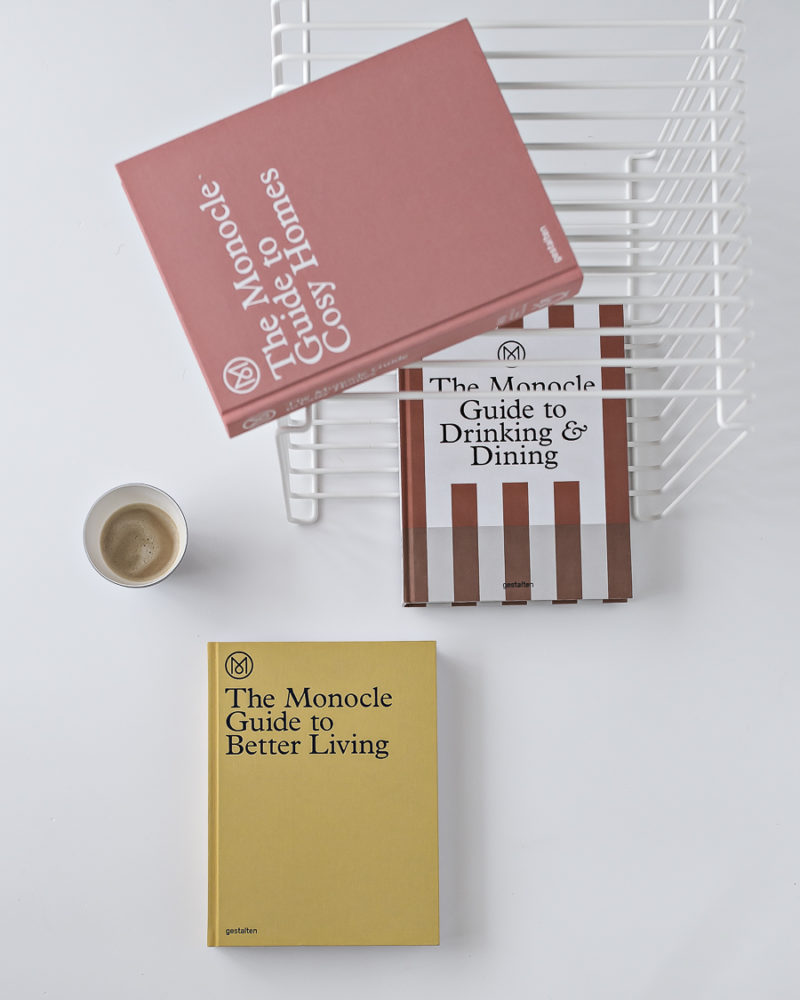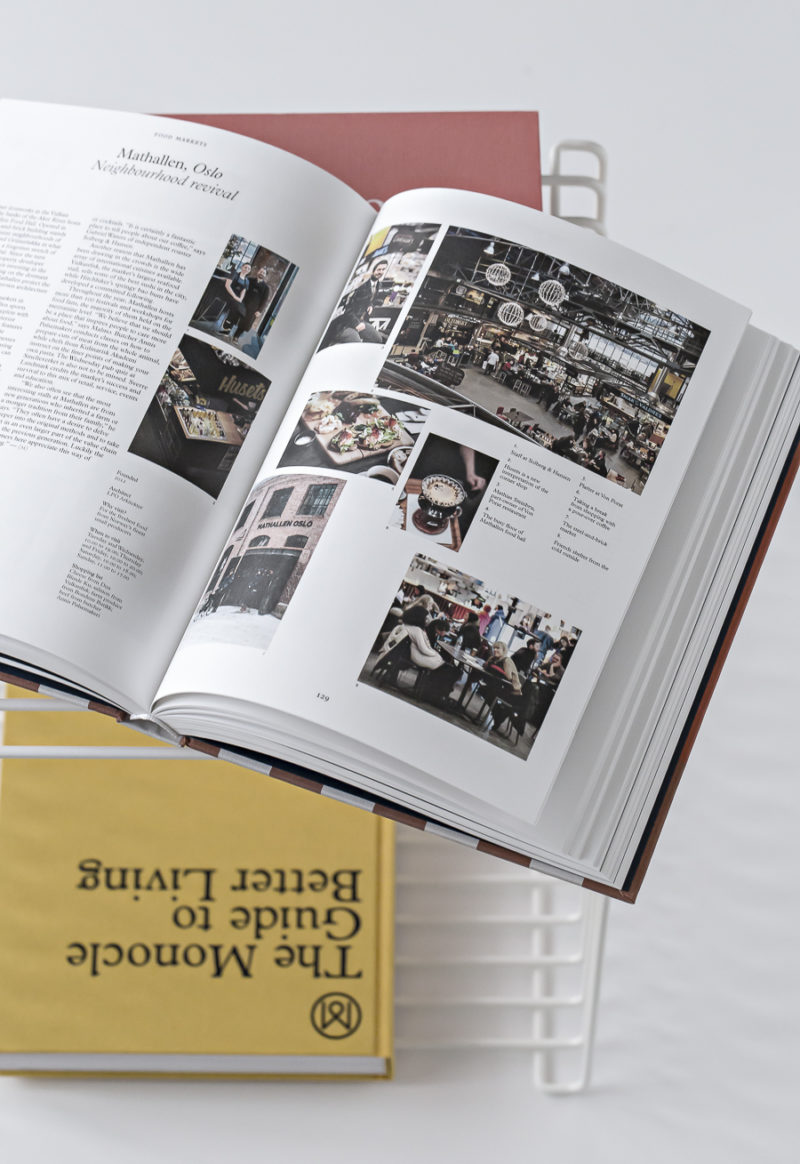 Last but not least, my fourth prey "The New Classics" by Australian cooking goddess Donna Hay. I swear, I absolutely love this book! Already now, after just browsing through it (for a couple of hours) I would risk saying that it's my best cooking book to date. First of all – beautifully published. The cover, the paper, print and layout are beyond perfect. The images are so beautiful and sharp that you almost feel like you could help yourself from them. And the food! Nothing fancy, nothing "out of this world", yet the new way of preparing and serving the meals lifts them to a whole new level. There is a glossary, conversion charts and all the useful info for all cooking enthusiast as well as new beginners. I don't remember last time I was so excited by a book!
Wreszcie – "The New Classics" autorstwa Donny Hay, kulinarnej gwiazdy z Australii. Zaledwie po jej (parogodzinnym) przejrzeniu, jestem gotowa zaryzykować stwierdzenie, że to najlepsza książka kucharska w mojej (niemałej) kolekcji. Po pierwsze – przepięknie wydana. Okładka, papier, druk, rozkład , wszystko jest fantastyczne! Zdjęcia są tak piękne i sugestywne, że aż ma się ochotę z nich częstować. I to jedzenie! Nic nadzwyczajnego, żadnych wymyślnych dań, ale sposób przygotowania i podania zamienia je w absolutnie nadzwyczajne propozycje. Jest też słownik i tabele pozwalające na przeliczanie różnych, używanych w kuchni wartości. Pozycja dla wszystkich miłośników gotowania, łącznie z tymi, którzy dopiero wchodzą w kulinarny świat. Nie pamiętam kiedy ostatni raz byłam tak podekscytwana jakąkolwiek książką!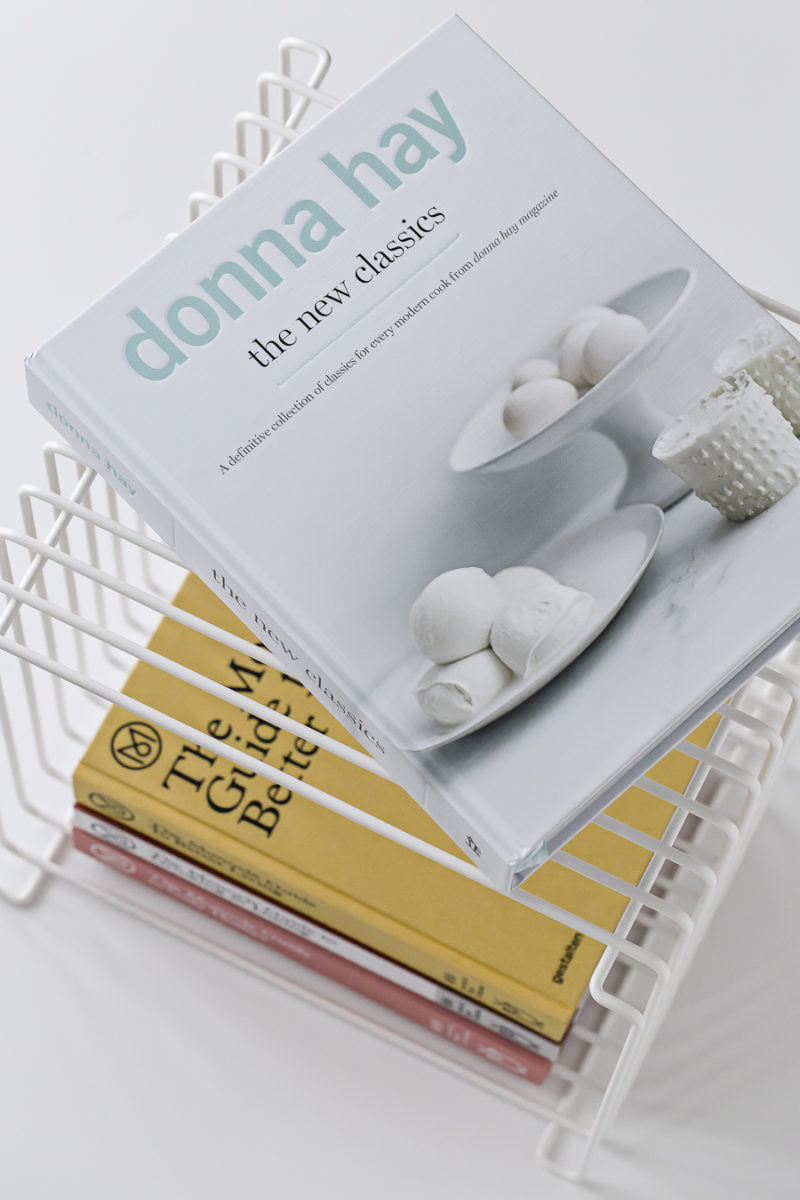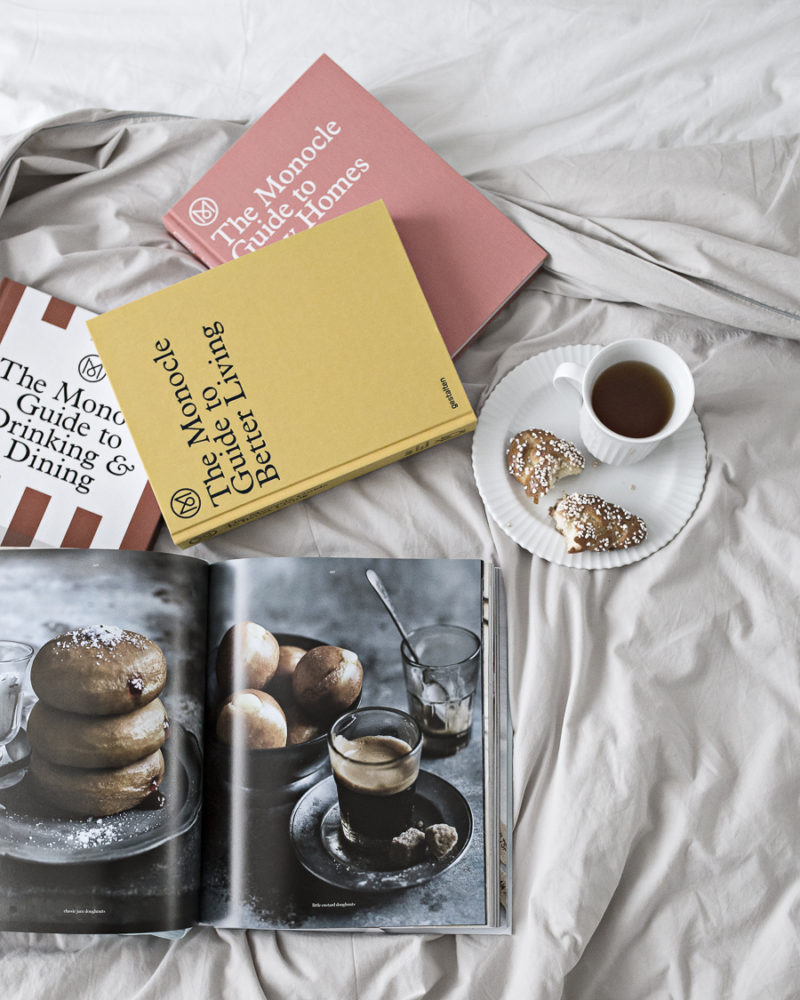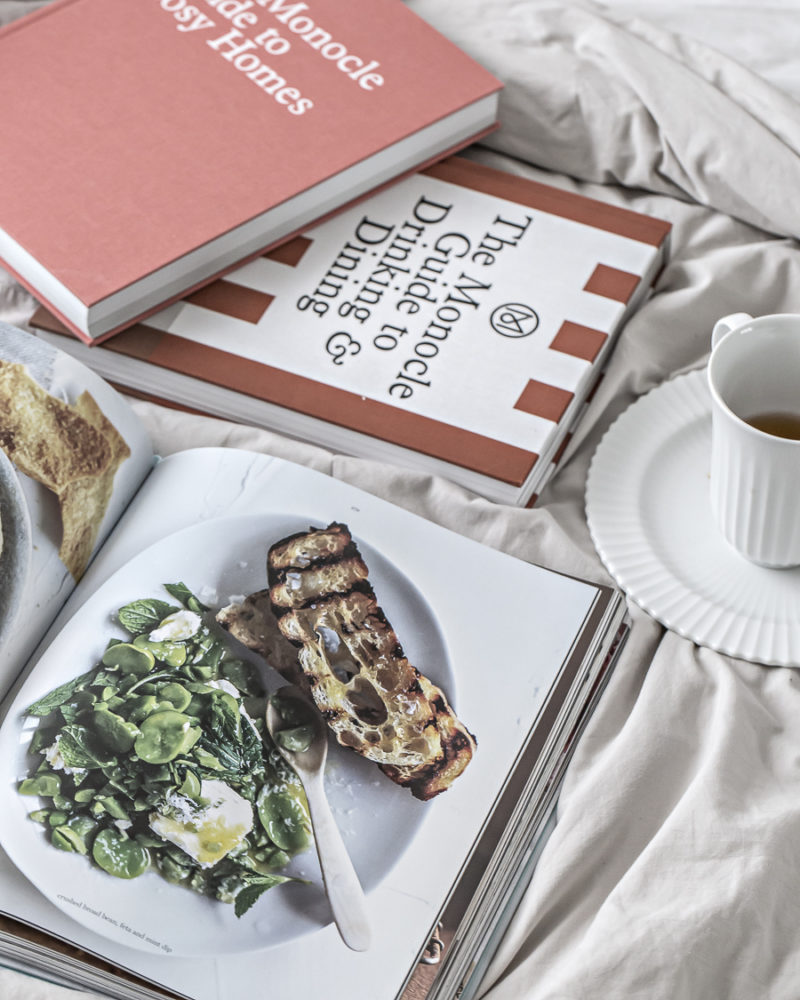 It surely was my best book hunt in a long time and all because of a huge sale in Bookoff – one of my favorite bookshops. Offering books on art, architecture, design, fashion, photography, travel, food and more, Bookoff has just started a huge winter sale and ships to most European countries. This year, it is also possible to order some newly printed books with a sale discount. All the books I got are currently on sale and that Donna Hay was a steal, if you ask me.
If you happen to love pretty books just like I do, be sure to visit their webshop. Happy shopping!
To z pewnością moje najlepsze łupy książkowe od długiego czasu. Wszystko za sprawą wyprzedaży w Bookoff, jednej z moich ulubionych księgarni. Bookoff oferuje tysiące pozycji z dziedziny sztuki, architektury, designu, mody, fotografii, podróży czy jedzenia. W sobotę rozpoczęła się tam wielka zimowa wyprzedaż, którą objętych jest kilka tysięcy tytułów. Co ciekawe, w dobrej cenie można nabyć nie tylko starsze pozycje, ale też te zupełnie nowe, sprowadzane na zamówienie. Wszystkie zamówione przeze mnie książki objęte zostały wyprzedażą, a cena książki Donny Hay do tej pory mi się nie mieści w głowie. I to w pozytywnym tego wyrażenia znaczeniu.
Jeśli podobnie jak ja lubicie pięknie wydane książki – sprawdźcie koniecznie! Miłych zakupów :)
Copyright Kasia Rutkowiak | My Full House