Our love for Tripp Trapp chair is no secret. We've been using these iconic chairs ever since the kids could sit (and even sooner with Klara). My youngest was 3 days old when she first "sat" on her Tripp Trapp, thanks to the Newborn set. I love Peter Opsvik's ingenious design of the chair, that truly grows with the child. Love the clean lines, the versatility, bringing the kids to the family table. I am amazed by how great it fits into any interior, no matter the style. I value the fact that it's made of wood and that anyone can find a color suitable for their home. It's easy to clean and thanks to the additional accessories it can be used from birth, as mentioned above.
Jubileuszowa kolekcja Tripp Trapp White Oak
Nasza miłość do krzesełek Tripp Trapp jest powszechnie znana. Korzystamy z nich odkąd dzieci nauczyły się siedzieć (a z Klarą jeszcze wcześniej). Moje najmłodsze dziecko pierwszy raz "zasiadło" w swoim krzesełku Tripp Trapp w trzecim dniu życia (dzięki nakładce Newborn). Uwielbiam genialny design Petera Opsvika, który naprawdę rośnie razem z dzieckiem. Jestem nieustająco zakochana w linii tego krzesła, uwielbiam lekkość dopasowywania go do dziecka oraz to jak dzięki niemu dzieci od najmłodszych lat (czy pierwszych chwil), mogą być z nami przy rodzinnym stole. Krzesełko Tripp Trapp uwielbiam też za to, że idealnie dopasowuje się do każdego wnętrza, bez względu na styl. Za drewno, z którego jest wykonane i za kolory, które każdemu pozwalają na wybranie idealnego rozwiązania do własnego domu. Jest łatwe w utrzymaniu czystości, a dzięki akcesoriom można z niego, jak już wspomniałam, korzystać od pierwszych dni życia dziecka.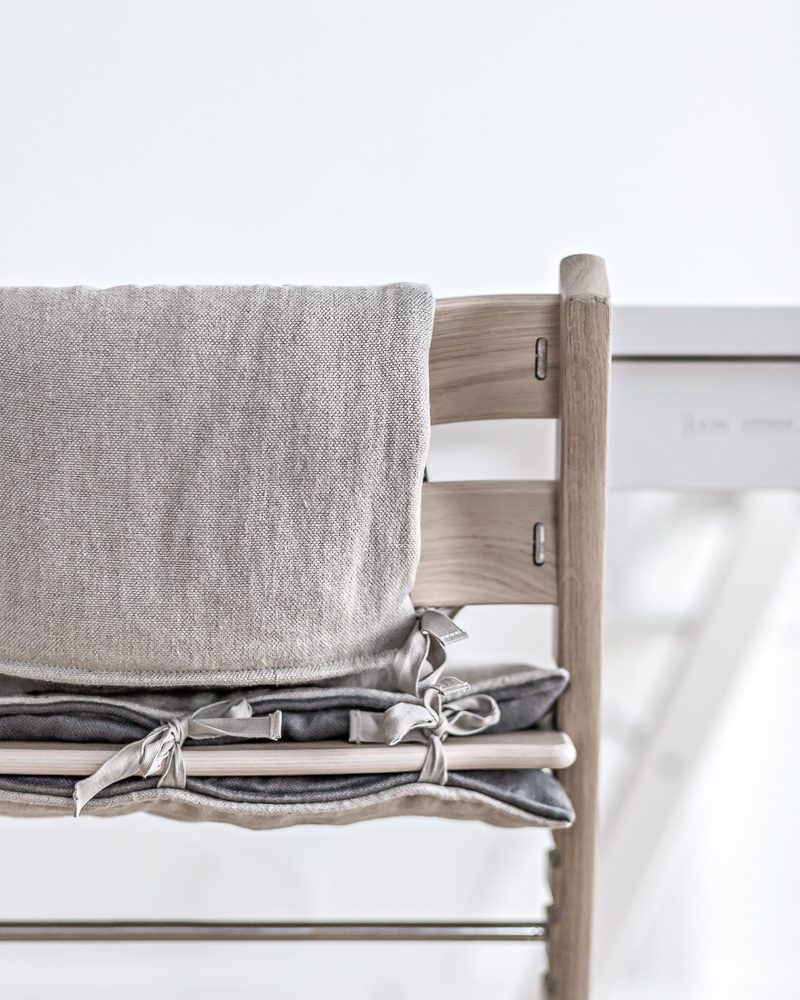 That being said, I am not the only one that has so much love for the Tripp Trapp's design and functionality. As a matter of fact, Stokke is currently celebrating a milestone of 10,000,000 Tripp Trapp Chairs produced since 1972. You read right – 10 millions of chairs!
That is why, the company decided to produce a very limited Tripp Trapp Anniversary Edition. The limited TTs are made of oak wood with a matte finish, exclusive metal details and each one has an anengraved signature from the designer himself, Peter Opsvik. There are only 2,000 chairs in each of the two colors – White or Black Oak available, each with its number in the production series. The Tripp Trapp Anniversary Edition Chairs come in a beautiful box, with an authenticity card including the information and chair's unique number.
Biorąc pod uwagę wszystko co już napisałam, w mojej miłości do Tripp Trapp nie jestem odosobniona. Stokke świętuje właśnie wyprodukowanie 10-milionowego krzesełka (od 1972 roku). Firma postanowiła to uczcić stworzeniem jubileuszowej edycji Tripp Trapp. Limitowane krzesełka TT wykonane zostały ze szlachetnego dębowego drewna wykończonego matowym lakierem, mają metalowe elementy oraz wygrowany podpis samego projektanta – Petera Opsvika. Powstały w dwóch kolorach – White i Black Oak (biały i czarny dąb), a każdy kolor wyprodukowany został  w ilości 2000 sygnowanych i opatrzonych specjalnym atestem egzemplarzy.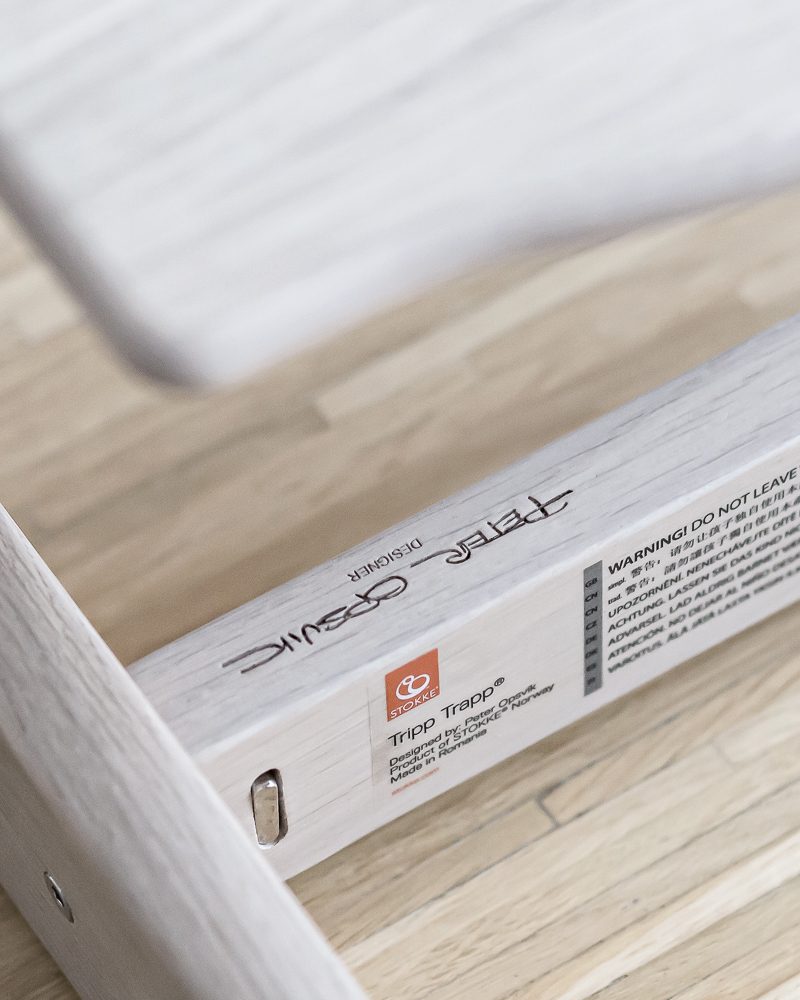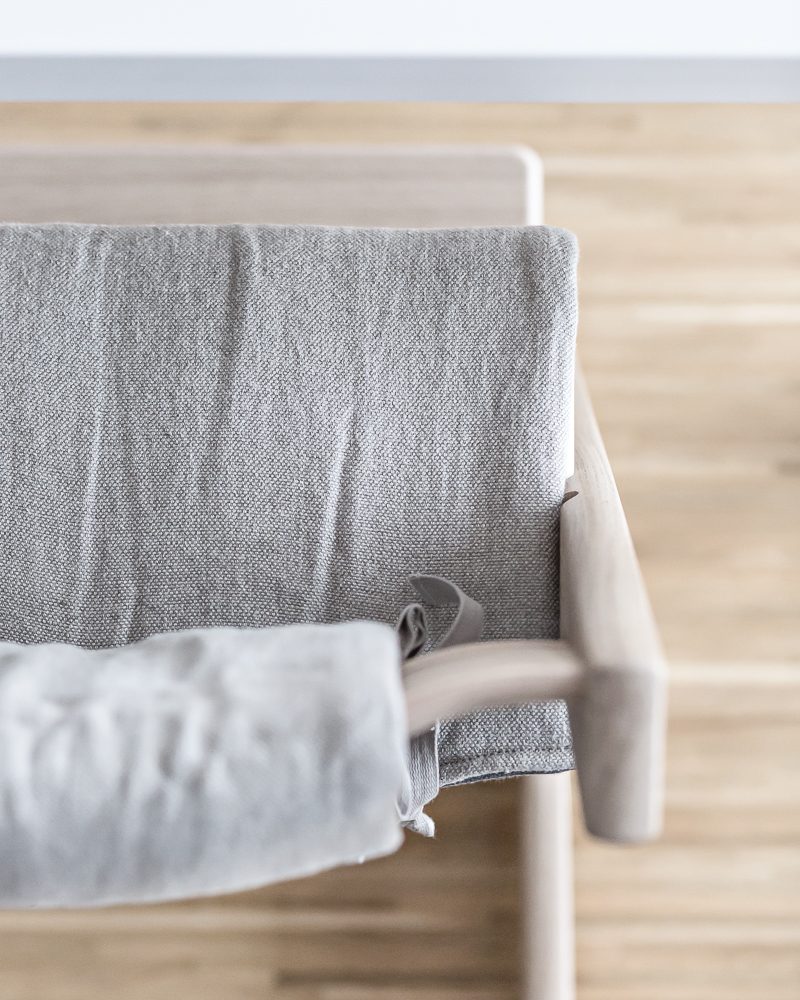 Some weeks ago we became happy owners of a beautiful Tripp Trapp Anniversary Edidion in White Oak (with a serial number of 0003/2000). I wanted to wait with unpacking it till Christmas, but I couldn't! So on the December 6th, Skt. Nicholas Day, I made myself a gift with unwrapping and assembling this beautiful anniversary piece of art. The chair came with a special, also limited edition cushion made of linen. To be honest I love it both ways – with and without it! The wooden chair is incredibly nice to touch and feel. The matte varnish makes it look so elegant. Again – it was Klara who will be the lucky owner of this beauty (priviledge of the youngest child, isn't it?). I hope she will pass it on her own child one day. That's the plan, anyway!
Kilka tygodni temu dotarło do nas krzesełko Tripp Trapp w kolorze White Oak (sygnowane numerem 0003/2000). Prawdę mówiąc miałam plan zaczekać z rozpakowaniem go aż do Gwiazdki, ale nie wytrzymałam. I tak, w Mikołajki, sprawiłam samej sobie wielką radość rozpakowaniem i złożeniem tego jubileuszowego dzieła sztuki. Krzesełko przyszło zaopatrzone w specjalną (równiesz limitowaną) dwustronną poduszkę wykonaną z lnu. Bardzo podoba mi się w obu wersjach – z poduszką i bez niej. Dębowe drewno jest niesamowicie przyjemne w dotyku, a matowy lakier dodaje mu szlachetności. Krzesełko dostała Klara (przywilej najmłodszego dziecka). Mam wielką nadzieję, że kiedyś Klara przekaże to krzesło swojemu dziecku. Taki jest w każdym razie plan!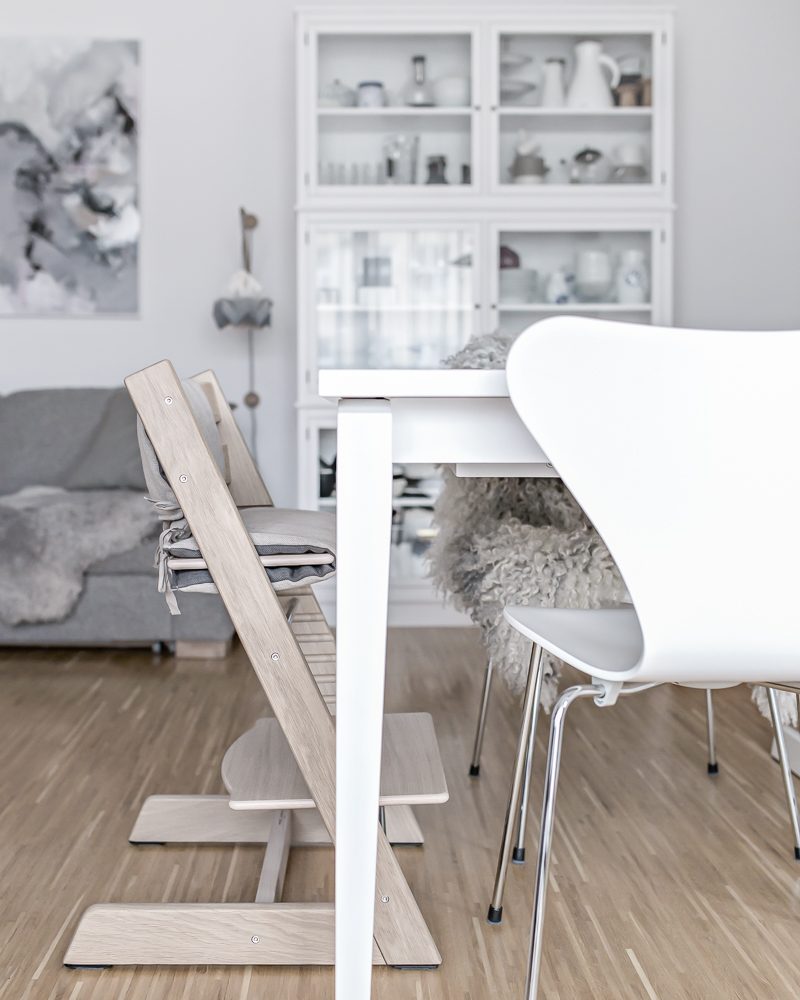 ? Kasia Rutkowiak / My Full House
Tripp Trapp highchair/ krzesełko Tripp Trapp – Stokke (Limited Anniversary Edition available until the stock lasts / edycja jubileuszowa dostępna do wyczerpania zapasów), chairs / krzesła – Series 7 Fritz Hansen (Scandinavian Living), dining table / stół – TON
If you like high quality baby and children products and are about to decide for a highchair for your little one, you might be interested in this post, about Tripp Trapp vs. Stokke Steps.
Jeśli interesują Was wysokiej jakości produkty dla dzieci i stoicie przed wyborem krzesełka dla Waszego Maluszka, może przyda Wam się ten wpis, porównujący krzesła Tripp Trapp i Stokke Steps.