I am sure that most of you know its shape and have tried to sit on it, even if without realising it's origin or name. I am thinking about Chair number 14, produced since 1859 (!) in Bystřice pod Hostýnem in Czech Republic, sold in over 80 million copies worldwide. Although it is seen in countless bars, restaurants, hotels and homes around the world, not many people know that it comes from one of the oldest furniture factories in the world. It is also a place where they know kow to bend wood like no one else. The famous TON (standing fo Továrna Ohýbaného Nábytku – bent furniture factory) is an extraordinary place, which I had a chance to visit in the early spring.
Odwiedziny w fabryce TON – wyjątkowe przeżycie
Jestem pewna, że większość z Was zna kształt tego mebla i siedziało na nim, nie koniecznie zdając sobie sprawę z jego pochodzenia. Mam na myśli krzesło 14, produkowane od 1859 roku w czeskich Bystrzycach pod Hostyniem. Od dnia jego powstania na świecie sprzedano ponad 80 milionów egzemplarzy "czternastki". Choć widywana jest w barach, kawiarniach, restauracjach, hotelach i domach od Tokio po LA, niewiele osób wie, że pochodzi z jednej z najstarszych, nieprzerwanie działajacych fabryk meblowych na świecie i miejsca, w którym jak nigdzie indziej wiedzą jak giąć drewno. TON (skrót od Továrna Ohýbaného Nábytku – fabryka giętych mebli) to niesamowite miejsce, które miałam okazję odwiedzić zeszłej wiosny.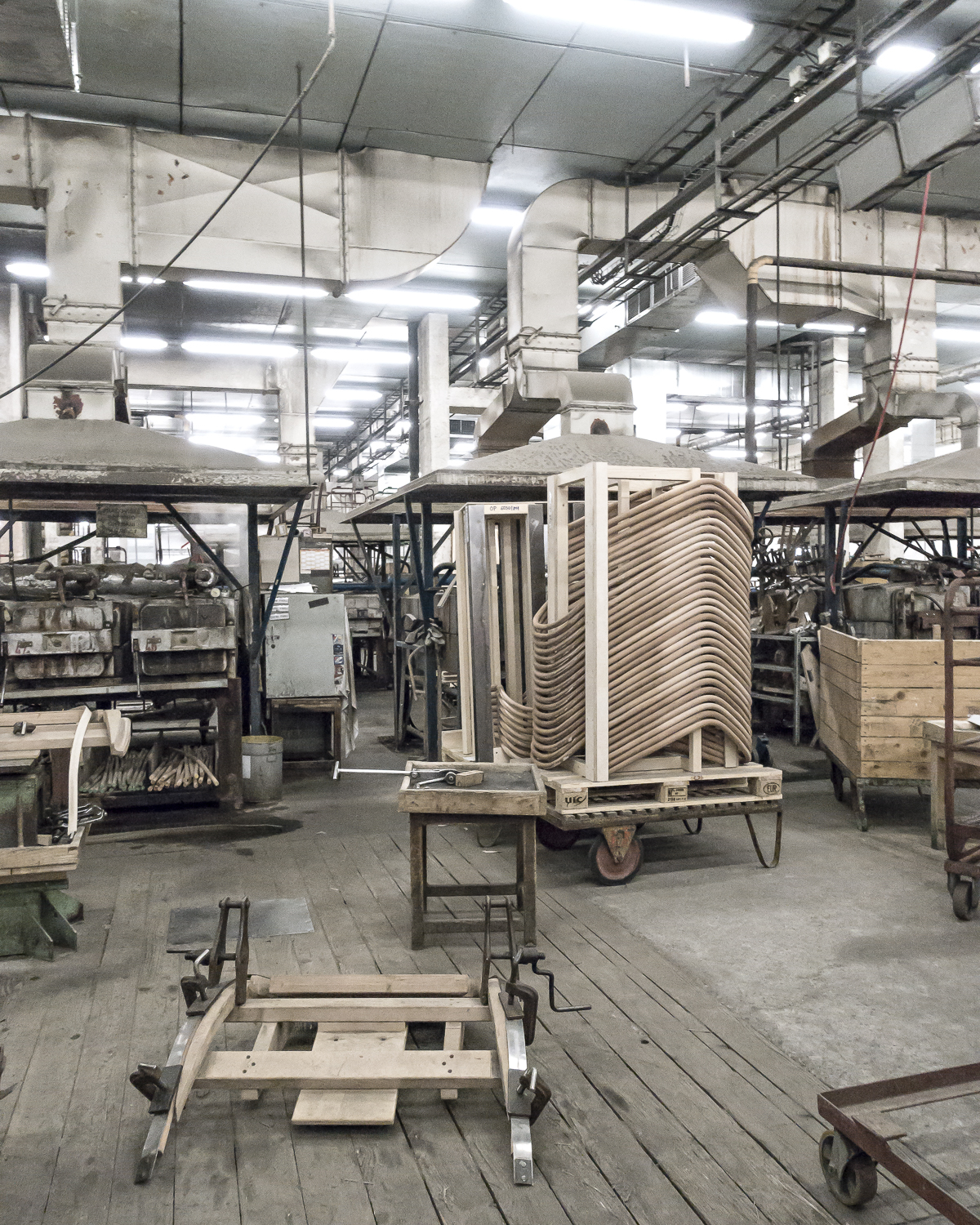 TON is where people understand wood and produce furniture in the same factory workshops since 1861, using a unique technology. Paired with contemporary design, it results in beautiful, extraordinary and lasting products, that are meant to go from one generation to another.
Bending wood is a long and fascinating process. Seing benders do their work was an amazing experience, for an interior design enthusiast like myself. Beech timber offers the best bending capacity. It is placed in saturated steam with a temperature of around 100 °C. The time spent in the steam is determined by the profile of the squared rod. One centimetre takes one hour. Once steemed, benders place the rod into a former, seal it and put a special flange onto it. Thanks to this, the structure of the wood does not suffer any damage and remains incredibly solid even when its shape changes. It looks very simple, but it is a science. It takes more than a year to learn bending correctly.
TON jest miejscem, w którym ludzie rozumieją drewno. W tych samych halach i warsztatach, nieprzerwanie od 1861 roku, produkują meble przy użyciu specjalnej technologii. To rozumienie drewna i wyjątkowa technologia, w połączeniu ze współczesnym wzornictwem, tworzą wyjątkowe i trwałe produkty, które żyją wraz z ludźmi i przekazywane są z pokolenia na pokolenie.
Drewno bukowe, które ma najlepsze własności plastyczne w procesie gięcia, poddaje się działaniu nasyconej pary wodnej o temperaturze około 100 C. Długość pobytu w łaźni parowej zależy od średnicy drewna – zwykle jest to godzina na każdy centymetr. Pracownik odpowiedzialny za gięcie wkłada naparowane drewno do formy, uszczelnia je i nakłada specjalny kołnierz. Dzięki temu, struktura drewna nie zostaje uszkodzona, a zmiana kształtu w trakcie gięcia nie wpływa na wytrzymałość produktu. Cały proces wydaje się być prosty, ale nic bardziej mylnego! Wiedzę i umiejetności do tej pracy zdobywa się latami.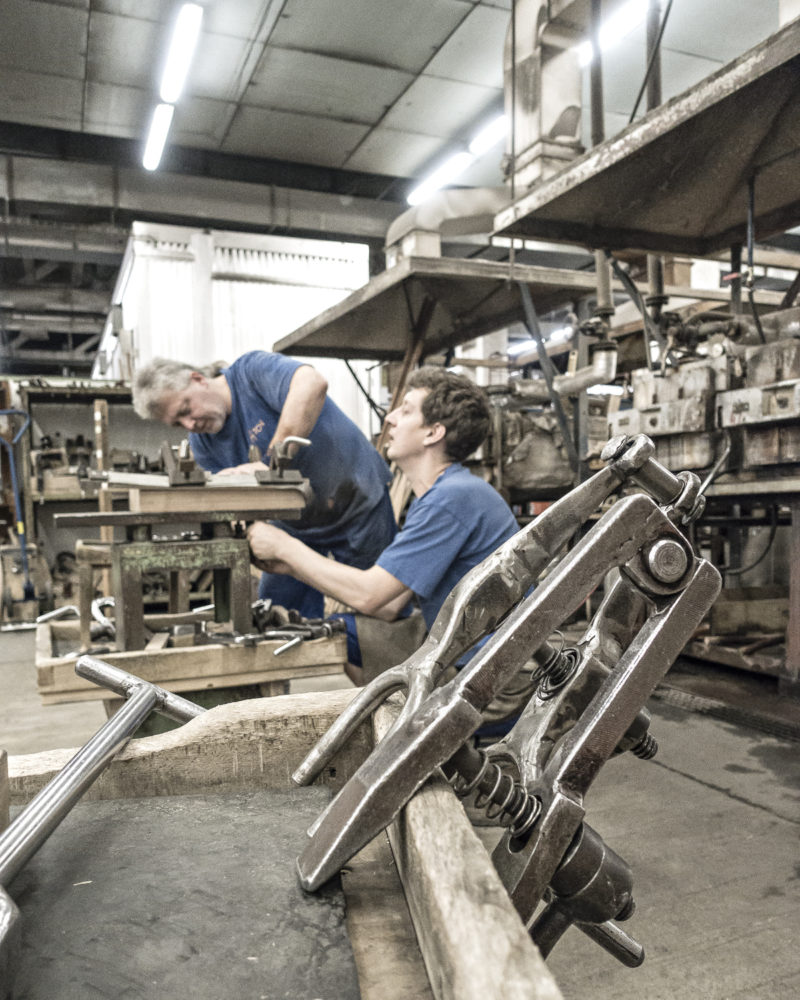 At the moment TON offers a wide range of products such as chairs, stools, benches and tables. The company works closely with many known designers from the entire world and their ideas paired with extraordinary craftmanship and quality, receives praises and awards at the most prestigious fairs and contests worldwide.
W chwili obecnej w katalogu marki TON znajduje się szeroki wybór modeli krzeseł, foteli, ławek i stołów. Firma współpracuje z wyśmienitymi projektantami z całego świata, a ich pomysły w połączeniu z wyjątkowym rzemiosłem i wysoką jakością, zdobywają liczne, prestiżowe nagrody na targach i konkursach.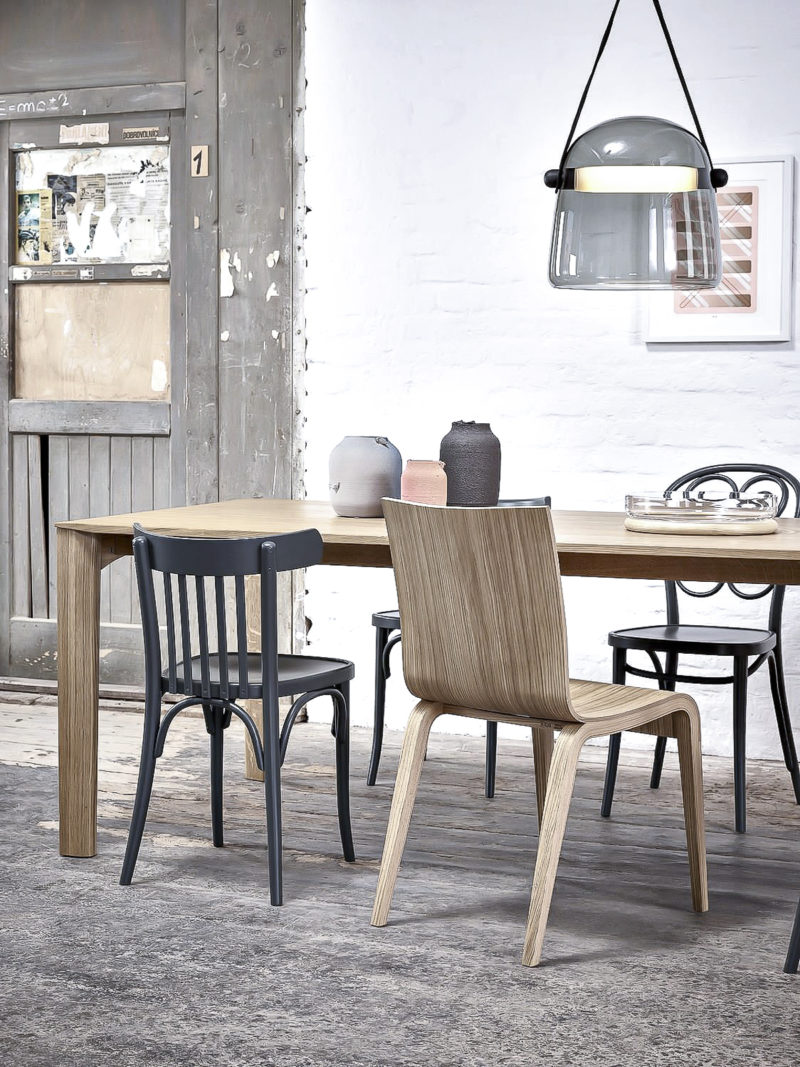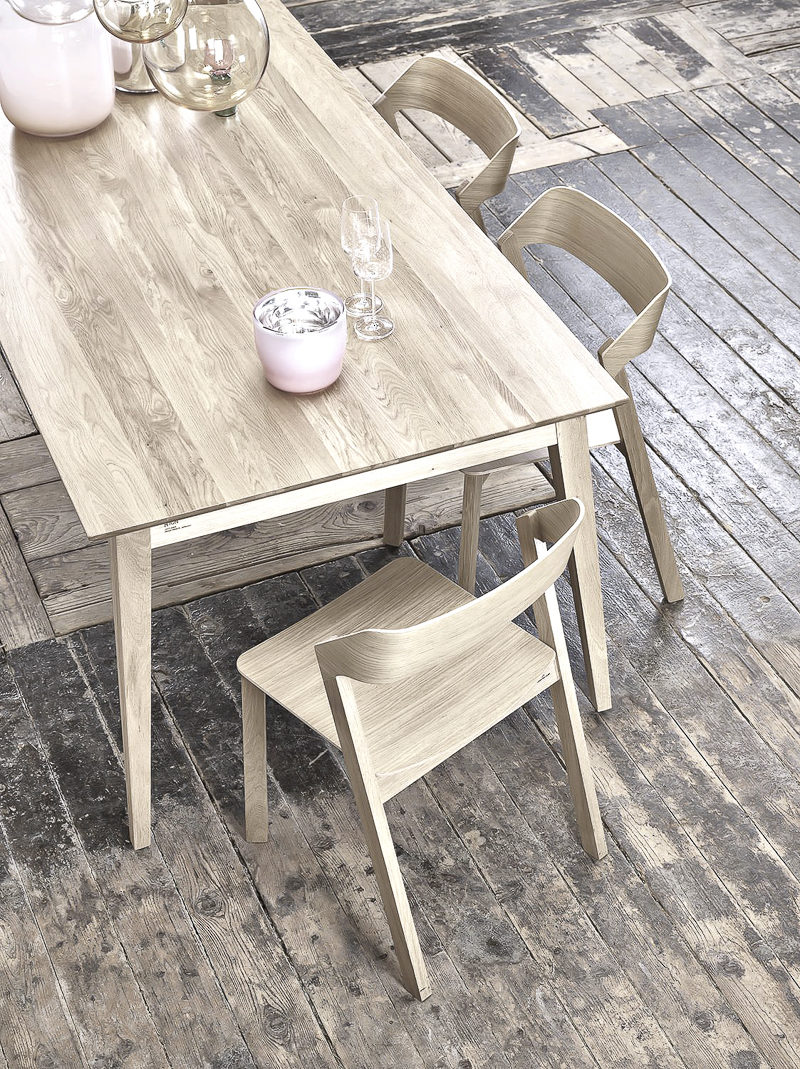 Here at home we enjoy using a white, expandable Stockholm table, designed by Mads K. Johansen. From what I've heard at the company's headquarters, it is the only white Stockholm table that was ever ordered from a range of colors and finishes offred by TON.
I wrote about it in this post.
W naszym domu od dłuższego czasu z zadowoleniem korzystamy z rozkładanego stołu Stockholm, który zaprojektował duński projektant Mads K. Johansen. Jak dowiedziałam się w siedzibie marki, jest to jedyny biały egzemplarz, jaki na zamówienie wykonano w fabryce TON.
Możecie o nim przeczytać w tym poście.
copyrights Kasia Rutkowiak | My Full House | any unauthorised use prohibited
images 2, 5, 6 courtesy of TON
I am very happy that I could share this post with you. The delay was caused by a little accident. I lost the images and actually thought they were gone for good. Well, they were not.
I would like to thank the amazing team at TON for an unforgetable trip to an exceptional place. It was a great pleasure!
Bardzo się cieszę, że mogłam się z Wami podzielić tym postem. Przez długi czas byłam przekonana, że zagubione zdjęcia były nie do odzyskania. Myliłam się.
Ogromne podziękowania dla firmy TON za niezwykłe przeżycie i możliwość zobaczenia wyjątkowego miejsca.