Chilly days are here and leaving home became a bit unpleasant. At least for me, as I don't like the rain and cold. Preparing for even more cold and much more rain, I decided to make some changes and – if possible – spoil myself a bit too. I moved all my winter sweaters to main closet compartment and got extra hand cream to have some in every purse. And while I was speculating about a new fragrance for the colder days, I got surprised by a lovely gift from AERIN. The brand has recenly released its newest Tuberose Collection. It consists of two scents – light and delicate, made for day Tuberose Le Jour, and more heavy and warm Tuberose Le Soir, perfect for the night out. Both beautiful bottles came in a lovely, velvet jewelry box with suede interior and brass edging and really sweetened my fall mood.
Tuberose is not an easy scent to wear and you have to really like it, else it can easily become too much. On the other hand – you can grow to love it, if you give it time. That's how it used to be with me. Now I am looking forward to spread some tuberose sweetness everywhere I go, to make the cold and rainy days much more enjoyable.
Tuberoza na dzień, na wieczór, na jesień…
Nadeszło zimno i wyjścia z domu przestały być przyjemne. Nie przepadam za chłodem i deszczem więc taka aura nie bardzo mi odpowiada. Przygotowując się na jeszcze większy chłód i jeszcze więcej deszczu, wyciągnełam ciepłe swetry i zakupiłam zapas kremu do rąk, który muszę mieć w każdej torebce. Zaczęła też zastanawiać się nad jakimś fajnym, otulającym zapachem na jesień, aż przyszła niespodzianka. Piękna i pachnąca przesyłka od marki AERIN, która niedawno wypościła kolekcję zapachów na bazie tuberozy. Lekki, delikatny zapach Tuberose Le Jour jest idealny na dzień, podczas gdy cięższa i słodsza kompozycja Tuberose Le Soir sprawdzi się wieczorem. Obie buteleczki przyszły w pięknie wykonanej i wykończonej aksamitnej szkatule na biżuterię z zamszową wyściółką i mosiężnym wykończeniem. Ten niezwykły prezent osłodził mój jesienny nastrój.
Tuberoza nie jest łatwym zapachem i trzeba ją naprawdę lubić, aby nie stała się przytłaczająca. Z drugiej strony – ożna też do niej dorosnąć – tak było w moim przypadku. Teraz z radością czekam na jesień, której słodycz uczyni ją łatwiejszą do zniesienia, nawet w niepogodę.
AERIN to amerykańska marka lifestylowa, którą pięć lat temu założyła Aerin Lauder, wnuczka Estée Lauder. Marka prężnie się rozwija oferując w swej kolekcji artykuły dekoracyjne, dodatki, kosmetyki a także lampy.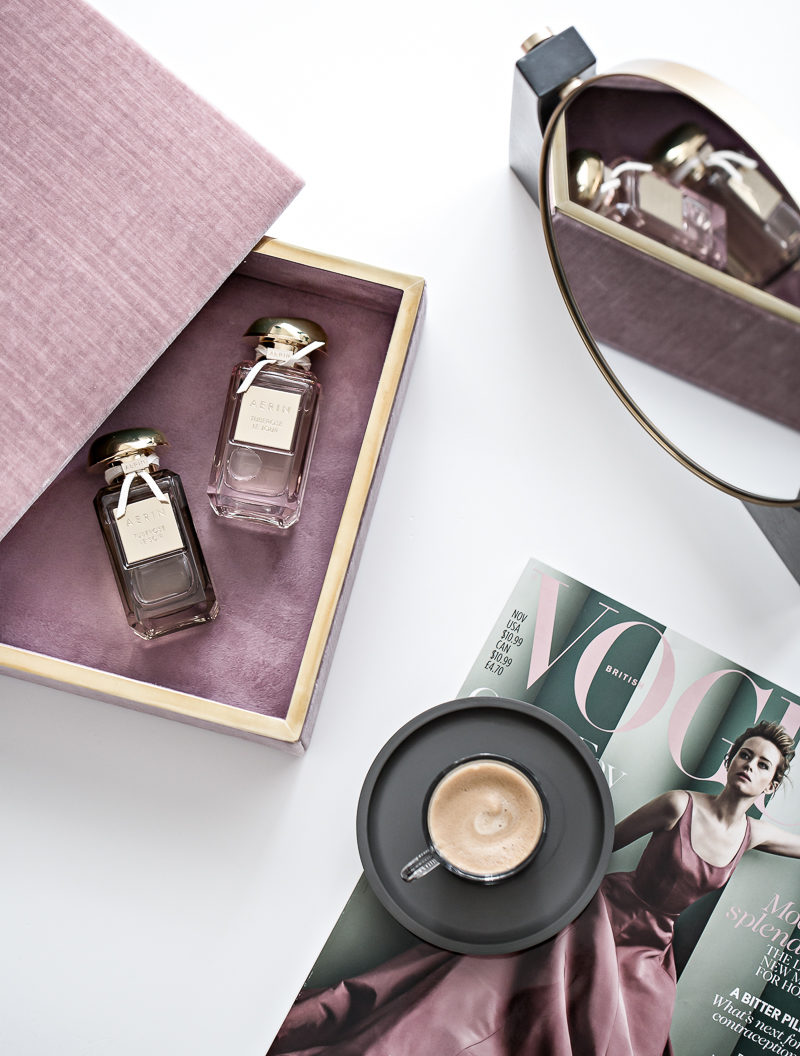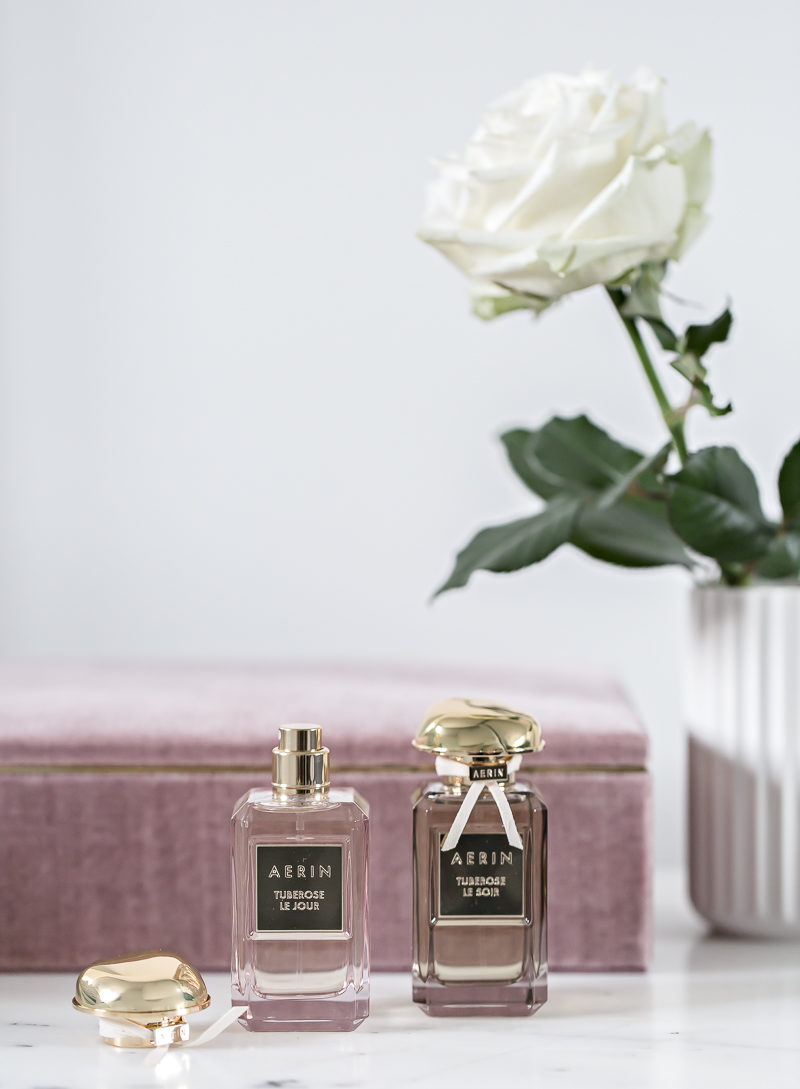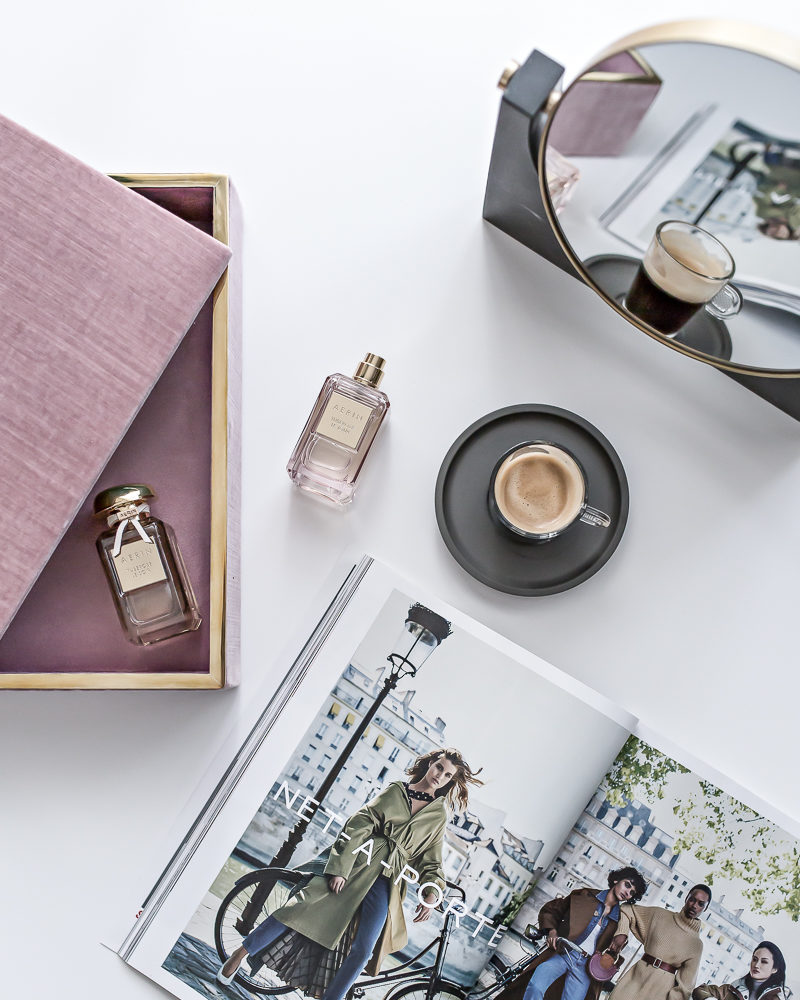 copyright Kasia Rutkowiak | My Full House