After weekend travels to and from my parents, I am back at home, happy to start another week of all kinds of projects. The sun is shining beautifully today, and spirit is high. Room is filled with gentle jazz and I have just made me a fresh cup of espresso. Perfect! A while ago we discovered a great jazz station – The Jazz Groove  streaming from San Francisco. If you happen to like jazz, there is a great chance that you know it. If you are not so much into jazz, I suggest you check it out. No talking, no commercials, just pure, "laid-back jazz". Ever since we found this station, I play nothing else while working. It is also great station to listen to in the evening, while reading, relaxing, even taking a bubble bath.
Limestone – mój ulubiony kolor (jazzu) na przedwiośniu
Po weekendowych podróżach do i od Rodziców, wróciłam do domu i z radością zaczynam kolejny tydzień. Słońce świeci i nastrój dopisuje. Pokój wypełnia delikatne brzmienie jazzu i właśnie zaparzyłam świeży kubeczek espresso. Idealnie! Jakiś czas temu odkryliśmy świetną stację jazzową – The Jazz Groove, nadającą świetny jazz z zachodniego wybrzeża Stanów. Jeśli lubicie jazz, pewnie ją znacie. Jeśli nie do końca – sprawdźcie. Żadnego gadania, reklam, żadnych wiadomości, tylko relaksujący, świetnie dobrany jazz. Odkąd odkryliśmy TJG w zasadzie nie słucham niczego innego kiedy pracuję. To także świetne źródło muzyki na wieczór, kąpiel w wannie i inne miłe chwile.
I am the kind of person who likes taking music wherever I go. It dates back to my teenage years, when I took my Sony Walkman with me EVERYWHERE. You would never see me without it. Then, it was a discman and I remember my mom worrying that I always had headphones on my ears, which "will probably ruin my hearing in the long run". Luckily, it didn't. And my love for music is still strong, only now, the devices used for playing (and streaming!) music are way different than 25 years ago.
My recent favorite music companions are P6 portable speaker and H9i wireless headphones, both from Bang & Olufsen and both in Limesotone color. The speaker is small enough to take it with me, even when I travel, and these headphones are the best ones I have ever owned. With active noise cancellation and the best sound quality, they are with me on the go, whether I travel (train or plane), work at the cafe or simply watch netfilx on my ipad in the evening, while my husband is reading a book next to me.
Muzykę zabieram ze sobą wszędzie. Już w liceum nie rozstawałam się z Walkmanem Sony. W zasadzie nie widywano mnie bez niego. Później przyszła rewolucja i discman. Moja mama martwiłą się nawet, że odbije się to źle na moim słuchu, gdyż nie rozstawałam się ze słuchawkami. Na szczęście tak się nie stało. Muzyka towarzyszy mi do dziś, tylko urządzenia i sposób transmisji dźwięku uległy zmianie przez 25 lat…
Moimi ulubionymi muzycznymi towarzyszami na przedwiośniu są przenośny głośnik P6 oraz bezprzewodowe słuchawki H9i w kolorze Limestone. Głośnik jest dość mały, aby zabierać go ze sobą nawet podczas podróży, a słuchawki są najlepszymi, jakie miałam w życiu. Wyposażone w funkcję aktywnego tłumienia szumów, zapewniające fantastyczny dźwięk, idealnie nadają się do pracy w kawiarni, samolotu czy pociągu. Używam ich też kiedy wieczorami oglądam netflix na iPadzie, podczas gdy mój mąż tuż obok czyta książkę.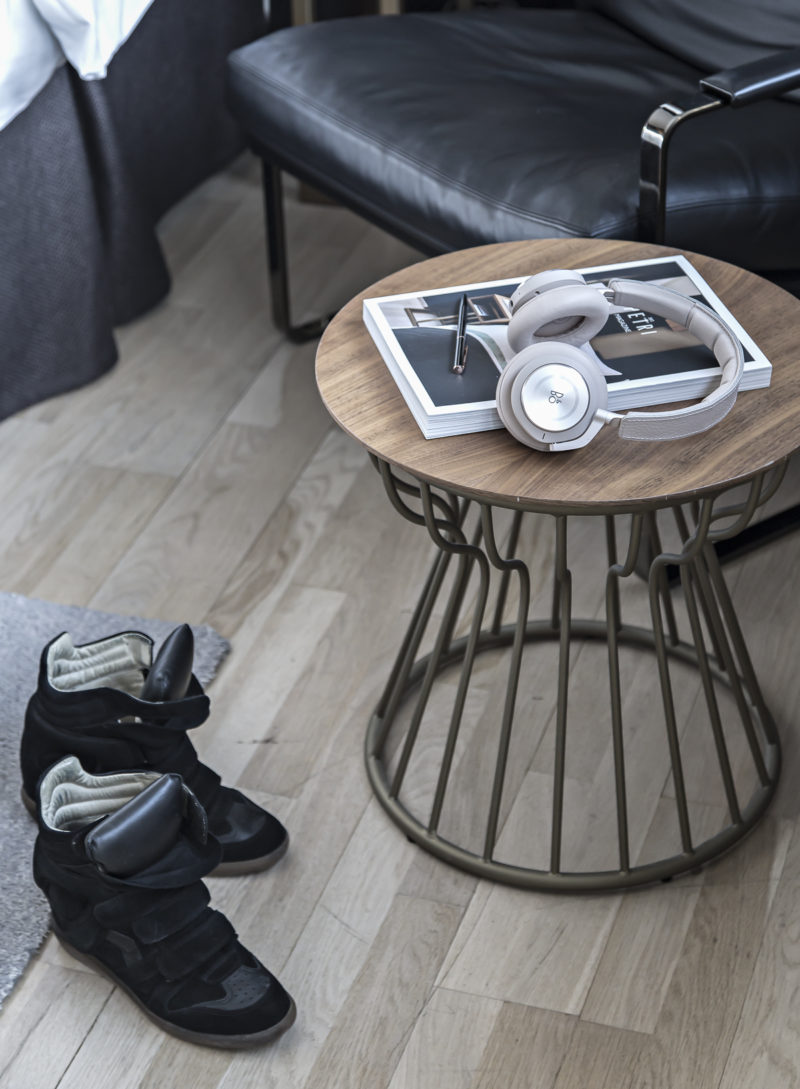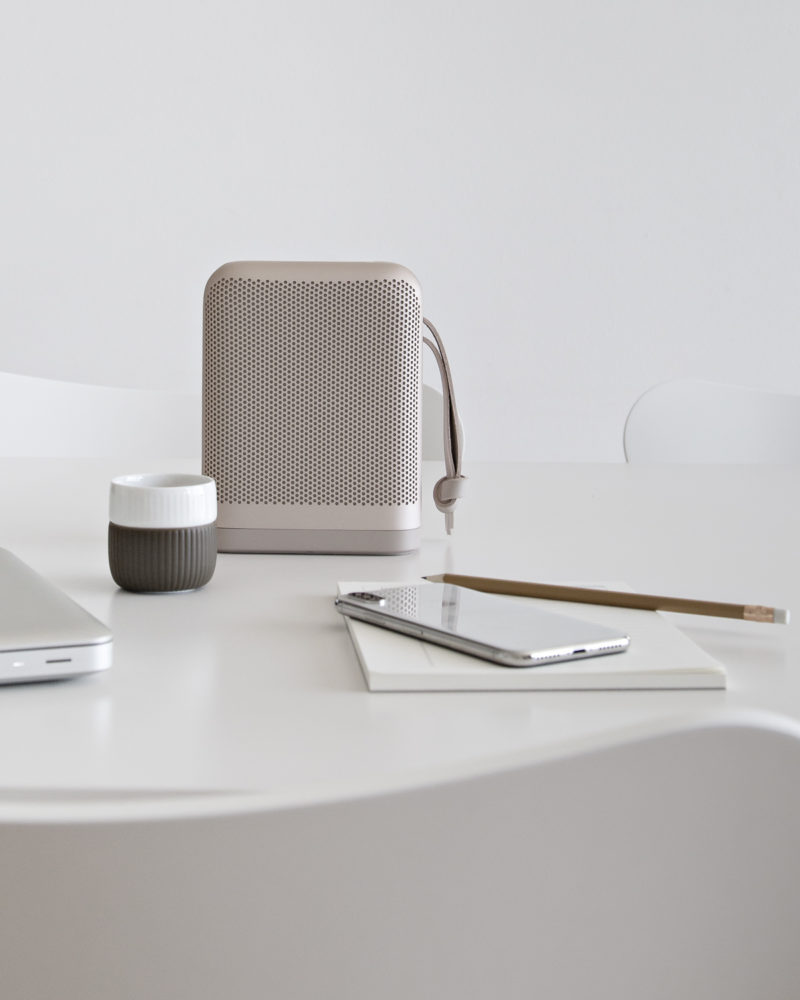 The latest technology gives me full control over all my Bang and Olufsen devices from my iPhone or iPad. The very user friendly app alows me to decide all sound parameters and adjust it to the kind of activity I am curently performing. And being quite honest, sometimes I use my headphones without any sound, cust to cut off the world and noise coming from playing kids or public place crowd.
Najnowsza technologia daje pełną kontrolę nad wszystkimi produktami Bang & Olufsen z poziomu telefonu lub tableta. Przyjazna aplikacja pozwala kontrolować parametry dźwięku i dostosowywać do go do rodzaju wykonywanej czynności. Przyznam Wam się też, że czasem uzywam słuchawek bez muzyki. Pomagają wyciszyć dobiegające hałasy – czy to bawiących się dzieci, czy tłumu w miejscu publicznym.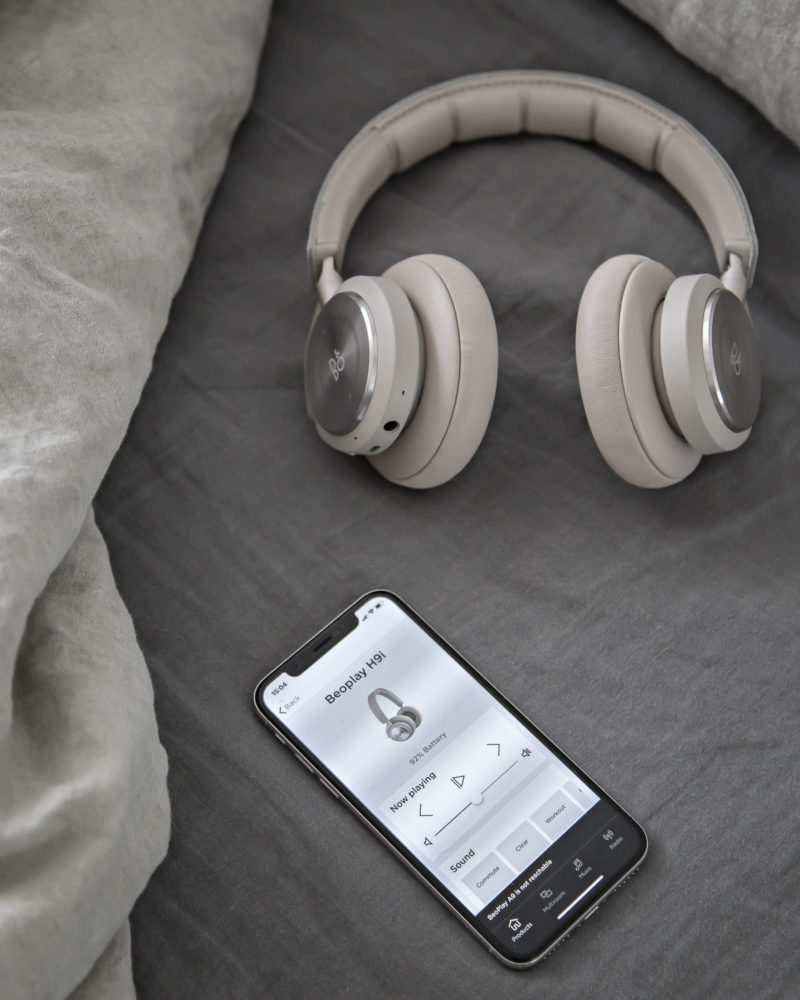 All Bang and Olufsen products come in different colors and Limestone is the one from the fall/winter 2018 collection. It still available in many B&O boutiques and online. This natural tone is very versatile and blends in effortlessly. Headphones match any outfit and look great on, as well as just hanging around the neck, when not in use. What's iportant, the H9i headphones are also very comfortable for people wearing glasses, like myself. I can have them on for hours.
Other Limestone products from Bang & Olufsen range are Beoplay P2 Speaker (great on the go!), Earset headphones, and the very promissing, brand new, E8 2.0 cord free and wireless charging earplugs (on my lust list, for sure!) These would be t-h-e  b-e-s-t for great sound on the run (and if you only carry a small cross body bag!). You can see them all below.
Produkty Bang and Olufsen występują w różnych kolorach. Kolor Limestone (piaskowiec), pochodzi z kolekcji jesień/zima 2018, ale wciąż jest dostępny. Naturalność tego koloru pozwala go bezpiecznie i łatwo łączyć z wieloma innymi, a słuchawki pasują dosłownie do każdego stroju. Oprócz tego, że świetnie wyglądają na głowie (i maja bardzo wygodne muszle, nawet dla kogoś noszącego okulary jak ja), to jeszcze świetnie się prezentują na szyi.
Inne produkty w kolorze Limestone możecie zobaczyć poniżej. Jest i głośnik P2 (idealny na podróże), słuchawki Earset czy bardzo obiecująca nowość – bezprzewodowe, douszne słuchawki E8 wersji 2.0. Będą IDEALNE na szybkie wypady (z małą torebką).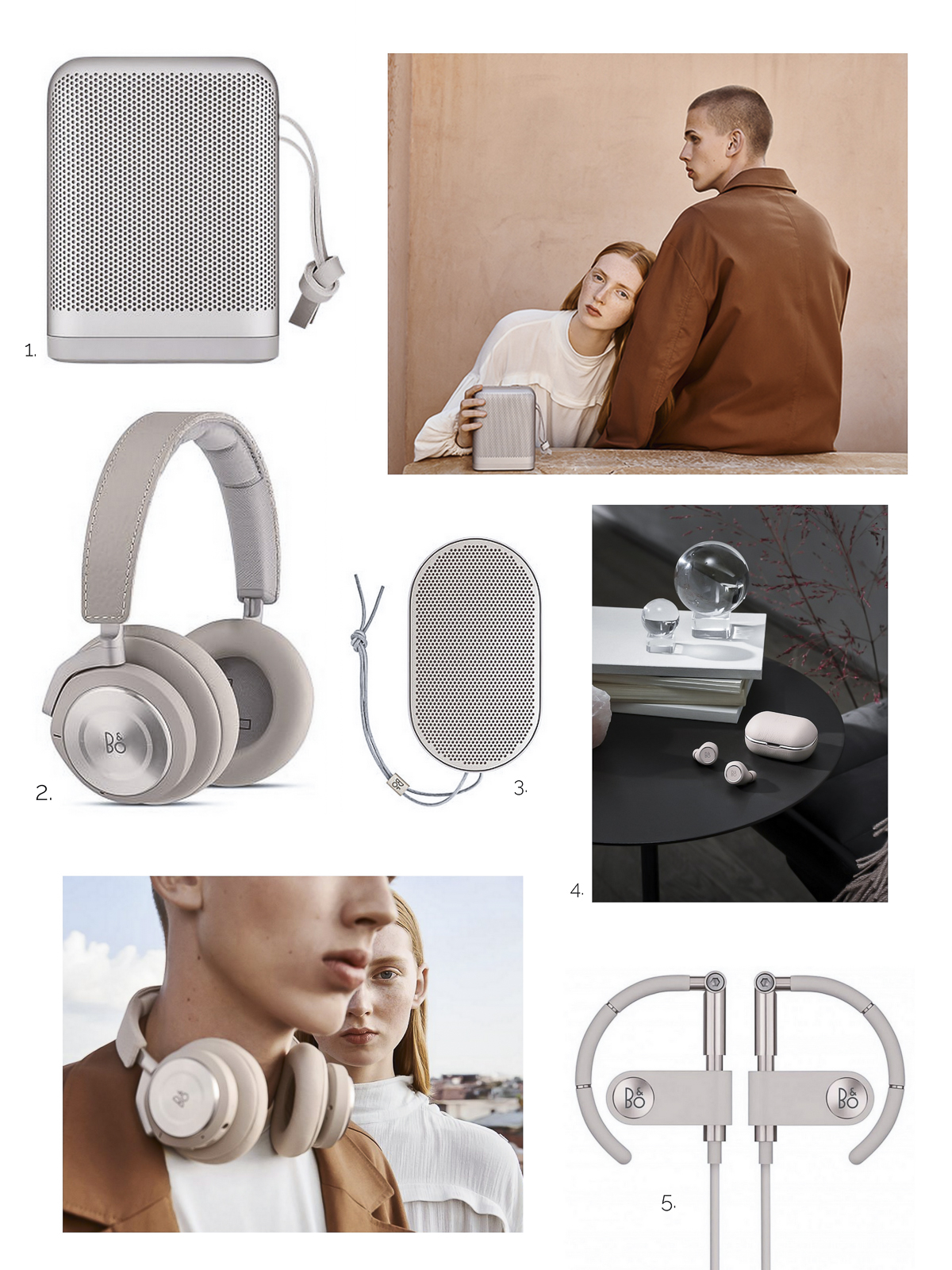 1. P6 speaker | 2. H9i over ear headphones | 3. P2 Speaker | 4. E8 2.0 wireless charging earphones | 5. Earset
Now it is time to work some more. The Jazz Grove is playing  "The Secret" by Alain Mion trio. And what are you listening to now?
Have a lovely week!
Teraz pora popracować. The Jazz Grove gra "The Secret" Alain Mion trio. A Wy czego słuchacie?
Dobrego tygodnia!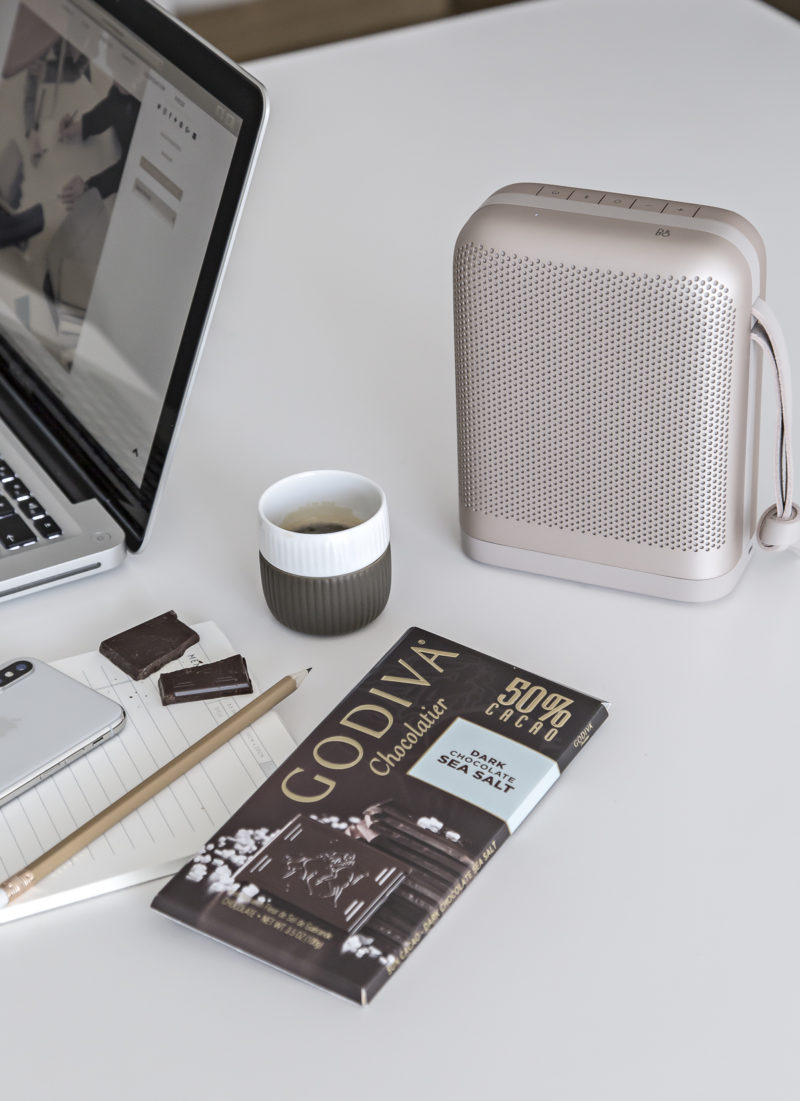 Copyright Kasia Rutkowiak | My Full House | any unauthorised use prohibited
This post was made in cooperation with Bang and Olufsen