At last! I am starting a new series of posts, highly requested by many readers for years. Ever since I started writing a blog about Scandinavian design and lifestyle, I've been receiving emails with questions regarding best gift ideas. Things that are sure winners, no matter who the gifted person is. Birthday gifts. Wedding gifts. Gifts for a new home. Even Christening presents.
So today I have the first post in my new Scandinavian Gifts series. I will share my absolutely best ideas for super Scandinavian presents. Things that you can never ever go wrong with, true icons and those aiming to become ones. In each post of the series, you will find my top 5 picks, in random order. I will add some description, as well as my personal reasons to pick exactly this item.
Today we start with gifts that can be bought for as little as 50 €.
Najlepsze Skandynawskie prezenty za mniej niż 50 €
W końcu! Zaczynam nową serię postów, w kontekście tematu, o który bardzo często bywam pytana, a mianowicie – prezentów. Odkąd zajęłam się tematyką skandynawskiego designu i stylu życia, regularnie dostaję od Was pytania dotyczące tego co kupić w prezencie. Pytacie o rzeczy, które na pewno ucieszą obdarowanego, w różnym wieku, z różnych okazji. O prezenty urodzinowe, ślubne, do nowego domu, a nawet na chrzciny.
Dlatego postanowiłam stworzyć całą serię postów, dotyczących właśnie skandynawskich prezentów. I to nie byle jakich i nie przypadkowych. Będą to same strzały w dziesiątkę, ikony skandynawskiego designu i produkty, które do tego tytułu aspirują. Prawdziwe perełki wybrane na podstawie moich dwóch dekad doświadczeń ze skandynawskim wzornictwem w każdym wydaniu. W każdym poście znajdziecie 5 różnych propozycji, uplasowanych w przypadkowej kolejności, krótki opis oraz informację o tym, co skłoniło mnie do wyboru akurat tego przedmiotu.
Zaczynamy od prezentów, których cena mieści się w 50 euro, czyli w około 200 zł (lub delikatnie powyżej).
1. Design Letters Message Board (and Letters)
Design Letters is a young brand, founded in 2009, based on an amazing concept of adapting very Scandinavian typography, hand-drawn in 1937 by the iconic Danish architect Arne Jacobsen (1902-1971) into everyday life. One of brand's recent products are different Message Boards and matching sets of letters. Boards come in different sizes. The smallest one called The Sign costs 14 €, while a box of small letters is 22 €. Once you have a set like this, only your imagination sets a limit (and size of the board, sure :)). The boards can be used anywhere at home, either standing or fixed to the wall or door. At the office, in the kitchen, hallway, bedroom, bathroom, kid's room. And when you give it, you can start with writing your personal message to begin with.
1. Tabliczka oraz litery Design Letters
Design Letters to młoda, założona w 2009 roku marka, która w przeróżny sposób adaptuje klasyczną, skandynawską typografię autorstwa Arne Jacobsena, światowej sławy duńskiego architekta, umieszczając ją na artykułach dekoracyjnych i codziennego użytku. Jednym z jej ostatnich produktów są tabliczki z literami. Tabliczki występują w różnych rozmiarach i kolorach. Najmniejsze – "The Sign", kupić można za 14 €, podczas gdy zestaw małych liter kosztuje 22 €. Mając tabliczkę i litery możemy napisać co nam się podoba (tak długo jak starczy miejsca :)). Tabliczki można stawiać lub przytwierdzać do ścian czy drzwi w całym domu – w domowym biurze, kuchni, holu, łazience czy pokoju dzieci. Dając taki prezent, można od razu wypisać życzenia.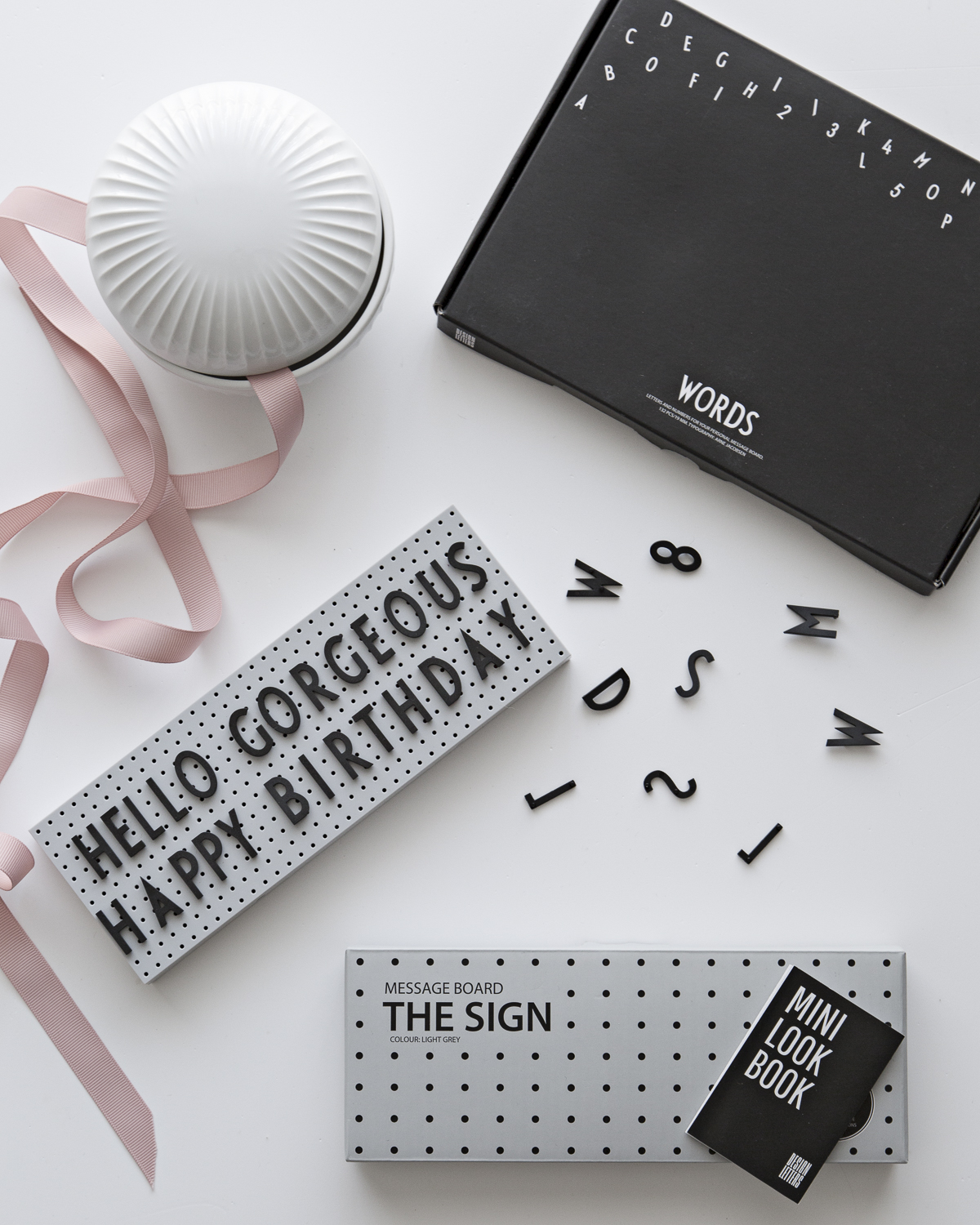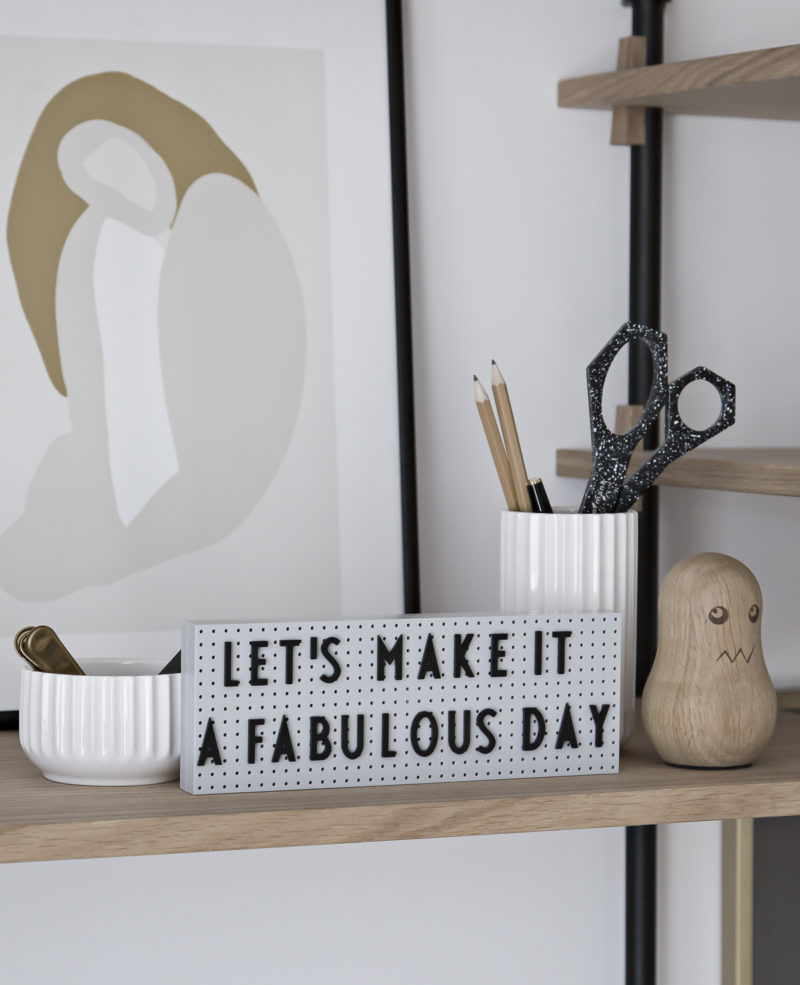 2. Fridge Carafe from Eva Solo
I love Eva Solo and I have great memories with this brand, from my very first visits in Denmark (still in my teenage years). I used to go to one of the chain stores selling things for home, just to look on pretty things. And I would stand in front of the shelf with Eva Solo carafes, admiring their simple yet super functional design, making a list of items, I would once hope to get for my own home. My life is a proof of the saying "be careful of what you dream of". Many years later, I am happy and proud not only to own many Eva Solo's products but also to work with this great brand. And simple, pretty, cheerful fridge carafe surely is one of the best gifts uder 50 € that I can think of! Twice a year, Eva Solo comes with new colors, so there are always both trendy or more classic colors to choose from. A simple, drip free carafe, suitable to be stored in the fridge, is great for serving water, juice or even milk. It looks pretty and makes each serving a pleasure. And I know that many of our house friends love it too, as I get many compliments on our carafes, all the time. The one I am showing you today comes from the newest collection and the color is Eucalyptus Green. Fridge carafes cost 49,95 €.
2. Karafka Eva Solo
Z marką Eva Solo łączą mnie szczególne wspomnienia, które sięgają moich pierwszych wizyt w Danii, kiedy miałam "naście" lat. Zdarzało mi sie wtedy chodzić do jednego ze sklepow dużej wnetrzarskiej sieci, jedynie po to, aby popatrzeć na ładne rzeczy. Często stawałam przed półką z karafkami Eva Solo, podziwiając ich prosty, a zarazem bardzo funkcjonalny design. W myślach robiłam listę rzeczy, które kiedyś chciałabym mieć w swoim domu. Moje życie jest dowodem na to, że trzeba uważać o czym się marzy (szczególnie, jeśli marzy się tak bardzo jak ja). Wiele lat później nie tylko jestem szczęśliwą posiadaczką pięknej kolekcji produktów Eva Solo, ale z wielką radością współpracuję z tą świetną marką. Zaś prosta, pomysłowa, wygodna karafka, to z pewnością jedna z moich lepszych podpowiedzi w kontekście prezentu za kwotę do 50 €. Karafka przeznaczona jest do przechowywania w lodówce (idealnie pasuje na drzwi) i można w niej podawać wodę, soki, a nawet mleko. Nasi znajomi bardzo często komentują karafki, które zawsze są "komplementowane", bo to rzeczywiście fajny sposób na podanie na stół zimnego napoju. Dwa razy w roku marka wzbogaca ofertę o nowe kolory "ubranek", dlatego zawsze można wybrać kolor, który jest bardziej trendy, albo taki bardziej stonowany. Karafka na dzisiejszych zdjęciach pochodzi z najnowszej kolekcji i jest w kolorze Eucalyptus Green. Karafki lodówkowe Eva Solo kosztują 49,95 €.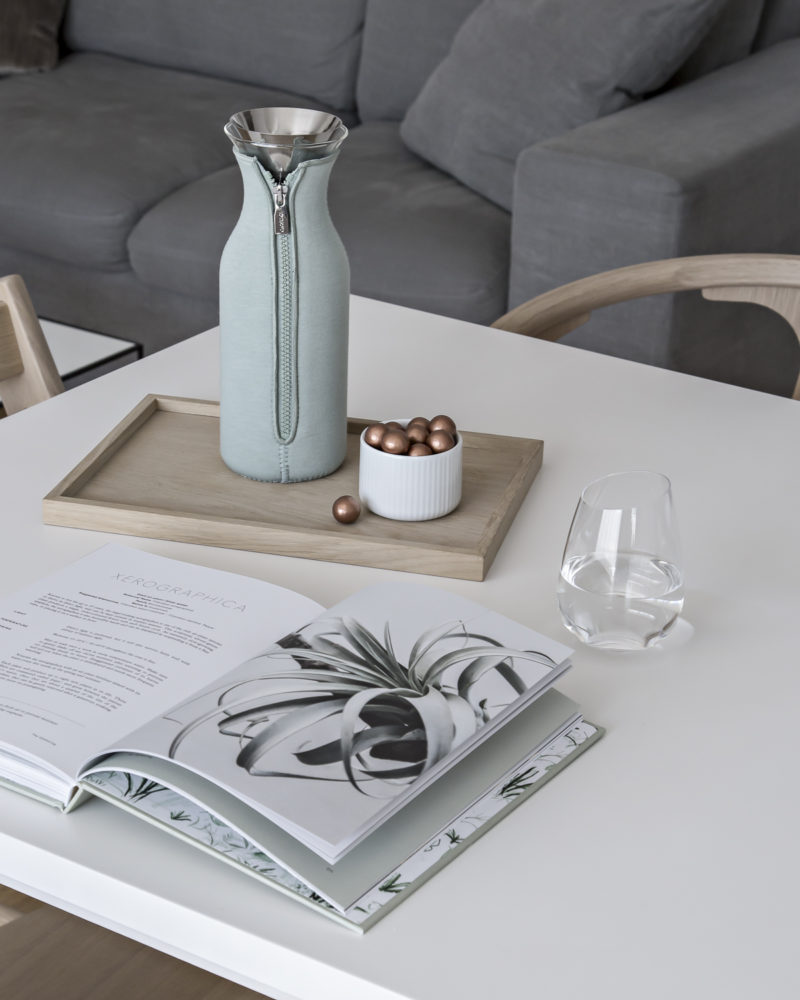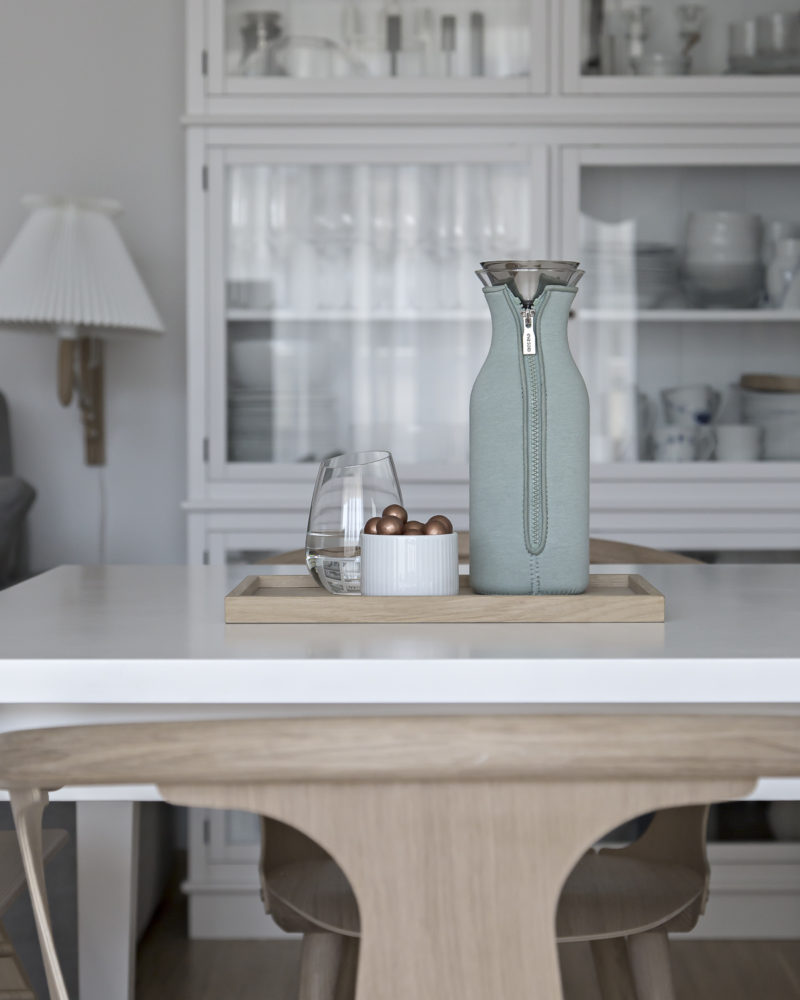 3. Set of 2 Ultima Thule glasses from Iittala
Speaking of serving drinks – every home needs nice serving glasses. Therefore, I could not leave out the iconic Ultima Thule range from Iittala, designed by famous Finnish designer Tapio Wirkkala. Inspired by the melting ice in Lapland, the Ultima Thule series was his most famous work. Wirkkala originally created the surface of Ultima Thule in the 1960s. Learning the glass-blowing technique allowing to produce the effect requires thousands of hours of work, and the result is amazing. With as little as 45,90 € it is possible to buy a set of 2 glasses, which are perfect to serve water or something more "satisfying" – looking even more pretty when on the rocks. This is also a great gift for a man (and these can be tricky, as we all know).
3. Zestaw 2 szklanek Ultima Thule marki Iittala
Skoro mowa o serwowaniu napojów – każdy dom potrzebuje ładnych szklanek. Nie mogę więc nie dodać do mojego posta kultowych szklanek serii Ultima Thule marki Iittala. W latach '60 tych ubiegłego stulecia zaprojektował je znany fiński projektant Tapio Wirkkala. Ich wzór zainspirowany był topniejącymi lodowcami Laponii. Nauczenie się techniki pozwalającej na stworzenie takiego szkłą wymaga tysięcy godzin pracy. Za kwotę niespełna 46 € możemy nabyć zestaw 2 szklanek, idealnych nie tylko do serwowania wody. Przepięknie prezentują się też z bardziej wyskokową zawartością, szczególnie jeśli podawana jest "na lodzie". Jest to także świetny pomysł na prezent dla mężczyzny (a o te, jak wiadomo, nie jest łatwo!).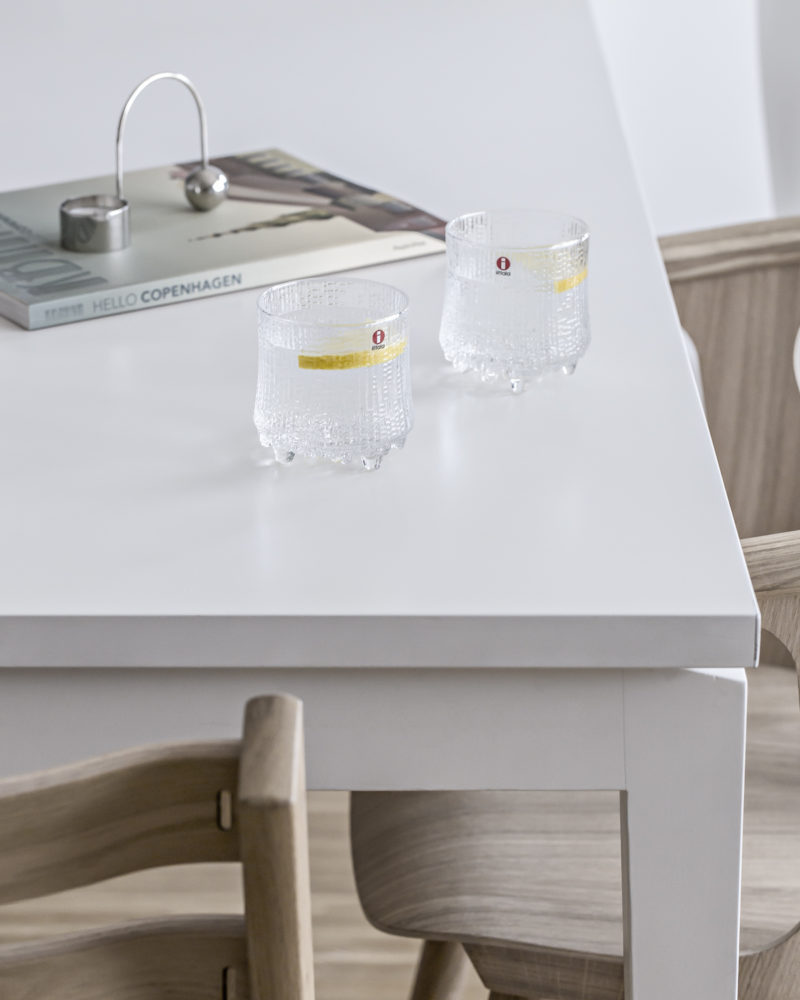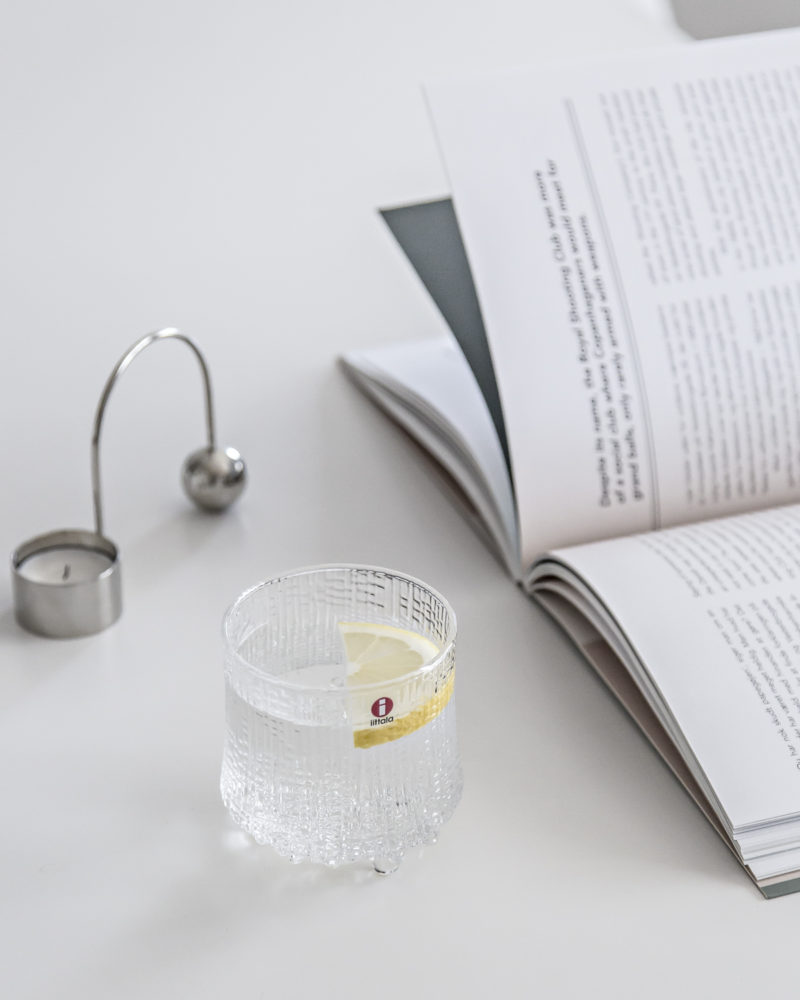 4. A set of 3 Scandinavian scents from Skandinavisk
Another great Scandinavian gift are candles. People in Scandinavia, especialy Danes, use incredible amounts of candles of all kinds, all year round, not only in the "dark" season. Therefore nice candles always make a great gift for all Scandinavians. If you want to make a Scandinavian design enthusiast happy with a little something – pretty, cosy and smelling of the most hygge(lige) things, get a mini gift set of scented candles by Skandinavisk (priced at exactly 50 €). There are two kinds of these sets – HJEM (Home) and NATUR. Both are great and each of 3 scented candles will give you (or the one you wish to make happy) 16 hours of pleasure. There is also a possibility of choosing regular size candles in many amazing scent versions for 35 € a piece (with ip to 45 hours of burning time), but the Mini Gift Set, coming in a pretty gift box, is my number 1 for the "gifting purpose", for sure.
4. Zestaw 3 świec zapachowych Skandinavisk
Kolejnym świetnym skandynawskim prezentem są bez wątpienia świece. Duńczycy przodują w ilości świeczek wypalanych przez cały rok, nie tylko jesienią i zimą. Dlatego właśnie dobre świece są w Danii zawsze trafionym prezentem. Jeśli zechcecie uszczęśliwić wielbiciela skandynawskich klimatów dobrą świecą, zdecydowanie polecam mini gift set marki Skandinavisk (koszt równo 50 €). Marka proponuje dwa zestawy mini świeczek, o nazwach HJEM (dom) i NATUR. Oba są świetne, a każda z trzech świeczek może cieszyć pięknym zapachem i migoczącym płomieniem przez 16 godzin. Innym rozwiązaniem będzie wybór jednej z pełnowymiarowych świec (35 € za szt), która daje radość przez 45 godzin, ale moim zdaniem zestaw jest fajniejszym prezentem. Trzy świeczki w ładnym kartoniku ucieszą każdego.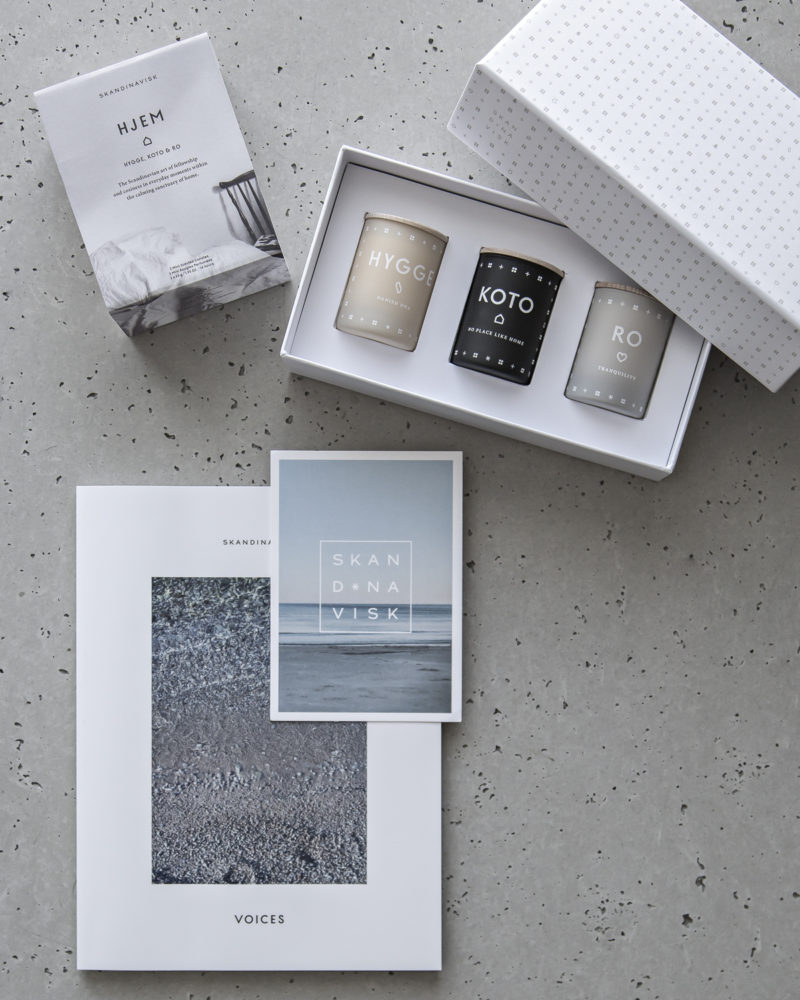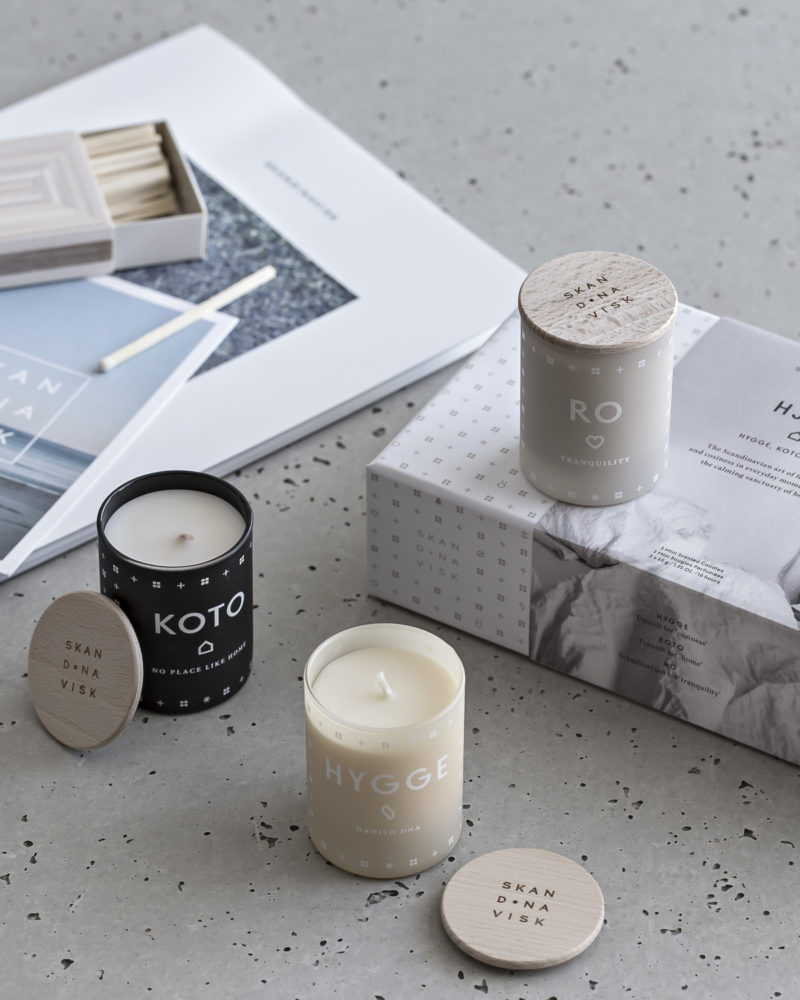 5. "101 Danish Design Icons" book by Lars Dybdahl (Hatje Cantz)
In this post, I could not forget about a good book. "101 Danish Design Icons"  is an amazing book for ALL design enthusiasts. Lars Dybdahl, the head of the library and research at the Designmuseum Danmark in Copenhagen, takes us on a journey with 101 stops – each for a great design icon. You will find here many beautiful images, great stories and interesting facts. I love to browse through it in my spare moments, and I always learn something new.  "101 Danish Design Icons" is also a very pretty published book (in hard cover). It costs 39,80 €, which in my opinion is a great price for a book like this.
5. Książka "101 Danish Design Icons" (wydawnictwo Hatje Cantz)
W tym poście nie mogło zabraknąć książki! "101 Danish Design Icons" to wspaniała pozycja dla każdego wielbiciela wzornictwa. Jej autor, Lars Dybdahl – dyrektor Designmuseum Danmark w Kopenhadze – zabiera nas w podróż ze 101 przystankami. Każdy z nich to inna ikona duńskiego wzornictwa. Znajdziecie w tej książce wiele świetnych zdjęć, ciekawych historii i ciekawostek. Uwielbiam do niej wracać i czuję, że za każdym razem dowiaduję się z niej czegoś nowego. Ta pięknie wydana (w twardej oprawie) książka kosztuje 39,80 € i moim zdaniem jest to świetna cena jak na tę pozycję.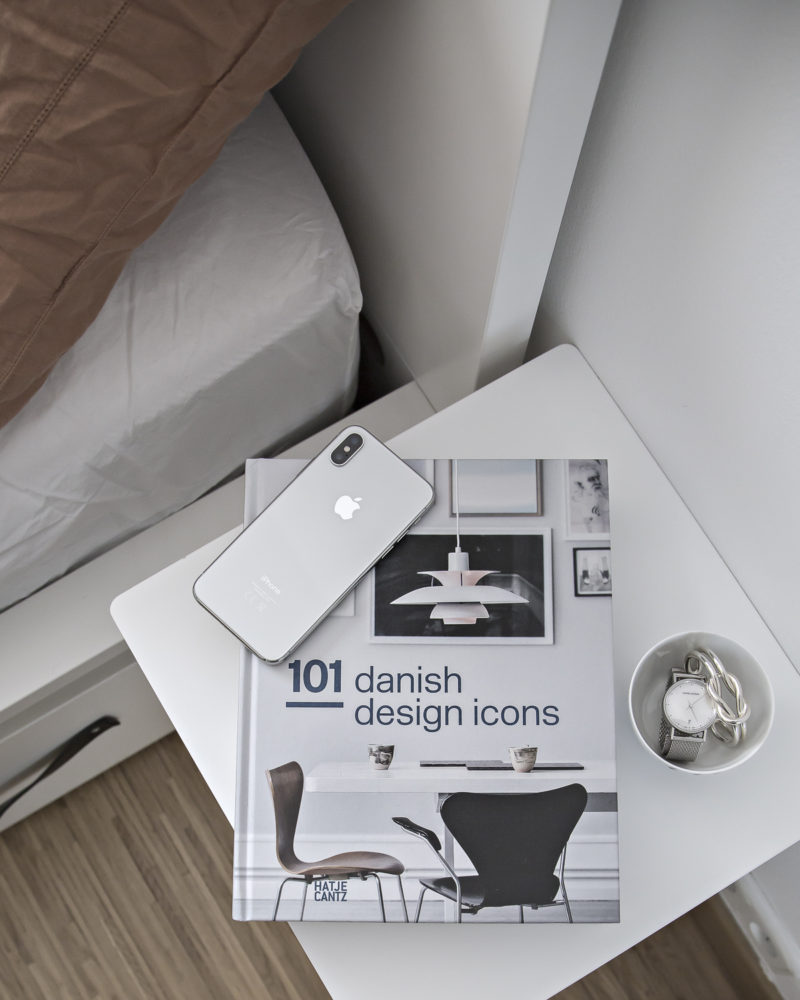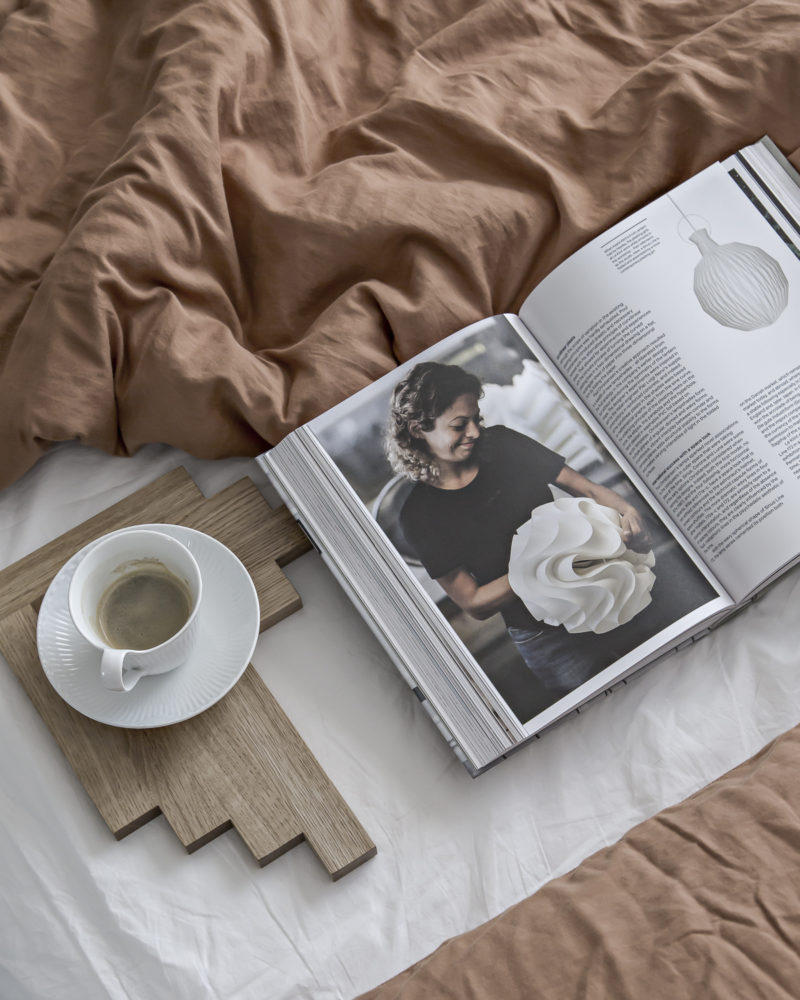 copyright Kasia Rutkowiak | My Full House | any unauthorised use prohibited
I hope yu liked my 5 top gift post and – as usual – I am curious of your opinion. Do you have any favorite products in this group? Maybe something you would love to get yourself? Any thoughts and comments are highly appreciated. And remember, you can always pin the images for your pinterest boards for later. Just in case :)
Mam nadzieję, że spodobały Wam się moje propozycje (jak i pomysł na nową serię). Ciekawa jestem Waszych wrażeń. Co najbardziej by Was ucieszyło? Pamiętajcie też, że każde ze zdjęć możecie przypiąć na Pintereście. Tak na wszelki wypadek.