I have recently turned one year older and the years seem to be rolling much faster than a decade ago. Any of you feels the same? Although I do like my age (most of the time), I can see that some of it's signs are not too fun to see. Last winter I decided to invest in some laser and acid treatments to improve the overall condition of my skin and I must say that I am quite happy with the result. That being said, I wouldn't mind making my skin look even better, so I decided to try one more thing.  A month ago I posted a picture on my Instagram, showing my newest discovery from Iceland. 30 day treatment from Icelandic BIOEFFECT was my long time anticipated treat and I was very eager to try it.
BIOEFFECT – cudowne kosmetyki z Islandii
Niedawno skończyłam kolejną wiosnę (!) i widzę, że lata mijają jakby szybciej niż dekadę temu. Czujecie podobnie? Choć lubię się "w tym wieku" (przez większość czasu), nie wszystkie jego aspekty są miłe. Ostatniej zimy zainwestowałam w serię zabiegów laserowych i peelingow lekarskich, aby poprawić kondycję skóry i jestem bardzo zadowolona z efektów. Gdyby jednak dało się jeszcze bardziej poprawić stan skóry, byłoby cudownie. Dlatego zdecydowałam się na kolejną kurację (tym razem dużo bardziej przyjemną). Miesiące temu, na zdjęciu na Instagramie, pokazałam Wam moje najnowsze odkrycie, które właśnie dotarło do mnie z Islandii. 30-dniową kurację BIOEFFECT, której wypróbowania nie mogłam się doczekać!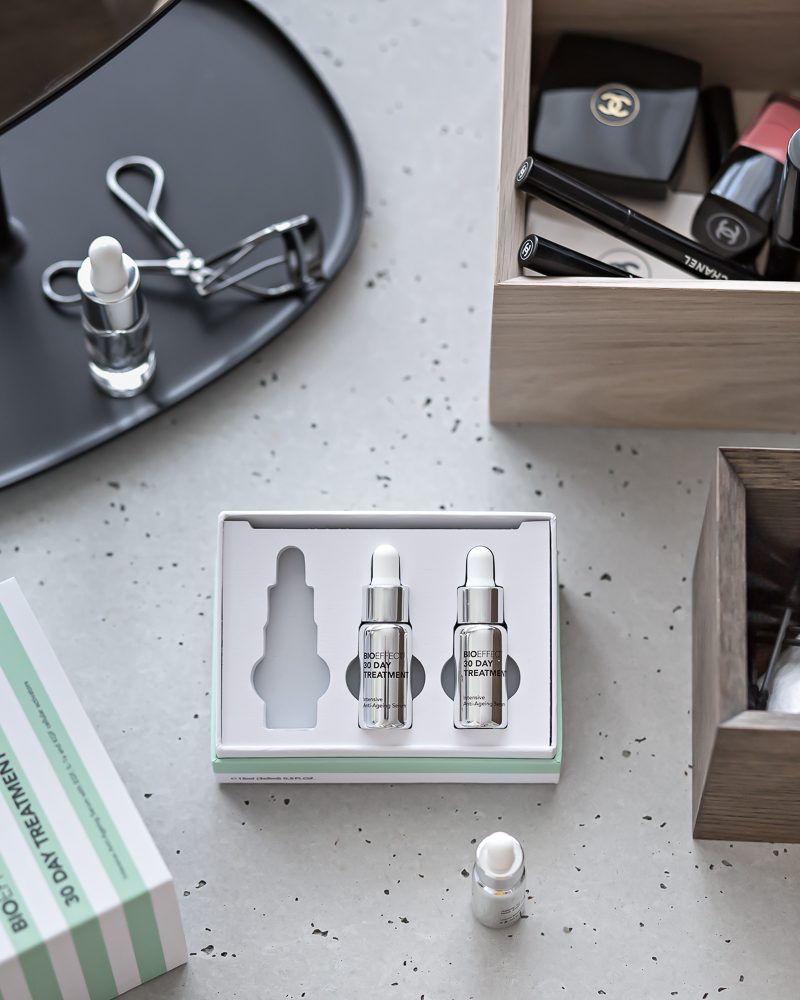 BIOEFFECT is not just a "normal" cosmetic brand. It is a company that bases its products on a breakthrough Nobel Prize-winning discovery of EGF – a cellular growth factor that helps to improve the density of the skin by stimulating it to renew itself.
Growth factors are cellular activators: they are signal molecules that communicate with cells, sending a message to repair, rejuvenate, or proliferate. From birth until adulthood, our bodies manufacture copious amounts of various growth factors that affect the growth of everything from bones to organs to nerves to skin. But when we reach maturity, production diminishes. As a result, cell turnover and repair slows, eventually affecting our health and appearance. In fact, our skin gets thinner by 1% each year after we turn 20, and five years after menopause, our skin becomes 30% thinner. After checking my ID I knew I needed to act :)
I believe in science, after all – in case you forgot, I am a doctor (veterinarian, but still). The BIOEFFECT approach easily convienced me and… I am so happy I gave it a try!
BIOEFFECT to nie jest "zwyczajna" marka kosmetyczna. To firma, która bazuje swoje produkty na przełomowym odkryciu czynnika EGF, nagrodzonym Nagrodą Nobla. Ten komórkowy czynnik wzrostu pomaga poprawić gęstość skóry poprzez stymulowanie jej do odnowy.
Czynniki wzrostu to takie komórkowe aktywatory. Dają komórkom sygnał do naprawy, rozrostu i odnowy. Od narodzin do dorosłości, nasze ciała produkują najróżniejsze czynniki wzrostu, które stymulują wzrost wszystkich części naszych organizmów, od kości przez organy aż po nerwy i skórę. Kiedy osiągamy dojrzałość ich produkcja zanika. W skutek tego zaniku procesy naprawcze zwalniają, co odbija się na naszym zdrowiu i wyglądzie. Od 20. roku życia nasza skóra z roku na rok staje się o 1% cieńsza, a około 5 lat po menopauzie to ścieńczenie dochodzi aż do 30%. Metryka nie pozwoliła mi dłużej czekać :)
Wierzę w potęgę nauki, w końcu – gdybyście zapomnieli – jestem lekarzem (weterynarii, ale zawsze!). Naukowe podejście BIOEFFECT szybko mnie przekonało i… bardzo się z tego cieszę!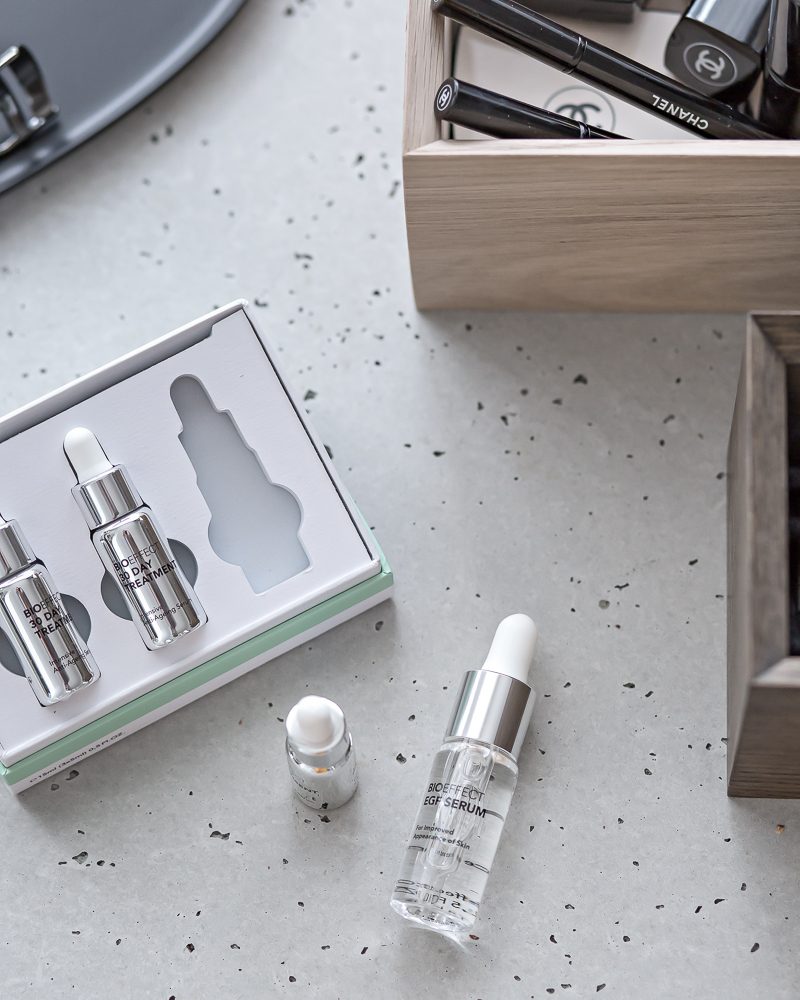 The treatment consist of translucent liquid divided into 3 silver bottles. Each morning and evening you take just as little as 2-3 drops and massage it gently into clean skin on your face and neck. It glides so smoothly that I instantly fell in love with it. And so did my skin. After 30 days it does look and feel better. The dryness diminished, so did the itching. And my crow's feet almost vanished. No acne. No clogging. And no, they did not pay me to write this. Not a dime.
I have found nature and science based cosmetic brand that I strongly believe can help my skin to feel and look better in a long run. After all, 30% of Icelandic women using BIOEFFECT cannot be wrong. My next step is a follow-up treatment with EGF Serum, which I am starting today.  It should be used as a base for the everyday morning skin routine and as the only evening skincare. I like that.
30-dniowa kuracja to zamknęty w 3 srebrnych buteleczkach przezroczysty płyn. Każdego ranka i wieczoru należy wmasować w czystą skórę twarzy i szyi 2-3 krople serum. Rozprowadza się je tak gładko, że czynność tą pokochałam od pierwszego dnia. Moja skóra też. Teraz, po zakończonej kuracji wygląda i czuje się jeszcze lepiej. Zapomniałam uczucie suchości i ściągnięcia, podobnie jak swędzenie. Kurze łapki prawie zniknęły. Trądzik też. Żadnych zapchanych porów. I nie, nie zapłacili mi, aby to napisać. Ani grosza.
Znalazłam markę produkującą kosmetyki bazujące na naturze połączonej z nauką i wiem już, że jej produkty na długo ze mną zostaną. Przecież 30% islandzkich kobiet uzywających produktów BIOEFFECT nie może się mylić! Następnym krokiem w pielęgnacji będzie Serum EGF, którego zaczynam używać od dzisiaj. Rano będzie podstawą dziennej pielęgnacji, a wieczorem jedynym produktem na noc. Podoba mi się!
Copyright Kasia Rutkowiak / My Full House