Isn't the world all covered with lights, snowflakes, wreaths and wonders right now? I just love to turn on the Instagram these days to see what my friends came up with regarding wrapping the presents, decorating homes and holiday cooking. And as I wrote in my previous post, I decided to take it easy and not worry about being behind. I have only begun to decorate with Christmas details. Some small wooden Christmas trees and candles on a tray make a delicate decoration together with a simple yet charming holiday poster. It takes so little to change so much. And if you add the right music and cookies, world does become a little bit more magical, doesn't it?
Tak mało może zmienić tak wiele
Czyż świat nie jest teraz cały w światełkach, płatkach śniegu, świątecznych wieńcach i innych cudeńkach? Jak miło jest włączyć rano Instagram, aby zobaczyć jak bliżsi i dalsi znajomi dekorują domy, pakują prezenty i szykują przysmaki na święta. Tak jak napisałam w poprzednim poście, nie zamierzam się stresować, że w tym roku całkowicie nie nadążam za innymi. Powoli zaczęłam wprowadzać do nas drobne świąteczne akcenty. Małe drewniane choineczki, taca ze świecami i prosty, urokliwy, bożonarodzeniowy plakat od razu wprawiły mnie w świąteczny nastrój. Niewiarygodne, że tak mało może zmienić tak wiele. A jeśli do tego dodamy fajną muzykę i ciasteczka, świat nabiera magicznego wymiaru, prawda?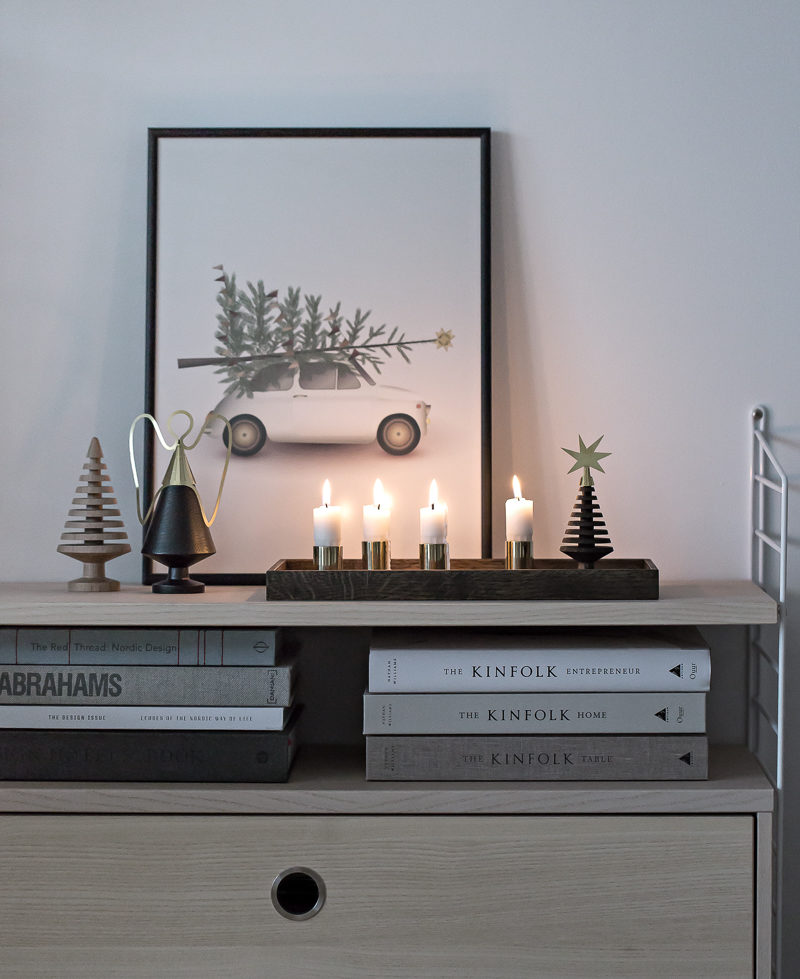 copyright Kasia Rutkowiak | My Full House
Candle tray and wooden trees / taca ze świeczkami i drewniane ozdoby – The Oak Men, poster / plakat – ViSSEVASSE (adresy sklepów oferujących produkty obu marek znajdziecie tutaj)