It's less than 2 weeks till Christmas. Or so they say, at least. I am so not ready, but decided not to get stressed, as it's not good for me and it certainly does not help. Last weekend I managed to create my personal list of the things which I've been admiring lately. It is quite monochrome with some silver tones. Each piece would make a perfect gift, if you ask me ;)
Lista życzeń na ostatnią chwilę
Do świąt pozostało mniej niż 2 tygodnie. Tak przynajmniej słyszałam ;) Jestem kompletnie niegotowa, ale postanowiłam się nie stresować. Nerwowa atmosfera w niczym mi nie pomoże. W weekend stworzyłam swoją osobistą listę życzeń. Rzeczy do których wzdycham ostatnio (lub od dawna). Wyszło dosyć monochromatycznie z dodatkiem srebra. Każdy przedmiot bardzo by mnie ucieszył.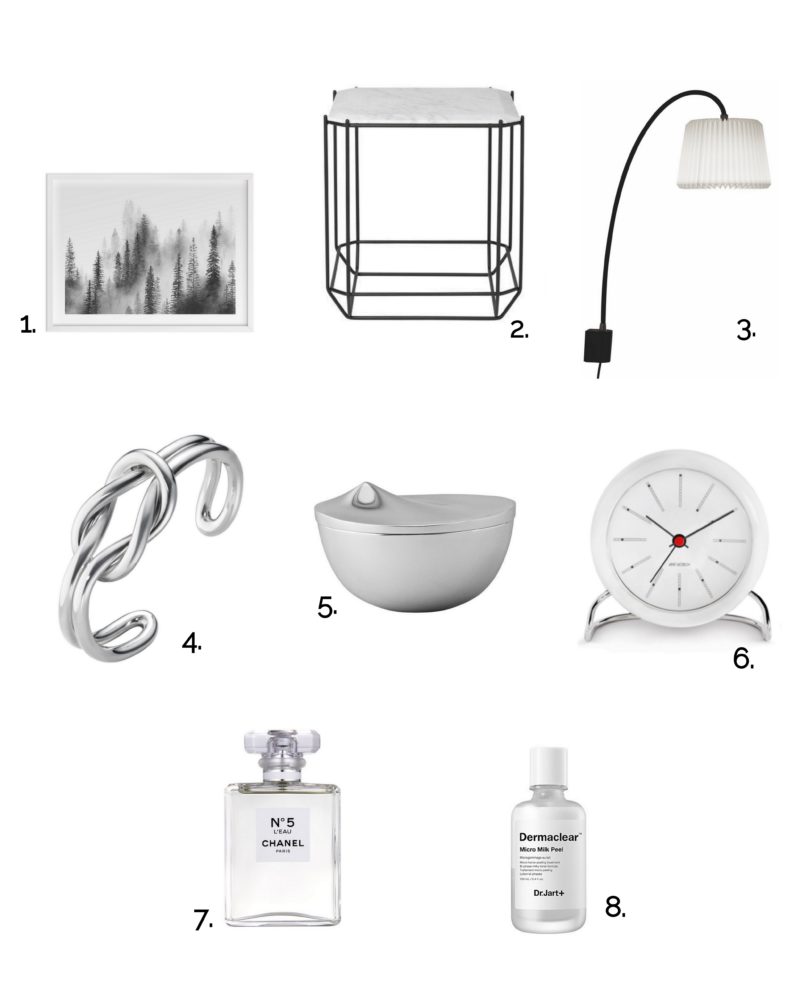 Watercolor painting by Melissa Selmin. I love Melissa's gentle works and her stylings on Instagram are perfect! / Akwarela Melissy Selmin. Bardzo lubię prace Melissy, a jej stylizacje na instagramie są cudowne.
Jewel Side Table by Louise Roe. Beautiful shape and marble top, what more can you wish for? / Stolik Jewel Louise Roe – piękny kształt i marmurowy blat – czego więcej chcieć?
Snowdrop wall lamp from Le Klint. One of two models I've been speculating about for our sofa corner. So pretty! / Lampa ścienna snowdrop od Le Klint. Jeden z dwóch modeli lamp, które rozważam do naszego kącika w salonie. Przecudna!
Love Knot Bangle from Georg Jensen. Pure Love / bransoletka Love Knot Georg Jensen. Kocham!
Peak Bonbonniere from Stelton – I have one in brass but like this version just as much / Bomboniera Peak marki Stelton. Mam taką z mosiądzu, ale ta wersja też bardzo mi się podoba
Arne Jacobsen Table Clock – combination of design and functionality. In my opinion a perfect gift for anyone. / Budzik projektu Arne Jacobsena – połączenie designu i funkcjonalności. Moim zdaniem idealny prezent dla każdego.
Ever since the new, fresh version of CHANEL no 5 was introduced, I used it A LOT, and I don't have any left… / Odkąd nowa, świeża wersja legendarnej "piątki" CHANEL ukazała się w sprzedaży, był to mój najczęsciej używany zapach… i się skończył…
Gentle peeling water from Dr.Jart. I love the packaging and would really like to try it out / Woda peelingująca Dermaclear od Dr.Jart. Bardzo podoba mi się opakowanie i z wielką chęcią wypróbowałabym jego zawartość.
Is there anything on my list that you like?
Czy na ojej liście znajduje się coś co i Was by ucieszyło?