Today I am coming with two of my recent obsessions.
The first one is the floor in our showroom. You might remember that we opened it late fall 2017. It is located in a beautifull tenement from 1912 and in the apartment there are original windows, doors and floors. Far from perfect, definatey old and used, but with so much amazing history! Recently, due to some chipping and extra flaws, we decided to close the showroom for some days and give the floors some love and care. Now there is a new layer of a good floor laquer and everything looks much much better.
I am totally in love with these floors! I love sitting on them with a pillow, blanket, a book or a magazine and a cup of something, if I find a moment. There is something that amazes me about them. I am floor obsessed, I guess.
Piękna kolekcja Cylinda Line z (piękną) podłogą w tle
Dziś będzie o moich dwóch ostatnich zauroczeniach.
Pierwszym z nich jest nasza "nowa" podłoga w showroomie. Miejsce to otworzyliśmy (po uprzednim wielkim remoncie) późną jesienią 2017. Showroom mieści się w zabytkowej kamienicy z 1912 roku. Sa w nim oryginalne sztukaterie, podłogi, okna i drzwi. Wszystkie bardzo niedoskonałe, stare i nadgryzione zębem czasu, ale przepiękne! Ostatnio, ze względu na to, że podłoga po niedawnej renowacji niestety nie wyglądała najlepiej, zdecydowaliśmy się "zamknąć" na kilka dni, aby się o nią raz jeszcze zatroszczyć. Po przeszlifowaniu położono nowy lakier i całość wygląda o niebo lepiej.
Mam totalnego hopla na punkcie tej podłogi. Uwielbiam na nią patrzeć, po niej chodzić, a nawet na niej siadać. Kiedy mam chwilę biorę poduszkę lub koc, coś do czytania, coś do picia i siadam sobie na niej w kąciku. Wciąż, po tylu miesiącach regularnego przebwania w tym miejscu, jestem pod gigantycznym wrażeniem jego wyglądu i historii. Nie mogę też przestać myśleć o SS-mańskich oficerkach, które po niej chodziły przez całą wojnę…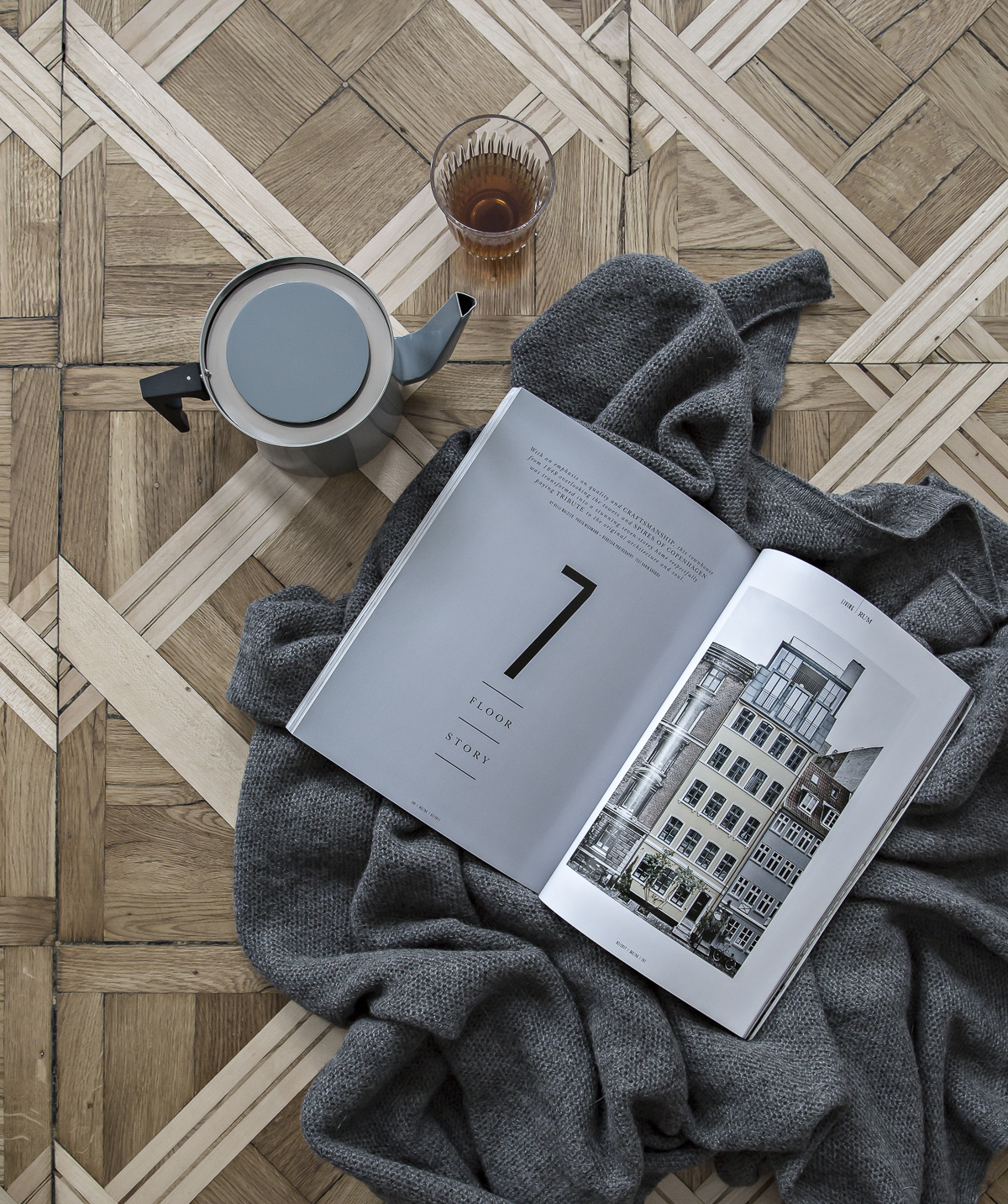 Another one of my obsessions is also "old", but then – not at all. It is the Anniversary Edition of iconic Cylinda Line designed for Stelton by one and only Arne Jacobsen. Now, the story of original, stainless steel design is a bit funny. In 1960's, Peter Holmblad (at that time Export Manager and later owner at Stelton, who also happened to be Arne Jacobsen's son in law) repeatedly tried to convince his father in law to develop something new for Stelton, but Arne didn't want to do it. That was until he saw Peter's own drawings and ideas. One of Denmark's greatest designers found his son in law's sketches so hopeless, that he finally decided to help. The goal of their joint project was to create a series of products that would include tea and coffee services as well as bowls, ice buckets and pitchers for the dining table and bar. Everything was to be made from stainless steel.
Arne's brief proved to be difficult to produce and it took Stelton three years to launch its new products under the name Cylinda Line. They created an immediate sensation due to innovation and their pure, cylindrical forms. The resulting simplicity, along with the soft finish of the lightly brushed stainless steel, stood in beautiful contrast to the polished curves that otherwise dominated the market at the time. Cylinda Line won the Danish Design Council's ID Prize in 1967 and until this day is the heart of Stelton's design DNA. To celebrate the its 50th Anniversary, Stelton made a special edition of enamel coated Cylinda products. Inspiration for the colors came from Arne Jacobsen's water colour paintings, textiles and carpets.
Druga z moich ostatnich obsesji też ma stare korzenie, choć jest stosunkowo nowa. To jubileuszowa kolekcja Cylinda Line zaprojektowana dla marki Stelton przez samego Arne Jakobsena. Tak naprawdę, historia powstania tej kolekcji jest dość zabawna. W latach '60 ubiegłego stulecia, Peter Holmblad, ówczesny szef eksportu w firmie Stelton (jej późniejszy właściciel do 2004 r), a prywatnie zięć Jacobsena, namawiał teścia do zaprojektowania nowej kolekcji dla marki Stelton. Arne nie chciał się zgodzić, do czasu gdy Peter nie pokazał mu własnych pomysłów. Jacobsen uznał je za tak beznadziejne, że postanowił się zgodzić. Celem wspólnego projektu było stworzenie nowej serii składającej się z dzbanków, serwisu kawowego, serwisu do herbaty, a także misek, pojemnika na lód i innych przyborów barowych. Wszystkie produkty miały zostać wykonane ze stali nierdzewnej.
Projekt Arne okazał się wielkim wyzwaniem, dlatego proces produkcji zakończył się dopiero po trzech latach. Nowa kolekcja marki Stelton otrzymała nazwę Cylinda Line i z miejsca wywołała wielkie poruszenie na rynku. Cylindryczne formy i miękkie wykończenie szczotkowanej stali niezmiernie kontrastowały z wszystkimi obłymi produktami dostępnymi wtedy na rynku. W 1967 rokukolekcja Cylinda Line wygrała prestiżową nagrodę Duńskiej Rady Designu i do dziś jest kwintesencją DNA marki Stelton. Aby uczcić pół wieku jej obecności na stołach, nie tylko w Danii, ale i na całym świecie, powstała jubileuszowa, emaliowana seria Cylinda. Kolory emalii dobrane zostały na podstawie prac Arne Jacobsena – jego akwareli, dywanów i tekstyliów.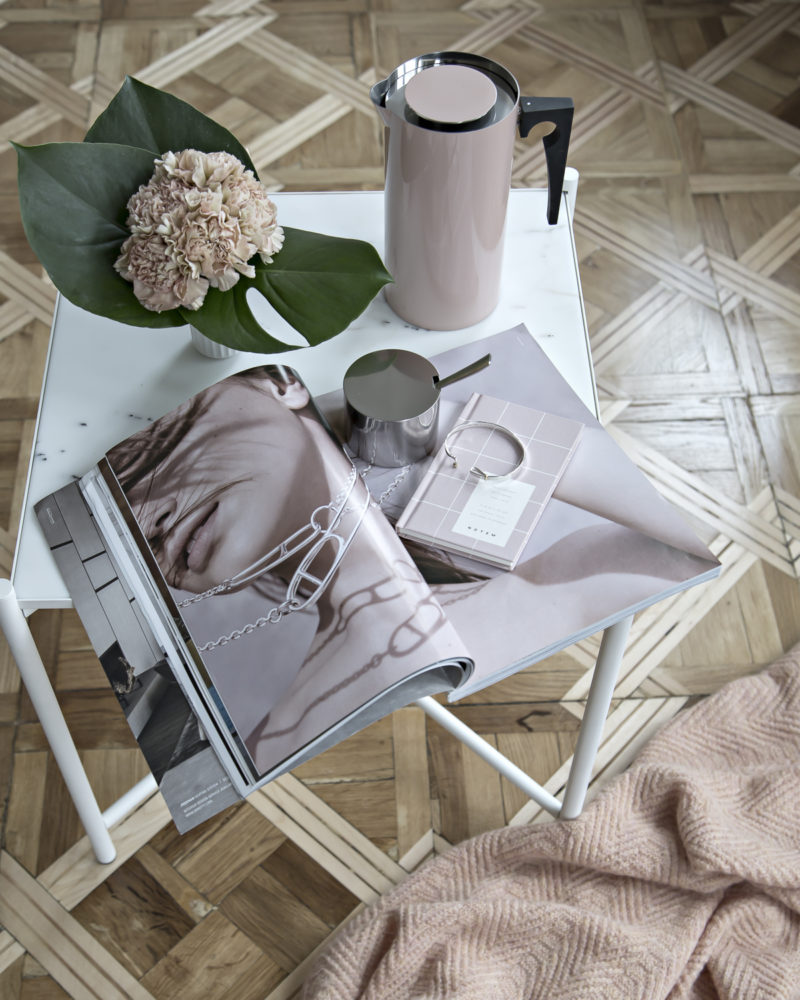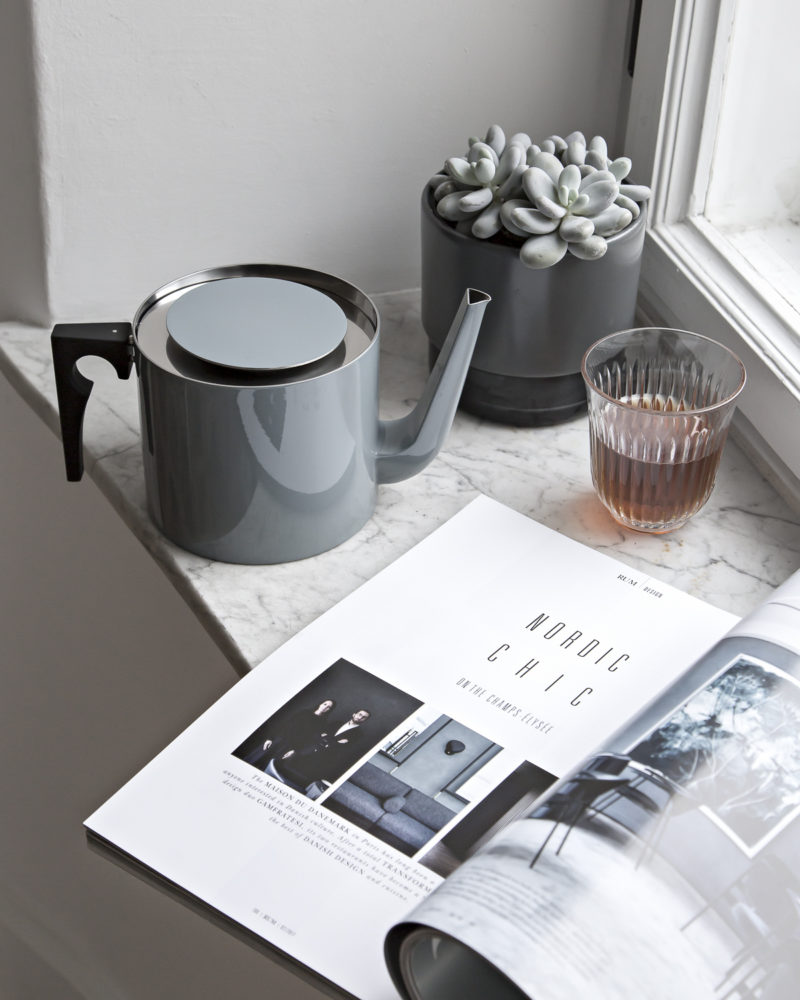 I love particularly two colours of the Anniversary Cylinda Line collection – Smokey Blue (which I have as a teapot) and Powder (a French Press coffee maker). I think they are such stunning, timeless pieces with a colourful twist and ever since they came, I keep moving them around, just so that I can have them at my sight. But can you blame me?
Mi do gustu przypadły szczególnie dwa z kolorów emalii limitowanej kolekcji Cylinda – Smokey Blue (czajniczek do herbaty) oraz Powder (dzbanek do parzenia kawy). Odkąd mam te wyjątkowe dzbanki, nie mogę się na nie napatrzeć i ciągle znajduję dla nich nowe miejsce, aby jak najczęściej mieć je w zasięgu wzroku. No, ale czy można mi się dziwić?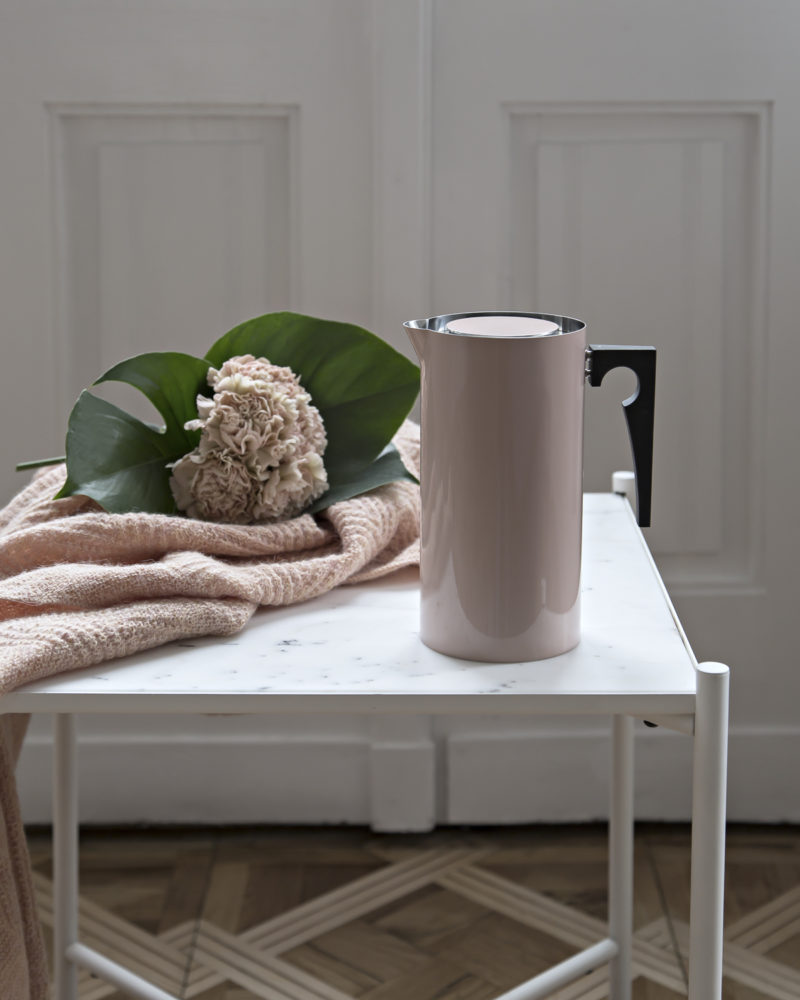 Right now I am packing for some busy but super exciting time in Copenhagen during 3 Days of Design (starting tomorrow). I will attend many meetings and events and get to meet with many lovely people. I am looking forward to it! It is the biggest celebration of Danish design. I will make sure to visit Stelton and many other amazing brands and will keep you all updated on my Instagram, so make sure to follow me there.
Dziś pakuję się na największe doroczne święto duńskiego designu – 3 Days of Design w Kopenhadze. Przede mną wiele premier, spotkań i rozmów z fantastycznymi ludźmi. Jeśli macie ochotę, zapraszam do śledzenia moich stories na Instagramie.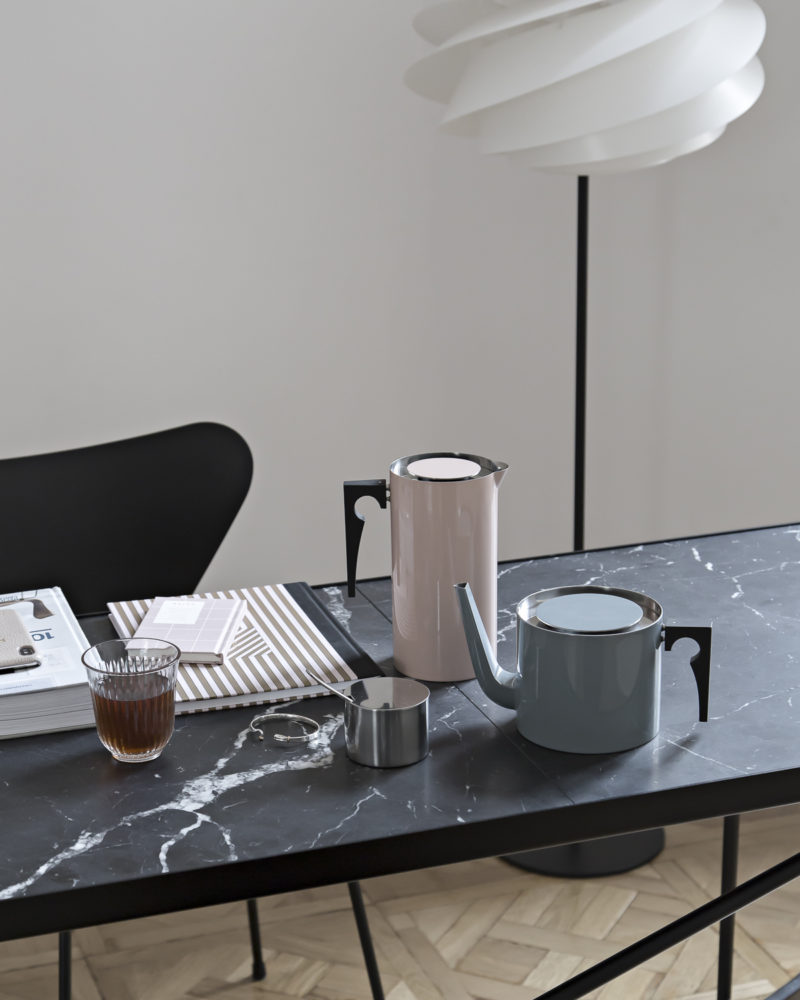 copyright Kasia Rutkowiak | My Full House | any unauthorised use prohibited