Hello after Christmas! I hope that you had wonderful time with your families.
We did have lovely holidays, with my Parents visiting, Christmas Eve at our place and plenty of cuddles (and food). It was truly wonderful to put away my phone and close all computers for a few days. It allowed us to focus on the family and things we did together and I am so happy that we did, even if that meant no blog, Instagram or Facebook activity. After all, you also deserved some My Full House free time, didn't you? :)
Today I am back with some extra energy and a new recipe. It's perfect for the coming party season (starting from New Year's Eve!). These are some delicious, melt in your mouth sweet treats made of marzipan. In the original recipe they are covered with hazelnut flakes but as I could not find these here, I used almond flakes in stead.
I call them Marzipan Horns and we A-D-O R-E them! They are incredibly easy to make and great to freeze.  I actually prefer them taken from freezer but this time the batch was far too small (or rather we were too many) to freeze any.
Przepyszne duńskie marcepanowe rogaliki
Witajcie po świętach! Mam nadzieję, ze minęły Wam one w miłej, rodzinnej atmosferze.
My spędziliśmy je wraz z moimi Rodzicami, z najbliższą rodziną, delektując się wspólnym czasem (i jedzeniem). Cudownie było odłożyć na kilka dni telefon, wyłączyc komputery i skupić na nas, świętach, dzieciach i byciu rodziną, nawet za cenę ciszy na blogu, Instagramie czy Facebook'u. Poza tym, Wam też należało się wolne ode mnie ;)
Dziś powracam z przepisem idealnym na nadchodzące imprezy (poczynając od Sylwestra!). Te niewielkie cudeńka nazwałam marcepanowymi rogalikami, adaptując przepis do tego co mogę znaleźć w Polskich sklepach. Dlatego płatki z orzechów laskowych musiałam zastąpić migdałowymi. Poza tym przepis jest zgodny z rodzinnym przepisem prosto z Danii. Rogaliki są niezmiernie szybkie i łatwe w przygotowaniu. Dodatkowo doskonale nadają się do zamrażania. Osobiście wolę je właśnie lekko zimne, po rozmrożeniu, jednak tym razem było ich za mało – albo nas za dużo – aby cokolwiek zamrozić.
Ingredients / składniki:
500 g marzipan / 500 g marcepanu*
150 g confectioners sugar / 150 g cukru pudru
2 egg whites / białka z 2 jaj
almond flakes / płatki migdałowe
100 g good dark chocolate / 100 g dobrej gorzkiej czekolady
* I strongly suggest that you do not save on marzipan and buy the best one you can get! I normally buy it in Denmark and bring home, but I know that there are many great brands making superb marzipan out there.
Radzę nie oszczędzać na marcepanie, jego jakość ma wielki wpływ na efekt końcowy. Ja sama przywożę marcepan z Danii, ale wiem, że dobry marcepan można już kupić i w Polsce. Ten do wypieku rogalików powinien zawierać min. 60% migdałów.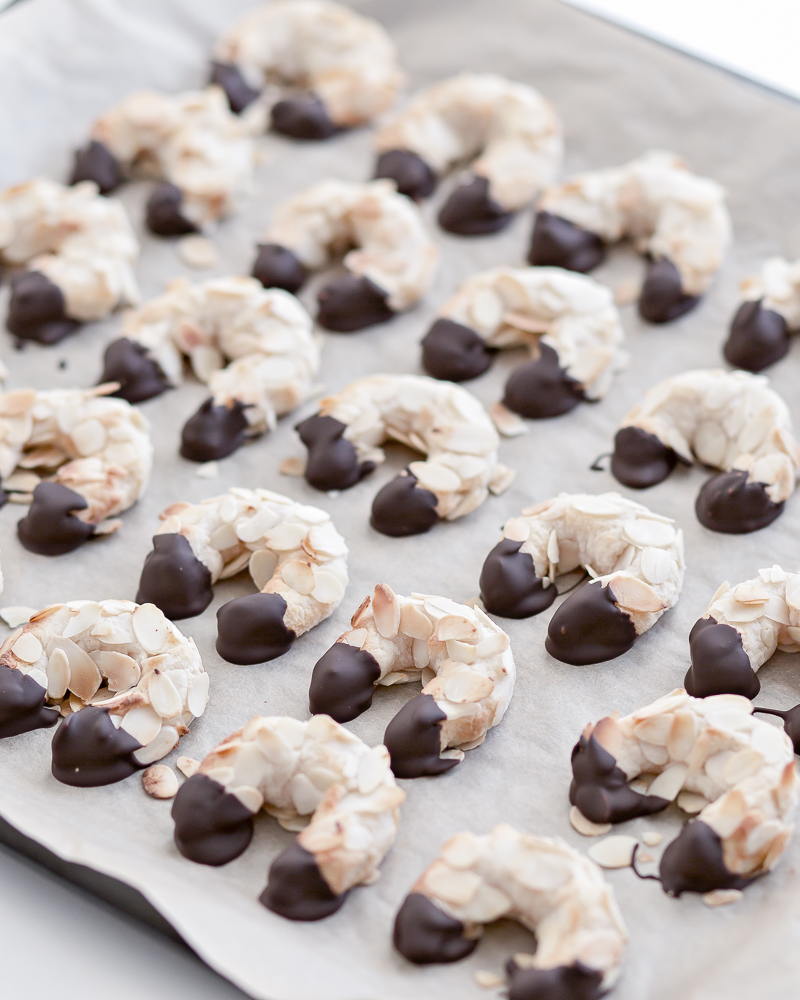 Method:
In a bowl of an electric mixer mix the marzipan, egg whites and sugar. You can start with your hands to fasten the process, and later on use the mixer to finish the "dough".  Preheat the oven to 180C, fan assisted. Line a big baking tray with parchment paper. Using wet hands form ca 25 cylinders and roll them in almond flakes. Form into small horns and place on the tray. Bake for approx. 8 min. Cool down completely.
Melt roughly chopped chocolate over a water bath. Remove from heat. Dip the horn ends in chocolate and place back on the parchment paper to set. Store in an airtight container in a cold place for up to 10 days. You can also freeze ready horns and simply take some out when you have guests. It takes no more than 20 minutes to have delicious coffee or champaigne treat to please the crowd!
Sposób wykonania:
W misie elektrycznego miksera umieścić marcepan, przesiany cukier i białka jaj, dokładnie wymieszać do uzyskania jednolitej, klejącej masy. Radzę zacząć wyrabiać "ciasto" ręką, a potem posłużyć się mikserem do wygładzenia jej. Piec rozgrzać do temperatury 180C z termoobiegiem. Wyłożyć papierem do pieczenia dużą blachę. Wilgotnymi dłońmi uformować z "ciasta" ok. 25 wałeczków. obtoczyć je w migdałowych płatkach, zakrzywić do kształtu rogalików i umieścić na blasze. Piec ok. 8 min. Wystudzić.
Czekoladę posiekać i rozpuścić w kąpieli wodnej w miseczce umieszczonej nad garnuszkiem z wrzątkiem. Zdjąć z ognia. Końce rogalików zanurzać w czekoladzie i odkładać je z powrotem na blachę do zastygnięcia czekolady. Rogaliki przechowywać w szczelnym pojemniku w chłodym miejscu do 10 dni. Można je też mrozić w szczelnych woreczkach. Kiedy przyjdą niezapowiedziani goście wystarczy 20 minut i mamy idealne co nieco do kawy (lub szampana).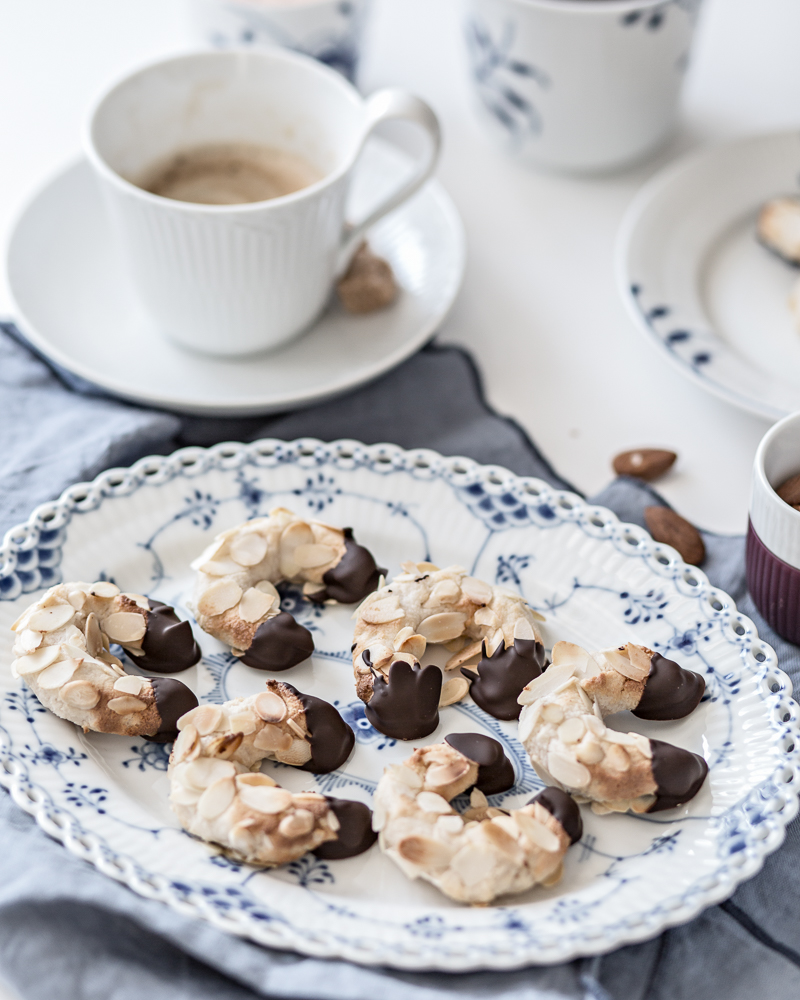 Don't they just look so so so good? There is still time enough till New Year's party to make them. Why don't you get some marzipan and bake these truly Danish treats to surprise your friends? Bon appetit!
Czyż nie wyglądają przepysznie? Do Sylwestra spokojnie zdążycie zrobić więc radzę zakupić marcepan i zabrać się do (krótkiej) roboty, aby zaskoczyć znajomych prawdziwie duńskim wypiekiem. Smacznego!
Copyright Kasia Rutkowiak / My Full House
porcelain / porcelana – Royal Copenhagen