It's been a while since the last vase post, I admit. Furthermore, I must also confess that these are last weekend flowers, as I didn't have the time to post. So here I am, making up for it last Friday.
I found the Dora Maar pieces on Instagram, which remains one of the gratest places of inspiration. At first, I was more intrigued than enchanted. After all, the Dora Maar pattern emerging from ceramic bowls and vases is quite unusual (and not Scandinavian at all). Still, I felt drawn to it and in the end, it totally stole my heart. Sounds familiar?
I desperately wanted to get a hold of a VASE, but it seemed impossible. I contacted several places untill I found a lovely Swedish boutique based in Stockholm – By Binett. That wasn't the end of my Dora Maar hunt, as all the items were sold out and I needed to wait. After some weeks, I finally received a message, saying that a bowl was available, in stead of a vase. I ordered one right away and I am so happy that I did!
My Dora Maar bowl came wrapped up securely (it's big and heavy so I was a bit worried) and here it is. A true piece of art. I absolutely adore it and I plan to use it not only for flowers. It is big enough for many apples and – to be honest it also looks beautiful on its own. Ever since it came some weeks ago, all people that come to visit us, notice it right away. I am sure that it will stay with us for years.
And look at those hortensias! So pretty! Happy weekend!
Misa Dora Maar – kwiaty na weekend
Znów dużo czasu minęło od ostatniego kwiatowego posta. W dodatku dzisiejsze zdjęcia pochodzą sprzed tygodnia, tyle, że nie zdążyłam ich Wam pokazać. Dziś nadrabiam.
Ceramika z wizerunkiem Dory Maar marki Jonathan Adler wpadła mi w oko na Instagramie. Z początku wzbudziła raczej zaciekawienie niż podziw, gdyż wyłaniające się z mis i wazonów twarze są dość specyficzne (i mało skandynawskie). Ale ten widok nie dawał mi spokoju i po jakimś czasie sama zapragnęłam mieć w kolekcji taki wazon.
Polowanie na Dorę Maar okazało się trudniejsze niż się spodziewałam. Po dłuższych poszukiwaniach, trafiłam na te produkty w sztokholmskim sklepie By Binett. Tam okazało się, że wszystkie produkty Dora Maar są wyprzedane i…pozostało mi czekać. Po kilku tygodniach otrzymałam wiadomość, że nie ma wazonu, ale jest misa. Decyzja była szybka i oto jest!
Nasza misa Dora Maar przyszła pocztą, zapakowana jak należy (misa jest naprawdę spora i ciężka więc trochę się bałam). Jest piękna! Zamierzam w niej trzymać nie tylko kwiaty. Jest dość duża, aby pomieścić ze dwa kilogramy jabłek, a i pusta prezentuje się cudownie. Odkąd przyszła, wszyscy nasi goście od razu zwracają na nią uwagę. Z pewnością będzie z nami przez wiele lat.
Spójrzcie tylko na te hortensje! Cudne! Dobrego weekendu!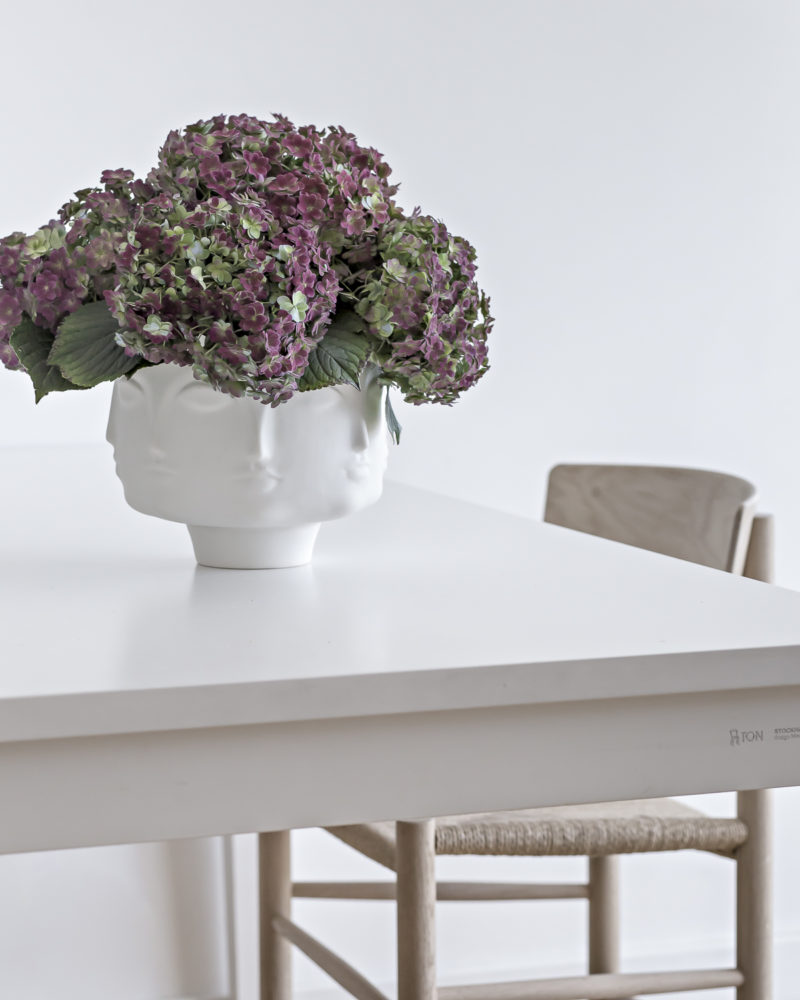 copyright Kasia Rutkowiak | My Full House | any unauthorised use prohibited
A big thank you to Sima from By Binett for help!