I woke up to a very cold morning today. It was foggy and only 3 degrees, Chloé looked at me surprised when I took her out. And then I thought not only about fall, but also about winter. It won't be long till it's here, I guess. So before it comes, I wanted to show you our fall living room. Or rather – we want to show you. Chloé assisted me while I was shooting and now she is laying on my feet as I am writing this post (in a very quiet apartment at 5:40 am).
Jesień w salonie
Zimny dziś mamy poranek. Kiedy wstałam, za oknem rozpościerała się gęsta mgła, a termometr wskazywał zaledwie 3 stopnie. Nawet Chloé nie ukrywała zdziwienia, kiedy wyszła na dwór. I wtedy pomyślałam, że jesień nadeszła późno, ale zima nie da na siebie długo czekać. Dlatego, zanim jeszcze spadnie pierwszy śnieg, mam dla Was nasz jesienny salon. A raczej mamy. Chloé asystowała mi podczas robienia zdjęć, a teraz leży na moich stopach. Jest 5:40, w mieszkaniu nadal jest cichutko, słychać tylko moją klawiaturę i jej chrapanie.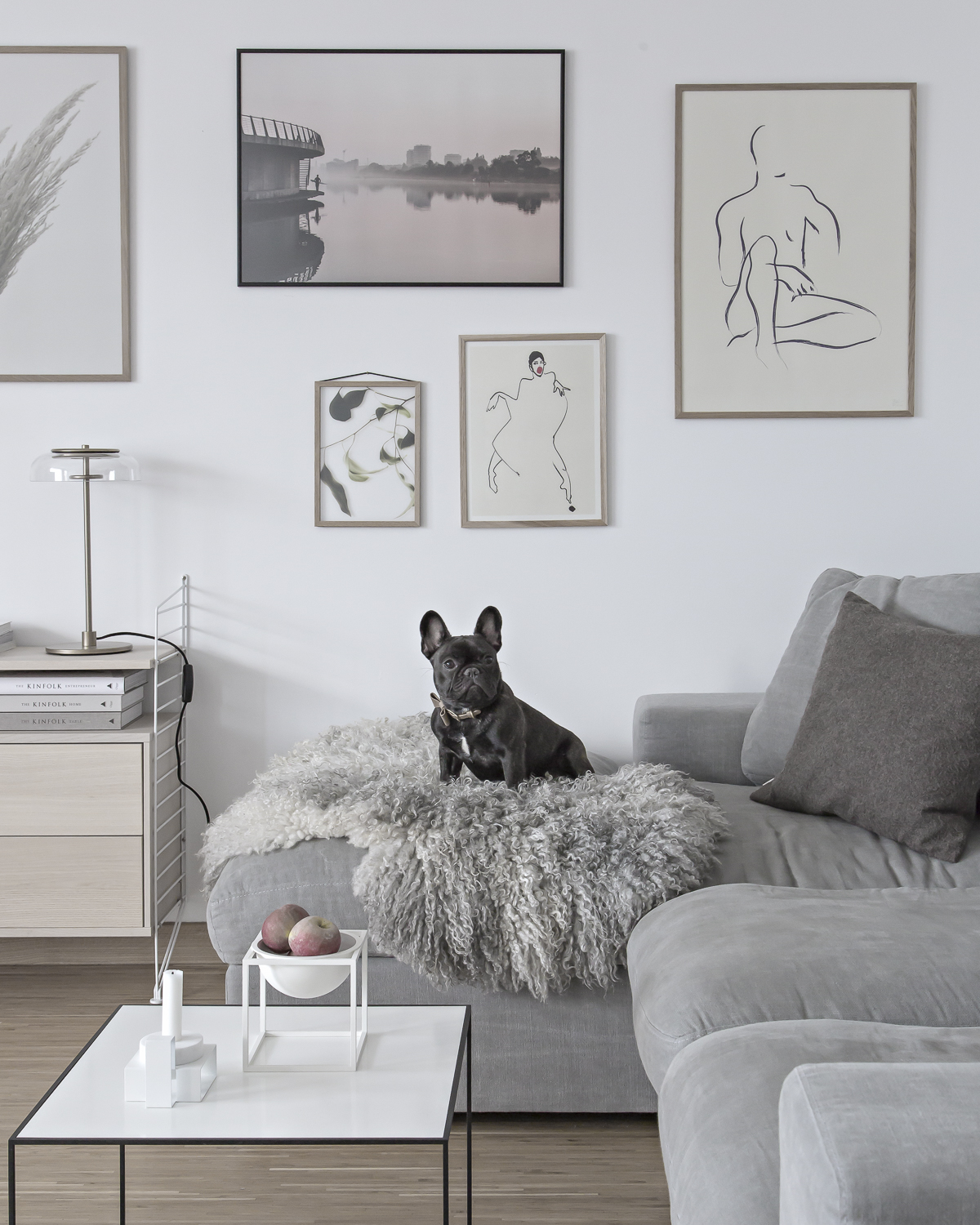 I get many questions about posters. You know that I love changing the room with a simple trick of putting up new ones. I and do that at least 2-3 times a year. The selection of posters on the market is huge and there are quite a few amazing poster webshops and brands out there. Recently I wrote about a new poster from Coco Lapine. The other choices you can see here are Paper Collective, Kristina Dam, by Garmi and ViSSEVASSE. If you are looking for something new for your wall, I strongly suggest you check them all out.
Dostaję dużo pytań o plakaty. Nie jest tajemnicą, że zmieniamy je regularnie, przynajmniej 2-3 razy w roku. Każda zmiana to szybki i łatwy sposób na zmianę nastroju w pokoju. Obecnie na rynku znajduje się wiele świetnych miejsc oferujących plakaty. Niedawno pisałam o naszej nowosci od Coco Lapine. Pozostałe plakaty widoczne na zdjęciach to Paper Collective, Kristina Dam, by Garmi oraz "nowa" palmiarnia ViSSEVASSE. Jeśli i Wam przyda się zmiana, sugeruję, żebyście sprawdzili każdą z tych marek. Zachęcam Was też do śledzenia mojego osobnego profilu na IG, gdzie regularnie można znaleźć plakaty, które znikając z naszych ścian, szukają nowych domów.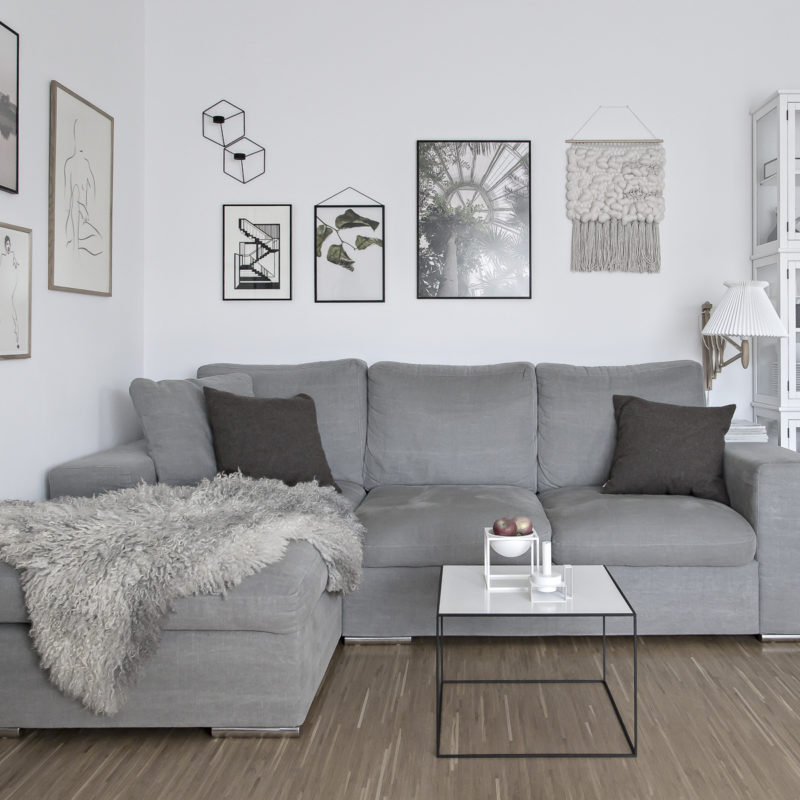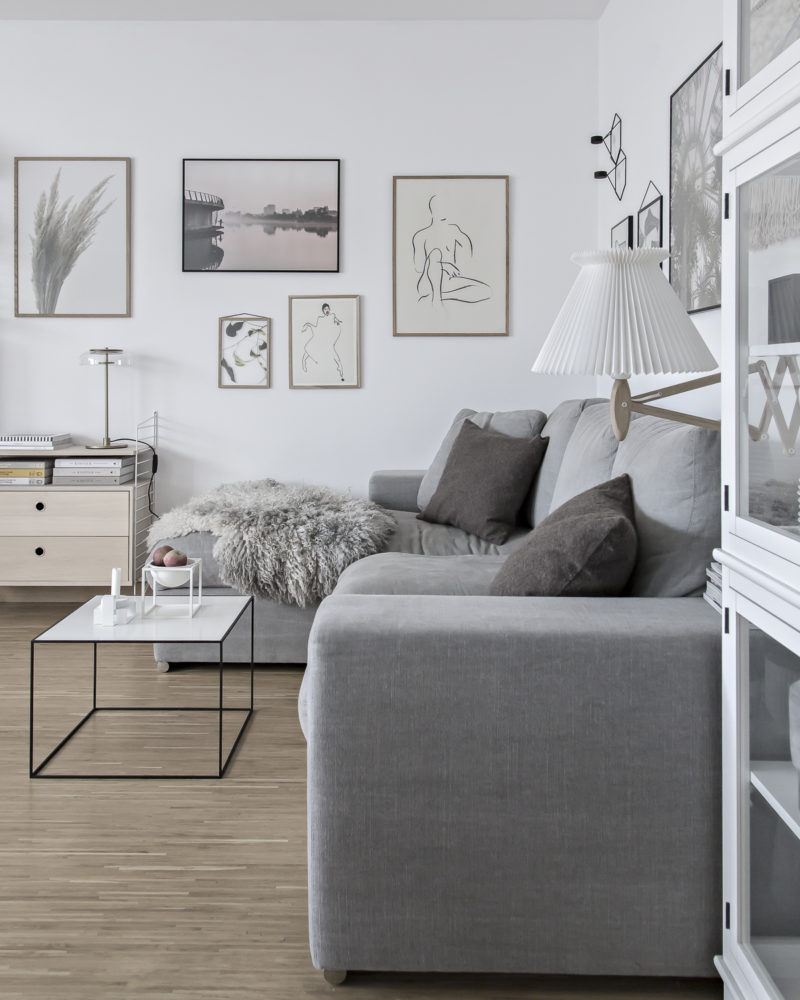 Our living room is not big, yet it has to room our dining table, my workspace and a "hygge corner" as the Danes say. Although I dream of a big sofa for all of us, this one is ok for now. The light and compact cofee table is from by Lassen. Simple and easy to move, the iconic Twin Table comes also with a white base. We went for classic black Twin 49 with a white and oak, reversible top. As for the reading light, we still love the Sax lamp from LE KLINT. There is a separate post about it right here.
Nasz salon jest niewielki, ale pojemny. Nie mając wyjścia, musimy w nim zmieścić domowe biuro, jadalnię i "kącik hygge" jak mówią Duńczycy. Mimo, że marzy mi się większa sofa, ta póki co zdaje egzamin. Lekki, prosty stolik pochodzi od duńskiej marki by Lassen. Stoliki Twin Table można kupić w kilku rozmiarach. Do niedawna dostępne były jedynie z czarną bazą, teraz marka dodała do oferty także stoliki w wersji białej. Blat naszego Twin 49 jest dwustronny, biało/dębowy. Jeśli chodzi o światło do czytania, od pewnego czasu z radością korzystamy z lampy Sax od LE KLINT, pisałam o niej w tym poście.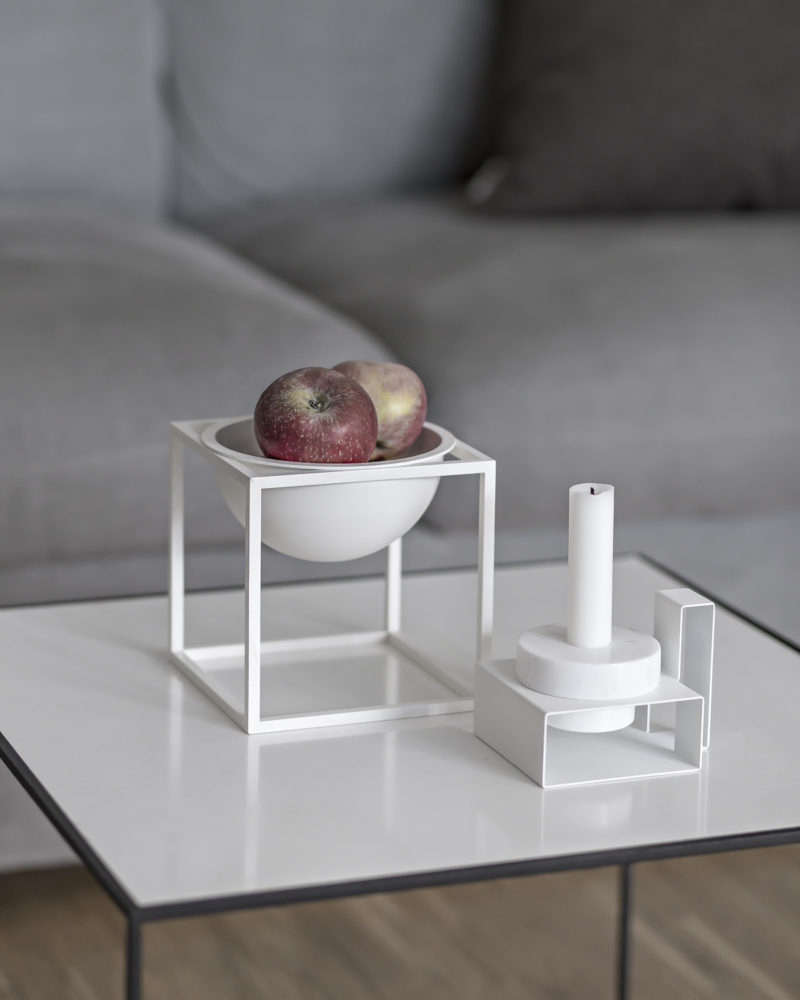 I am sure that you've noticed lack of fresh flowers. At the time of shooting these pictures I felt very under the weather hence I did not get any. Now, when looking at the images, I really miss a "living element", I guess Chloé must do. The sheepskin is her favorite spot. I cannot blame her (I love it too).
Jedyne czego mi brakuje, gdy patrzę na te zdjęcia to świeże kwiaty. Kiedy je robiłam czułam się nie najlepiej i będąc mocno przeziębiona postanowiłam nie wychodzić z domu. Jako "żywy element wystroju" musi więc posłużyć Chloé. Owcza skóra to jej ulubione miejsce. Moje także, więc się jej nie dziwię.
copyright Kasia Rutkowiak | My Full House | any unauthorised use prohibited 
posters / plakaty – Coco Lapine, by Garmi, Paper Collective, ViSSEVASSE, sofa / kanapa – Moma Studio, lamp / lampa – LE KLINT, coffee table and bowl / stolik i miska – by Lassen, candleholder / świecznik – Lucie Kaas, pillows / poduszki – Elvang Denmark, wall hanging / kilim – Weavingmystory, sheepskin / skóra owcza – Milabert