I always say that dreams are meant to make come true. Do you remember my lust list from a couple of months ago? These were the things I fell in love with under my last Copenhagen trip. One of them was the Echasse Vase from Menu in it's new version – clear glass and bronzed brass legs. It's simple shape, inspired by laboratory tubes, was designed by Theresa Rand. It is the smallest of series and I thought it would be absolutely perfect for our home…
Wazon Echasse – Kwiaty na weekend
Zawsze mówię, że marzenia są po to, aby je spełniać. Pamiętacie moją listę marzeń po lutowym powrocie z Kopenhagi? Był na niej wazon Echasse duńskiej marki Menu, w najnowszej wersji z bezbarwnego szkła na brązowych nóżkach. Jego prosty kształt zainspirowany został szkłem laboratoryjnym, a projektantką całej serii wazonów i mis jest Theresa Rand. Ten najmniejszy wazon z kolekcji Echasse pasuje idealnie do mniejszych mieszkań, pomyślałam więc, że i u nas się sprawdzi…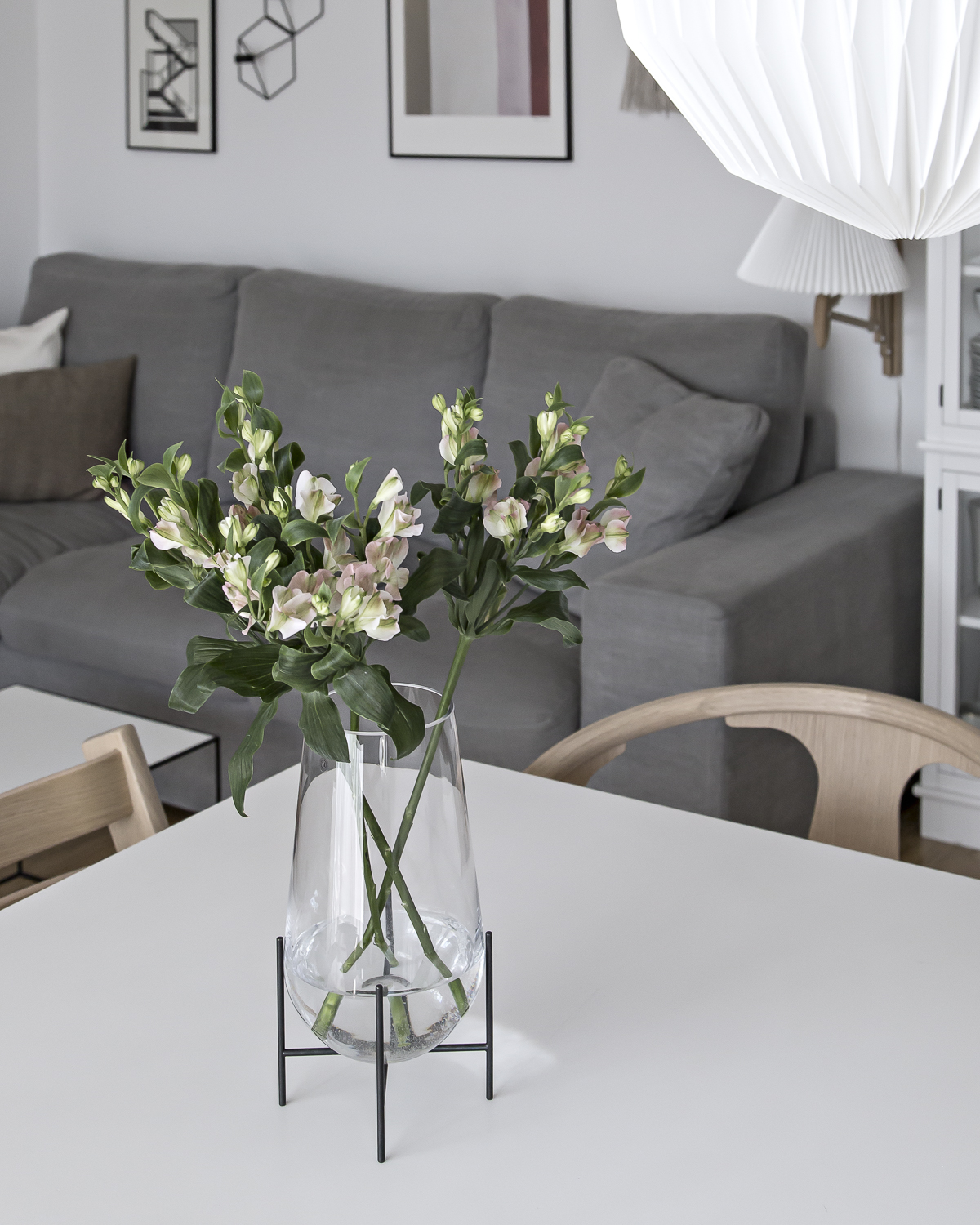 This Vase is so special and decorative in its simplicity, that it doesn't need a fancy bouquet. Just a few simple flowers or twigs will look perfect in it. For this weekend I chose 3 Alstromerias (called also Peruvian Lilies) and it's absolutely enough. And… I placed the vase on a new shelf, so here is a tiny sneak peek of the new home office solution as well.
Have a good weekend!
Ten wazon jest tak orginalny, że nie wymaga ozdobnego bukietu, wręcz przeciwnie. Najlepiej sprawdzą się w nim pojedyncze kwiaty lub gałązki. Na ten weekend wybrałam Alstromerie. Wazon postawiłam na nowej półce – możecie podejrzeć najnowsze rozwiązanie mojego domowego biura. A na weekendowe czytanie czeka już książka norweskiego autora Jørna Viumdala – "Żyj zdrowo". Z chęcią dowiem się z niej tego, jak wprowadzić więcej roślin i naturalnego środowiska do wnętrz, co powinno korzystnie odbić się na zdrowiu wszystkich domowników.
Dobrego weekendu!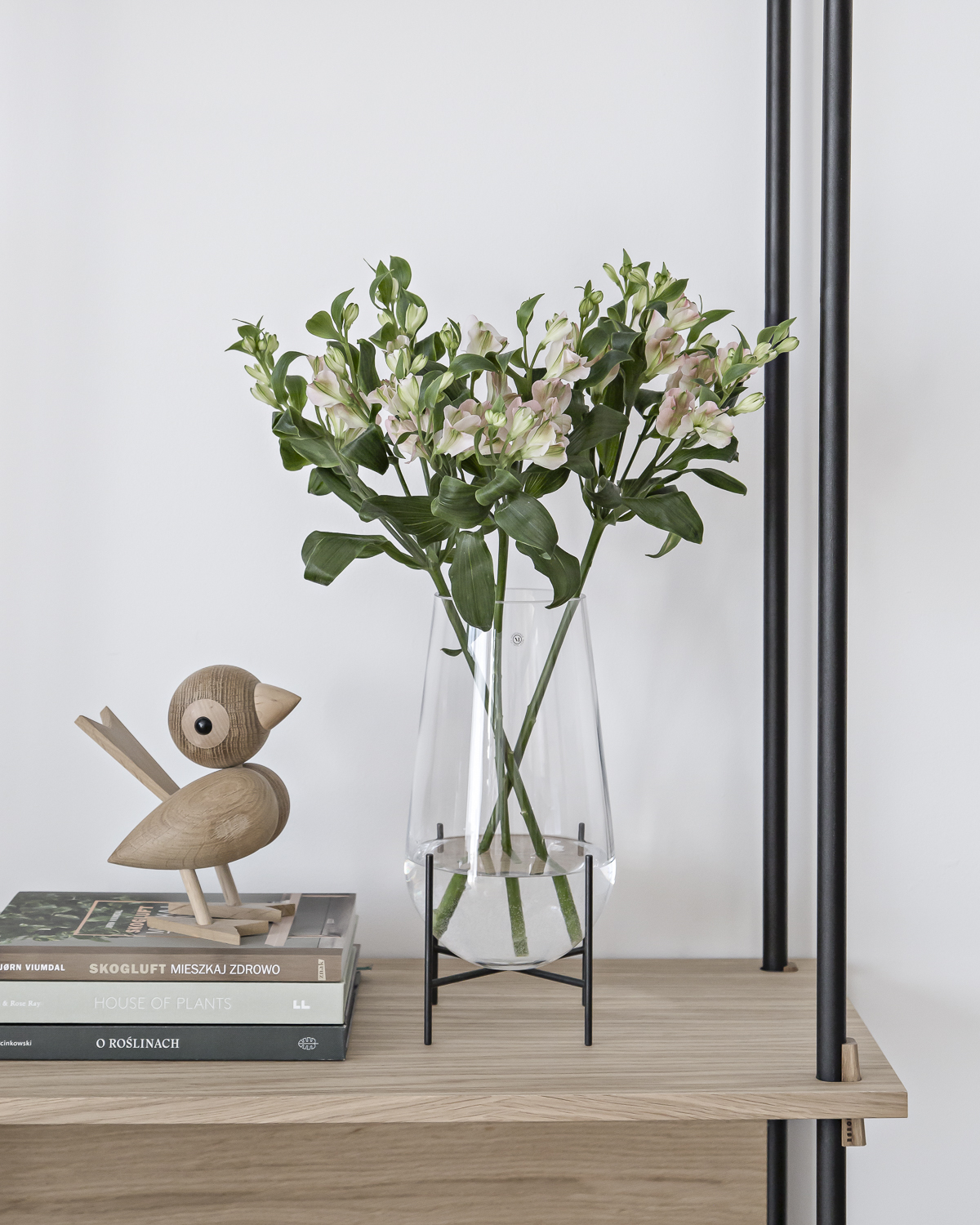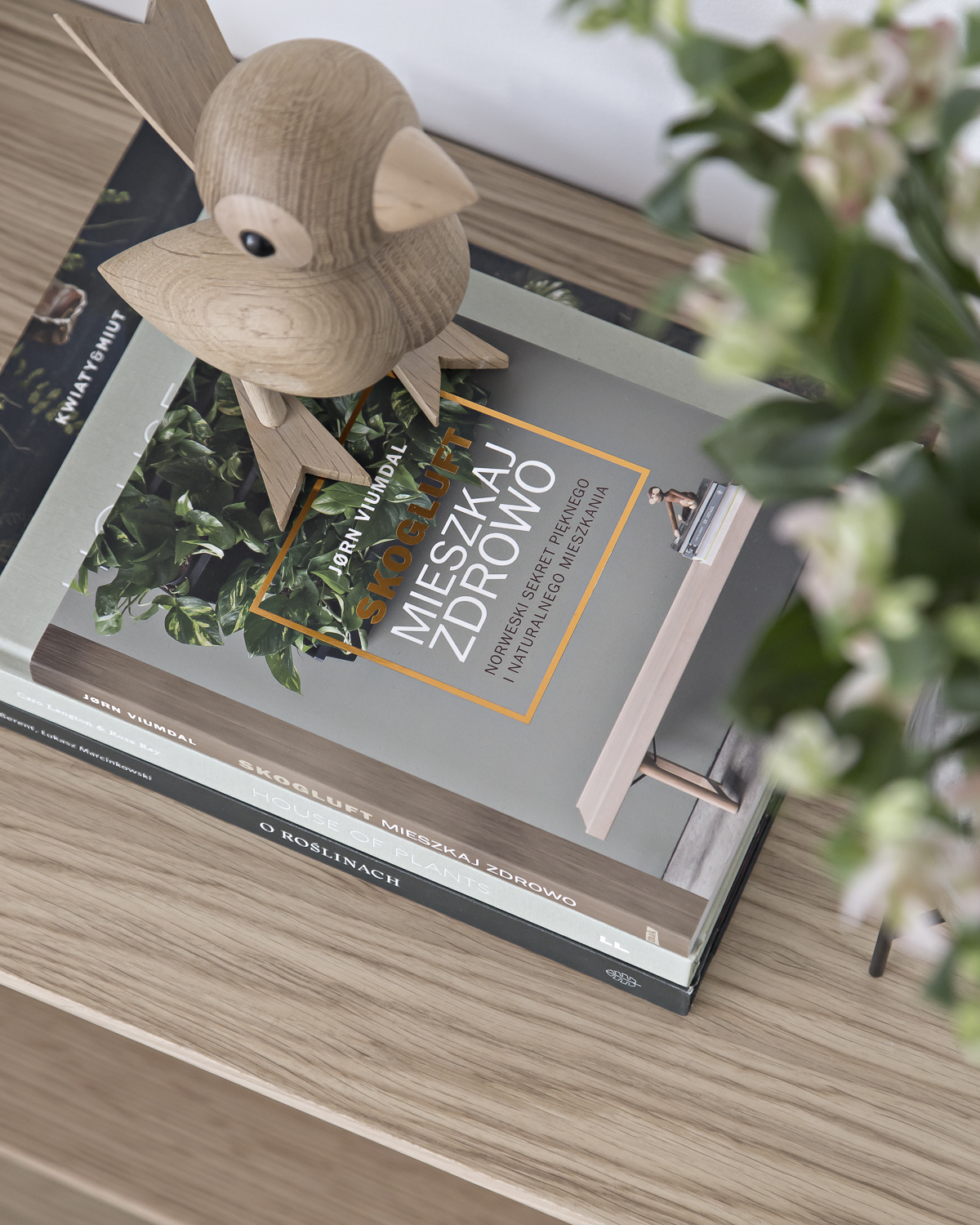 copyright Kasia Rutkowiak | My Full House | any unauthorised use prohibited