People are great at celebrating "big things" like anniversaries or birthdays but rarely remember to stop and celebrate every day. It is a common mistake, that we all make. The main reason surely is the lack of time, but it is also the main excuse. We are always in a hurry, but if someone asks – why do you rush so much – we often cannot come with a decent answer. One that would be good enough to explain, why we forget to celebrate and appreciate our life.
Some time ago I made a decission to be more aware of the small things. My purpose was to be more present in "the moment", as moments tend to pass too fast, especially the good ones. And ever since the day that I started appreciating my life in it's small moments, all tasks became easier. It is amazing to see how gratitude and inner joy can reflect on our life, both work and family wise.
That is why I encourage you to try the same. Start with a positive thought about yourself, your life, your day today. Smile to the one you love. Open up for what's going to happen later today, this week, this spring. And after work, go get some wine (or even better – a bottle of champagne!) and a good cake and celebrate all that you are grateful for. We did that last Friday and it was amazing. Both the champagne, the cakes and the celebration.
Świętowanie chwili
Jako ludzie jesteśmy świetni w świętowaniu rocznic, urodzin i ważnych wydarzeń, ale rzadko pamiętamy o świętowaniu chwili. Myślę, że wszyscy miewamy z tym problemy. Głównym powodem jest oczywiście brak czasu, choć miewam wrażenie, że często jest to zwykła wymówka. Ciągle pędzimy, ale gdy nas ktoś zapyta o to dlaczego, ciężko jest podać prawdziwy powód. Taki, który byłby wystarczajaco dobry, aby wyjaśnić, dlaczego tak często zapominamy, aby zatrzymać się i docenić to co daje nam życie.
Jakiś czas temu podjęłam decyzję, żeby stać się bardziej świadomą drobnych rzeczy. Chciałam być bardziej obecna w "tej chwili", jako, że każda chwila ma to do siebie, że szybko mija (tym szybciej, im jest bardziej przyjemna). I od dnia, w którym zaczęłam doceniać drobne rzeczy, wszystkie zadania stały się łatwiejsze. To niewiarygodne, jak wdzięczność i pozytywne nastawienie potrafi wpłynąć na nas i nasze życie – tak rodzinne jak i zawodowe.
Jeśli jeszcze nie próbowaliście takiej świadomej zmiany nastawienia, goraco Was do niej zachęcam. Zacznijcie od pozytywnej myśli o sobie, Waszym życiu, tym co się dziś dzieje, albo zaraz wydarzy. Uśmiechnijcie się do osoby która jest Wam bliska. Otwórzcie na to co ma przynieść dzien, tydzień, ta wiosna. A po pracy kupcie butelkę wina (albo jeszcze lepiej – szampana!) i dobre ciastka, i uczcijcie to, za co jesteście wdzięczni. My zrobiliśmy tak w zeszły piątek i było cudownie.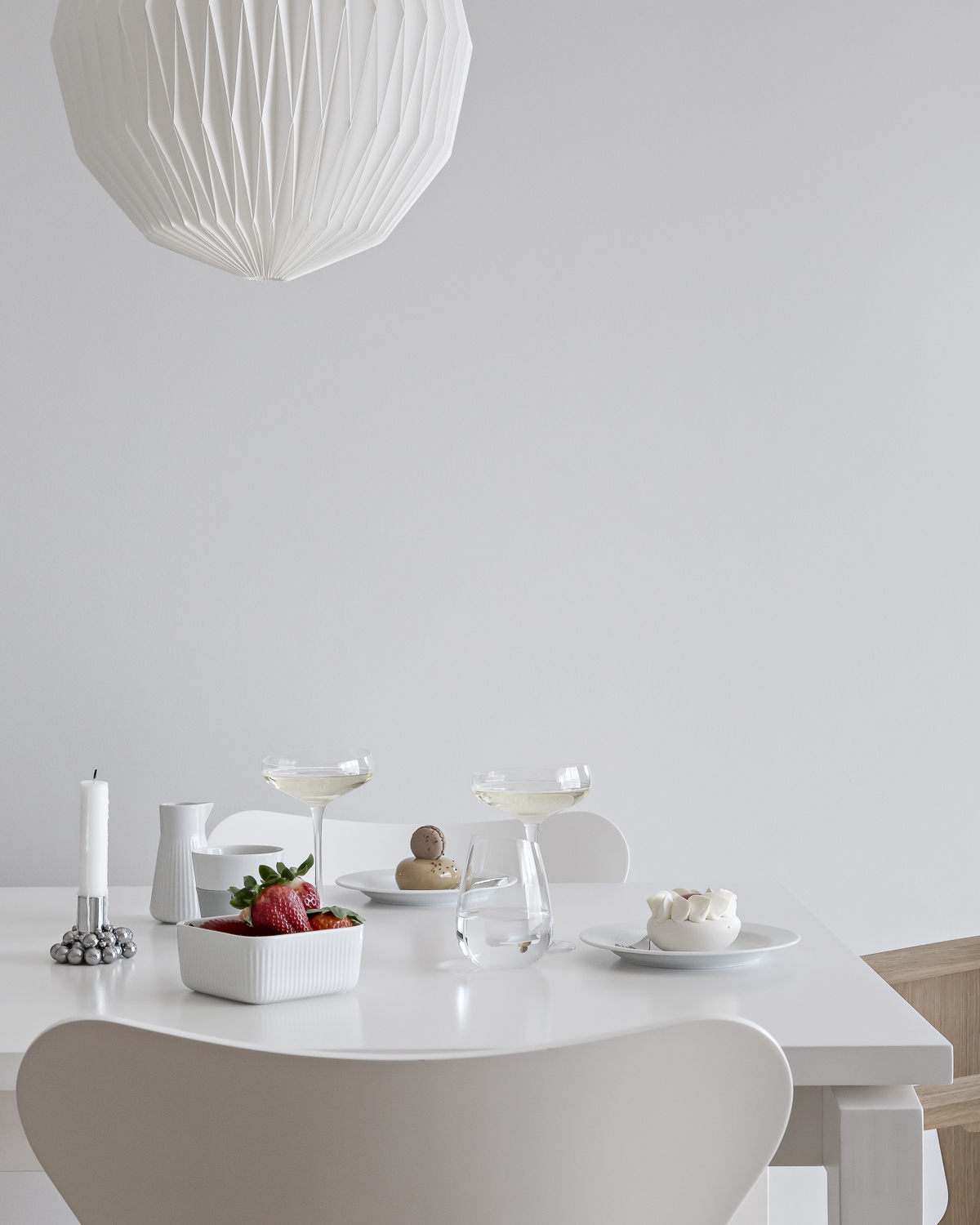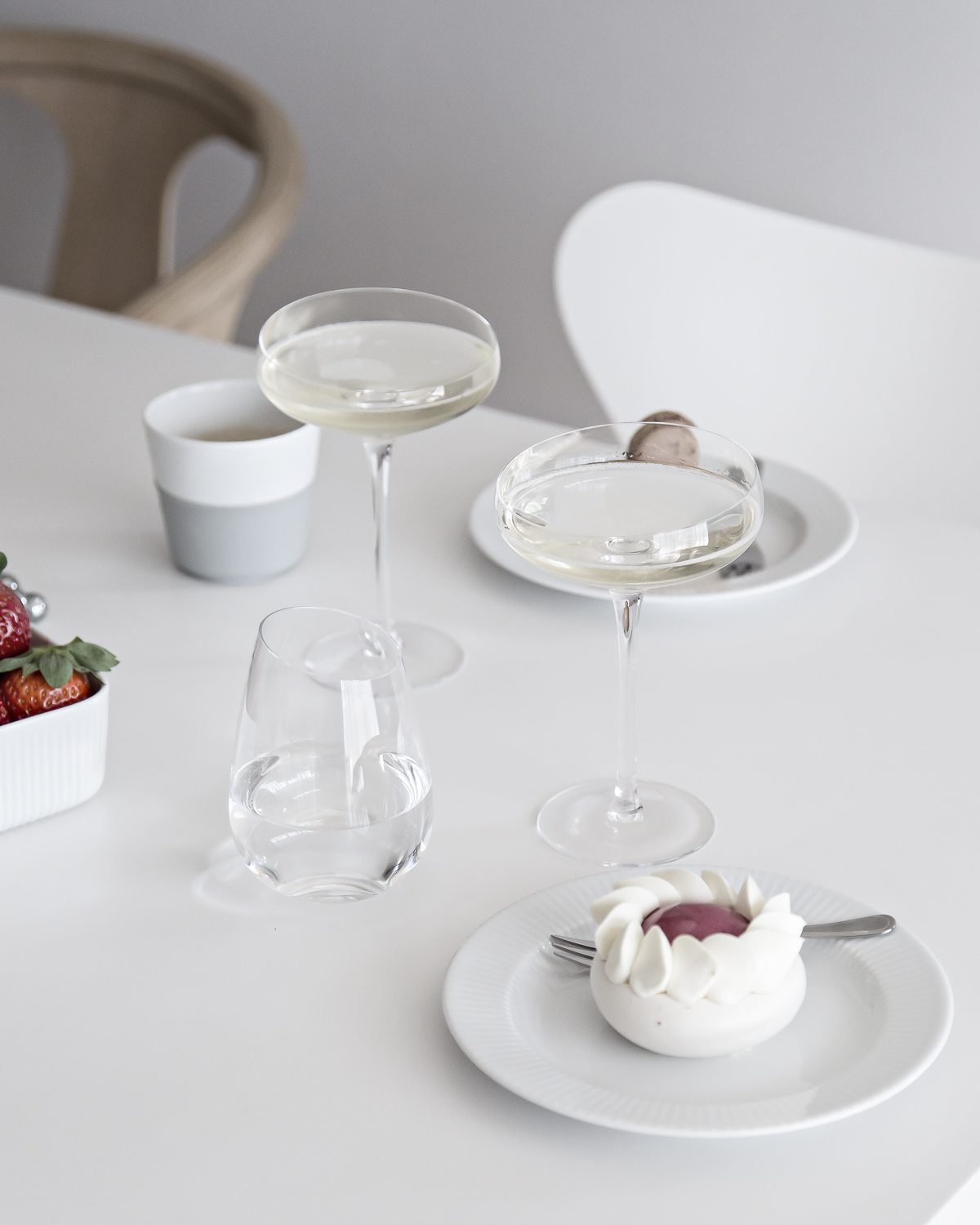 ps. You don't have to get the champagne for every thing that you're grateful for! But I assure you that a moment of such celebration "without a reason", when you only talk about the good things and positve emotions, can be incredibly uplifting.
ps. Nie musicie każdej miłej chwili świętować butelką szampana. Ale zapewniam Was, że raz na jakiś czas, takie małe święto "bez powodu", kiedy rozmawia się jedynie o dobrych rzeczach i pozytywnych emocjach, daje masę cudownej energii.
copyright Kasia Rutkowiak | My Full House | any unauthorised use prohibited
porcelain and glasses – Eva Solo (these new coupe champagne glasses with angled rim are absolutely amazing!) / porcelana, szklanki i kieliszki – Eva Solo (nowe kieliszki Coupe do szampana są przepiękne!), lamp / lampa – LE KLINT, candleholder / świecznik – Gejst