There are certain moments in life, when you feel that you need to change something in order to grow or get better. Or simply because you find out, that what you've been doing so far and the way you've been doing it, doesn't work for you anymore.
Starting a new business, while still having my blog and some other duties, made my days shrink significantly. I was constantly behind schedule, choosing the "more relevant tasks" over "the least relevant". And I got more and more frustrated that I didn't have enough time to do what I wanted. I didn't want my work to negatively impact my own needs, my marriage or our children. Working late, always tired, feeling that I could do more (or better), but simply didn't have the time, I decided to make a change and prolong my day.
Jak wstawanie o 5 rano zmieniło moje życie na lepsze
Są w życiu takie chwile, kiedy czujemy, że chcemy cos zmienić, aby się rozwinąć lub zrobić postępy. Albo po prostu momenty, kiedy orientujemy się, że dotychczasowe sposoby na robienie różnych rzeczy przestają przynosić pożądany efekt.
Kiedy w zeszłym roku założyłam nową firmę, nie rezygnując z prowadzenia bloga i innych zajęć, moje dni nagle uległy znacznemu skróceniu. Miałam poczucie nieustannego pędu i denerwowało mnie, kiedy musiałam zacząć przedkładać rzeczy "bardziej ważne" nad te "mniej istotne". Nie podobało mi się to, że nie byłam w stanie zmieścić w dobie wszystkich obowiązków, bez straty dla siebie, małżeństwa czy dzieci. Pracując do późna, ciągle zmęczona, postanowiłam, że nadszedł czas na zmiany. Pora, aby wydłużyć mój dzień.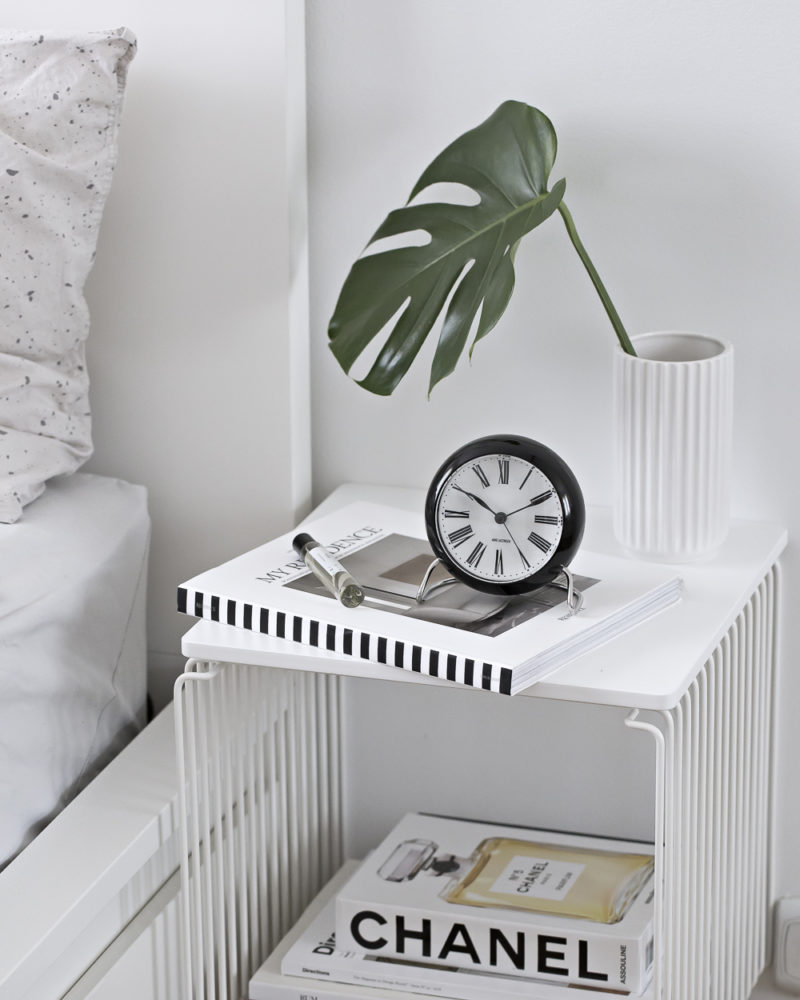 In the very beginning of 2018 I started getting up at 5. Before I made the change I read about it a lot. I verified my days. Mornings AND evenings, to see when and how I like to work and what I need to change most.
I needed more "computer time", more time for taking pictures and more time with my kids. These were my top 3, absolute "must find the time for" goals. What I could compromise on, were the evenings in front of the TV. We love watching series (especially the Danish and Norwegian ones) and used to do it a lot, just to ease our minds after a long day. I wasn't going to kid myself – taking the time in one end of the day, would have to mean adding more time for sleep on the other end. But as the mornings are far more productive than evenings (for me, anyway), I felt like I wanted to give it a decent try. 21 one days to begin with, at least.
Na początku roku zaczęłam wstawać o 5. rano. Najpierw bardzo dużo czytałam o takim przestawianiu swojego dnia. Zweryfikowałam swoje poranki i wieczory, sposób pracy i zebrałam to, co chciałam zmienić.
Potrzebowałam znaleźć więcej czasu na maile, na robienie zdjęć i na wolne od pracy chwile z dziećmi. To były moje trzy absolutne priorytety. W zamian postanowiłam poświęcić bezproduktywne wieczory przed telewizorem (bardzo lubimy oglądać skandynawskie seriale). Nie łudziłam się, że uda mi się wstawać wcześniej nie chodząc odpowiednio wcześniej spać. Tak dobrze nie ma. Jednak ponieważ rano pracuję dużo bardziej wydajnie, postanowiłam spróbować. Na początek przez 21 dni.
I didn't have to wait that long to see the first, positive results. Before the change, I used to set my alarm clock for 7 and hit the snooze right away. That meant getting up at 7:15, already behind the schedule. Every morning was filled with rush and I hated myself for being impatient mom, stressing out the children and barely making it on time for school. "Cooling down" after each stressful morning took additional 15 min, and it was first around 9 that I could honestly focus on WORK. And from the very first minute I felt that I had to hurry up. Mails, pictures, meetings, blogging, driving to and from the showroom, everything needed to be done by 5, when all the children were back home. Even then, in between dinner, homework and other family stuff, I often found myself in front of my Mac, sending "that last email". It felt bad.
Nie musiałam długo czekać na pierwsze pozytywne efekty tej zmiany. Wcześniej ustawiałam budzik na 7, po czym rano wciskałam "drzemkę". W rezultacie wstawałam o 7:15 z poczuciem, że już jestem w niedoczasie. Każdy poranek był pełen stresu, za który szczerze się nie lubiłam. Ciągle poganiałam dzieci, nakręcałam siebie i wszystkich domowników. Kiedy tuż przed ósmą dzieci wychodziły do szkoły, potrzebowałam co najmniej kwadransa, aby ochłonąć. Potem śniadanie i już była dziewiąta, a ja dopiero siadałam do pracy, w dodatku w poczuciu, że trudno będzie zdążyć ze wszystkim. Spotkania, zdjęcia, maile, dojazdy do i z showroomu, musiały się skończyć do 17-tej, bo wtedy wracały wszystkie dzieci. I nawet po ich powrocie, między robieniem obiadu czy lekcji, zdarzało mi się (regularnie!) wysyłać w pośpiechu "ostatni mail". Było mi z tym źle.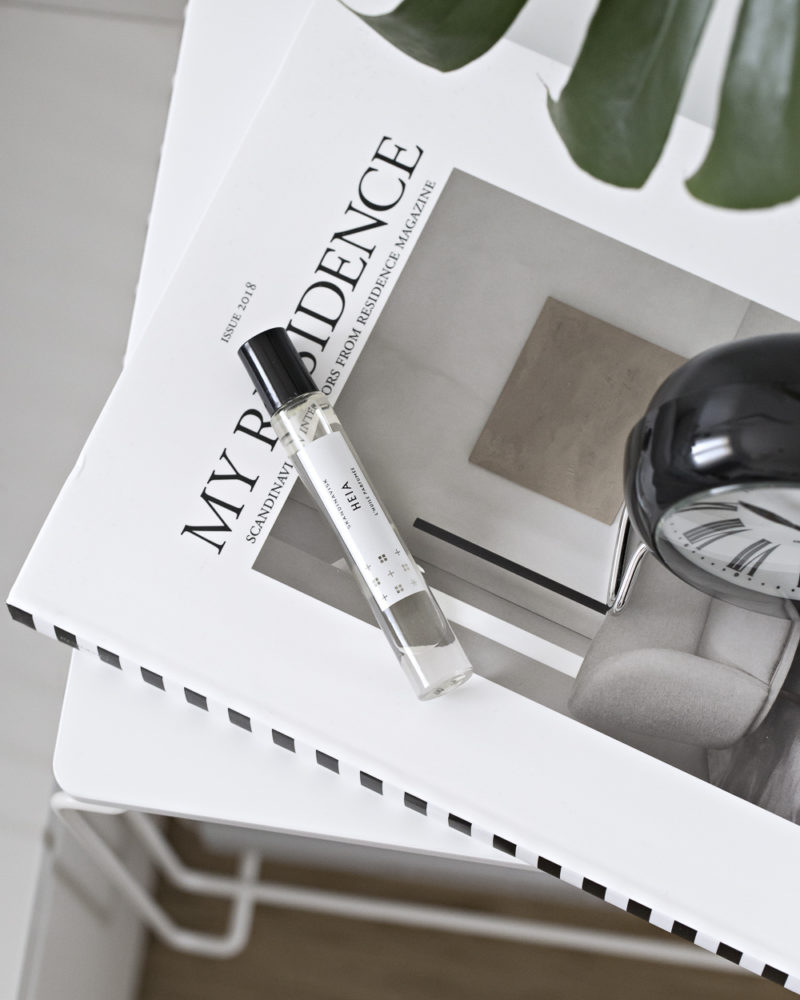 In January everything changed. After 21 days of making a new habit, getting up at 5 and going to bed earlier (10-10:30 at the latest), I became a happier person. I get a big part of my "office work" done by 7. No interruptions, no calls or new emails, just me and my "early morning to do list". My mind is fresh and focused, and within 1 hour and 45 min I get more done than I ever did between 9 and noon. Way more! When I wake up the kids at 7, I fix their sandwiches and give them breakfast with a smile. And when they leave for school we have our first meal, which is usually finished by 8:15. That means that I am more than 4 hours ahead of schedule compared to getting up at 7 routine and that feeling alone is all worth the effort. I swear!
Furthermore, I almost never send out emails or edit images after 5 pm and I rarely work during weekends. That is a huge change, which my family can feel.
Od nowego roku wszystko się zmieniło. Po początkowym, 3-tygodniowym wypracowaniu nowego nawyku wstawania (i chodzenia spać) wcześniej, stałam się szczęśliwszym człowiekiem. Większość pilnych maili i spraw "biurowych" załatwiam przed 7. rano. Nie przeszkadzają mi wtedy telefony, wpadające wiadomości, kurierzy, ani nic innego. Umysł mam wypoczęty, jestem skupiona i praca idzie mi dużo sprawniej. Jestem tylko ja i "moja poranna lista". Między 5:15, a 7, kiedy budzę dzieci, robię więcej, niż do tej pory udawało mi się robić między 9, a 12. Dużo więcej! Kiedy dzieci wstaną, śniadania i kanapki robię z uśmiechem, a około 8:15, kiedy dzieci są już w szkole, my jesteśmy po pierwszym wspólnym posiłku. To oznacza, że jestem ponad 4 godziny do przodu w porównaniu z tym co było, gdy wstawałam o 7.
Co więcej, prawie nie zdarza mi się wysyłać pilnych maili po 17 i pracować w weekendy. Nasze życie rodzinne bardzo na tym zyskało.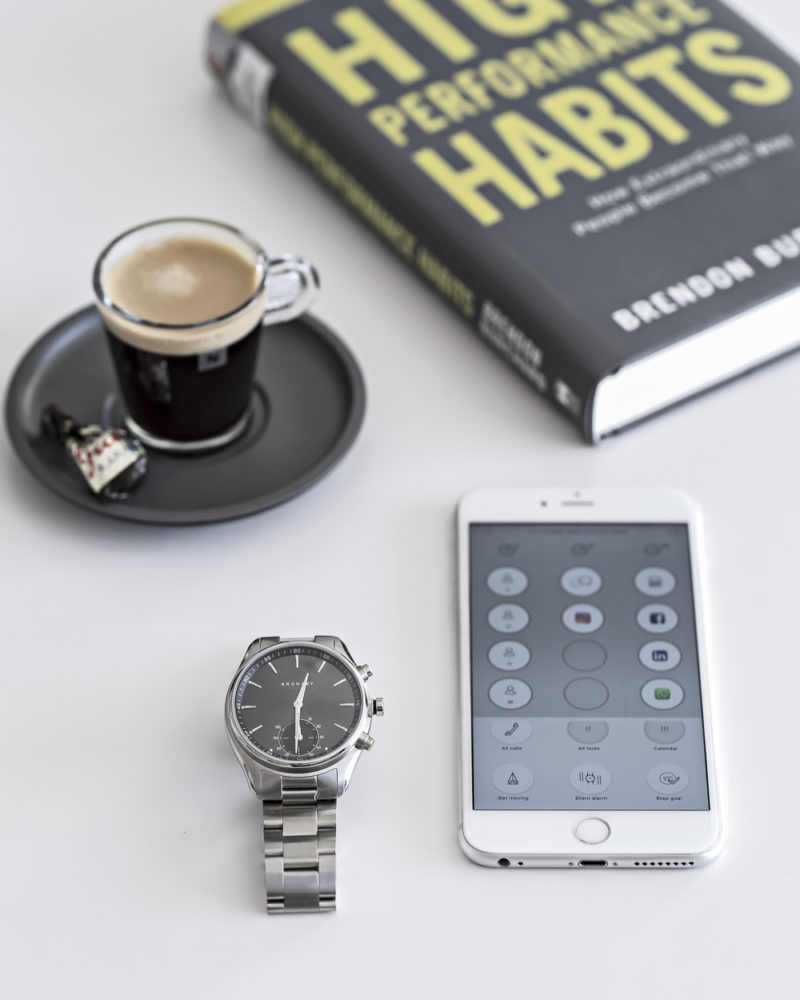 Seeing the positive changes in my everyday routine, my husband started to get up earlier as well. We do everything to maximise the efficiency of our workday and still work on optimising our workflow. Working together as a couple, has its good and bad sides. Or rather good sides and challenges. It is easy to get distracted and pushed off the path, but we get better and better at managing to stay on course. Recently we found hybrid watches that help us to stay focused and never miss an important thing, while not getting disturbed by things which are less relevant. Kronaby's motto "Connected, not distracted", fits perfectly into our needs. With a help of an app, we decide what we want to be notified about (for example a message from a specific contact), and what we don't want to get distracted with. My husband is a huge fan of using the technological novelties for our life's benefit and a hybrid watch is something he really loves for its features. I care more about the design part, but luckily the watches are just as pretty as they are practical. Win win!
Widząc pozytywne zmiany w moim codziennym życiu, mój mąż poszedł za moim przykładem i także zaczął wcześniej wstawać. Robimy wszystko, aby zoptymalizować nasz plan dnia i nie marnować czasu, kiedy pracujemy. Praca razem, ma dla pary swoje dobre i złe strony. Albo raczej dobre strony i konkretne wyzwania. Łatwo o to, aby dać się rozproszyć i skupić na sprawach codziennych, zamiast na tym co jest do zrobienia. Używamy wszelkich możliwych sposobów, aby do tego nie dopuszczać, czasami posługując się ulubionymi przez mojego męża, nowinkami technicznymi. Tak jest w przypadku naszych hybrydowych zegarków Kronaby. Dzięki specjalnej aplikacji, filtrują to co uważamy za mniej ważne, informując nas o tym, co ustaliliśmy za bardziej istotne. I tak jak dla Andrzeja kluczowa jest funkcjonalność, ja lubię kiedy przedmioty użytkowe są też ładne. Dlatego cieszy mnie, że nie musiałam iść na kompromis.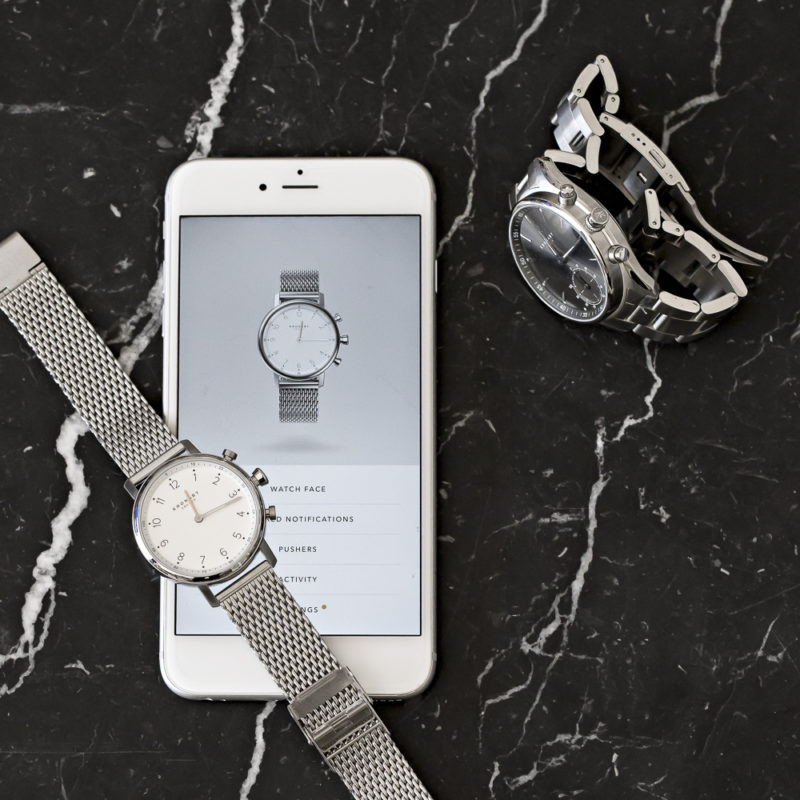 I know that many of my friends struggle with "feeling behind schedule" problem and all those whom I told about my new habit, found the information interesting. Hopefully some of you will also find some inspiration for your own day planning in this post. Its's been 4 months since I decided to give it a try and get up at 5 and I wish I came up with the idea much earlier. As they say – better late than never! Just remember, never, not ever, hit that snooze button again!
Wiem, że wielu moich znajomych zmaga się z ciągłym poczuciem niedoczasu. Wszyscy, którym opowiedziałam o zmianach w planie naszego dnia, uznali to za ciekawy pomysł. Może i ktoś z Was da się zainspirować? Teraz, po 4 miesiącach wstawania o 5. rano, żałuję, że wcześniej na to nie wpadłam, ale jak to mówią – lepiej późno niż wcale. Tylko pamiętajcie – już nigdy więcej nie włączajcie "drzemki".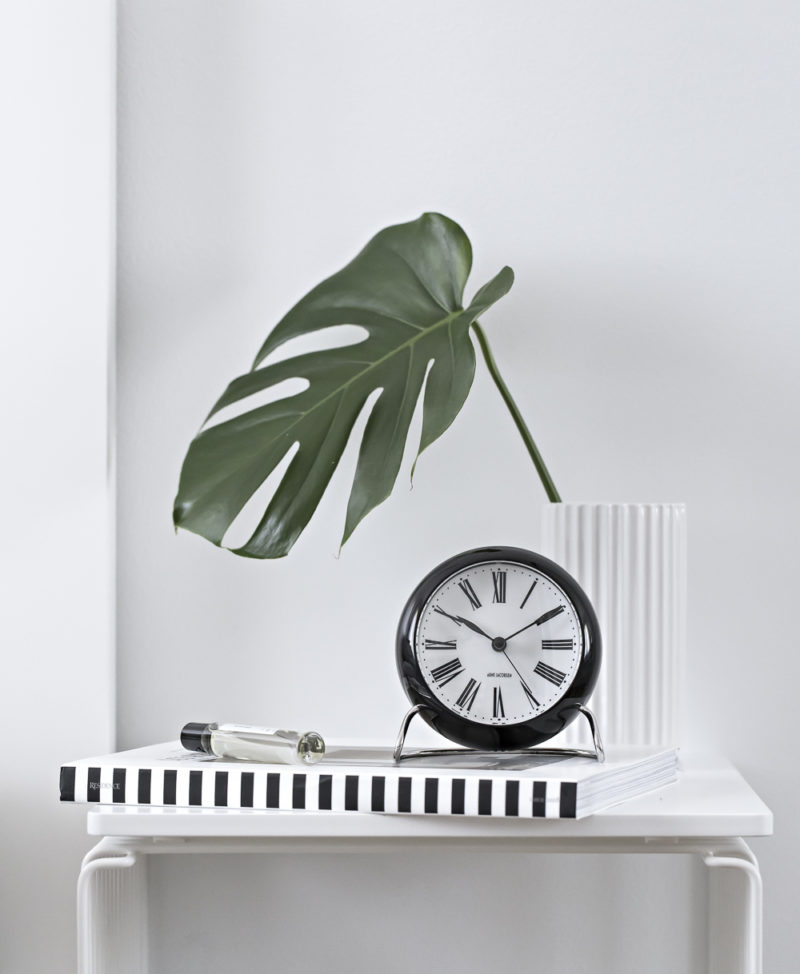 copyright Kasia Rutkowiak | My Full House | Any unauthorised use prohibited
bedside table / stolik nocny – Montana Furniture, alarm clock / budzik – Arne Jacobsen Watches, wrist watches / zegarki – Kronaby