Just as promised a few days ago, it's time to reveal our girls' room in it's "spring edition". Although we all liked the previous look, it is always nice with some changes. Especially when you can change the theme without really changing a lot.
We decided to keep all the furniture. The bunk bed, desk and shelf from Oliver Furniture fit in great and we simply love this design. Hands down, it is the most beautifully designed and made bed on the market and after having it for a couple of years, we still love it just as much as on the day 1. Or more.
Wiosenny pokój dziewczynek
Kilka dni temu obiecałam pokazać Wam cały pokój dziewczynek w wiosennej odsłonie. Choć wszyscy lubiliśmy poprzedni wystrój pokoju, niewielkie zmiany raz na jakiś czas są zawsze dobre. Szczególnie, jeśli można zmienić klimat za pomocą niewielkich trików.
Zdecydowaliśmy się zatrzymać wszystkie meble. Piętrowe łóżko, biurko i regał Oliver Furniture pasują tu idealnie. Moim zdaniem to najpiękniej zaprojektowane łóżko piętrowe na rynku, a jego jakość jest fantastyczna. Mamy je od paru lat i sprawdza się świetnie. Uwielbiane jest równie mocno jak w dniu, kiedy przyjechało. Albo i bardziej.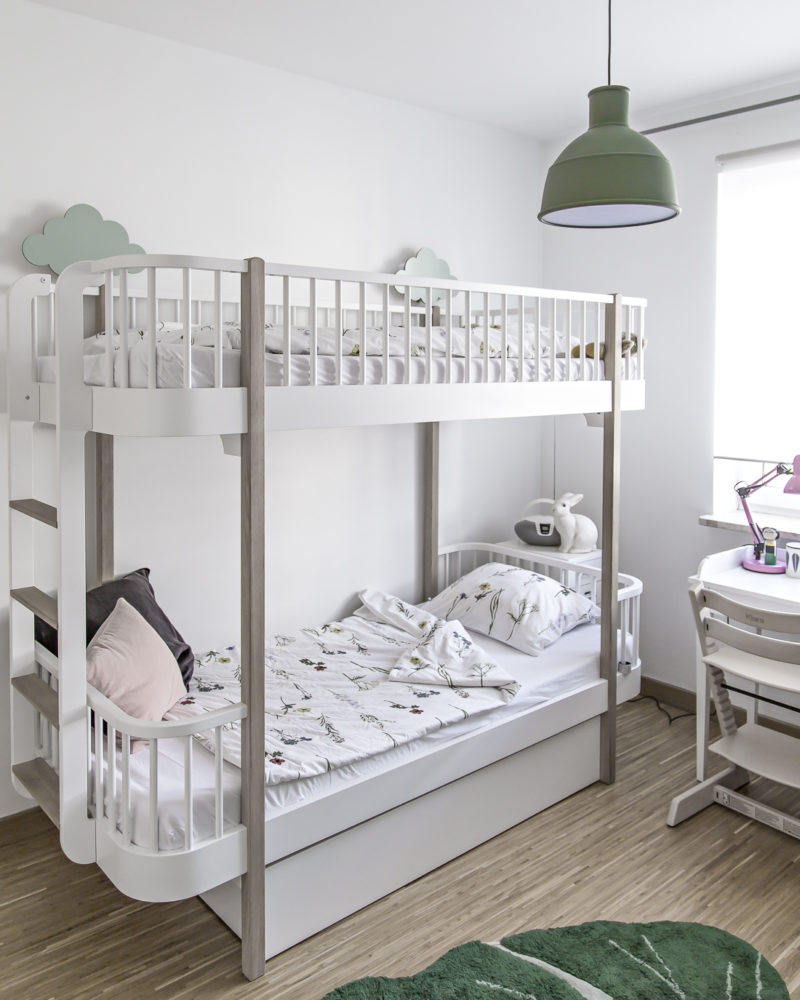 We also kept the Tripp Trapp chairs, which serve the girls great and are something the've been loving since their early childhood. Many of you ask me if it's a good idea to purchase a TT for a 6-7 year old first grader and I don't know the right answer to that question. Some children at the age of 7 would like a Tripp Trapp, for sure, and some would prefer a cushioned, hight adjustable desk chair so I honestly cannot help you. I always advise the parent to go to an actual shop and let the child try the chair. Some time ago I also made a Tripp Trapp and Stokke Steps comparison, which you will find right here.
Zatrzymaliśmy także krzesełka Tripp Trapp, które z powodzeniem służą dziewczynkom od zawsze. Dostaję wiele wiadomości z pytaniami czy krzesło Tripp Trapp nadawać się będzie dla 6-7 latka idącego do szkoły. Szczerze mówiąc, nie znam odpowiedzi na to pytanie, bo dzieci w tym wieku są bardzo różne. Jedne pokochają TT, inne będą wolały miękki, regulowany fotel na kółkach. Zawsze radzę zabrać dziecko do sklepu i spróbować krzesła. Jakiś czas temu napisałam też bardzo obszerny post porównujący krzesełka Tripp Trapp i Stokke Steps. Możecie go znaleźć tutaj.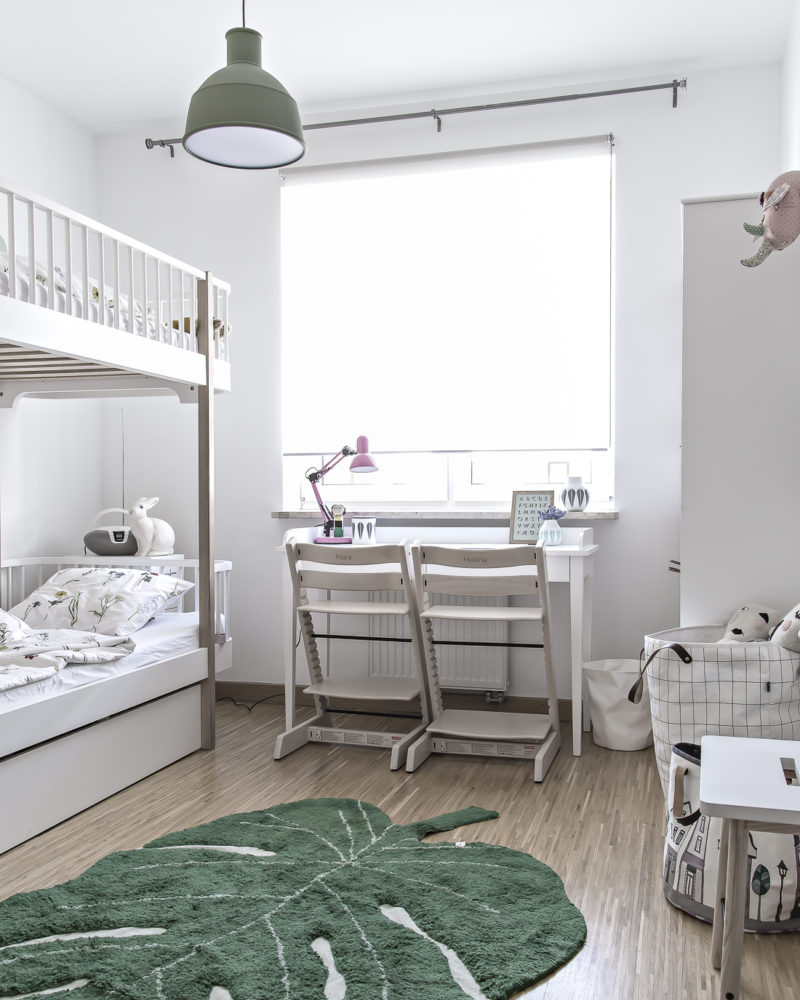 One of the mot commented news after showing you the room sneak peek was the monstera leaf carpet. Just like the previous carpet in the girls' room, it comes from a Spanish brand Lorena Canals and is machine washable. The girls were amazed when they saw it and their reaction was a proof that choosing it was the best idea. You can find Lorena Canals' plant rugs right here.
Jedną z najbardziej komentowanych nowości jest piękny dywan w kształcie liścia Monstery. Podobnie jak poprzedni dywan dziewczynek, pochodzi od marki Lorena Canals i nadaje się do prania w pralce. Jest nie tylko efektowny, ale i bardzo miękki, idealny do zabawy na podłodze. Dziewczynki aż pisnęły z zachwytu na jego widok, co było oczywistym sygnałem, że to strzał w dziesiątkę. Roślinną kolekcję dywanów Lorena Canals możecie zobaczyć pod tym linkiem.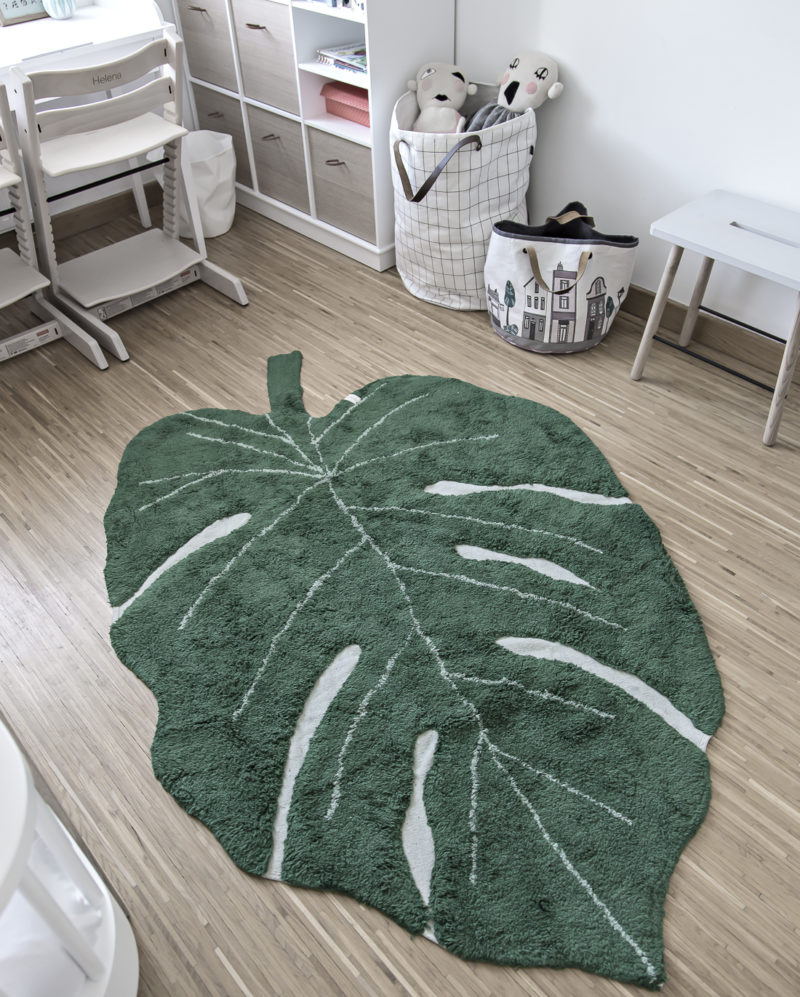 Riding on the "spring wave", we changed the lamp and wall decor as well. Green Unfold lamp from Muuto and brand new collection of posters from ViSSEVASSE did the trick perfectly, turning the room into a little greenery. I kept the drawing from my Dad, with the mermaids and added a little Danish accent on the wall. I absolutely love the reflection free frames with plexiglass from ViSSEVASSE and can't praise them enough.
Będąc na wiosennej fali, zmieniliśmy lampę i plakaty Pod sufitem zawisł zielony abażur Unfold od Muuto, a na ścianie zawiesiliśmy najnowsze plakaty ViSSEVASSE. Dzięki tym prostym zabiegom pokój zmienił się w zieloną oazę. Zatrzymałam rysunek z syrenami, który kilka lat temu zrobił dla Helenki mój Tata i dodałam mały duński akcent. Wszystko powiesiłam w bezrefleksowych ramach ViSSEVASSE, które wychwalam pod niebiosa, bo nie mają sobie równych i każdy plakat wygląda w nich dużo lepiej niż pod szkłem.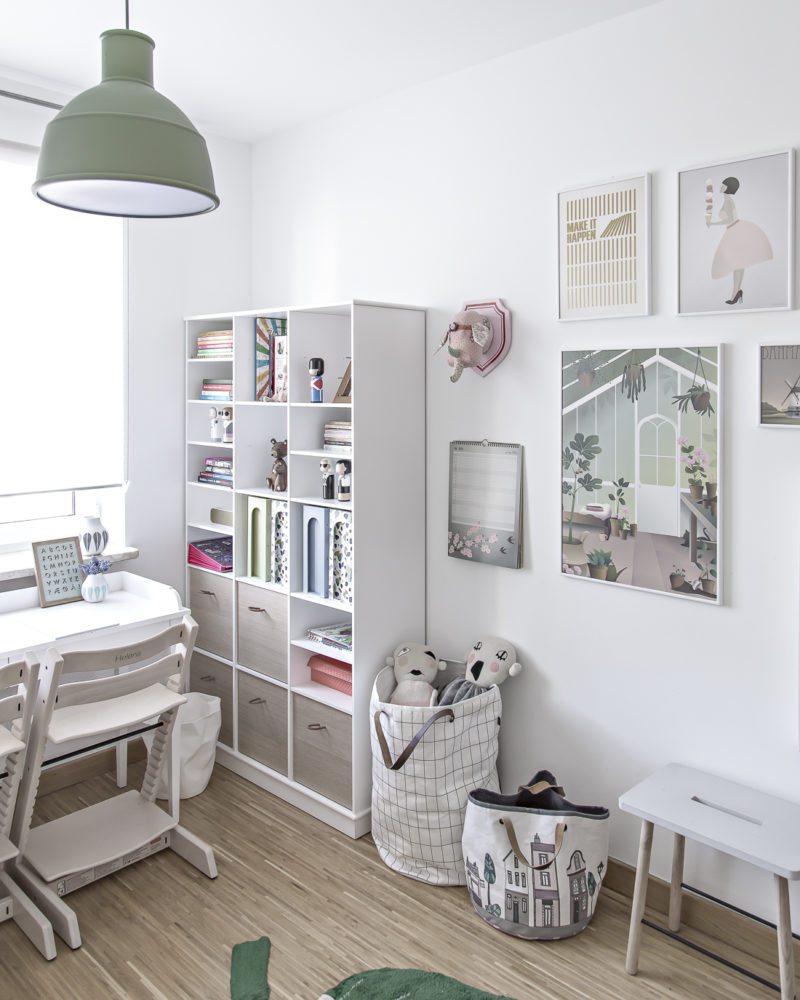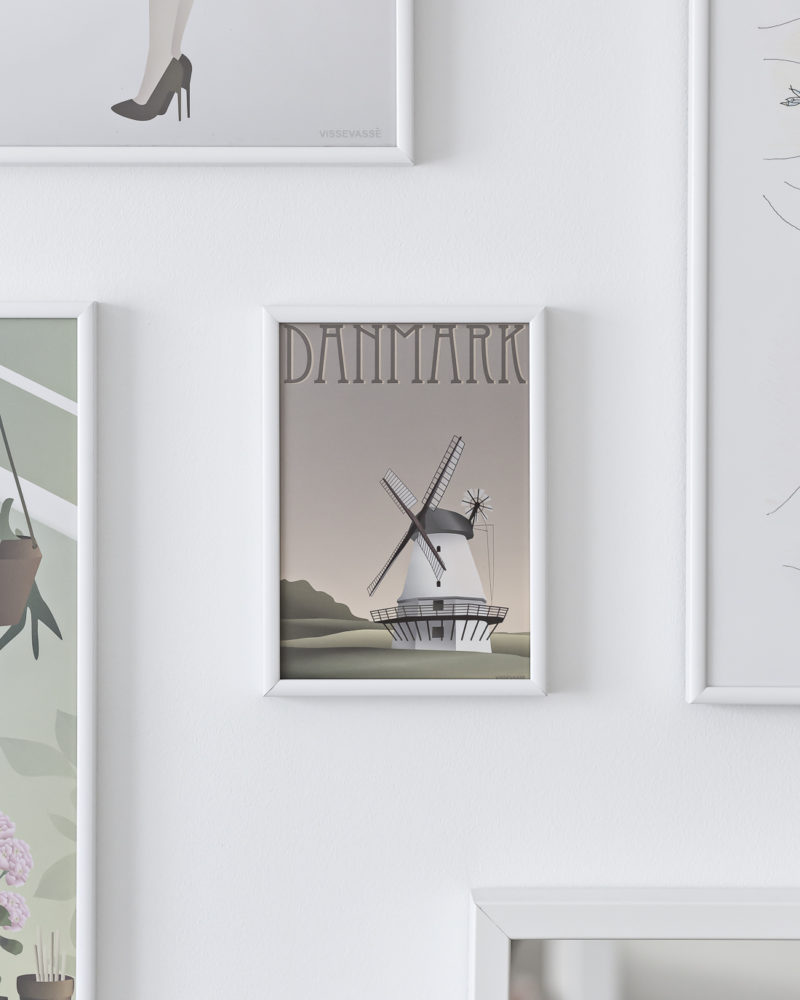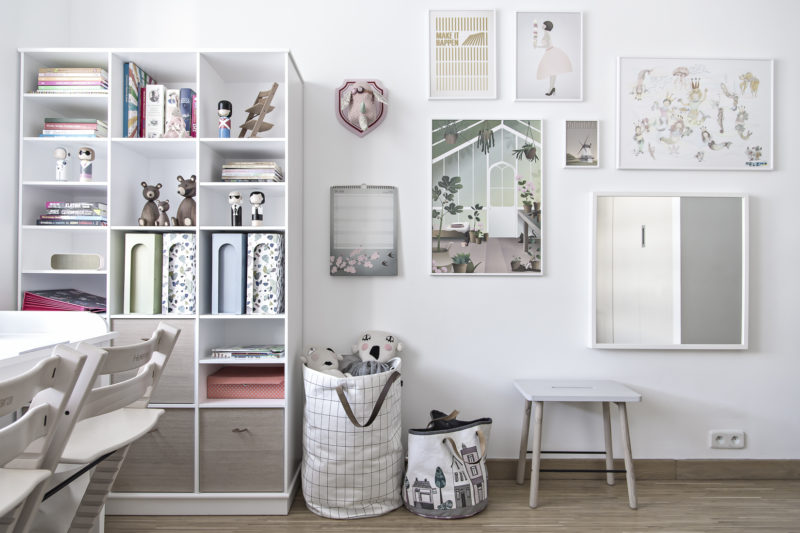 The spring look compliments wonderful, soft and pretty bedding from Mumla. If you should be looking for a nice, soft, well made cotton bedding, be sure to check Mumla's website. We have been using their bedding for a couple of years and highly recommend it.
Całośc dopełnia pościel "zielnik" polskiej marki Mumla. Wracamy do Mumli od kilku lat, gdyż ich pościele są świetne. Lubimy i te we wzory i te jednokolorowe, więc pościel Mumla pojawia się regularnie na zdjęciach z naszego mieszkania.
Girls are very happy with their room, and love the green look. I like how it all turned out and once again, I am glad that we managed to change the theme by implementing small adjustments.
Dziewczynkom bardzo podoba się ich pokój w nowej odsłonie, a ja – po raz kolejny – cieszę się, że tak wiele udało się zmienić za pomocą detali.
Copyright Kasia Rutkowiak | My Full House | Any unauthorised use prohibited
Bed, desk, shelf / łóżko, biurko, półka – Oliver Furniture, Chairs / krzesła – Tripp Trapp Stokke, carpet / dywan – Lorena Canals, lamp / lampa – Unfold Muuto, posters / plakaty – ViSSEVASSE (z ramami lub bez, do kupienia w Amazing Decor, Belbazaar, Patynowy oraz 9 design), baskets / kosze – Ferm Living & Sebra, wooden figurines & kokeshi and vases / drewniane figurki, kokeshi oraz wazoniki – Lucie Kaas (w Polsce Amazing Decor, House Shop, Moaai).