This is my new, upgraded version of a post I made 3 years ago on how to dye Easter eggs in whipped cream. It is always extremely popular a few days before Easter, so I decided to add some better pictures. It surely is a very fast and easy way to dye eggs for Easter and the results are great.
Farbowanie jajek wielkanocnych w bitej śmietanie
Przyszła pora na odświeżenie posta sprzed 3 lat. Pisałam w nim o farbowaniu jajek wielkanocnych w bitej śmietanie, co spotkało się z dużym zainteresowaniem czytelników. Dziś dodaję nowe zdjęcia. Mam nadzieję, że Ci z Was, którzy jeszcze nie znali tego sposobu, postanowią spróbować. Jest szybki i bardzo efektowny.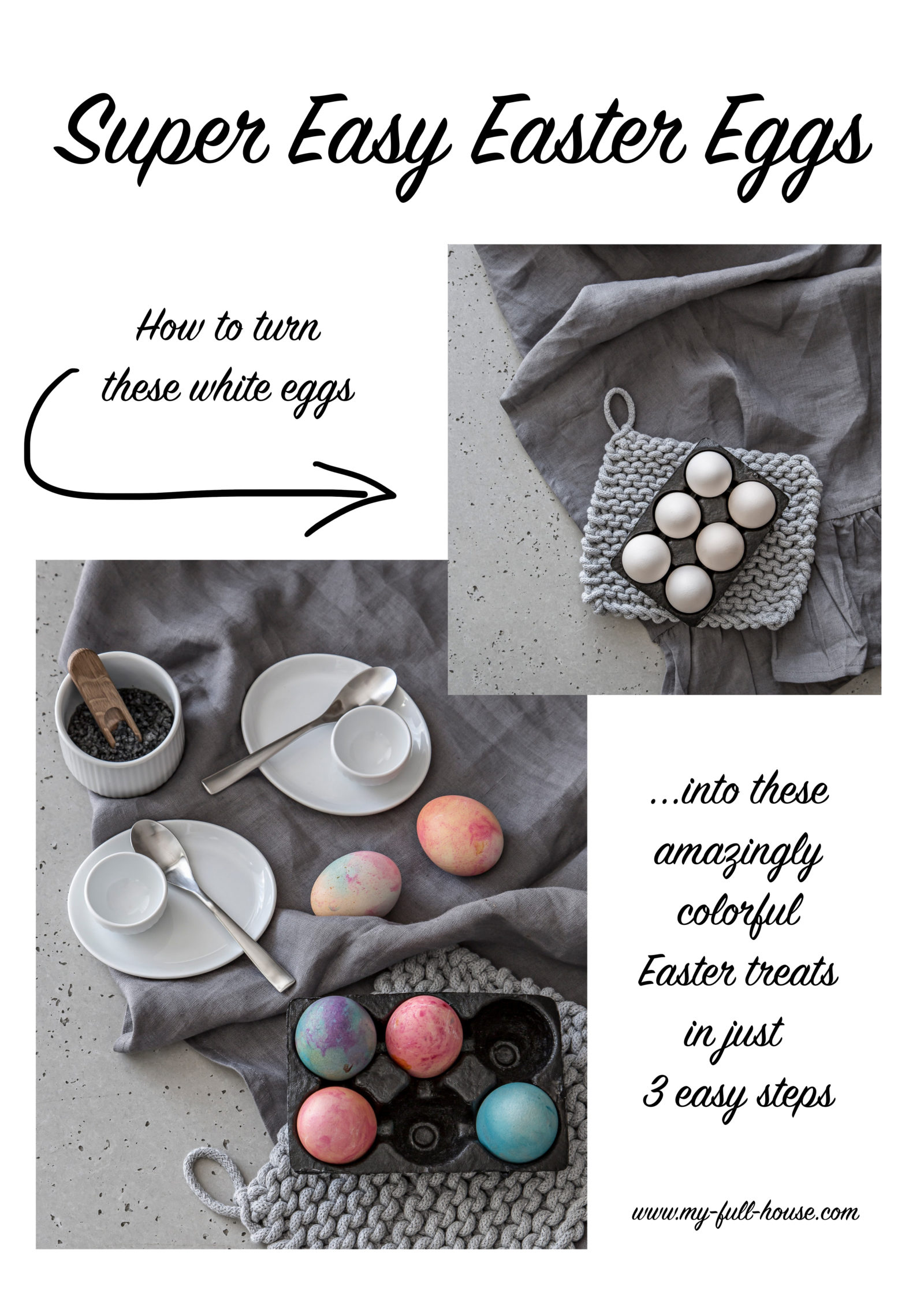 All you need is some hard boiled white or light beige shell eggs, whipped cream (0,5 l of heavy cream for 10 eggs is enough) and food colourings (preferably gel). Once the eggs have cooled down, you add some colour gel to the whipped cream (remember to use porcelain bowls for this!), mix it a bit (I use chopsticks) and put the eggs in, until completely covered. Remove them after 10-30 min., depending on the intensity of your preferred colour and wash off the cream (using gloves). Leave to dry. How easy is that?
Wszystko czego potrzebujecie to ugotowane na twardo jajka o białych lub jasnobeżowych skorupkach, pół litra śmietanki ubitej na sztywno i zestaw barwników spożywczych (najlepiej w żelu). Kiedy jajka ostygną wystarczy dodać do śmietany nieco barwnika (róbcie to w porcelanowych lub szklanych miseczkach), delikatnie wymieszać (ja użyłam drewnianych pałeczek) i zanurzyć jajka. W zależności od tego jak bardzo intensywny kolor chcemy uzyskać, należy odczekać 10-30 minut, a następnie wyjąć jajka (w rękawiczkach), opłukać ze śmietany i odłożyć do wyschnięcia. Proste, prawda?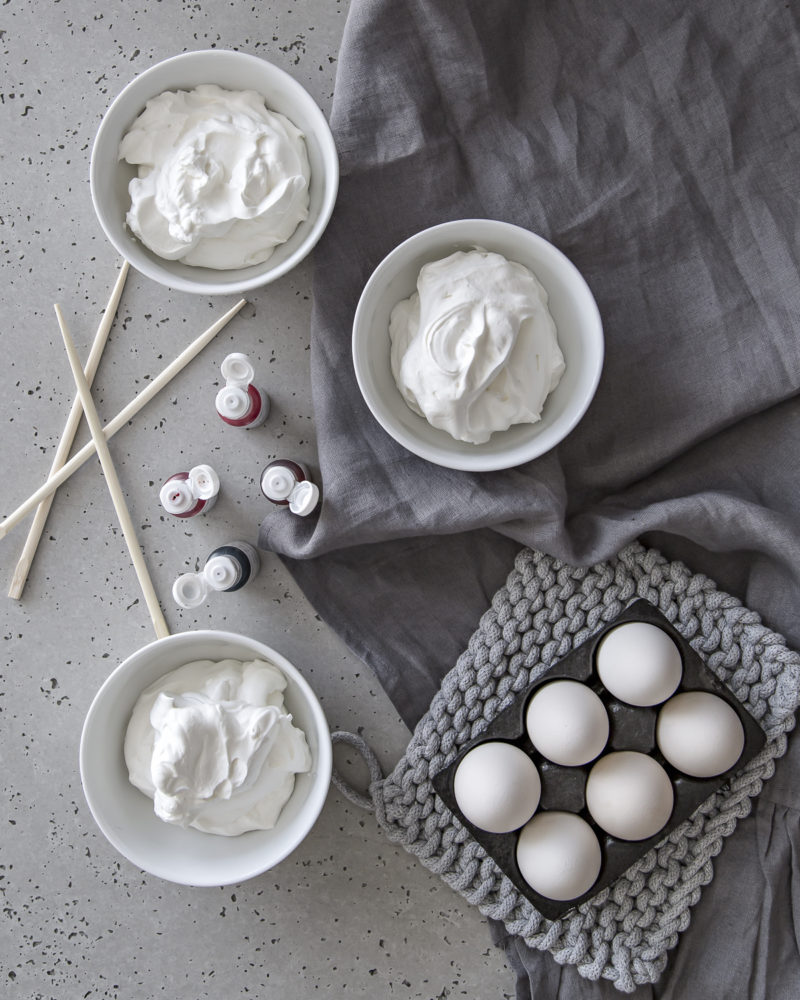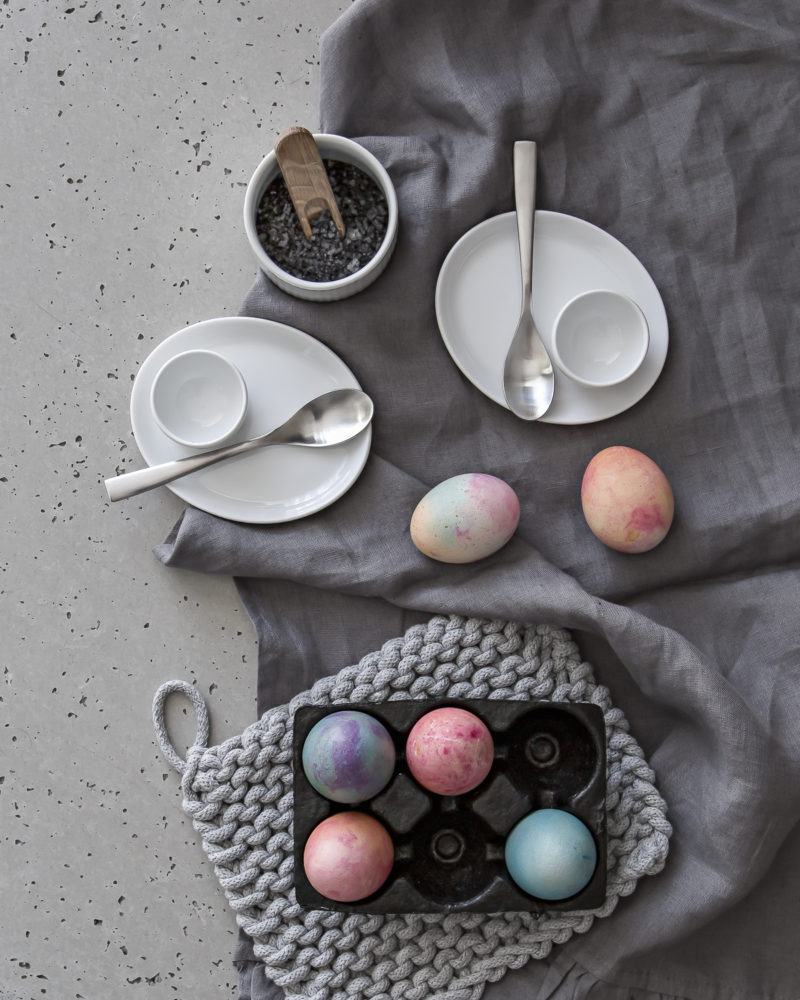 As you can see on one of my eggs, I did immerse it in 3 different bowls. First the entire egg was turned light blue. Then one side was immersed in pink and in the end, another side in orange. The result turned out very nice. You can experiment all you want, or just immerse the eggs in your whipped cream bowls and forget about them for a while.
I really hope you can use this simple DIY Easter Egg Recipe this year :)
Jak widzicie, z jednym z jajek trochę poeksperymentowałam. Napierw zanurzyłam je całe w jednej miseczce, a potem zanurzałam już tylko końce w dwóch innych kolorach. Rezultat wyszedł całkiem fajny :) Możecie się więc pobawić do woli, albo – jeśli nie macie czasu – zanurzyć jajka w bitej śmietanie i zapomnieć o nich na chwilę.
Mam nadzieję, że ten łatwy przepis na wielkanocne jajka się Wam przyda.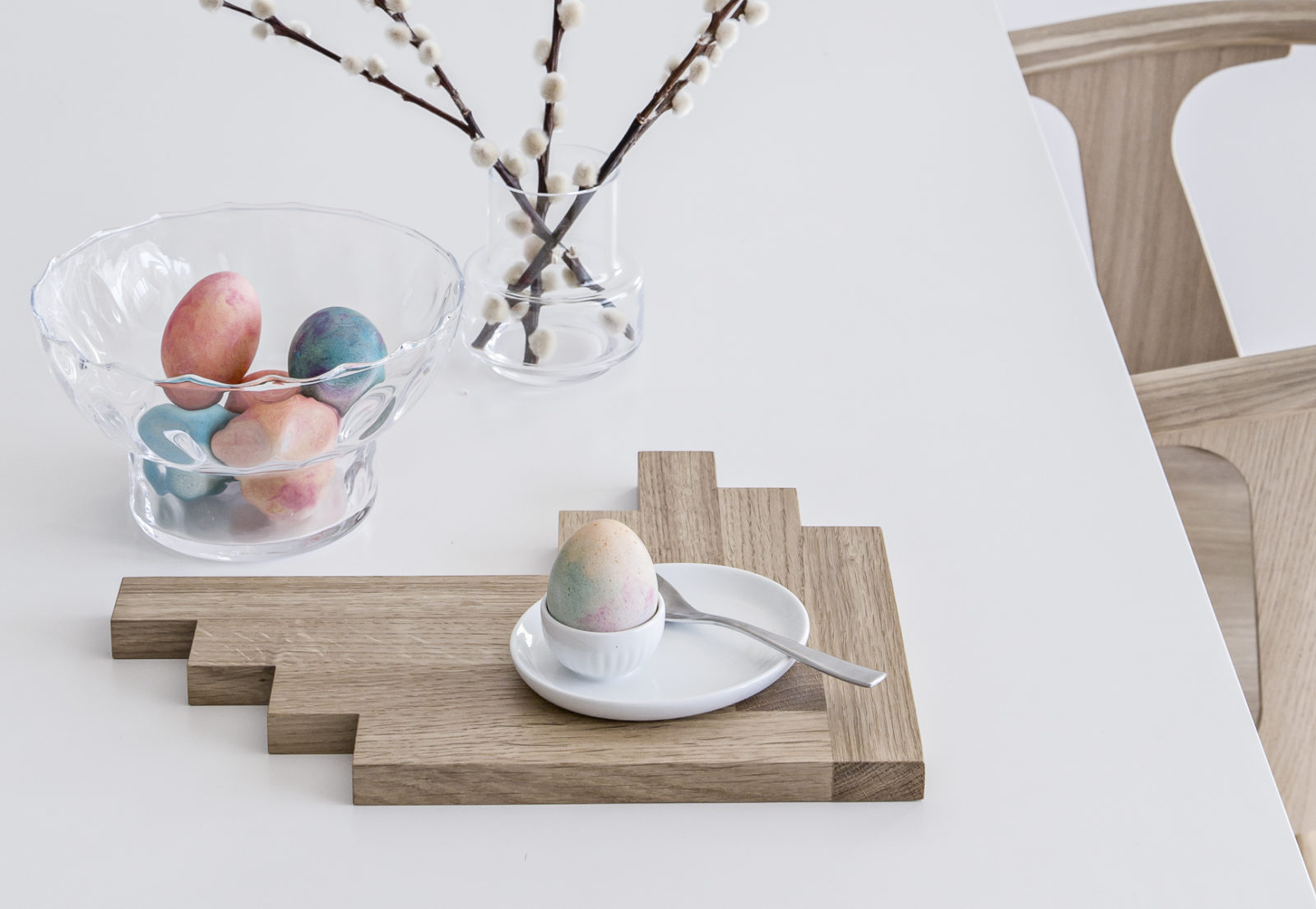 copyright Kasia Rutkowiak | My Full House | any unauthorised use prohibited
Porcelain bowls and egg cups/miseczki porcelanowe i kieliszki na jajka – Eva Solo, kitchen towel / lniana ściereczka – so linen, glass bowl, little vase and wooden table piece / szklana miska, wazonik i deska – Ro Collection/ podkładka kuchenna – Matka Polka Dot
The original idea was taken from THIS blogpost by Katerina Dima from Only Deco Love.