I know that some of you are impatiently waiting for this post. After I posted images about juice detox on my Instagram, many of you did ask me about how it was and if it was "worth it". Now, almost two weeks after I finished, I can share more thoughts.
Before I start going into details, I just have to emphasise, that juice detox is just what it says. It is not a miraculous diet that will make you loose weight. Weight loss, which might or might not appear, is only a "side effect". And if you happen to loose a kilo or two, they will most likely come back within short time. Juice detox is something that is meant to restore the inner balance, clean the body from toxins and all thet "clutters the system". It is a special kind of fasting, when you only drink natural juices and water, alowing your digestive tract to clean and "rinse". It's time when you eliminate all the harmful products and focus on cleaning your body (and – in a way – mind).
Detoks sokowy – czy działa?
Wiem, że część z Was czeka na ten post. Po tym jak na Instagramie przyznałam się do przeprowadzania sokowego detoksu, wiele z Was pytało o to czy warto. Dziś, po prawie dwóch tygodniach od zakończenia mojej trzydniowej przygody z sokami, mogę napisać nieco więcej.
Zanim jednak przejdę do szczegółów, powinnam zacząć od tego, że detoks sokowy jest właśnie tym co mówi nazwa. To nie jest magiczna dieta odchudzająca, która w kilka dni odejmie nam niechciane kilogramy. Nawet jeśli w jej wyniku waga ruszy w dół, kilogramy prawdopodobnie powrócą w ciągu kolejnych dni. Detoks sokowy ma za zadanie przywrócić wewnętrzną równowagę, oczyścić ciało z tego co niepotrzebne. To specjalny rodzaj postu, podczas którego pijemy tylko soki i wodę, pozwalając na oczyszczenie układu pokarmowego ze zbędnego balastu. W tym czasie eliminujemy wszelkie używki i pokarmy stałe i skupiamy się na oczyszczeniu ciała (a poniekąd również umysłu).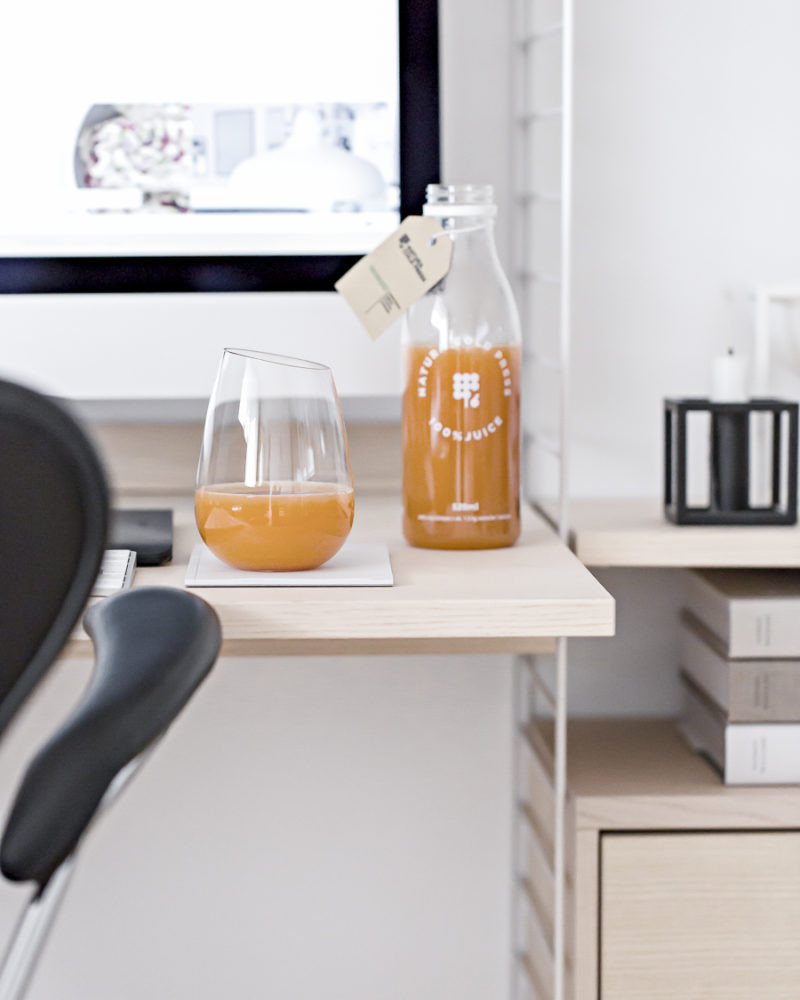 As my diet is normally quite balanced, I don't eat fast foods, drink sodas nor too much alcohol, I decided that 3 days detox would be enough. It is recommended to do it for either 3 or 5 days, and maximum a week, if you really feel that your body needs serious help. I felt bloated and didn't have too much energy after holiday season, drunk far too much coffee (4 to 6 espressos a day, often double) and wanted to get my inner balance back. I read about juice detox a lot, wanting to know what to choose and what to expect. Eventually I picked one of the local companies and ordered the juices.
Having a big juicer, I could easily make most of the juices myself, however, I decided to go for an easier solution. Juices from Natura Cold Press were delivered to my door step early in the morning. 6 bottles of 520 ml with different flavours, properties and numbers on. Numbers made it super easy to drink juices in the right order. The morning ones were boosting, midday ones more nutritious and the evening ones, calming. It takes approx. 1,5 kg of vegetables and fruit to make juice for a single bottle.
Jako, że moja dieta jest dość dobrze zbilansowana, nie jadam w fast foodach, nie piję napojów gazowanych, nie palę i nie nadużywam alkoholu, zdecydowałam się na 3-dniowy detoks. Sokowe programy oczyszczające polecane są na 3 do 5 dni i nigdy nie na więcej niż tydzień. Po okresie świątecznym czułam się pozbawiona energii i "zapchana" wszystkimi grudniowymi przysmakami, piłam zbyt dużo kawy (4 do 6 espresso dziennie, często podwójnych) i chciałam odzyskać wewnętrzną równowagę. Po przeczytaniu wielu artykułów na temat sokowego detoksu i zapoznaniu się z technicznymi możliwościami przeprowadzenia takiego programu, zamówiłam soki.
Mimo, że posiadam świetną sokowirówkę, postanowiłam tym razem polegać na fachowcach. Z kilku dostępnych na rynku firm zdecydowałam się na Natura Cold Press i wybrałam detox zimowy. Dodatek do (niektórych) soków imbiru i kurkumy brzmiał całkiem fajnie. Po zamówieniu soków na konkretne dni, zostałam powiadomiona, że mogę się ich spodziewać wcześnie rano (firma dostarcza soki a terenie całej Polski!). Dostarczane były w porcjach na cały dzień –  kartonikach zawierających 6 ponumerowanych butelek o pojemności 520 ml każda. Dzięki numerom łatwo było pić je w odpowiedniej kolejności. Poranne soki były bardziej pobudzające, te w środku dnia sycące, a wieczorne wyciszające. Szacuje się, że do przygotowania soku na jedną butelkę potrzeba 1,5 kg warzyw i owoców.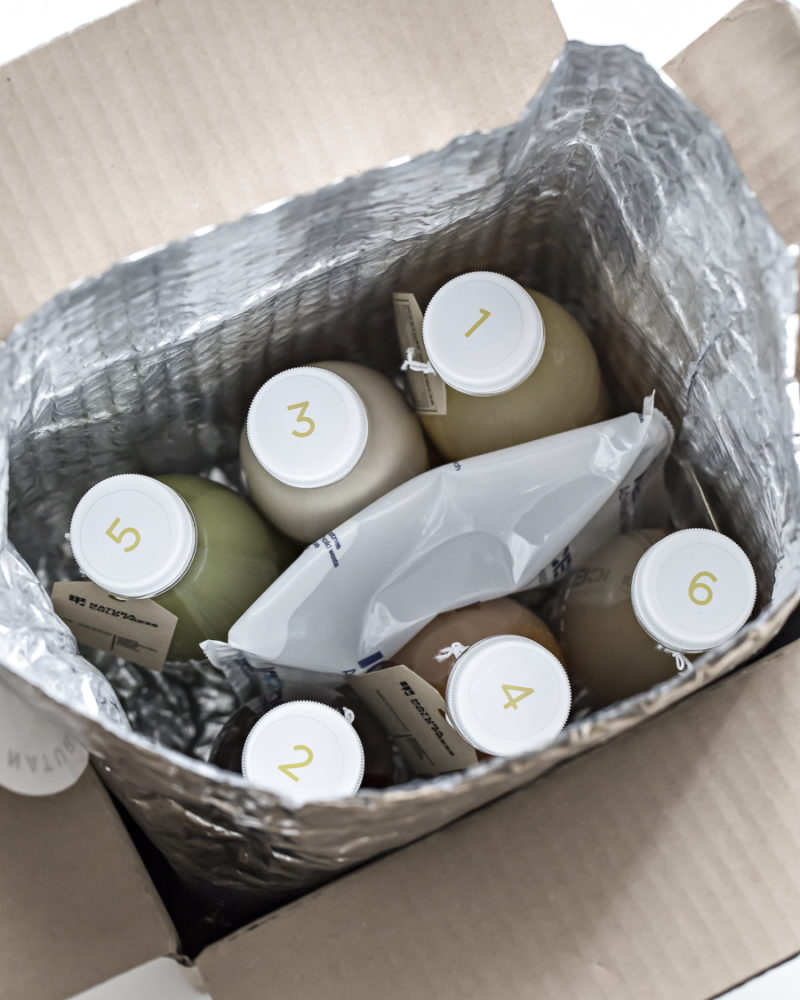 The first day went suprisingly easy, until late afternoon, when I got a nasty headache. My body was screaming for caffeine and I could only give it juice (and water). I decided to take a painkiller and go to bed a bit earlier. On the second day I woke up feeling nausea and having shivers. Something in between a flue and a stomach bug. Before new juices came, I crawled on the couch in hope that this part won't take too long. Seing me like this at 5:30 am, my husband even tried to convience me that I should eat something. But as I am quite strong mindedd (or stubborn, as you wish), and knew that detox can't be all that great per definition. I held on. When juices came around 6:30 and I had my first bottle, I slowly started to feel better. Nausea and headache disappeared and beside often visits in the bathroom, I was quite ok. Still, I decided to stay home all day. The final day number 3 was super smooth. We even went to a restaurant for brunch with the kids. Everyone beside me had amazing breakfast, while I sipped on my juice and felt perfectly ok. At that stage, if anyone told me I had to prolong the detox, I would do it without any problem.
Pierwszy dzień detoksu minął zadziwiająco lekko. Dopiero pod wieczór pojawił się paskudny ból głowy. Moje ciało domagało się kofeiny, a ja mogłam mu tylko dać sok i wodę. Wzięłam tabletkę i położyłam się wcześniej spać. Sporo przed świtem obudziły mnie nudności i dreszcze. Uczucie pomiędzy grypą, a jelitówką. Przeniosłam się na kanapę, a mój mąż widząc jak źle się czuję, próbował nakłonić mnie do jedzenia. Nie udało mu się, gdyż jestem dość uparta i jak sobie coś postanowię, to trudno to zmienić. Poza tym, wiedziałam, że słowo detoks samo w sobie nie może znaczyć nic przyjemnego, a ja miałam swoisty zespół odstawienia. Około 6:30 przyjechały soki i już po pierwszym poczułam się odrobinę lepiej. Wraz z wypijaniem kolejnych siły wracały, jednak odwołałam wszystkie spotkania i postanowiłam zostać w domu. Do wieczora, poza częstymi wizytami w toalecie, było już całkiem dobrze. Ostatni, trzeci dzień, okazał się najłatwiejszy. Nawet wybraliśmy się z dziećmi na późne śniadanie do naszego ulubionego Nabo. Wszyscy jedli super smakołyki, a ja popijałam sok (elegancko, ze szklanki!) i było bardzo miło. Gdyby się okazało, że detoks z jakiegoś powodu trzeba przedłużyć, myślę że nie miałabym z tym problemu.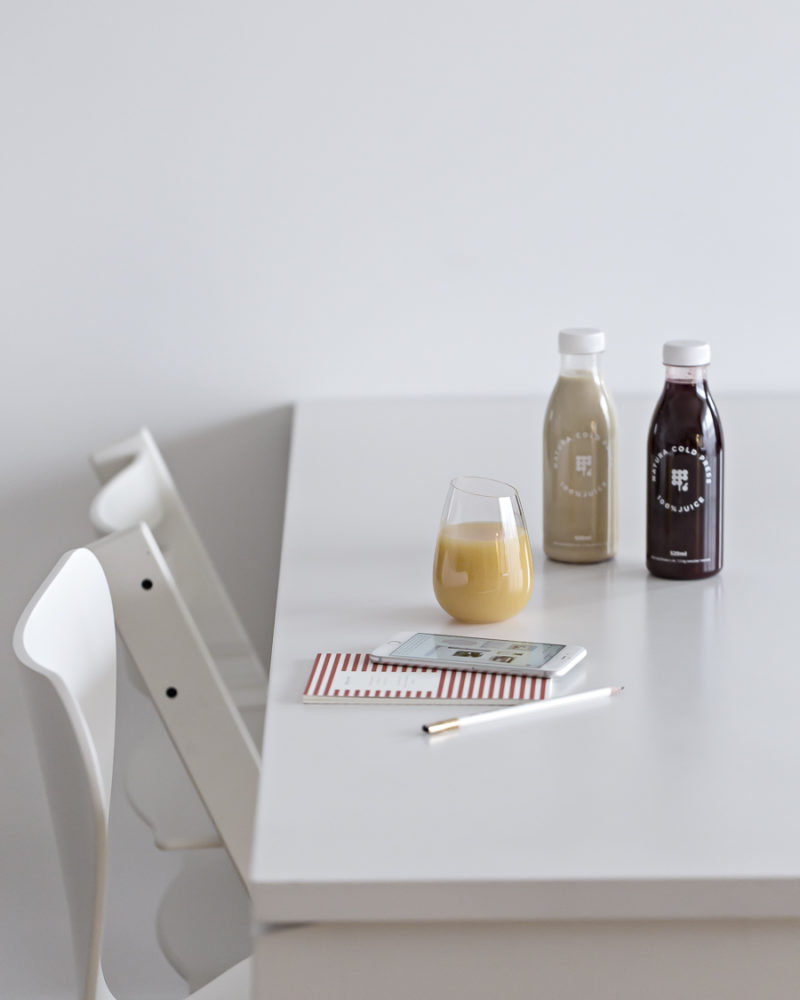 After 3 days juice detox, I started with a light breakfast and long time awaited coffee. I only had some of it and had to stop, as I started feeling uncomfortable. Just like when I was young and starting to introduce caffeine to my body. Now, almost 2 weeks after my detox, I am more than happy that I decided to have it. I feel lighter (not because of the scale), have more energy, I am more conscoius about what and when I eat and I drink max 2 coffees a day. Still with great pleasure, but I simply don't feel that I need more. After some post detox skin breakouts, my skin starts to look better again and all together I feel better than I had in a long time. I also drink more water and hydrate my body better than before.
Speaking of water, I read many places that while on juice detox, you should drink a lot of water. I honestly don't know how that is possible. During my detox, I drunk some water, in between juices, but not more than 1 l a day. That gave ca. 4 liters of liquids daily which is quite a lot for me. Now I try to keep above 2 liters of water a day.
Po trzech dniach detoksu przyszła pora na lekkie śniadanie i wytęsknioną kawę. W połowie musiałam zaniechać picia, gdyż poczułam się tak jak kiedyś, kiedy dopiero "uczyłam się picia kawy". Teraz, prawie dwa tygodnie po zakończeniu detoksu jestem bardzo zadowolona z tego, że go przeprowadziłam. Mam więcej energii, czuję się lżejsza (co nie ma związku z wagą), bardziej świadomie wybieram co i kiedy jem, a na dodatek, piję góra dwie kawy dziennie! Wciąż bardzo ją lubię i nie wyobrażam sobie bez niej żyć, ale po prostu nie mam ochoty na więcej. Krótko po detoksie pojawiło się nieco wyprysków skórnych, które już prawie zniknęły, a ja czuję się tak, jak już od dawna się nie czułam. Staram się teraz zwracać szczególną uwagę na to ile piję wody, aby nawadniać organizm lepiej niż wcześniej.
Skoro o wodzie mowa, w wielu miejscach czytałam, że podczas detoksu należy pić dużo wody między sokami. Osobiście nie wiem jak to zrobić. Mi z trudem udawało się pić w sumie około litra wody dzinnie, pomiędzy sześcioma porcjami soków. Łączne przyjęcie około 4 litrów płynów to dla mnie nie lada wyczyn. Teraz staram się pilnować wypijania 2 l wody każdego dnia.
copyright Kasia Rutkowiak | My Full House
To sum it all up – if you lack energy, drink or eat unhealthy and would benefit from a healthy boost, I would really recommend juice detox for 3-5 days. Just make sure that you can take some time off, if you should need it and don't plan any special activities during that period. If you have a good juice supplier in your area, choose the easy option and home delivery – you really don't want to stand in the kitchen and prepare juices yourself when you feel bad. It could easily jeopardise the success of your detox.
Personally, I think that I might want to make such 3-days cleanse once or twice a year.
Podsumowując – jeśli brakuje Ci energii, czujesz się cieżko, jadasz "nierówno" i potrzebujesz to zmienić, szczerze polecam 3-5 dni sokowego detoksu. Upewnij się tylko, że w razie chwilowego pogorszenia samopoczucia możesz wziąć wolne i nie planuj na ten czas żadnych specjalnych aktywności. Polecam też wybór gotowego rozwiązania, zamiast samodzielnego wyciskania soków. Stanie w kuchni i przygotowywanie soku, kiedy nie czujemy się najlepiej, może w łatwy sposób doprowadzić do tego, że zaniechamy wysiłku.
Osobiście myślę, że chętnie będę robiła tego typu detoksy raz lub dwa razy do roku.