My family loves Kanelsnegle! The word means cinnamon snails in Danish. These are sticky buns made of yeast dough with brown sugar, butter and cinnamon filling. Kids could eat tons of them throughout the whole winter. The good thing about them is that they are very easy to make so once you get your routine straight with the yeast dough, you can make them every other day. The not so good thing is that they taste best right after they are made. That's why, to keep them most fluffy and fresh for as long as possible, I usually bake them sitting tight in a pan. It is possible to bake separate rolls, spread on the baking sheet so they get more crispy or even to put them in the single muffin forms – you decide. Just remember to adjust the baking time accordingly. It takes only 7-8 min when you bake separate rolls while a pan of tightly packed cinnamon babies takes up to 25 minutes.
Kanelsnegle – cynamonowe ślimaki
(drożdżowe bułeczki z cynamonem)
Kanelsnegle to jeden z największych przysmaków naszej rodziny. Słowo znaczy dokładnie tyle co cynamonowe ślimaki i mam wrażenie, że dzieci mogłyby ich zjeść tonę każdej zimy. To co lubię w tych bułeczkach to to, że jak już opanujemy schemat przygotowywania drożdżowego ciasta, wykonanie ich staje się banalnie proste i można je spokojnie piec co drugi dzień. Ich minusem jest to, że najlepsze są zaraz po upieczeniu i szybko tracą świeżość. Dlatego właśnie ja najczęściej piekę je wtulone jeden w drugi na blasze. Ślimaki można oczywiście piec pojedynczo, rozłożone na papierze do pieczenia (są wtedy bardziej chrupiące), albo nawet w papilotach w formie do muffinów – decyzja zależy od osobistych preferencji. Pamiętajcie tylko aby do sposobu pieczenia dopasować jego czas. Pojedyncze kanelsnegle piecze się zaledwie 7-8 min, podczas gdy taką blachę ciasno upakowanych zawijańców nawet 25 min.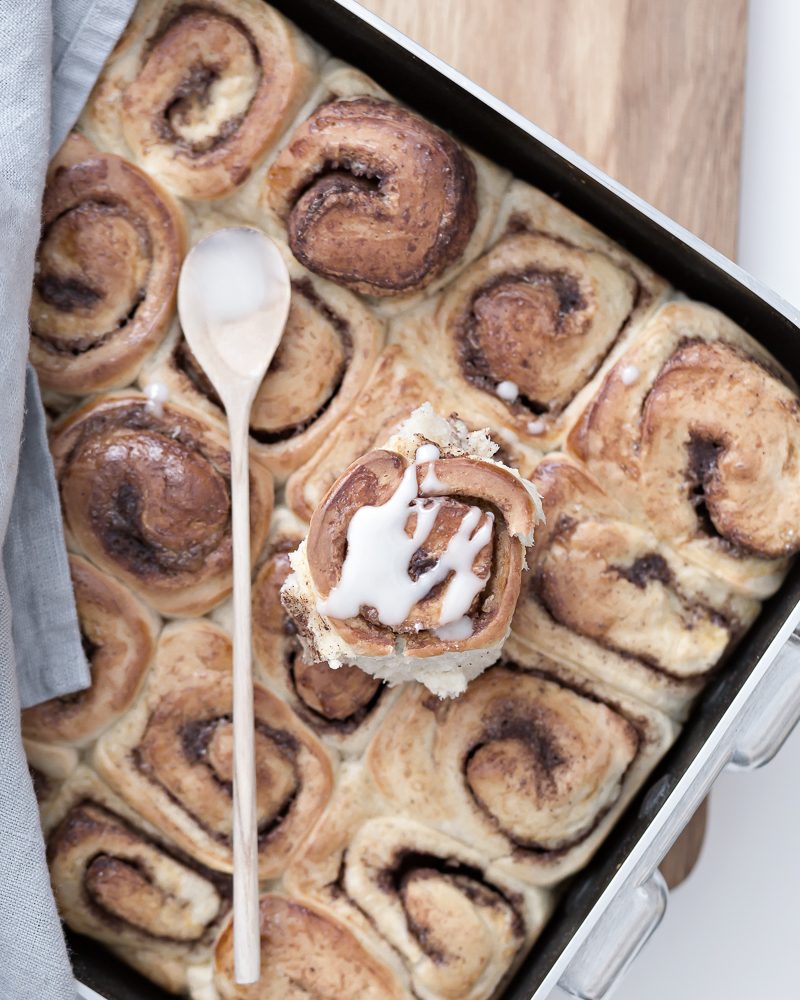 Ingredients / składniki:
Dough / ciasto:
100 g butter / 100 g masła
50 ml full fat milk / 50 ml pełnotłustego mleka
50 g fresh yeast / 50 g świeżych drożdży
150 ml sugar / 150 ml cukru
0,5 tsp of salt / 0,5 łyżeczki soli
2 tsp cardamom powder / 2 łyżeczki kardamonu w proszku
ca 900 g all purpose flour / ok 900 g mąki pszennej
Filling / nadzienie:
150 g butter, softened / 150 g miękkiego masła
200 ml brown sugar / 200 ml brązowego cukru
3 tbsp cinnamon powder / 3 łyżki cynamonu w proszku
Additionaly / dodatkowo:
1 egg, beaten / 1 roztrzepane jajko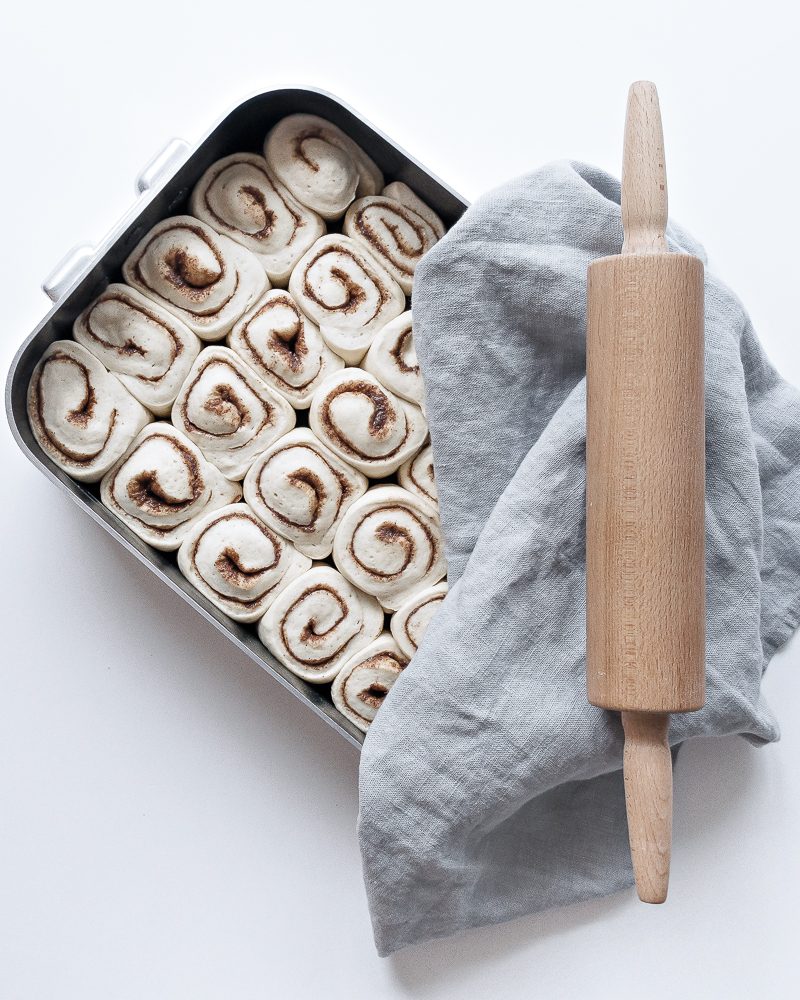 Method:
In a little saucepan warm up butter and milk until just warm. Remove from heat, add crumbled yeast and sugar, mix till all yeast and sugar dissolves. Put in a bowl of an stand mixer. Mix flour, salt and cardamom. Add 1/2 of the dry ingredients to the milk and start mixing, slowly adding the rest of flour, untill the dough forms a nice round ball. Knead with the mixer for another 5-8 min. Cover with a kitchen towel and leave to double the volume (ca 40-60 min).
When the dough has risen, pinnch it, remove from the bowl and divide into halves. Knead the first piece and roll it into ca 20×30 cm rectangle. In a separate bowl combine the butter, cinnamon and sugar. Spread 1/2 of the mixture on the dough and beginning at the longer side, role up the dough, pinching edge together to seal. Cut into ca 15 slices (2 cm thick) . Repeat with the other half.
Grease the bottom of baking pan with butter. Place cinnamon roll slices close together in the pan, cover with a towel and let rise until dough has doubled, about 40-50 min. Preheat the oven to 220 C.
Before putting rolls in the oven brusch them with beaten egg. Bake for about 25 minutes or until nicely browned.
Once cool, you can add some glaze on top if you wish.
Sposób przygotowania:
W rondelku rozpuścić masło, dodać mleko i delikatnie podgrzać. Zdjąć z ognia, dodać cukier i pokruszone drożdże, wymieszać do rozpuszczenia. Miksturę przelać do misy miksera (jeśli nie macie miksera z hakiem, następne czynności wyrabiania ciasta należy wykonać ręcznie). Wymieszać mąkę, sól i kardamon i połowę mieszanki wsypać do mikstury. Zacząć wyrabiać ciasto, stopniowo dodając resztę mąki, aż ciasto uformuje ładną zwartą kulę. Kontynuować wyrabianie 5-8min. Po tym czasie kulę ciasta zostawić w misce pod przykryciem do wyrośnięcia, aż podwoi objętość (40-60min).
Wyrośnięte ciasto podzielić na 2 części. W miseczce wymieszać miękkie masło, cukier brązowy i cynamon. Połowę ciasta wyrabiać przez moment na stolnicy, a następnie rozwałkować na prostokąt o wymiarach ok. 20×30 cm. Posmarować połową masła z cynamonem i cukrem i zwinąć w roladę (długim bokiem). Pokroić na ok 15 kawałków (o grubości ok 2cm). Czynność powtórzyć.
Blachę wysmarować odrobiną masła. Bułeczki ułożyć jedna obok drugiej i znów odstawić pod przykryciem do wyrośnięcia (40 min). Piec nagrzać do temp 220 stopni C. Wyrośnięte kanelsnegle posmarować rozmąconym jajkiem i piec ok 25 min aż wierzch stanie się równomiernie złoty. Po wystudzeniu można dodatkowo polać lukrem.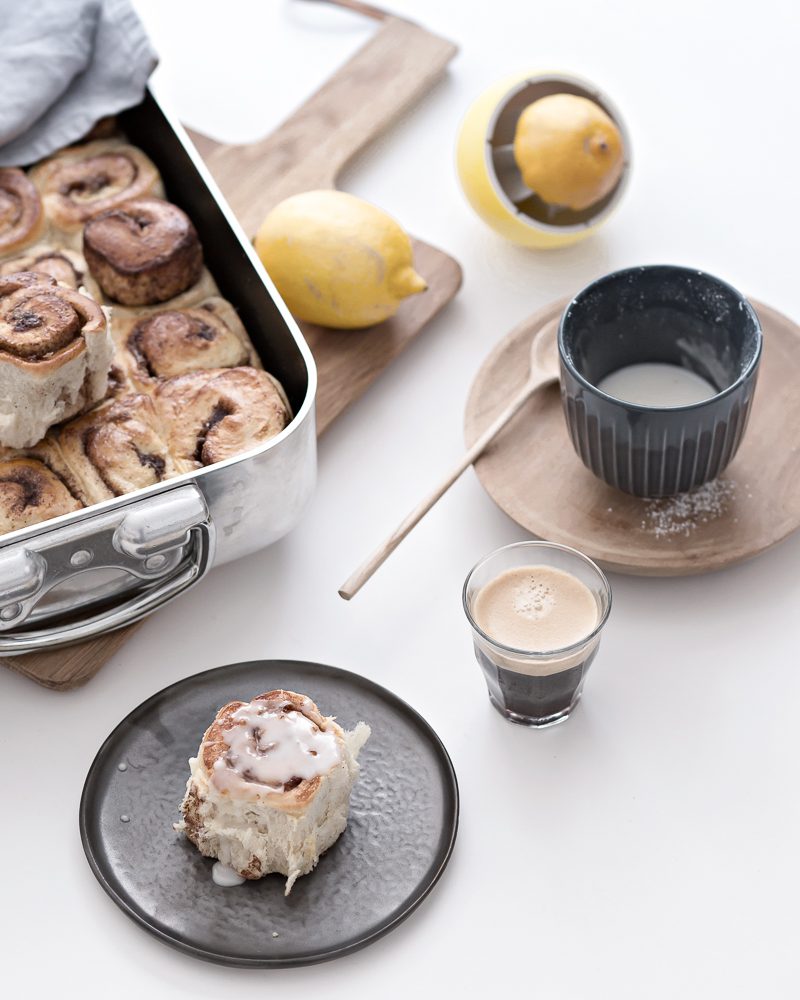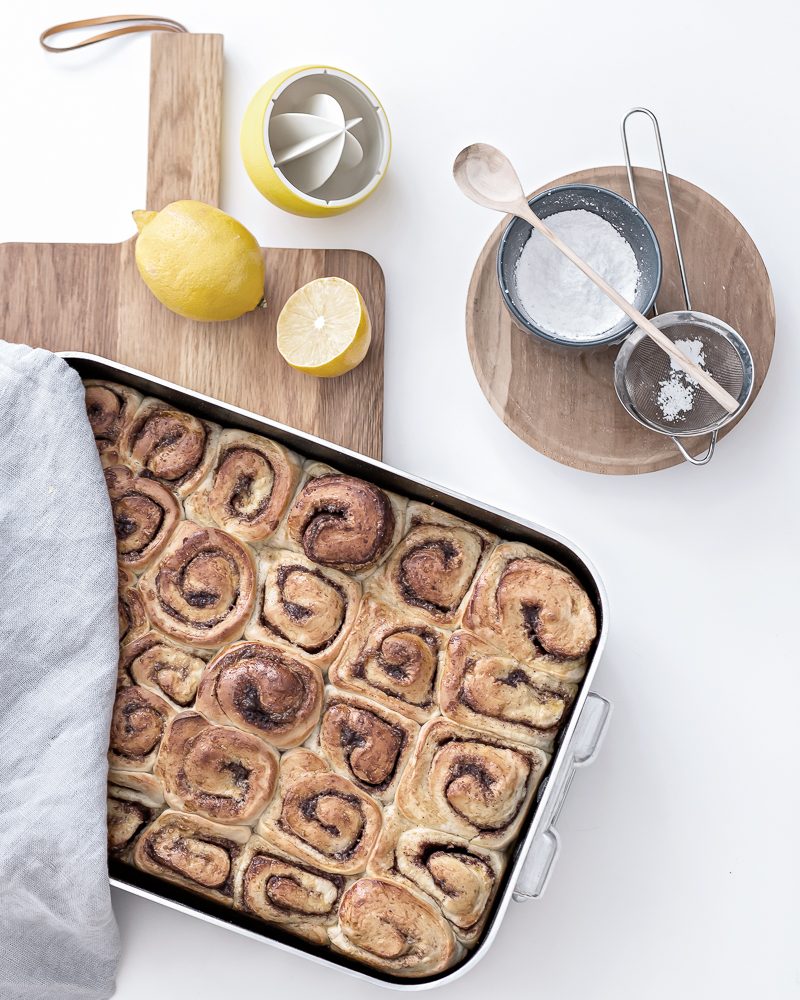 Copyright Kasia Rutkowiak / My Full House
I jeszcze wyniki konkursu książkowego!
Zestaw skandynawskich książek "Wszystkie smaki Skandynawii" i "Nordicana" wygrywa IGA.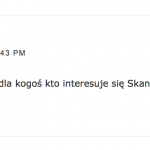 Wszystkim uczestnikom bardzo dziękuję za udział, a Ciebie Igo proszę o kontakt via mail.
Formularz kontaktowy znajdziesz w pasku górnym bloga pod hasłem "contact".