Each year, latest mid December, I make sure I have enough coffee to get me through Christmas and all the way to New Year. That means that I order at least a triple of what I usually would for the same period of time. Being at home with family and friends always makes me (and them) drink much more coffee, as we spend time together. And I love this time! Apart from my brother in law, who only drinks tea, we all enjoy our lattes, cappuccinos or espressos. And during each Christmas season, even more than normally, I am happy for my choice of Nespresso.
I can serve a different coffee to my mom, my sister, my friends or our grown up boys. I can offer my dad a very late ristretto (as cheesecake always tastes better with coffee on the side), without worrying that it will keep him up all night (as I simply use decaffeinato version). The choices are endless. And each Christmas, even more, as the festive collection arrives in Nespresso boutiques.
Nasze kawowe wybory na święta – kolekcja Nespresso Variations 2018
Każdego roku, najpóźniej w połowie grudnia, upewniam się, że mam wystarczającą ilość kawy, aby przetrwać do Nowego Roku. Oznacza to mniej więcej tyle, że zamawiam porcję trzy razy większą niż zwykle. Wszystko dlatego, że czas świąt sprzyja rodzinnym spotkaniom przy stole i wspólnemu wypijaniu większej ilości kawy. Tak ja, jak i prawie wszyscy goście, z radością sięgają po kolejną (i kolejną) filiżankę. I podczas gdy mój szwagier prosi o herbatę, my najczęściej decydujemy się na latte, cappuccino lub espresso. Dlatego właśnie, Boże Narodzenie to okres kiedy w szczególny sposób doceniam nasz wybór – Nespresso. 
Dzięki Nespresso mogę zaproponować inną kawę mamie, inną siostrze, a jeszcze inną koleżance czy naszym dorosłym dzieciom. Mogę ze spokojnym sumieniem zaserwować tacie ristretto do tego "ostatniego już dziś kawałka sernika" (każdy wie, że nawet najlepszy sernik smakuje jeszcze lepiej w towarzystwie dobrej kawy), a wszystko dlatego, że wybieram wersję bez kofeiny – Ristretto Decaffeinato. Możliwości mam bez liku. Tym więcej, że w butikach pojawiła się już limitowana edycja kaw Variations Paris – Poczuj Smak Paryża – propozycja Nespresso na święta 2018.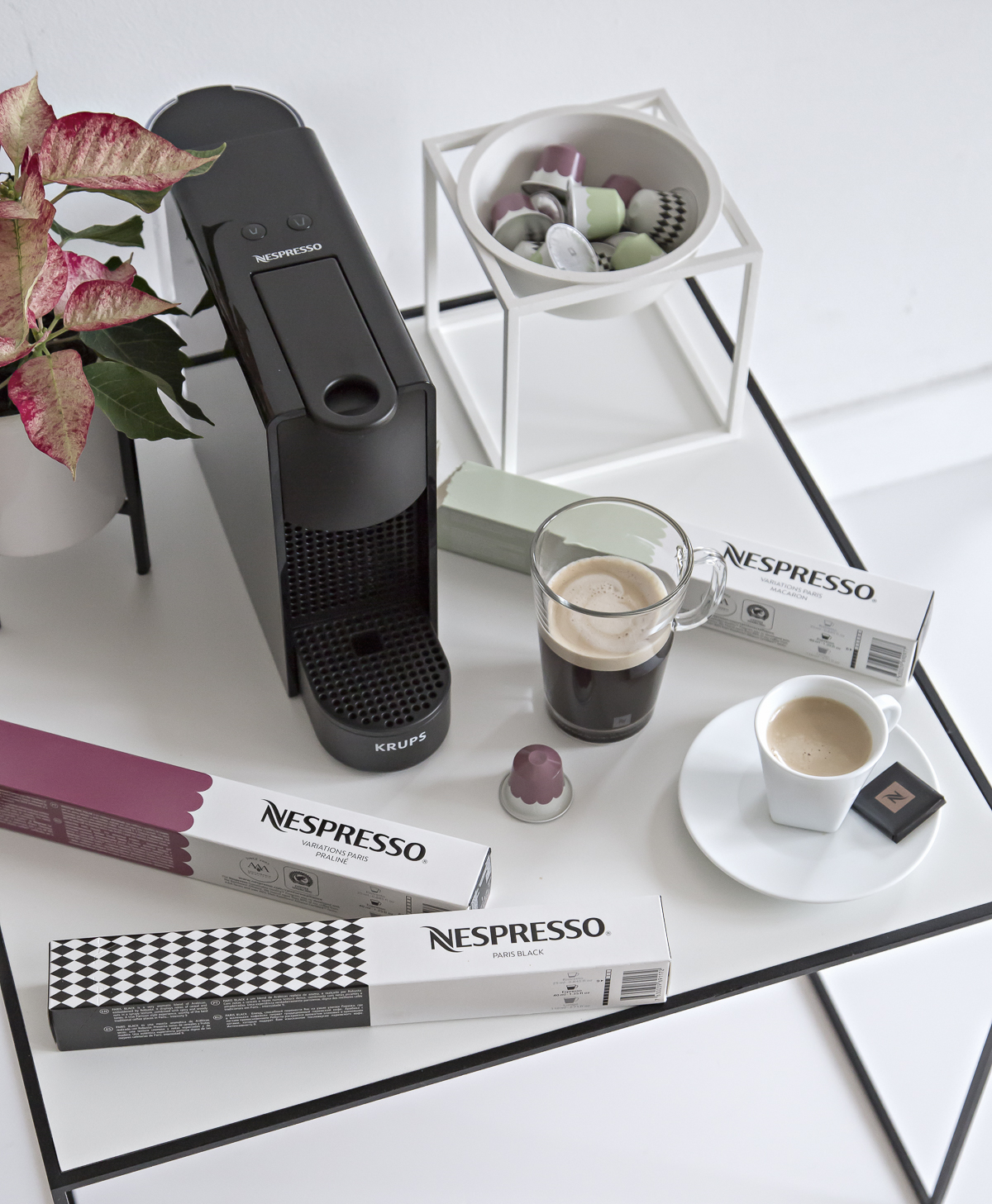 This year, the limited Variations collection takes us all to Paris. We can choose from Paris Praliné, Paris Macaron and Paris Black. Each blend offers a very special tasting experience. Paris Praliné is based on Livanto and combined with flavour of roasted hazelnut and caramel. It is like a praliné dessert in a cup of coffee. Paris Macaron, also based on Nespresso's Livanto (a medium roasted blend of Central and South American Arabicas) has a subtle almond flavour. As it's easy to figure out from it's name, it was inspired by the famous French macarons. As a Scandinavian at heart, I taste my beloved marzipan in it (no wonder!). Last, but not least, Paris Black. It is an intense coffee with notes of cereal and nuts combined with spicy and woody tones. Any parisian cafe could be proud of it.
Jak sama nazwa edycji limitowanej wskazuje, tej zimy Nespresso zabiera nas do stolicy Francji. Możemy wybierać między trzema wyjątkowymi smakami – Paris Praliné, Paris Macaron and Paris Black. Każdy z nich zapewnia odmienne wrażenia. Bazująca na Livanto (północno i środkowo amerykańskiej mieszance średnio palonej Arabiki) kawa Paris Praliné zaskakuje aromatem prażonych orzechów laskowych i słodyczą karmelu. Jest jak pralinka zaklęta w filiżance kawy. Paris Macaron – jak się z pewnością domyślacie, nawiązuje smakiem i aromatem do słynnych na całym świecie paryskich makaroników – mini ciasteczek wypiekanych z migdałowego pyłu. Ponieważ ja mam skandynawską duszę, kawa Paris Macaron przywodzi mi na myśl najlepszy duński marcepan. Pyszna! W końcu Paris Black – prawdziwie wyjątkowe espresso, w którym spotykają się nuty zbożowo-orzechowe i korzenno-drzewny aromat. Mocna, intensywna, o pięknie wyważonym smaku i aromacie. Kawa jakiej nie powstydziłaby się żadna paryska kawiarnia. Opakowania tej edycji, podobnie jak smaki kaw, też są wyjątkowe. Zaprojektowała  je znana paryska projektantka wnętrz, India Mahdavi.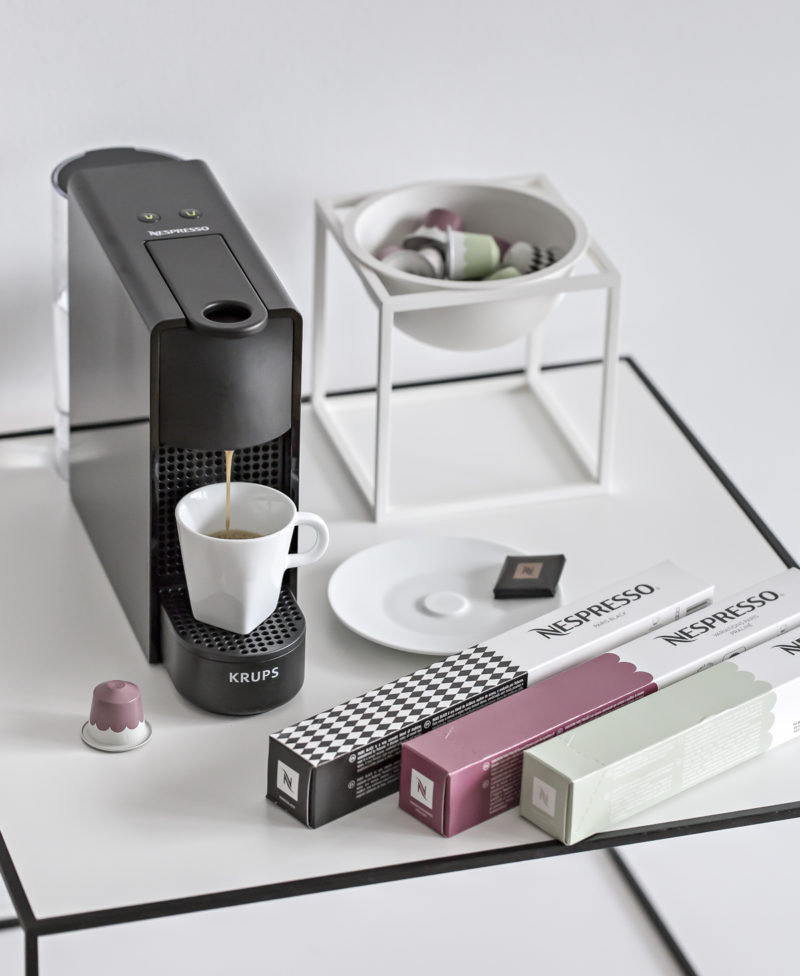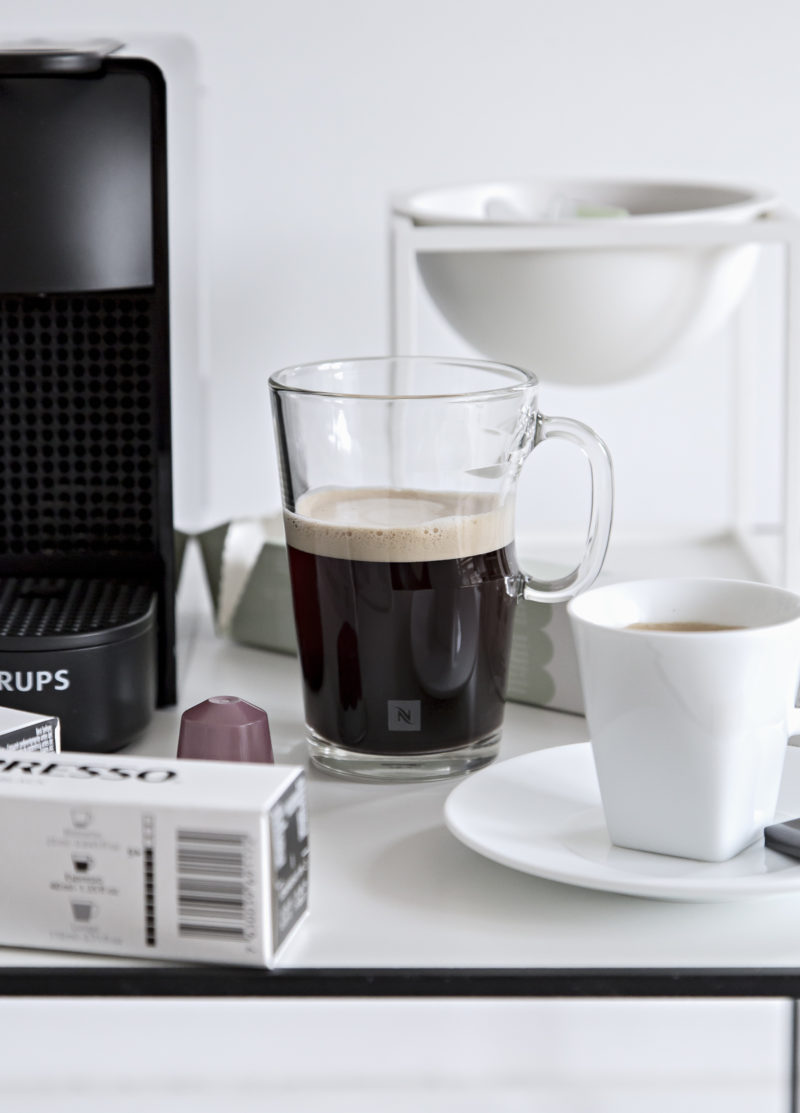 After trying all new limited tastes, I already have my personal preferences, but also clear ideas of what my family and friends will like the most. I am about to order the Christmas coffee for my full house and looking forward to all the lovely hours we will spend, drinking it.
As a special treat for my Polish readers, in a cooperation with Nespresso Poland, I am starting a giveaway on my Instagram today.
Po wypróbowaniu każdej z kaw limitowanej edycji Variations 2018 – Poczuj Smak Paryża mam już swój ulubiony smak na zbliżające się święta, jak i przypuszczenia, które kawy najbardziej przypadną do gustu moim najbliższym. Niniejszym zabieram się do złożenia świątecznego zamówienia, a Was bardzo serdecznie zapraszam na Instagram, gdzie czeka dziś na Was niespodzianka. Wraz z Nespresso Polska mam wielką przyjemność ogłosić świąteczny konkurs, w którym do wygrania jest zestaw kaw Parisian Spirit oraz… ekspres Essenza Mini w eleganckim czarnym kolorze (identyczny jak ten na dzisiejszych zdjęciach). Cudowny prezent dla wszystkich miłośników najlepszej kawy.
Konurs znajdziecie tutaj :)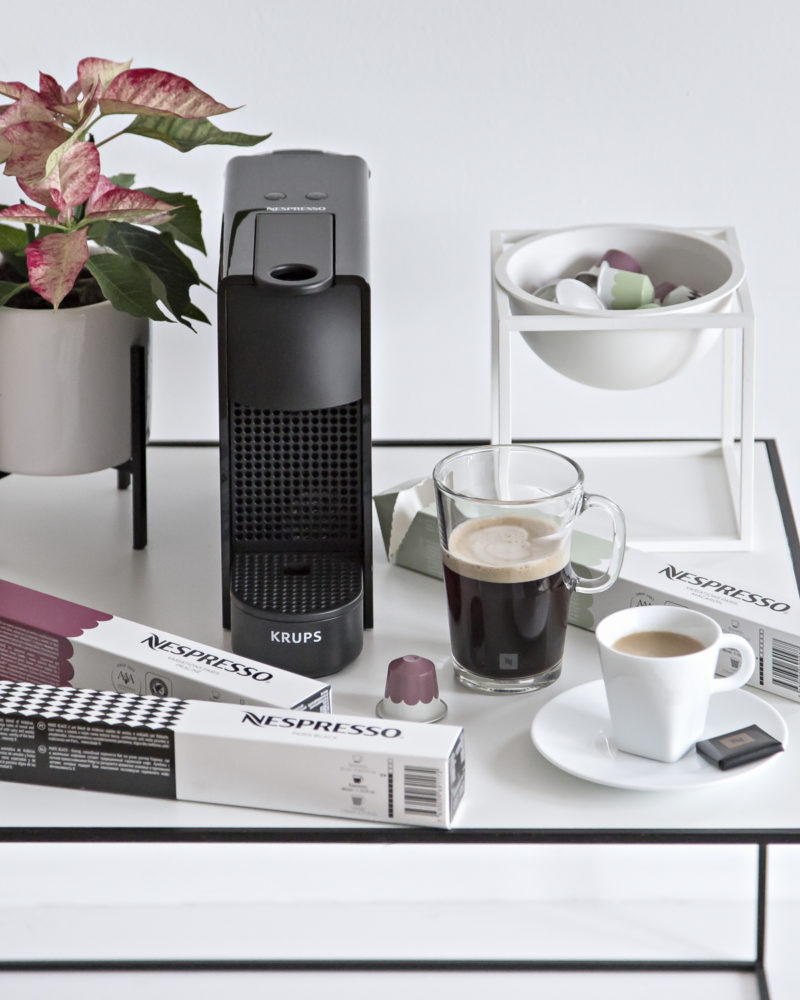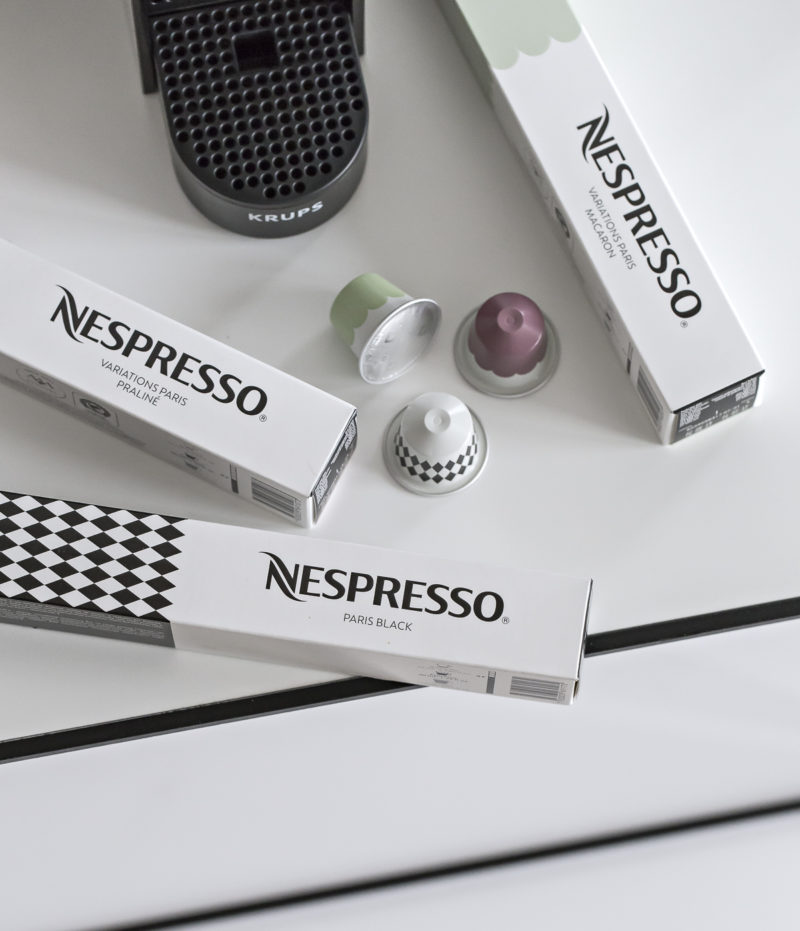 copyright Kasia Rutkowiak | My Full House | any unauthorised use prohibited
Post powstał przy współpracy z marką Nespresso. Przedstawia moje osobiste opinie.