During my visit at the grand opening of CHANEL beauty butique in Warszawa, I had a chance to see the beautiful RED edition of the classic CHANEL N°5 and it's younger version CHANEL N°5 L'eau. It is absolutely gorgeous!
Now, before anything else, red is a color I use very moderately. It's almost solely reserved for nails, lips, dessous and… wine. You won't see much (any?) red in our home, and I almost never buy (or get) red flowers. Every year, around Christmas, I speculate if I should get a red sweater, but never do anyways. It would be a pity to have it hidden in the closet for over 11 months in a row. I hope that you can see that me and red have a very special relationship. Still, when I saw the RED limited edition of my beloved (since the day it first came out last year) CHANEL N°5 L'EAU, I knew that I wanted it in my life. Badly.
And I got the bottle. Just not this one :)
Limitowana edycja CHANEL Red i moja droga do CHANEL N°5
Podczas mojej niedawnej wizyty na uroczystości otwarcia butiku CHANEL w Warszawie, miałam okazję po raz pierwszy zobaczyć jedną z absolutnych nowości – czerwone flakony perfum CHANEL N°5 i młodszej, lżejszej wersji CHANEL N°5 L'eau. Są piękne!
Zanim jednak przejdę do dalszej części tego o czym chcę pisać, muszę wspomnieć o moim stosunku do czerwieni, którą stosuję z wielkim umiarem. W zasadzie kolor ten ogranicza się u mnie do paznokci, ust, bielizny i… wina. Nie znajdziecie u nas w domu wielu (żadnych?) czerwonych dekoracji czy dodatków. Co więcej, prawie nigdy nie kupuję (ani nie dostaję) czerwonych kwiatów. Jak sami widzicie ja i czerwień mamy dość specjalny "związek". Mimo to, kiedy zobaczyłam nowy flakon z moim ukochanym od dnia premiery zapachem CHANEL N°5 L'EAU, wiedziałam, że bardzo chcę go mieć, gdyż jest po prostu przepiękny.
I mam… ale nie do końca właśnie ten :)
For my entire life, I never understood the magic of CHANEL N°5. My mom always smelled nice as she used to be spoiled with perfume by my dad, just never this one. When in high school, I used to "steal" some of my mom's perfume and was often complimented at school. Years later I found out that mom knew it all the time.
When I was a teenager and we started sharing thoughts on feminine subjects like cosmetics and fashion, more than once we discussed how the famous N°5 never was our thing. Well…
Last spring, I heard about the new, lighter version of THE FIVE and how it was made for the "next generation". Lighter, brighter, simply younger. I liked its description from the press news and I guess I was the first woman in Warszawa who bought the CHANEL N°5 L'EAU. I knew the exact day of the premiere and went straight to the CHANEL stand 10:00 sharp, in the minute of opening, to get my L'EAU. It's been without a doubt, my most used scent of 2017 and 2018. I have it in Eau de Toilette, all-over spray, and even the hand balm.
Nigdy nie rozumiałam fenomenu CHANEL N°5. Odkąd pamiętam, moja mama zawsze pachniała bardzo ładnie, a Tata od czasu do czasu rozpieszczał ją pięknymi flakonami perfum. Kiedy byłam w liceum, po kryjomu podbierałam Mamie zapachy, dopiero po latach okazało się, że cały czas o tym wiedziała.
Gdy byłam nastolatką rozmawiałyśmy o kosmetykach, perfumach czy modzie. Kilka razy rozmowa zeszła na "piątkę" i Mama, podobnie jak ja, wyraźnie nie była jej fanką.
Wiosną zeszłego roku, kiedy marka CHANEL ogłosiła premierę nowej, odświezonej wersji "piątki", czytałam o niej z zainteresowaniem. Woda CHANEL N°5 L'EAU miała być lżejsza, "jaśniejsza" i ogólnie "młodsza", skierowana do kolejnego pokolenia kobiet. Byłam chyba pierwszą osobą, która kupiła ten zapach w Warszawie. Wiedząc dokładnie kiedy ma się pojawić w perfumerii, weszłam w minucie otwarcia i od drzwi skierowałam się na stoisko CHANEL. Od tamtego dnia, N°5 L'EAU to najczęściej używany przeze mnie zapach. Zresztą mam go nie tylko w wesji Eau de Toilette, ale również w postaci spray'u do ciała czy kremu do rąk.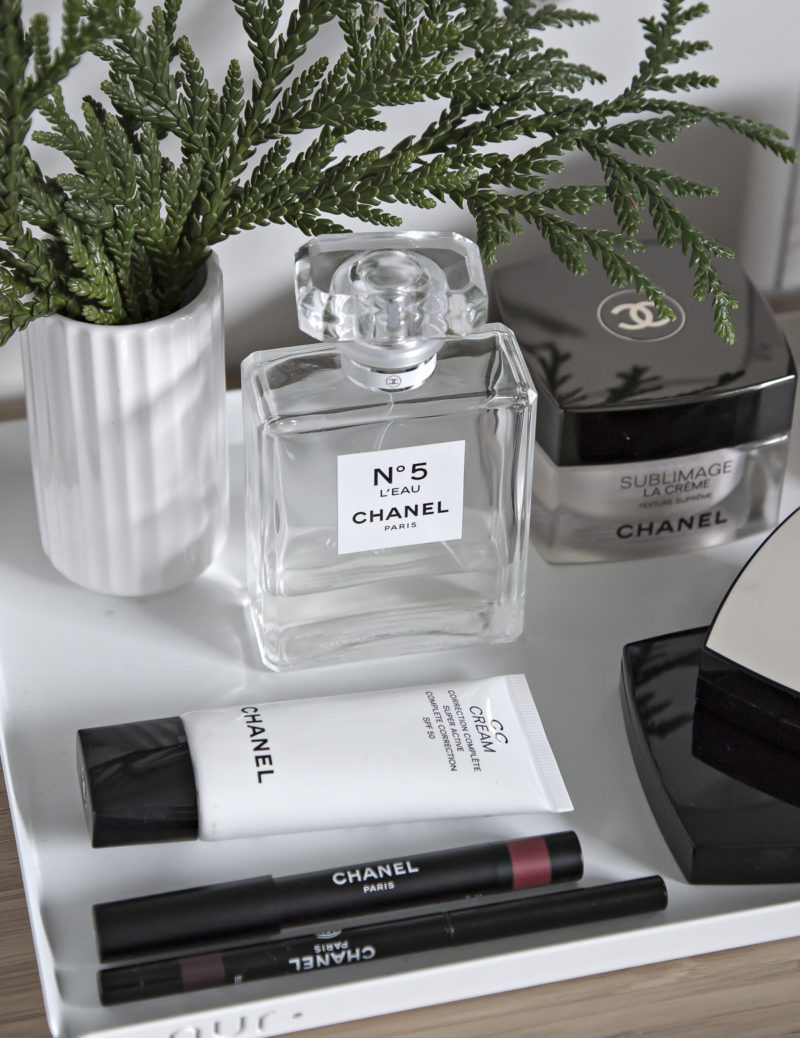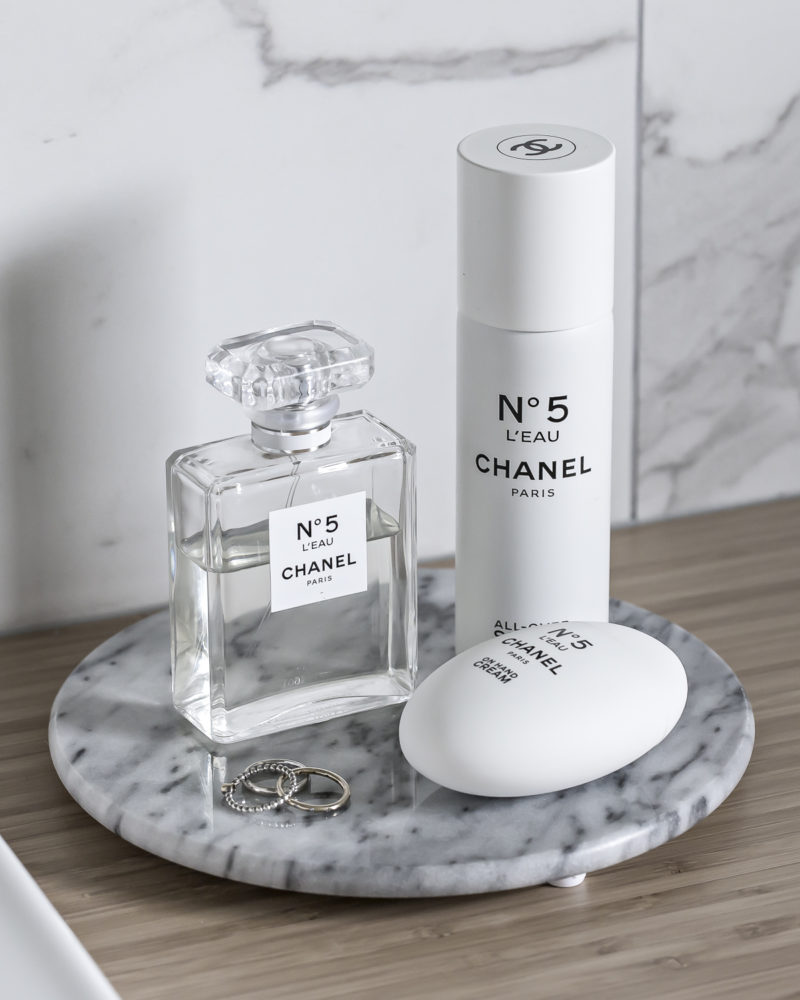 This is why, it was absolutely understandable, that when I saw the new, iconic bottle in the beautiful, rare red color, I instinctively felt a desire to get it in my favorite version of L'EAU. It is, after all, the exact same perfume, only in the limited edition bottle. With that in mind, I also reached for the CHANEL N°5, as if I was just to remind myself how it wasn't my thing and… I went speechless. I have no idea what happened there, but it was as if all I ever felt for this scent was gone and the only thing I felt when smelling it, was a pure bliss.
So maybe it is true that you just have to grow up to some things. Or, that constant dripping wears the stone. I don't know. I am sure that all those days wearing the light-spirited L'EAU prepared me and my senses for this "brand new" discovery. So now, I do own, my very first CHANEL N°5 in the most beautiful red gem of a bottle.
Dlatego właśnie, kiedy zobaczyłam na żywo ten piękny czerwony flakon, z miejsca zapragnęłam mieć go w wersji L'EAU. Limitowana edycja ogranicza się bowiem jedynie do koloru butelki, podczas gdy zawartość jest taka sama jak w klasycznych flakonach z bezbarwnego szkła. Myśląc o tym ile radości przyniesie mi nowy nabytek, sięgnęłam jeszcze po klasyczną wersję  CHANEL N°5. Zupełnie tak, jakbym chciała sobie przypomnieć dlaczego nigdy mnie nie interesowała. Powąchałam i… zamarłam. Nie mam pojęcia co się stało, ale w tamtej chwili zapomniałam wszystko to, co do tej pory myślałam o tym zapachu. Zamiast tego czułam tylko zachwyt.
Może to więc prawda, że do pewnych rzeczy trzeba dojrzeć. A może dowód na to, że kropla drąży skałę? Bez wątpienia, miesiące mojej bliskiej przyjaźni z lekkością zapachu L'EAU przygotowały mnie i moje zmysły na to "zupełnie nowe" odkrycie. I tak oto jestem właścicielką mojej pierwszej buteleczki CHANEL N°5 i to w czerwonej odsłonie, którą uwielbiam.
copyright Kasia Rutkowiak | My Full House | any unauthorised use prohibited
There are still some red beauties left in stores if you hurry! It's a great moment to stock up on your favorite scent. Or discover it.
W perfumeriach wciąż jeszcze znajdziecie flakony w limitowanej edycji, warto więc uzupełnić zapas tych niezwykłych zapachów. Albo je odkryć.