It's been a very intense week for me. To be honest, I don't understand, how it can be Friday already. Furthermore, it looks as if we have a very intense weekend ahead of us as well! We are ready to face the challenge, but before we do, I just want to set myself in a weekend mode. Flowers always help, even the smallest ones, and today's vase inspiration comes from a Danish brand The Oak Men.
Two great guys and talented cabinet makers Anders and Peter, joined to create exceptional decoration and everyday articles made of oak. One of their newest products is a black version of Lebowski ball. Inspired by a bowling ball, it can be both a desk organizer or a little vase. I love both color versions of it, as I am a huge fan of the oak wood, but for this weekend I went for the black one and I like it a lot on our black marble tabletop by the couch. Lebowski comes with 2 bigger and 3 smaller glass tubes, making it fun to decorate with small plants or flowers. It is also a great gift idea for any stylish man.
Drewniany wazon Lebowski – kwiaty na weekend
Co to był za tydzień! Tak intensywny, że aż ne mogę pojąć, że to już piątek. Do tego weekend zapowiada się nie mniej "wybuchowo", więc szykujemy się aby sprostać wyzwaniu. Zanim to się stanie, chciałam choć przez moment poczuć spokój. Kwiaty zawsze pomagają, nawet jeśli są drobne. Dzisiaj właśnie takie wybrałam do bardzo szczególnego, dębowego wazonu Lebowski od The Oak Men. Dwaj przemili faceci – Anders i Peter, doświadczeni stolarze, postanowili projektować i robić dębowe ozdoby i dodatki do wnętrz. Jedną z ostanich nowości marki jest czarna wersja kuli Lebowski. Zainspirowany kulą do gry w kręgle, Lebowski to piękny, dekoracyjny przedmiot mogacy spełniać rolę przybornika, lub właśnie niecodziennego wazonu na drobne rośliny lub kwiaty. Podobają mi się obie wersje – i dębowa i czarna (jak wiecie, jestem wielką fanką dębowego drewna), ale dziś postawiłam na czerń. Pięknie wygląda na czarnym blacie marmurowego stolika. Każda kula ma w zestawie 2 duże i 3 male probówki pozwalające na stworzenie ciekawych kompozycji. To też świetny pomysł na prezent dla mężczyzny!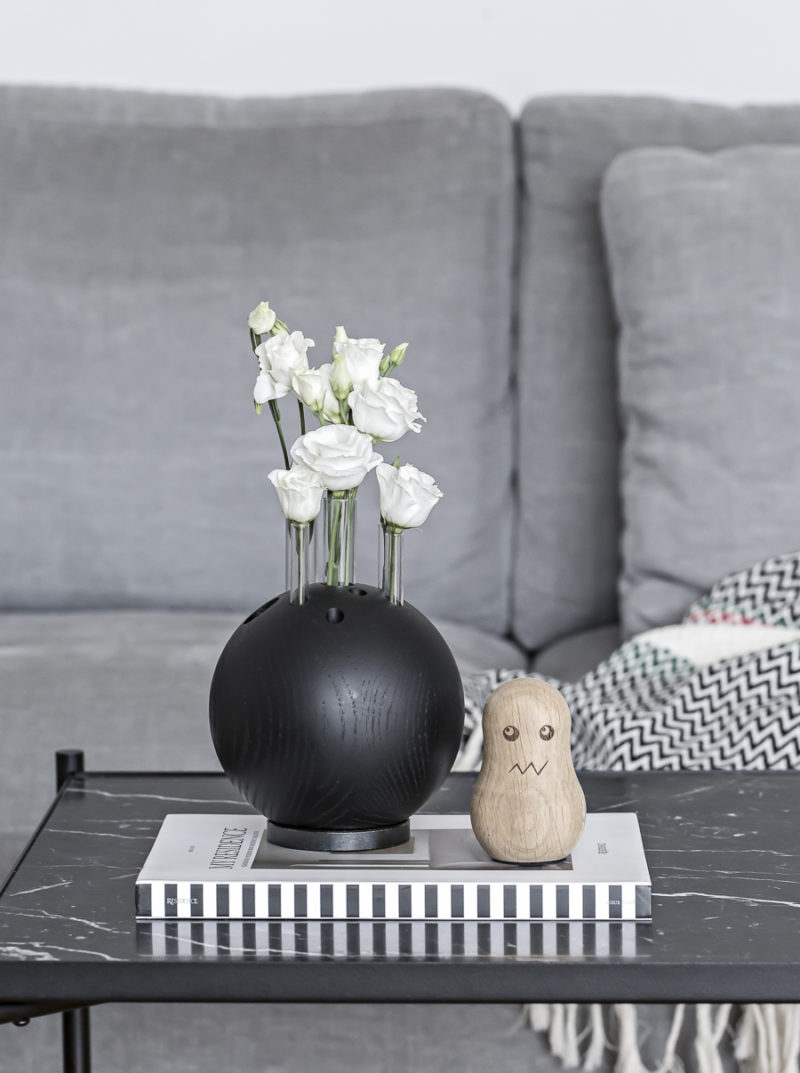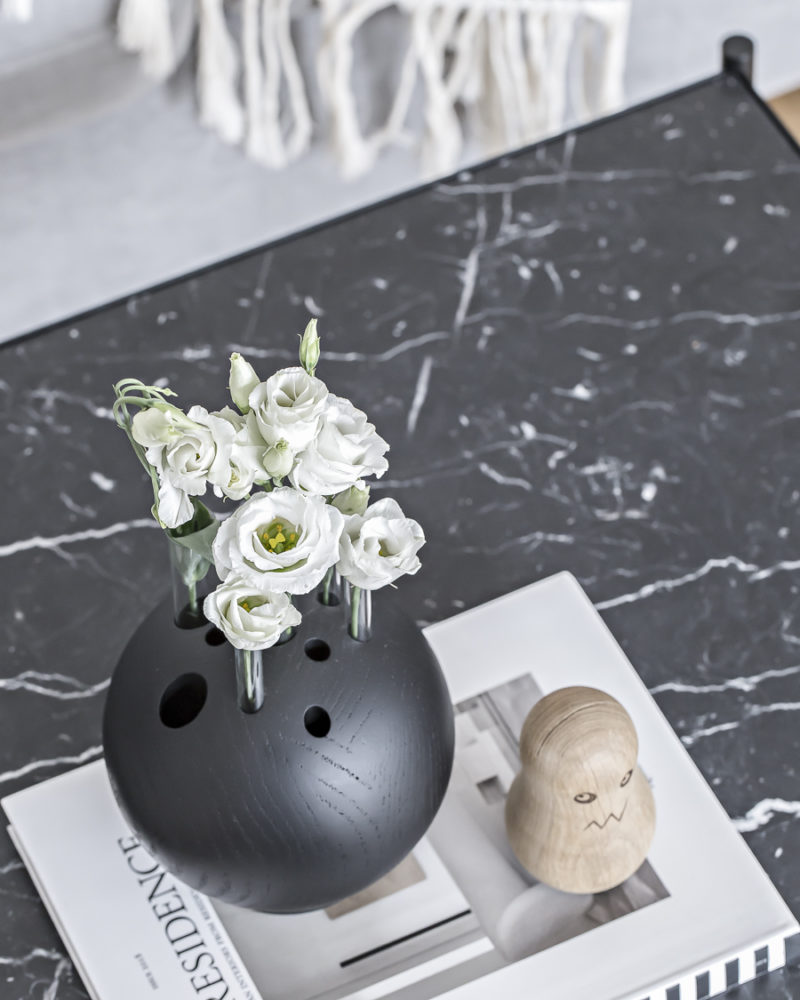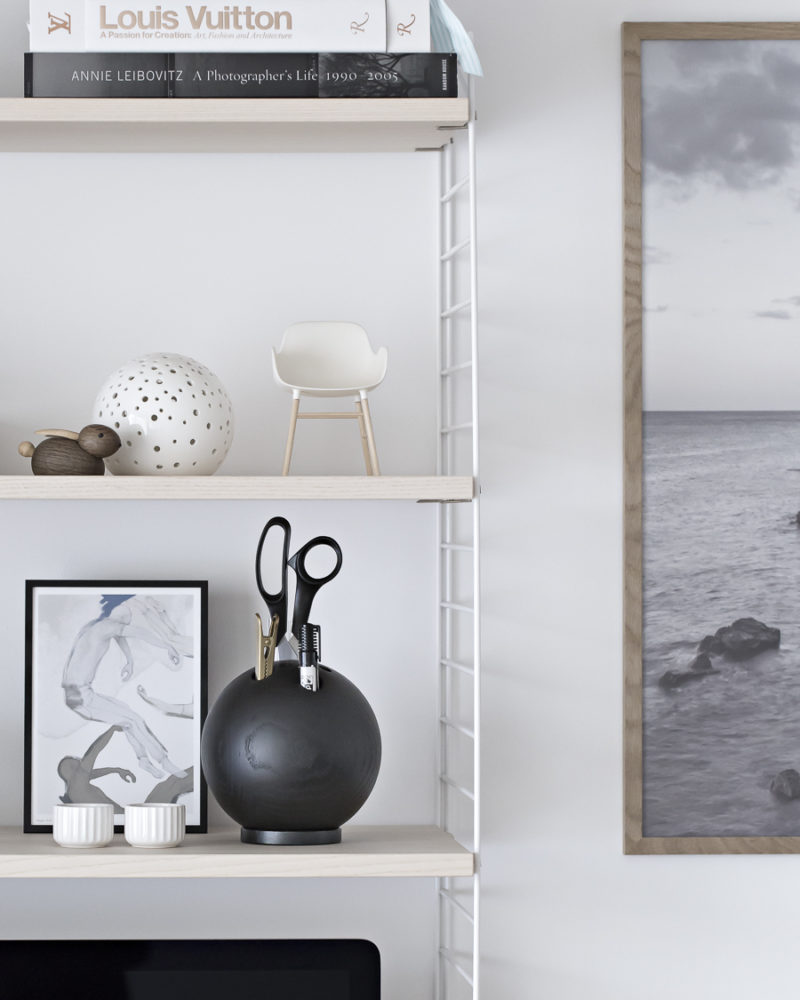 Copyright Kasia Rutkowiak | My Full House
Lebowski balls can be purchased here and here / Kulę Lebowski można nabyć w sklepie Amazing Decor.