Back in Denmark, my big, bright kitchen used to be "my favorite room". With white cabinets, dark tiles, plenty of workspace and a big table, it definitely was a heart of my home. A while ago, when renovating the showroom apartment, I decided to go for the same color combo, but this time – in a little kitchen space. When we first saw this room, it had old, dark and partially broken cabinets, burned tabletop and yellowish tiles on the wall. There were old panels imitating wood on the floor, also stained, and the entire space looked quite bad. And although now, there are so many beautiful kitchen cabinets in darker colors, for this particular, narrow and small kitchen, I decided to go for white. Again.
Mała biała kuchnia
W Danii miałam przestronną, jasną kuchnię z dużą ilością białych szafek, ciemną podłogą i dużym stołem. Była nazywana "moim ulubionym pokojem" i z pewnością spełniała funkcję serca domu. Kilka miesięcy temu, będąc w trakcie remontu mieszkania na nasz showroom, zdecydowałam się na to samo rozwiązanie kolorystyczne, tym razem w dużo mniejszym pomieszczeniu. Kiedy je pierwszy raz zobaczyliśmy, były tu brązowe, częściowo zepsute szafki z przypalonym blatem, żółtawe płytki na ścianie i przetarte panele podłogowe imitujące drewno. Całość wyglądała dość nieciekawie. I choć jest teraz na rynku wiele świetnych, kolorowych szafek kuchennych, ze względu na niewielką, wąską przestrzeń, zdecydowałam się na biel. Znowu.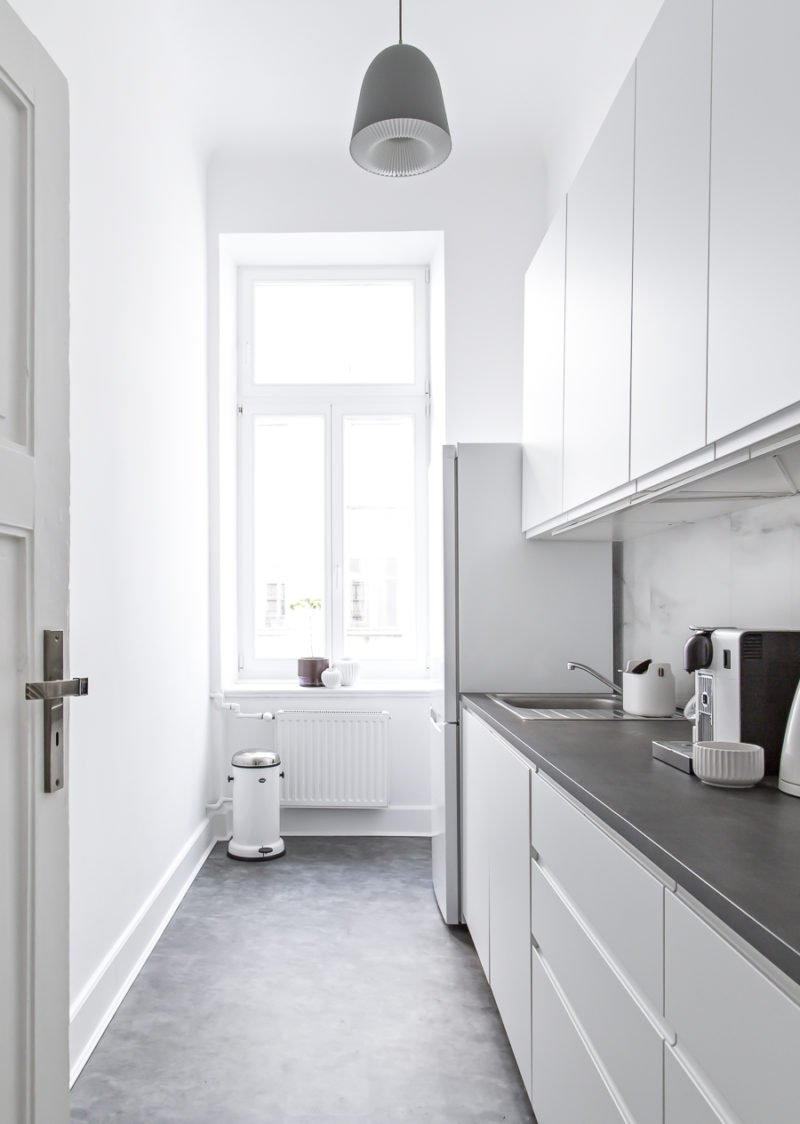 After refreshing the walls with white paint, we went for white, handle-free cabinets from IKEA and a darker tabletop. The room is very tall, as the rest of this apartment so we went for the taller version of the wall cabinets. Because this kitchen had to be as carefree as possible, the easiest and fastest solution was a linoleum floor. Above the countertop there are "marble" tiles. With so few cabinets, I decided that it was time to go for a free standing bin. Having a Vipp bin in my kitchen has been my dream for years but I never had a kitchen that would fit one nicely. Last but not least, we put up 2 grey CACHÉ lamps from LE KLINT in size medium.
Po odświeżeniu ścian białą farbą, zamontowaliśmy białe szafki IKEA z ciemnym blatem. Ponieważ pomieszczenie jest wysokie, zdecydowaliśmy się na wyższe szafki wiszące. Jako, że ta kuchnia powinna być jak najbardziej praktyczna, na podłodze położyliśmy linoleum, a między szafkami płytki imitujące marmur. Szafek jest niewiele, więc zdecydowałam się na wolnostojący kosz na śmieci. Prawdę mówiąc kosz Vipp od dawna był moim marzeniem, ale nigdy nie miałam kuchni, do której by pasował. Na koniec, w kuchni powiesiliśmy dwie szare lampy CACHÉ marki LE KLINT w rozmiarze M.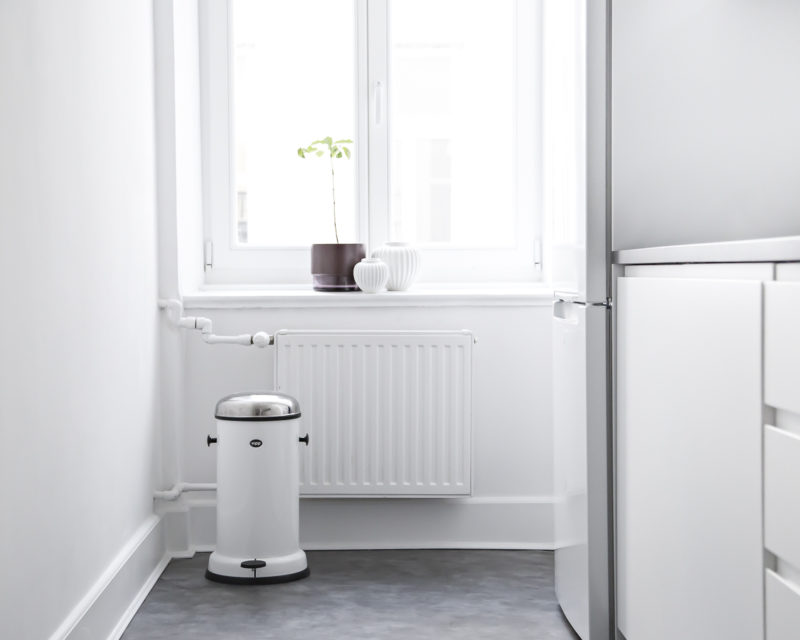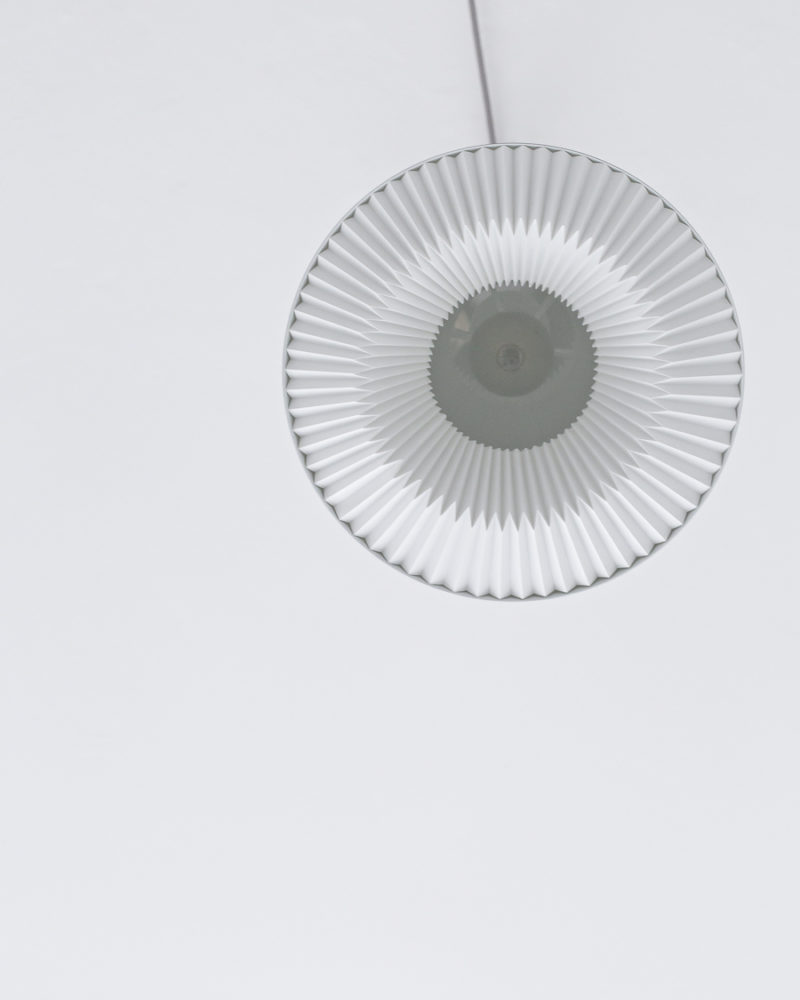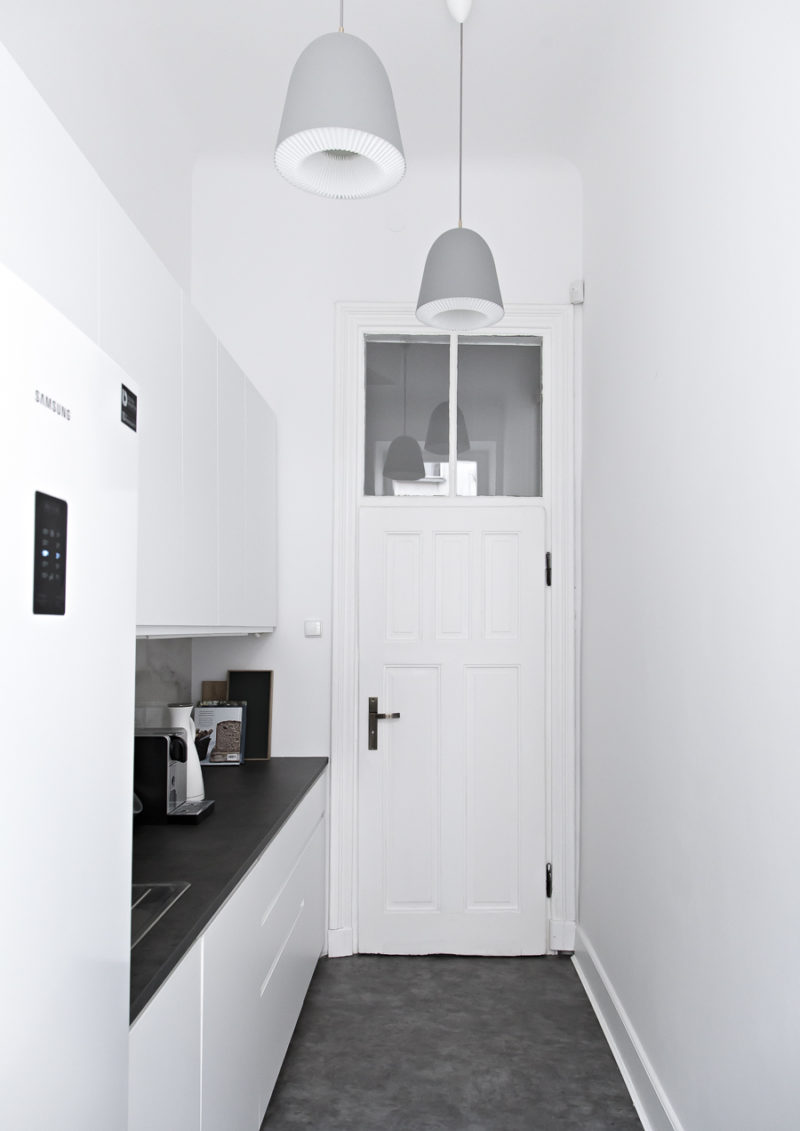 Copyright Kasia Rutkowiak | My Full House