It is official! Our summer holidays are booked and I honestly cannot tell you how happy I am! It will be our first REAL holiday together and without children. While they will be safe doing their favorite things, we will have a chance to unplug and enjoy sun, water and each other. I get a joyful heart rush just from writing about it! And because it's been quite a while since my last trip "south", I sort of had to figure out what I have and want to bring on holiday with us. Sunscreen is obvious (for all, I hope!), some of the other "holiday must haves" I did list below.
Mój wakacyjny niezbędnik 2018
To już oficjalne, wkrótce jedziemy na urlop! Cieszę się niewypowiedzianie, bo to będą nasze pierwsze "prawdziwe" wakacje, w dodatku bez dzieci. Kiedy one bedą się oddawać swoim ulubionym wakacyjnym zajęciom, my będziemy mieli okazję odciąć się na kilka dni od obowiązków i skupić na sobie. Ponieważ od moich ostatnich wakacji "na południu" minęło (zdecydowanie zbyt) dużo czasu, zrobiłam już listę rzeczy, które powinnam i chciałabym zabrać z nami. Krem z porządnym filtrem jest oczywisty (dla wszystkich, mam nadzieję!). Inne przydatne rzeczy zebrałam poniżej.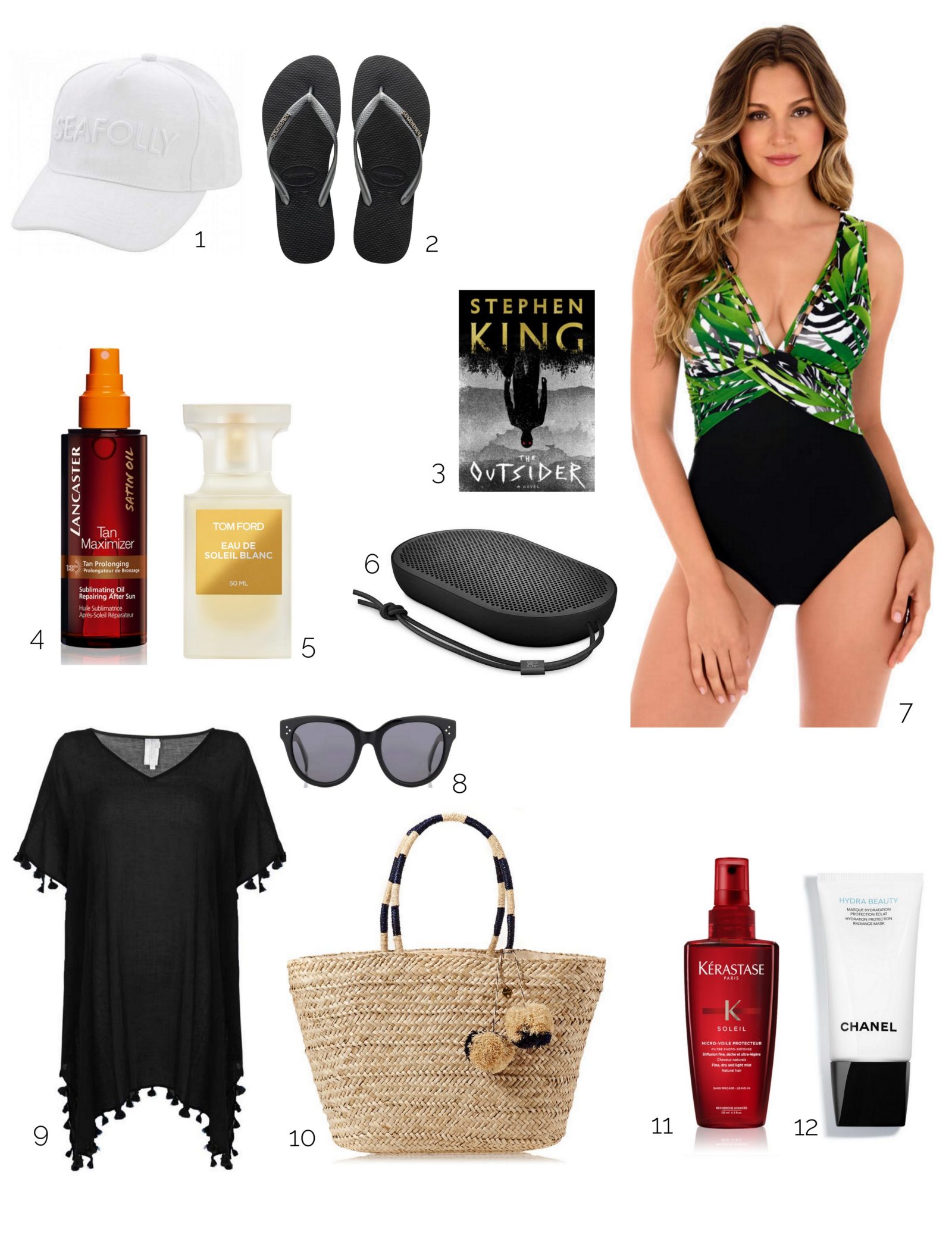 A cap. I ma not a cap fan but you got to be resonable sometimes. Australian Seafolly knows it best and I trust professionals.
Czapka z daszkiem. Osobiście nie przepadam za tym wynalazkiem, ale rozsądek wygrywa. Australijska marka Seafolly doskonale zna się na takich rzeczach, a ja ufam profesjonalistom.
Flip flops. Nothing beats Havaianas.
Japonki. Niezniszczalne Havaianas.
A good book that would make it possible to lose track of time. When was the last time, I had an opportunity to do that?
Książka, która pozwoli na utratę poczucia czasu. Już nie pamiętam kiedy ostatnio mogłam sobie na coś takiego pozwolić.
I rarely tan, so when I will finally get a chance, I'd like my tan to stay fresh a bit longer. This Lancaster oil has very good reviews, so I will take a bottle with me.
Niezmiernie rzadko się opalam, ale skoro bedę miała okazję, chciałabym aby opalenizna zostala ze mną jak najdłużej. Ten optymalizujący opaleniznę olejek Lancaster ma bardzo dobre opinie, więc z chęcią zabiorę ze sobą buteleczkę.
Speaking of bottles, I have not decided which scent I want to take with me, but Eau de Soleil Blanc from Tom Ford seems to have the biggest chance. I only just got it and this way it could easily become our first holiday IT scent forever.
Skoro o butelkach mowa, jeszcze nie wybrałam zapachu, który zabiorę na urlop, choć Eau de Soleil Blanc od  Toma Forda wydaje się mieć największe szanse. To najnowszy zapach w mojej kolekcji, więc zabrany, mógłby z łatwością na zawsze stać się tym kojarzonym z pierwszymi wspólnymi wakacjami.
We are already working on our holiday playlist so we will need a small, portable speaker to take with us. Beoplay P2 is splash and dust resistant and delivers outstanding sound for its size, which will make it our perfect companion.
Już zbieram utwory na urlopową playlistę, więc potrzebne będzie coś małego na czym można ją odtwożyć. Malutki głośnik Beoplay P2 doskonale poradzi sobie z ewentualnym kontaktem z kroplami wody i kurzem, a do tego zagwarantuje nam piękny dźwięk.
A serious one. I do not have any bikini nor a bathing suit. Nor do I have that perfect 20's body anymore (love you kids!). So while searching for a solution to make imperfect look way better, I came across Miraclesuit. Wow! These suits are just what they are called and they will make me want to go on holiday at least twice a year from now on. Seriously, worth every penny (and then some)!
Poważna sprawa. Od jakigoś czasu nie miałam żadnego kostiumu. Ani idealnego ciała 20-latki (kocham Was, dzieci!). Szukając więc czegoś co sprawi, że niedoskonałe będzie wyglądało jak ideał, natknęłam się na markę Miraclesuit. O mamo! Nazwa w punkt, 5 kilo mniej w 10 sekund i brzuch idealny. Brzuch też ;) Kostium wart każdej złotówki, tylko który wybrać? Polecam Wam kontakt ze sklepem Flexi Street – dawno nie otrzymałam tak profesjonalnej obsługi i pomocy, a wybór kostiumów i dodatków fantastyczny. Do tego aktualne przeceny. Z takimi kostiumami będę chciała jeździć na urlop przynajmniej dwa razy w roku.
Sunglasses. I just had my new ones fixed with optical glasses (I cannot wear lenses for some reason) and these are ready too!
Okulary przeciwsłoneczne. Właśnie odebrałam swoje nowe oprawki od optyka, gdzie wstawiono szkła opyczne. Z jakiegoś powodu nie moge nosić soczewek, więc wymiana szkieł jest konieczna.
Beach essentials. A light tunic and a basket – I love these!
Plażowa tunika i koszyk – idealne akcesoria plażowe.
Hair protection. I take great caution when it comes to my hair, especially now that I've become blond. A sun protecting veil would help me keep it in good condition after sun exposure.
Ochrona włosów. Odkąd zostałam blondynką, ze szczególną troską traktuję moje włosy. Mgiełka chroniąca przed działaniem słońca wydaje się dobrym pomysłem, aby nie przesuszyć włosów podczas urlopu.
An absolute holiday must, if you ask me – a moisturizing mask. My skin loves Hydra Beauty mask from CHANEL and I will make sure that there is room left for it in my suitcase.
Na wakacjach konieczna jest też dobra maseczka nawilżająca. Moja skóra uwielbia maskę Hydra Beauty od CHANEL i z pewnością znajdzie się dla niej miejsce w walizce.
Is there anything else I should remember? Any tips from frequent travellers? I will happily hear all!
Czy o czymś jeszcze muszę pamiętać? Będę wdzięczna za wszystkie wskazówki od wprawionych podróżników.