Due to the recent holidays and all that was happening, I totally missed sharing some images of our birthday cake. A's cake to be precise.
We do not eat much sugar, never drink store bought juice nor sodas and generally live a healthy lifestyle. But there are occasions when you just have to have some GOOD cake and my husband's birthday was one of them. Now, when I am getting back on my healthy path after visiting Greece with all of it's tzatziki and baklava, I have these pictures to look at, whenever I need something sweet.
Really good thing about this cake was the fact, that it was custom made by a local confectioner, meaning that only the best ingredients were used. Best butter. Best cream. Best sugar. Best chocolate… Enough.
Once again – happy Birthday Baby!
Wspominając (najlepszy) tort
Przez wakacyjne zamieszanie zupełnie ubiegło mi, aby się z Wami podzielić naszym urodzinowym tortem. No, może nie naszym, a Andrzeja, ale nie o to chodzi.
W naszej diecie nie ma dużo cukru. Nie pijamy kupnych soków, o napojach gazowanych nie wspomnę. Ogólnie rzecz biorąc żywimy się dość zdrowo, ale są momenty, kiedy słodki grzech jest więcej niż usprawiedliwiony. Taką okazją do grzeszenia były niedawne urodziny mojego Męża. I teraz, kiedy dochodzę do siebie po talerzach tzatziki i pysznej greckiej baklavie, zdjęcia te są w sam raz, aby zaspokoić chęć na coś słodkiego. I muszą wystarczyć.
Co do samego tortu, został wykonany na specjalne zamówienie przez Zosię z Się Upiekło. Dzięki temu nie tylko mogłam zadecydować o bardzo konkretnym smaku i składzie, ale też miałam pewność, że do produkcji tortu użyte zostały najlepsze masło, cukier, czekolada czy śmietana. O tyle mi lżej (na sumieniu) ;)
Zosia wie, jak sprawić radość, a ja mogłam być dumna z niespodzianki, nie spędzając jednocześnie wielu godzin w kuchni (podczas upałów). Się Upiekło to z pewnością nasz najlepszy przepis na tort.
Raz jeszcze – wszystkiego najlepszego Kochanie!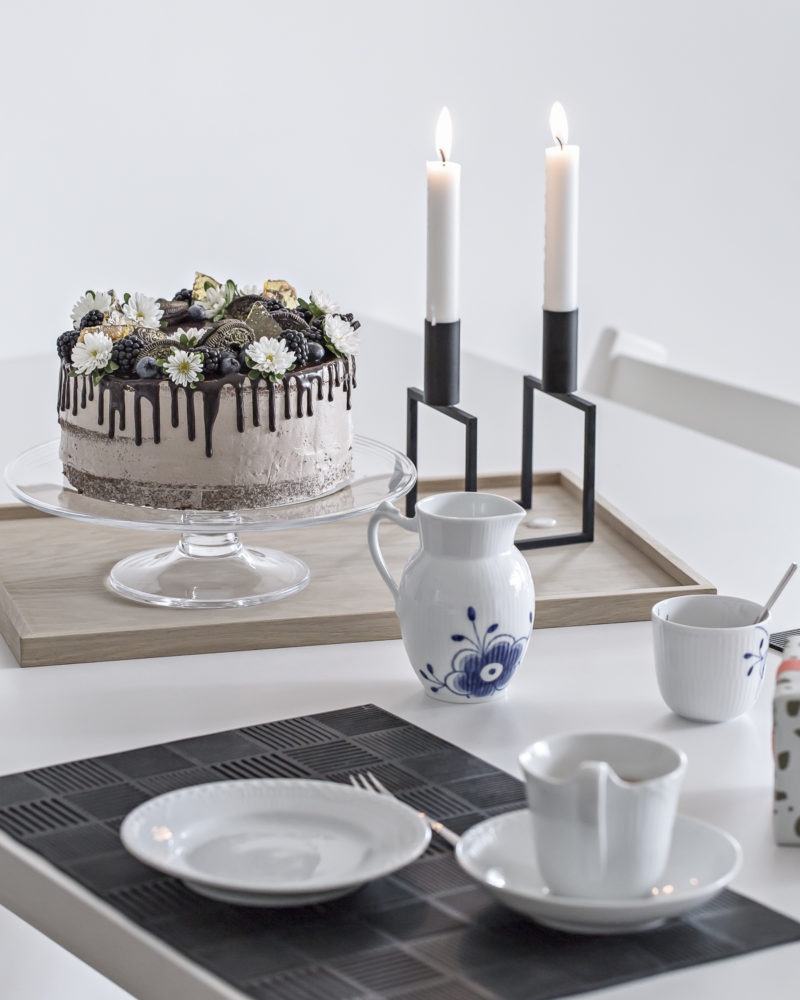 copyright Kasia Rutkowiak | www.my-full-house.com | any unauthorised use prohibited
oak tray / dębowa taca – The Oak Men, porcelain / porcelana – Royal Copenhagen, placemats / podkładki – Rosendahl, candleholder / świecznik – by Lassen, lampa / lamp – LE KLINT